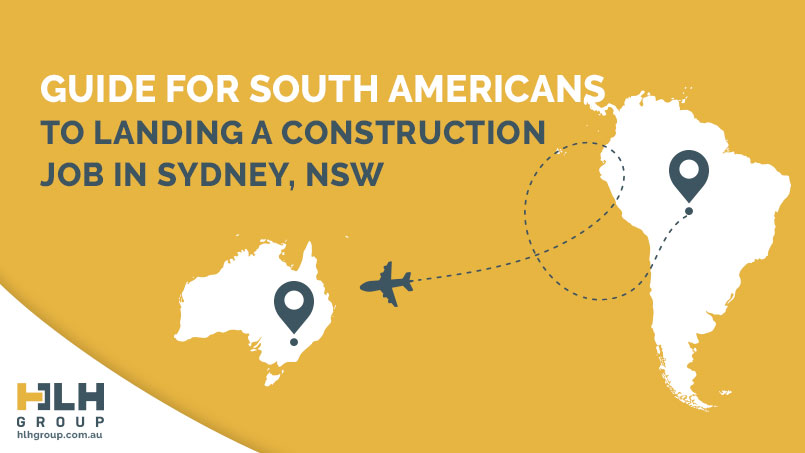 11 Aug

Guide for South Americans to Landing a Construction Job in Sydney, NSW

Olá / hola, wherever you are from in South America. So, you have decided to move to Sydney, Australia and work in the construction industry. Well, we are here to help you through the process and make your life easier. Australia's fascination with and interest in Latin America has grown more than ever in recent years, both in terms of opportunities and in terms of food, music, dance, and other aspects of popular culture. Given the growing mutual interest between these two distinct areas of the world, a proper discussion of the migration and integration of the Latin American community in Australia is therefore warranted.
Moving to Australia – Guide for South Americans
For more info on moving to Australia make sure you check out our Moving to Australia Survival Guide, which you can download for free. This survival guide will act as a blueprint for aspiring South Americans seeking to make a move to Sydney and should be your go-to when it comes to any queries or concerns you may have.
Why Work in Construction in Sydney?
There are lots of roles readily available in Australia making it very easy to get a job. Many cities are growing very fast and there is a constant demand for labour hire workers. Although it is not the main engine of the country, the construction sector in Australia is not to be looked over. Another benefit is that all that is required to work in construction is basic PPE (hardhat, workwear and glasses) and a white card. Once you have moved from South America and have all the basic requirements, you can start work as a general labourer in construction. You just have to be hardworking and consistent every day you work.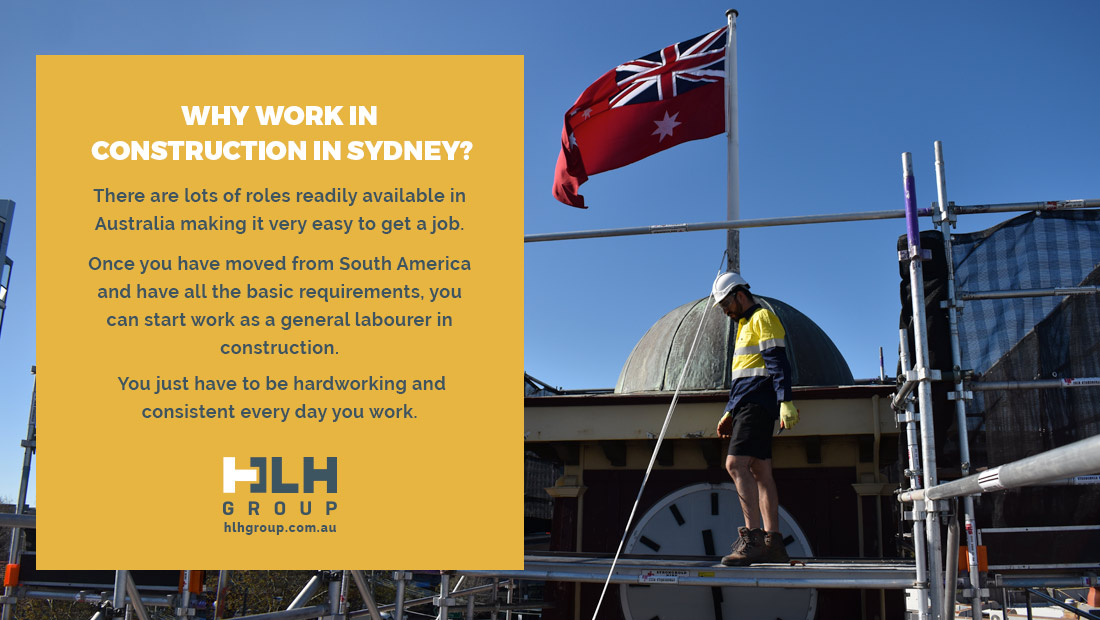 VISAs for South Americans in Australia
There are two main types of VISAs available for travelers to Australia and they are:
Student VISA: This visa is the easiest to get, there is no age limit, you do not need to know English and it allows you to work and study in Australia for the entire duration of the course in which you have enrolled.
Work & Holiday VISA: This visa is intended to work in Australia full-time. It can only be ordered once in a lifetime; it does have an age limit (maximum 30 years) and you must have at least a certified level of English of 4.5 in IELTS. You can read more information by viewing our Australian Working Holiday VISA FAQ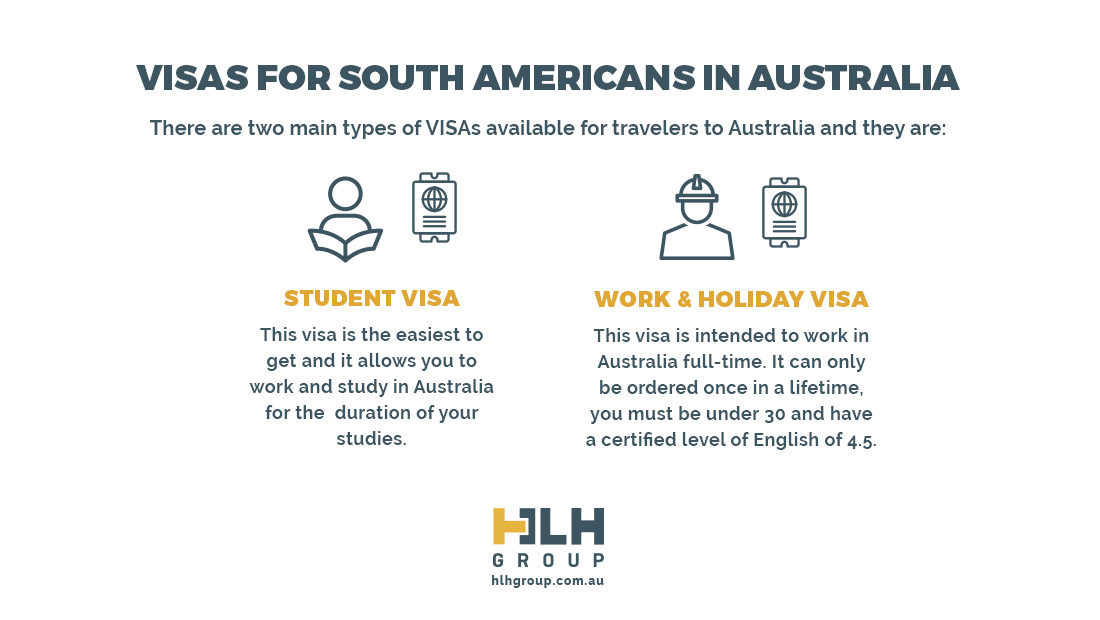 Getting Paid
Australia has one of the highest minimum wages in the world making it an ideal place to work. To give you an idea, the minimum wage in construction is $AUD 30 PER HOUR + $AUD 20.32 travel per day. The main payment method for construction business use are Tax File Number (TFN). Often referred to as 'wages', this is the most common and safest way to be paid in Australia. Tax is deducted each week based on the unique TFN. In construction, TFN workers are also entitled to overtime rates after working over 8 hours, at night shifts and on weekends. Workers are also covered by company insurance when working on TFN which is extremely important in construction where safety is paramount. As in any country, you will need a bank account in which you can enter the payroll weekly (yes, at HLH Group you get paid weekly, not at the end of the month).
How to Find a Construction Job
Well, this is the easy. At HLH Group, we have helped Australian workers and overseas workers find construction work in Sydney. Once you have moved to Sydney from South America we can give you an interview to get you started working in construction. If you don't have experience in construction, we can try and find you a warehouse role or a general labouring role. If you have previous construction experience, we can find you a job that aligns with your previous working career in South America. Working in construction is also advantageous if you cannot speak a high level of English and are still learning as most of the work will require physical activity and labour.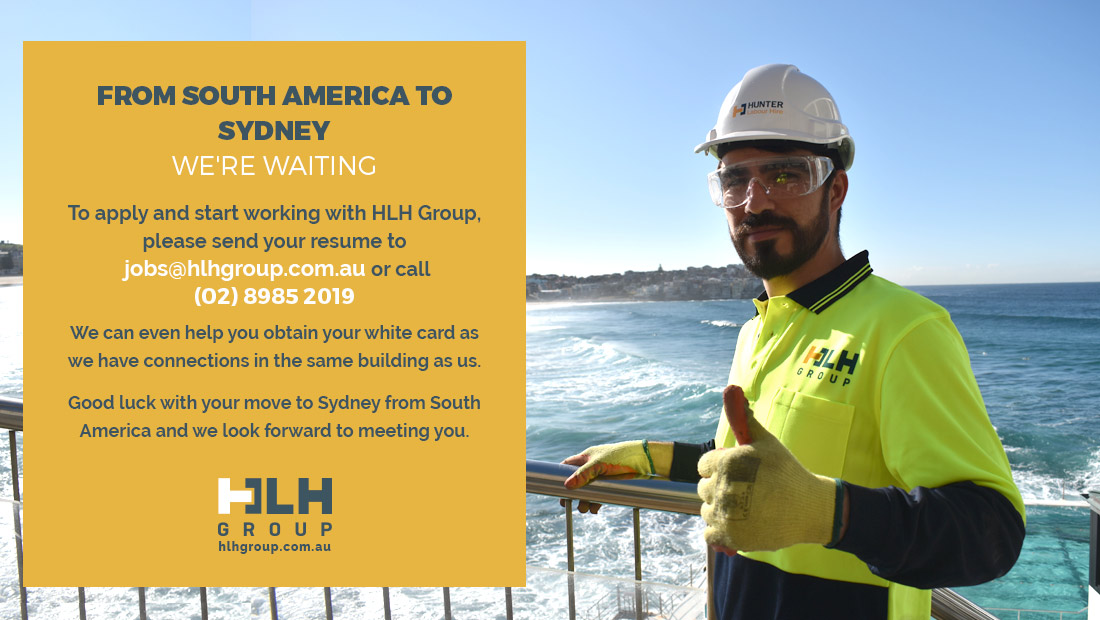 From South America To Sydney – We're Waiting
To apply and start working with HLH Group, please send your resume to jobs@hlhgroup.com.au, call (02) 8985 2019 or apply online. We can even help you obtain your white card as we have connections in the same building as us. Good luck with your move to Sydney from South America and we look forward to meeting you.