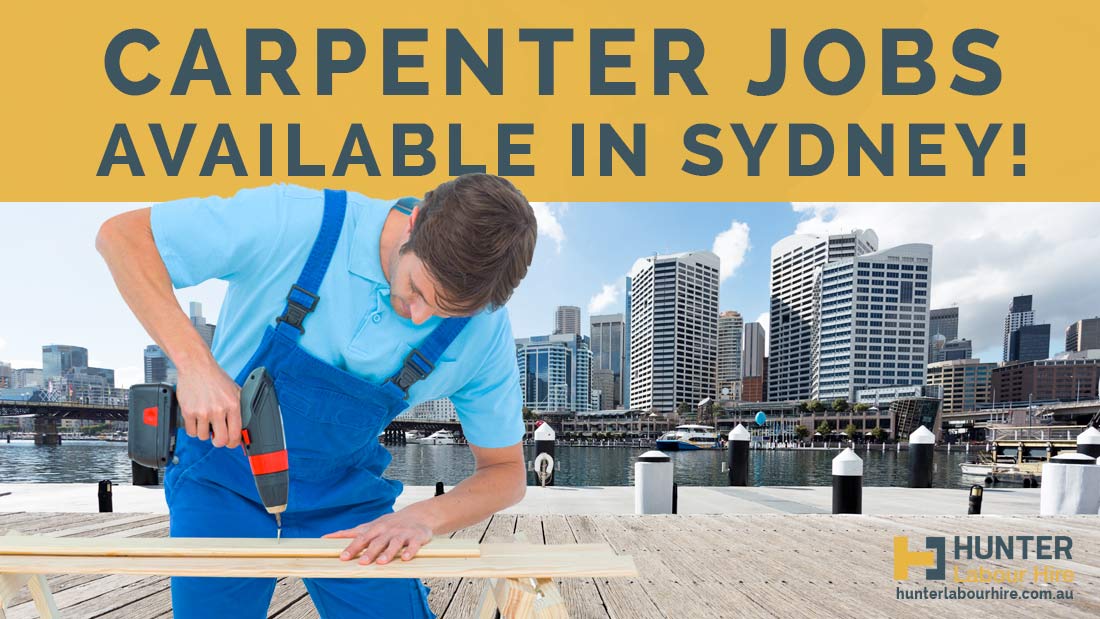 17 Mar

Carpenters Jobs Available in Sydney
Looking For A Carpenters Job In Sydney?
The Australian construction industry is booming and this has led to a huge growth in the number of workers required to keep up with the demand. This has led to an unprecedented shortage of carpenters in Sydney, and many companies have now begun to look overseas for suitable tradesmen. So if you are carpenter and are considering a job in the Sydney construction industry there has never been a better time to make the move to the city. If you're from overseas then check out our previous blog – how to convert overseas trade qualifications.
Reasons For Carpenters To Work in Sydney?
There are many reasons why people love working in Sydney and here are just a few;
The weather over the summer months is warm and dry, providing ideal working conditions and the perfect weather to enjoy your time off at the beach or in the outdoors.
There is huge demand for carpenters for hire which means that there is plenty of work available and for the grafters out there it is not uncommon to work a 6 or even 7 days a week for those who want the extra hours.
Alternatively you can choose a more favourable ratio of working hours to free-time with many people working only 40 hours a week.
Working as a carpenter in Sydney will give you the opportunity to experience a true Ozzie lifestyle and enjoy a healthy life-work balance, and still earning more than they did in their previous job before they came here.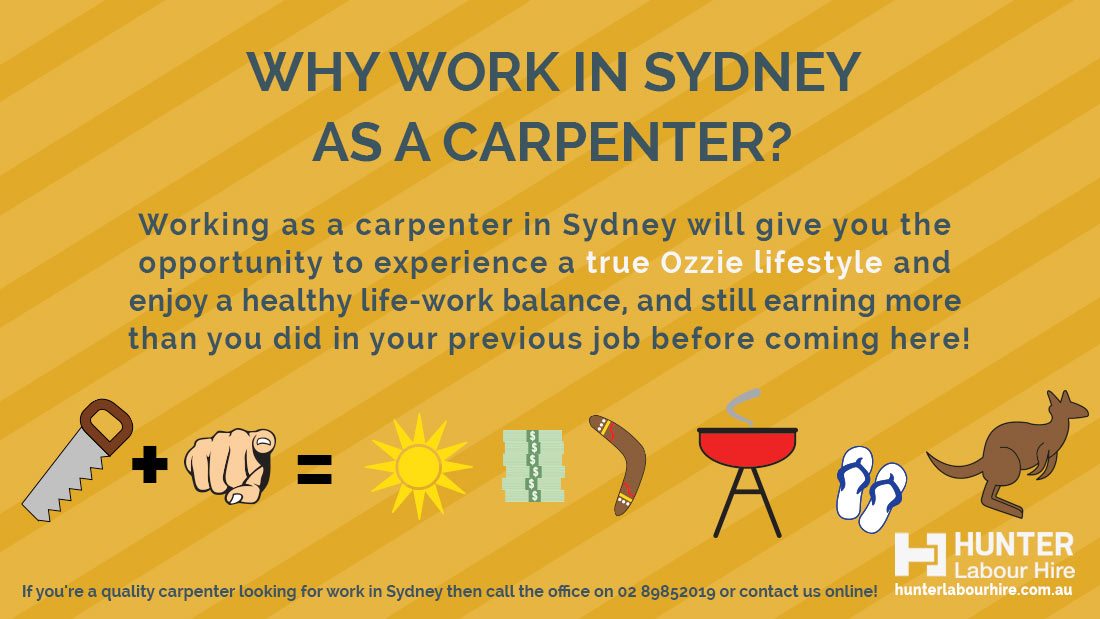 What Carpentry Work Is Available in Sydney?
Carpentry by definition is the skill or art of working with timber in order to construct and maintain buildings, furniture and other objects. The bulk of carpentry work in Sydney is either rough work or finish carpentry. Rough work carpentry relates to all the work that occurs at the beginning of projects and builds such as framing or form working concrete. Finish carpentry is essentially applying the finishing touches to a job such as fixtures and fittings, cabinets windows, floors even external features such as pergolas and deckings – it is essentially any wood worked features that are visible once the project is completed.
In Sydney there are many different types of carpentry jobs available. Here is a list of roles you may expect to find: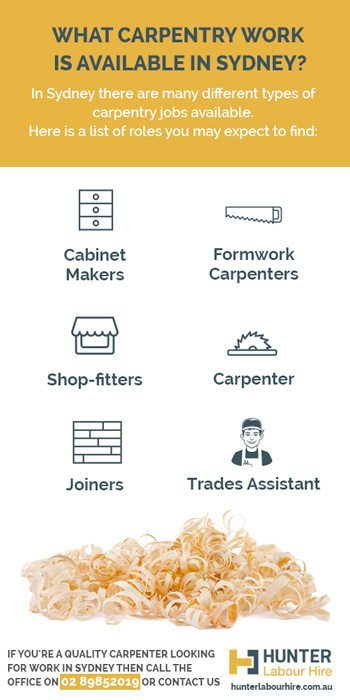 Cabinet makers
Shop-fitters
Joiners
Formwork Carpenters
Carpenter
Trades Assistants (i.e. not fully qualified carpenter but skilled labour in carpentry nonetheless).

Each of these roles command different skills and techniques that carpenters use in order to complete the required job, and as such the carpenter applying should have relevant experience in each field.

How To Get a Carpentry Job?

You will need to get your white card and PPE organised so that you can enter any construction site in New South Wales. Then many carpentry jobs will require you to have your own tools which may range from basic hand tools such as hammers and chisels, to more expensive power tools such as circular saws and jigsaws. Once you get yourself sorted out with a selection of tools (find out where to get tools in Sydney here) to suit your carpentry position you are now ready to begin work on site. If you have your own personal transport this will help you to travel to and from any of the potential sites you may be working on in the Sydney region.

Carpentry Jobs In Sydney Available Now!

If you are a quality carpenter and are seeking employment then Hunter Labour Hire wants to hear from you today! Call the office on 02 89852019 or email jobs@hunterlabourhire.com.au for more information. You can also fill out are Find Work form on our website and we will contact you back soon!

If you have any questions regarding working as a carpenter in Sydney then feel free to comment below and we will be glad to answer your queries.