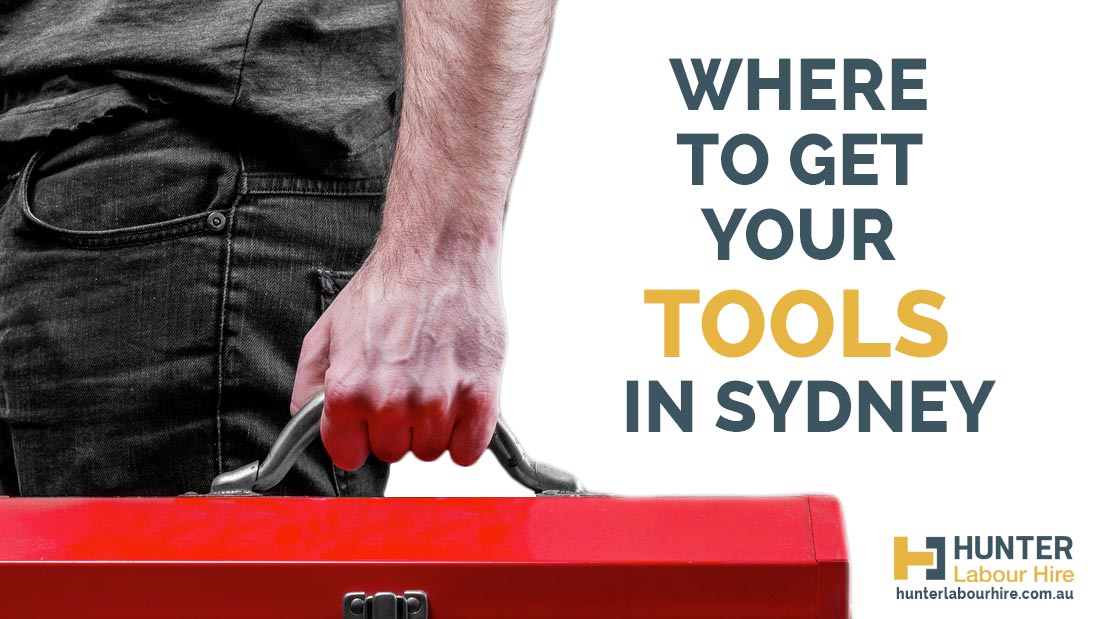 12 Jan

Where To Get Your Tools In Sydney
Where To Get Tools In Sydney
For many backpackers, Australians and people looking for full-time work the construction industry in Sydney is their chosen source of employment. There are plenty of opportunities in a variety of roles including labourers, plumbers, carpenters, scaffolders and electricians to name but a few. Check out Hunter Labour Hire's previous blog on how to get a construction job in Sydney.
Construction Job Basics – White Card and PPE
If you're looking to work in the construction in Sydney there are a few things you'll need before getting your tools! As a minimum to get on every site in New South Wales you need to have completed your general construction induction training, this provides you with a white card which you will need to have with you when you are on a construction site in Sydney. A list of NSW approved trainers is available here.
You will also need Personal Protection Equipment (PPE) this includes as minimum steel toe capped boots, work trousers, hi visibility clothing, and a hard hat. These can all be sourced for affordable prices from a variety of stores such as Lowes, K-Mart, Target and Paddy's Market (Located in Market city).
For most jobs working as a labourer you should be good to go with the above, however from site to site and job to job there may be more specific requirements that you are required to have for your own safety.
Tools Needed For Sydney Tradies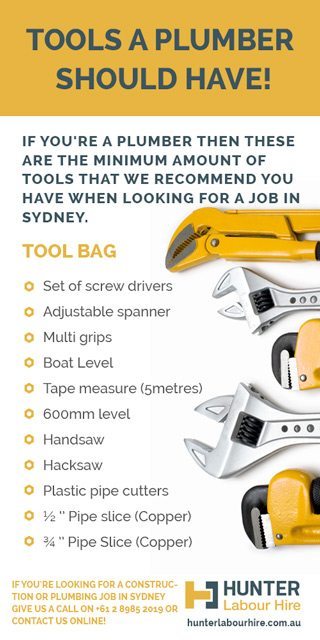 If you are a tradie you will be most likely expected to provide yourself with some basic tools to perform daily duties on site. These tools will vary depending on the specific trade but the following is a guideline on the minimum required for plumbers and scaffolders.
For example the tools a plumber should have are;
Tool Bag
Set of screw drivers
Adjustable spanner
Multi grips
Boat Level
600mm level
Handsaw
Hacksaw
Tape measure (5metres)
Plastic pipe cutters
½ '' Pipe slice (Copper)
¾ '' Pipe Slice (Copper)
And tools a scaffolder will require are:
Tool Belt with tool holders
Hammer (Ideally Steel podger or carpenters)
Steel Fixers Nips
24mm Scaffold ratchet
Tape measurer and adjustable spanner
It is worth bearing in mind that there are other tools that may be required on site i.e. power drills however these could be added to your collection over time as tools can be expensive and not necessarily fit the budget of all back packers or other jobseekers.
There are also various other tools required for different trades i.e. carpenters will need their aprons and relevant tools, as will electricians and even bricklayers. It is best to ask the employer exactly what you will need on site so that you do not leave yourself short of essential tools.
Security
If you have invested in some tools then you will want to keep them safe as they are not cheap to replace. It is sensible to purchase a secure tool bag and a padlock to keep your tools safe if you intend to leave them on site for the duration of your involvement on the project. Better safe than sorry!
Where to get tools?
In Sydney there are a variety of hardware stores and tool shops that cater to all tradies. Mitre 10 located Bondi Junction and Central provide everything from hand tools for carpenters to plumbing tools for plumbers. While Sydney Tools have a large selection of tools available online and in-store located Botany Road, Alexandria. A third source of tools is Bunnings hardware stores. These are located throughout the city and its suburbs and have a wide range of tools and PPE. Furthermore there are a variety of smaller independent hardware stores across Sydney.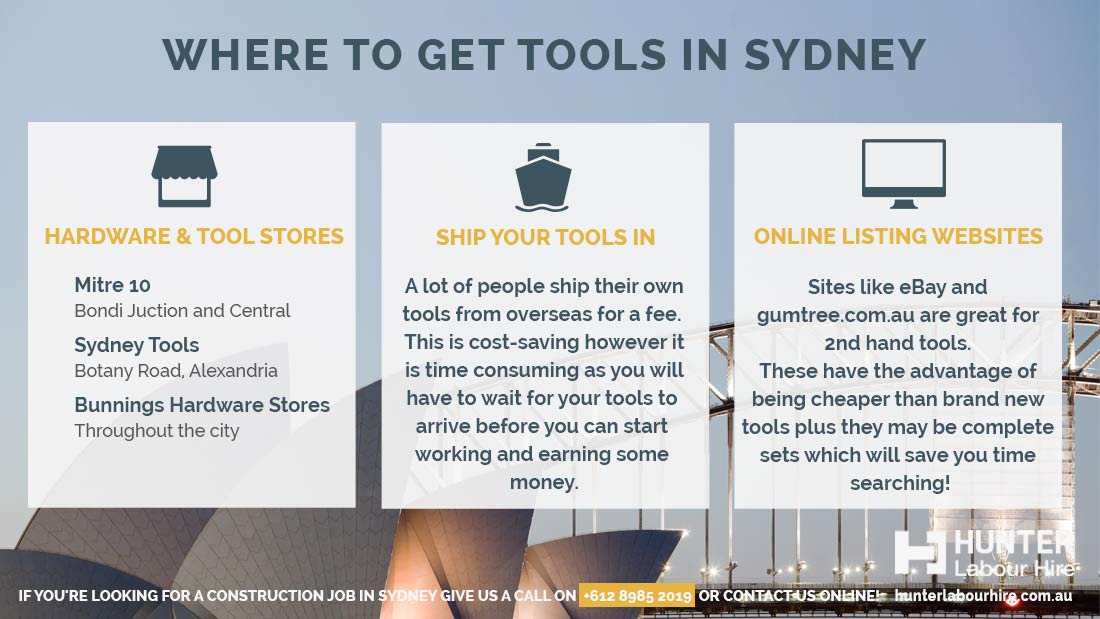 A lot of people ship their own tools from overseas for a fee. This is cost-saving however it is time consuming as you will have to wait for your tools to arrive before you can start working and earning some money. Other people look towards online listings websites such as eBay and gumtree.com.au for second hand tools. These have the advantage of being cheaper than brand new tools plus they may be complete sets which will save you time searching various hardware stores for various tools. You might get lucky, and grab yourself a bargain!
So if you are a tradie, and you have your tools sorted then give Hunter Labour Hire a call now on +61 2 8985 2019 or check out our current labour jobs.
If you've any questions or tips for others on where else to get tools in Sydney then comment below!