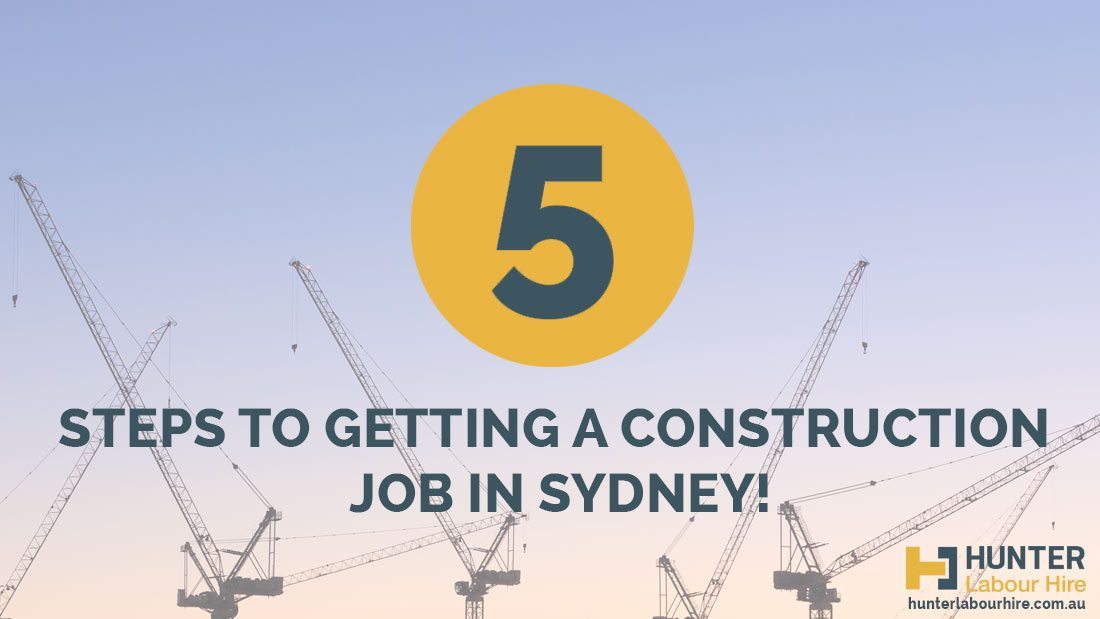 05 Nov

5 Steps To Getting a Construction Job in Sydney!
Construction Jobs in Sydney – 5 Steps to Get One!
Have you got a trade and are you interested in working in Sydney? If the answer is yes then you are in luck and the good news is that there is a huge demand for tradesmen here and plenty of work for labourers, carpenters, plumbers and electricians to name but a few. The Sydney construction industry is booming and the type of work available ranges from small residential jobs in Bondi to large scale commercial projects such as Barangaroo. A quick scan of the Sydney skyline in most directions will reveal cranes climbing high in to the sky, a sure sign that the construction industry in Sydney is thriving. In fact, after Dubai Sydney has the most cranes in the world at the moment!
How To Get A Construction Job In Sydney
So here are the 5 simple steps to getting a construction job in Sydney…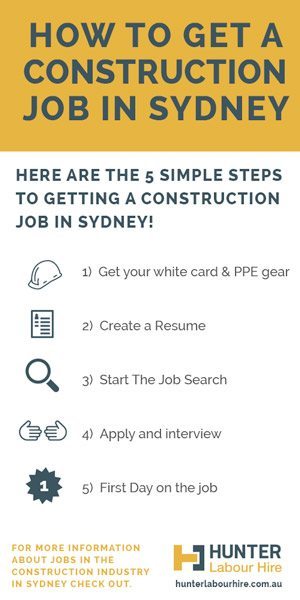 Step 1: Get your white card and PPE
A white card (or general construction induction card) is required for workers who want to work on any construction site. To get a White Card you must first complete general construction induction training. Workcover NSW has a comprehensive list of general construction induction trainers where you can get your white card.
Personal Protective Equipment (PPE) is also required to enter any construction site in New South Wales. Compulsory PPE to get on any construction site includes steel toe cap boots, hard hats, and high visibility shirt. Additional PPE that might be required on certain sites include gloves, glasses and goggles. Popular places to purchase PPE include Bunnings Hardware, Kmart, and Paddy's Market.
Step 2: Create a Resume
The days of getting a job in the construction industry without a resume are increasingly becoming numbered. A resume is important as it shows the employer your strengths and a brief overview of your work history. Positive references will reinforce you previous work history. If you have no experience creating a resume, there are plenty of online sources which provide resume templates, a quick google should do the trick! Keep it short, sweet and relevant to position you are applying for.
Step 3: The Job Search
Now that you have the perfect resume you are ready to begin your job search. As with most things in the modern world, this can be done primarily online. You will find Hunter Labour Hire's latest jobs postings online on all our social media accounts.
You will find regular jobs postings online for all sorts of jobs from steel fixing to carpentry and the following websites are the best places to find the latest construction jobs being offered online.

Gumtree.com.au
Seek.com.au
Indeed.com.au
ibackpackers.com.au
backpackerjobsboard.com.au
Careerone.com.au
Asking around your group of mates is another sure way to find work as some job openings are never even advertised. It is also important to apply for positions that are suitable to your previous experiences, there is no point wasting your own time or the recruiters.
Step 4: The Application Process
This is your chance to impress! Coupled with a great CV your application is important as it will be your first contact with the prospective employer, be keen and show them that you are interested to work for them. Highlighting that you are hardworking, reliable and punctual is important as these are attributes required for all construction sites.
Application processes vary in form from meeting in person to a phone call with the prospective employers. Highlighting your previous relevant experience is also essential, you want them to believe they need to hire you.
Step 5: The first day on the job.
Plan to arrive 15 minutes early in case you have trouble finding the site. Always remember to bring your white card and PPE. As the old saying goes 'First impressions last'. Show your new employer how hardworking and reliable you are by being as helpful as possible. Enquire about how long the job is going for and always check to see if you are required back on site the next day before you leave.
Tips About Construction Jobs in Sydney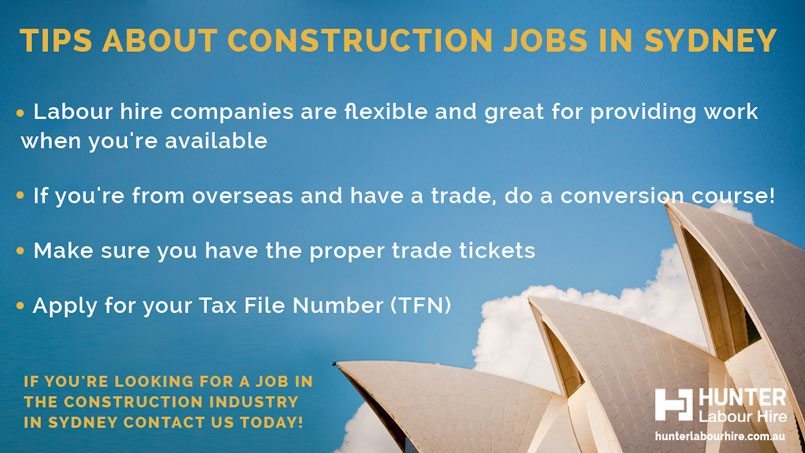 Labour hire companies are a great way of finding work hassle free, and they are flexible to suit your needs. Providing work to you when you are available, allowing you to spend your spare time doing what you want.
If you are from overseas and have a trade then you may need to do a conversion course to allow you to practice your trade fully licensed here. Details of which can be found the official Australian trade recognition site
For different jobs and roles different tickets are required to show that you done the necessary training to be allowed to work in certain environments
You will need to apply for a Tax File Number. This can be done here. The application process is simple and once completed you should have your TFN within 7 days.
Are You Looking for A Construction Job In Sydney?
Whether you're new to the country, adopted Aussie or a native we can help you get a job in the Sydney construction industry. Hunter Labour Hire have over 25 years of combined experience in the Sydney construction industry and have found construction work for thousands of tradies. If you'd like to work with us fill in
this form
and we'll take it from there.