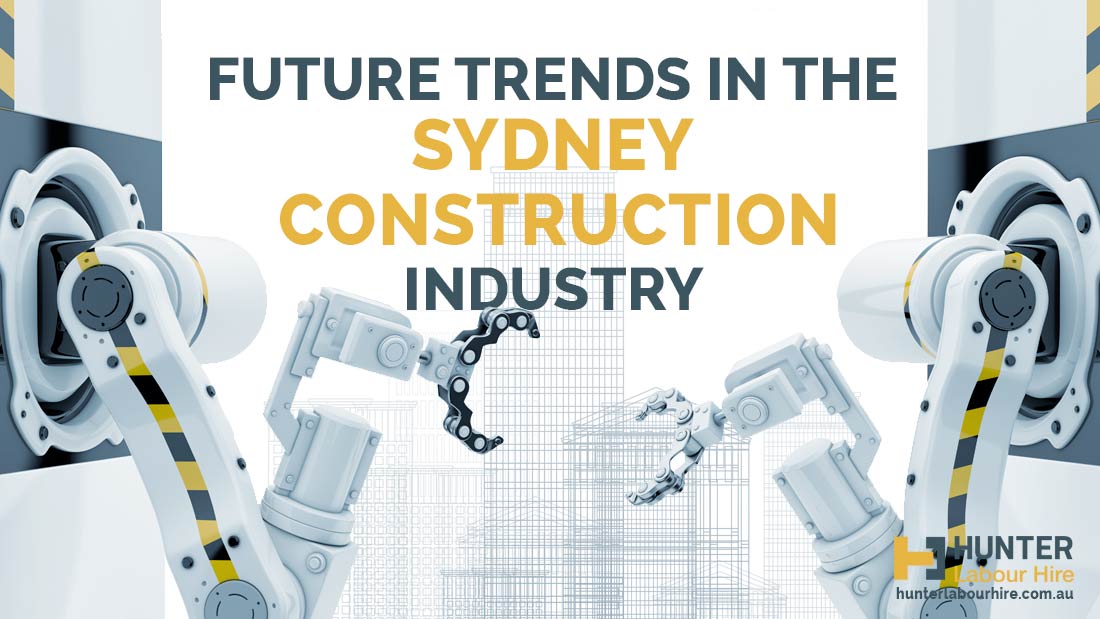 17 Feb

Future Trends In The Sydney Construction Industry

The world is changing and so is the construction industry. We have taken a look at some future trends that may impact the Sydney construction industry the most as well as provide some interesting food for thought about construction in general – read on.
Modular Construction – Future Construction Trends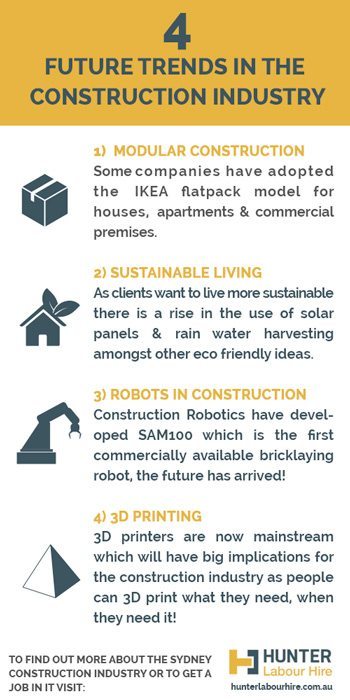 The Ikea model of flat pack furniture is slowly becoming a trend in the Sydney construction industry. Some construction companies have adapted it to flat pack houses, apartments and commercial premises. This streamlines the construction process by allowing for each module of the construction phase to be completed prior to arriving on site. This means that it simply needs to be assembled once it arrives. The benefits for builders are a reduction in construction time and overall costs as there is less labour (or labour hire) required and decreases the overall length of their projects.
Sustainable Living – Future Construction Trends
The growing interest in sustainable living is having a wide impact on the construction industry. Plumbers are installing rain water harvesting, and solar generated hot water systems due to their client's interest in living sustainably. Solar panels are being installed to harness the natural power source that is generated by the sun. Not only are they eco-friendly, they also reduce the bills of the home / business owner. There are also government incentives for installing renewable energy systems which will help see this construction trend continue.
3D Printing – Future Construction Trends
3D Printers are now mainstream with Harvey Norman and Aldi now beginning to sell them. What implications do they have for the construction industry? Forget about lost tools, because now when that happens you will be to print a new one with the onsite 3d printer (or you get get your tools in Sydney here). The onsite 3D printer could also be used for printing various sized drill bits as well as even potentially printing a new blade for a grinder! Check out this video which explains 3D printing and it's potential in a variety of industries.
Robots in Construction – Future Construction Trends
Robots in the construction industry is not as crazy as it seems. Construction Robotics have developed SAM100 which is the first commercially available bricklaying robot. While even locally two robots are currently being used to demolish the Sydney Harbour tower at Barangaroo. One can only imagine what uses a robot could possibly have going forward.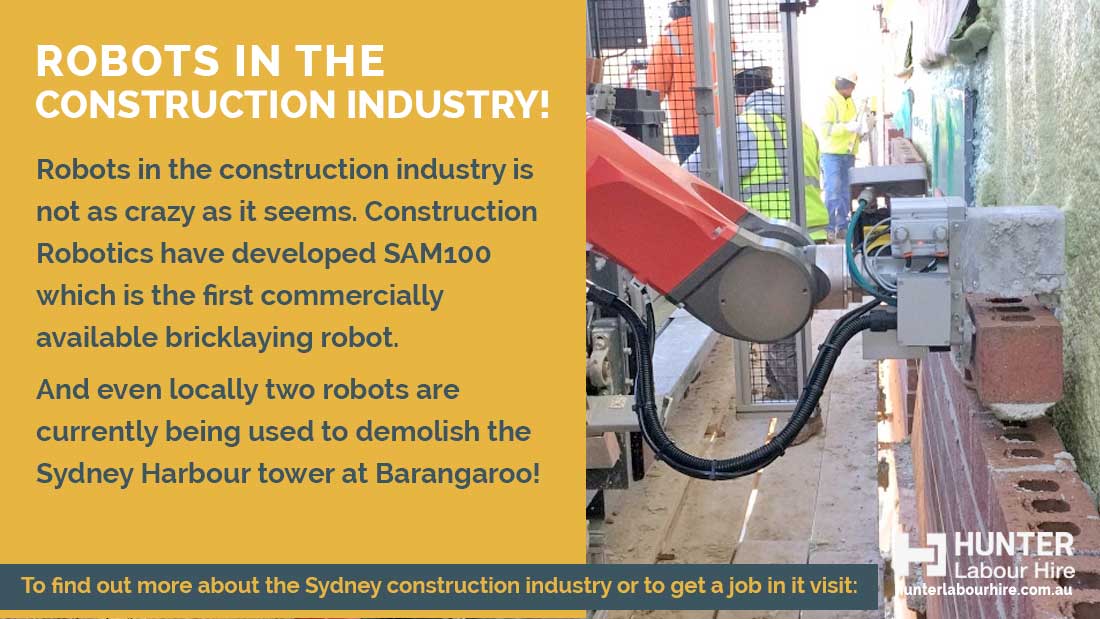 Trends in Construction Industry
So there you have four trends that we think will impact the construction industry in the coming years. What do you think awaits the construction industry of the future? Let us know in the comments below. Or if you're a interested in working for Hunter Labour Hire then call us today 02 89852019.