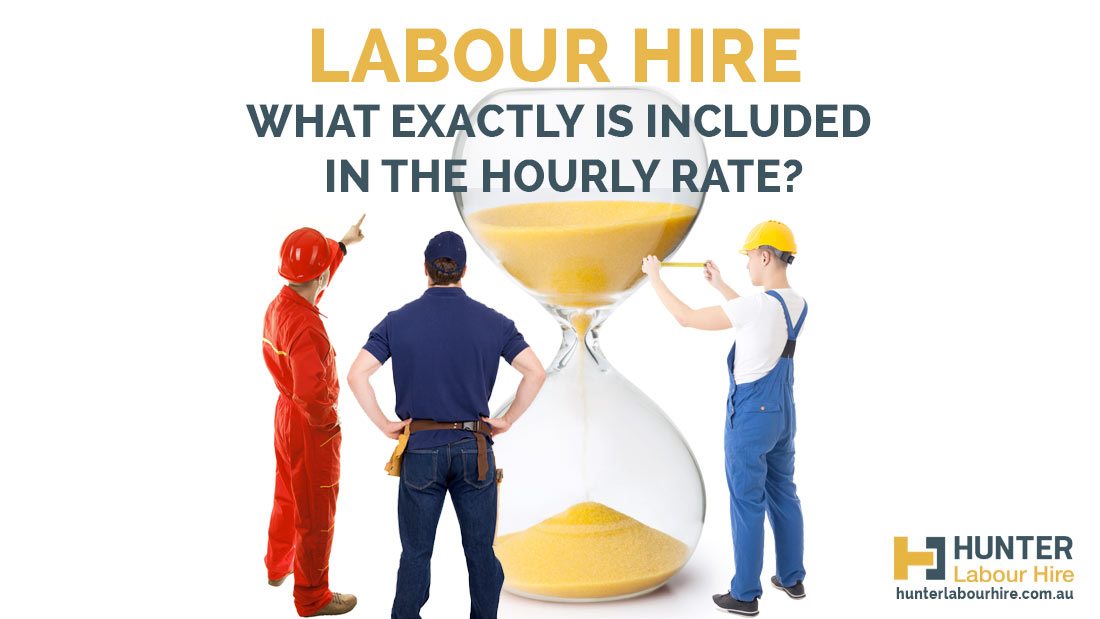 23 Feb

Labour Hire: What Exactly Is Included in The Hourly Rate?
What Exactly Is Included in The Hourly Rate for Labourers & Tradies?
If your company has never used labour hire you may not be certain about what exactly is included in the hourly rate Hunter Labour Hire has provided you with. Maybe you're worried about extra costs like do I need to provide insurance for the temporary employee? Or maybe your company has used labour hire before but you're not too sure what it includes?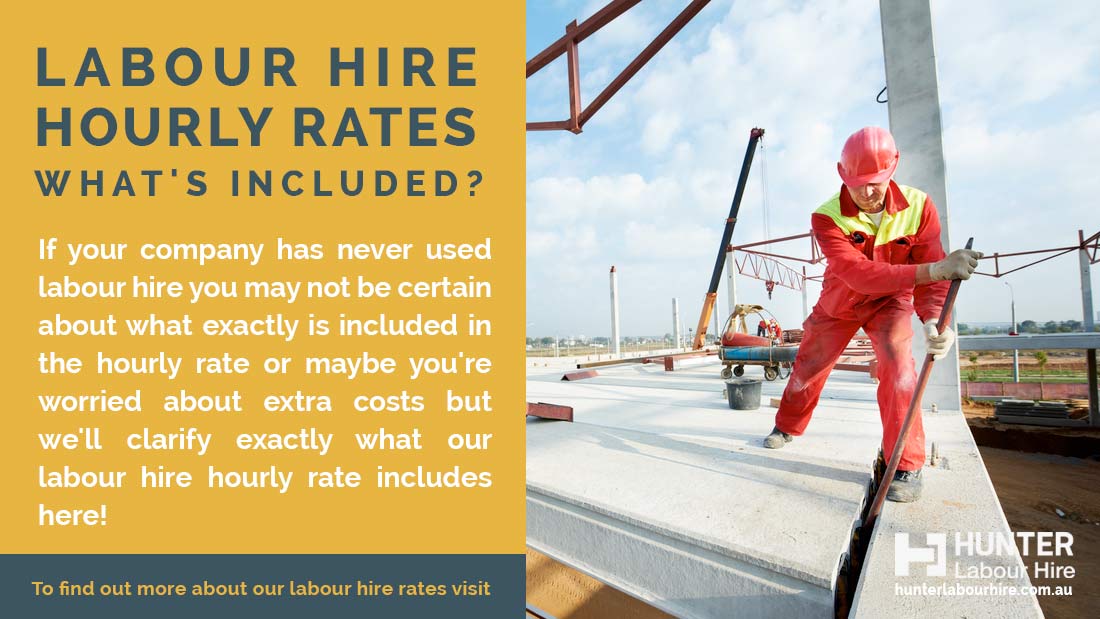 This blog will clarify exactly what is included in the hourly rate for all labourers and tradies supplied by Hunter Labour Hire.
Labour Hire: What Is Included in The Hourly Rate?
Public Liability Insurance
Hunter labour provides all its casual workers with public liability insurance. This protects your company if any of our workers are found to be legally responsible for any personal injury to a third party or damage to their property. This is very important as it helps protect your business in the event of any unlikely accidents.
Workers Compensation Insurance
Every employer in NSW is required to hold workers compensation insurance. Hunter Labour Hire provides all temporary employees supplied on a labour hire basis with workers compensation insurance. Workers compensation provides employees with a temporary income should they become injured in the workplace and as result are unable to work.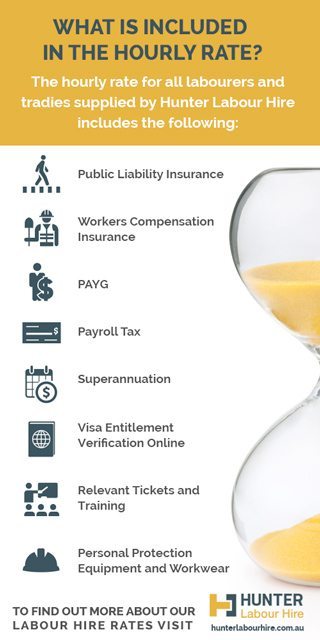 PAYG
All electricians, plumbers, general labourers etc provided by Hunter Labour Hire to our clients will have their PAYG withheld and lodged to the Australian Tax Office on a monthly basis. This along with other elements of the Payroll are all managed by Hunter Labour Hire, allowing your company to focus on other tasks.
Payroll Tax
The current rate of payroll tax is 5.45% and the payroll tax threshold for the year 2015-2016 is $750,000. At Hunter Labour Hire our payroll tax is reconciled and lodged with the Office of State Revenue on a monthly basis.
Superannuation
Every employee in Australia is entitled to a superannuation payment including those supplied from labour hire. We make an employer contribution of 9.5% to all of our employees chosen super fund accounts.
Visa Entitlement Verification Online
We ensure that all our workers have the valid working rights to work in Australia. We perform a Visa Entitlement Verification Online for all employees that we supply on a temporary or permanent basis. This can give your organisation the peace of mind that all workers we provide are eligible to work within Australia.
Relevant Tickets and Training
All our construction workers are required to have as an absolute minimum a General Construction Induction card (White card). These are legally required by law to enter any construction site. Furthermore we also ensure that other required tickets and training have been completed by the labourer or tradesman we supply as well as making sure that all employees have a NSW licence.
Personal Protection Equipment and Workwear
At Hunter Labour Hire the personal safety of all our employees is our primary concern. As a result all our workers are supplied with the PPE that they require to work in different construction environments.
Labour Hire Sydney Available
Now that you know what exactly is included in our labour hire rates give us a call today on 02-89852019 or contact us online to discuss your upcoming labour hire requirements.