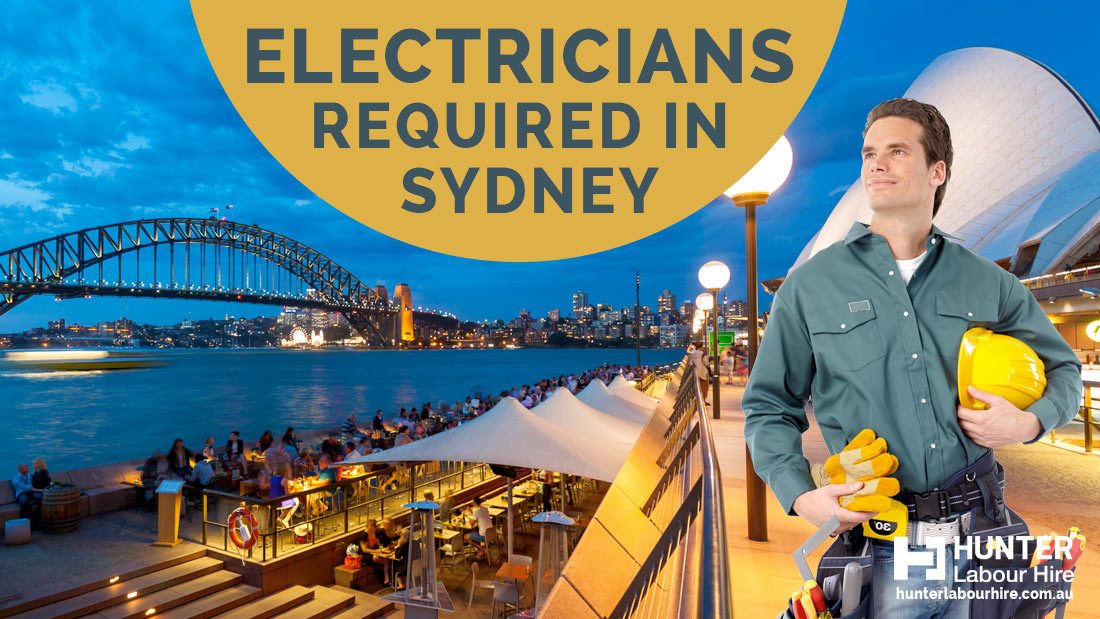 28 Apr

Electricians Required in Sydney!
Skilled Electricians Required in Sydney
In Sydney there is currently a huge demand for electricians and electrician hire and this is largely down to the huge amount of work available in construction, commercial and infrastructure projects across the Sydney region. There is, along with other trades, still a massive skilled construction worker shortage for electricians in Sydney. Electricians are responsible for the installation, and maintenance of electrical networks and systems for industrial, commercial and domestic purposes.
According to the Australian Governments Job Outlook the job prospects for electricians in Australia has grown 14.5% over the last five years. And by 2019 there is expected to be more than 50,000 jobs available for electricians. If you are an electrician then it seems you will be unlikely to be unemployed for any length of time in Sydney.
What Qualifications Do Electricians In Sydney Need?
To work as a fully qualified electrician in New South Wales you need to hold an Electrical Licence to undertake any electrical wiring work regardless of what type of work is required. If you are from overseas then you should check out our article on how to get your overseas electrical qualifications recognised in Sydney.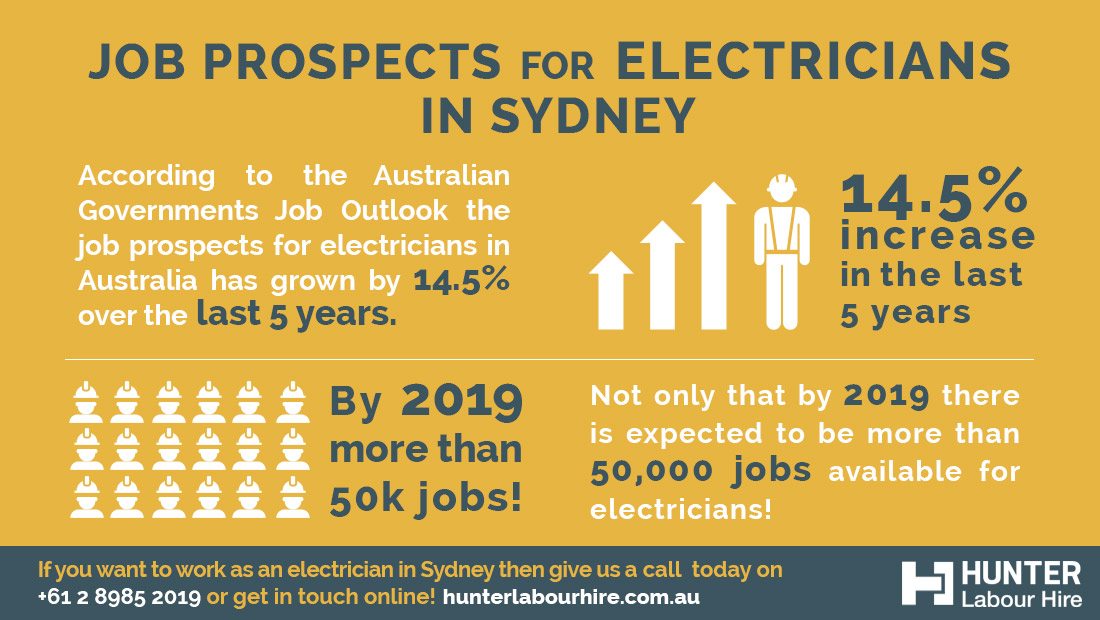 If you have no experience of working as an electrician and think that it is a career that appeals to you then you could consider an Electrical Apprenticeship. To become an electrician in NSW without any previous electrical experience you will need to complete a Cert III in Electro technology, this a course that will take four years in duration and involves both on the job and off the job training. This course is available from TAFE NSW. Once you start your apprenticeship you must do on the job training as well. In order to find someone who is willing to take you on it is worth following up any personal contacts you may have in the trade. If that's not successful you can always consider contacting local energy providers who may be in a position to take on an apprentice. Once completed you will then be a qualified electrician throughout Australia.
Fully qualified Electricians from overseas who have yet to get their trade recognised are able to work in a manner similar to an apprentice, this most commonly known as working as a trades assistant. The Trades assistant is able to help the licenced electrician with all duties on site however all work must be verified and approved by the licenced electricians.
What Tools Do Electricians in Sydney Need?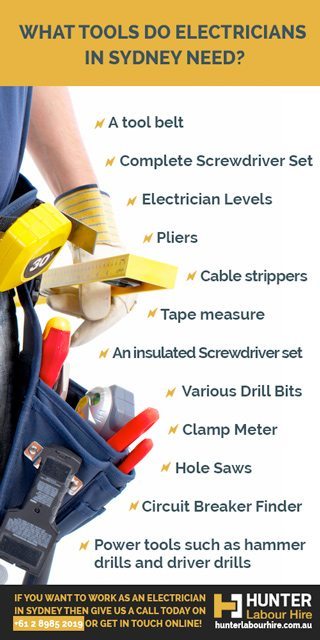 As with all jobs in construction in Sydney you will need to hold a valid white card in order to be able to work on a construction site. PPE is also a must. Electricians in Sydney are expected to provide their own tools to use on site. These tools include:
A tool belt
Pliers
Cable strippers
Electrician Levels
Tape measure
Complete Screwdriver Set
An insulated Screwdriver set
Power tools such as hammer drills and driver drills
Various Drill Bits
Clamp Meter
Hole Saws
Circuit Breaker Finder
It goes without saying that the tools required will vary on a job by job basis, but as a minimum the above should have you covered while starting out. If you're looking to purchase some tools and electrical equipment then you should check out the following:Sydney Tools, FK Tools, Total Tools and United Tools.
Electrician Positions Available In Sydney
Hunter labour Hire requires electricians for upcoming work throughout the Sydney region and have lots of positions available. If you are a sparky or electrician and seeking employment then get in touch today by calling the office on 02 8985 2019, by emailing job@hunterlabourhire.com.au or by filling in our online find work form.