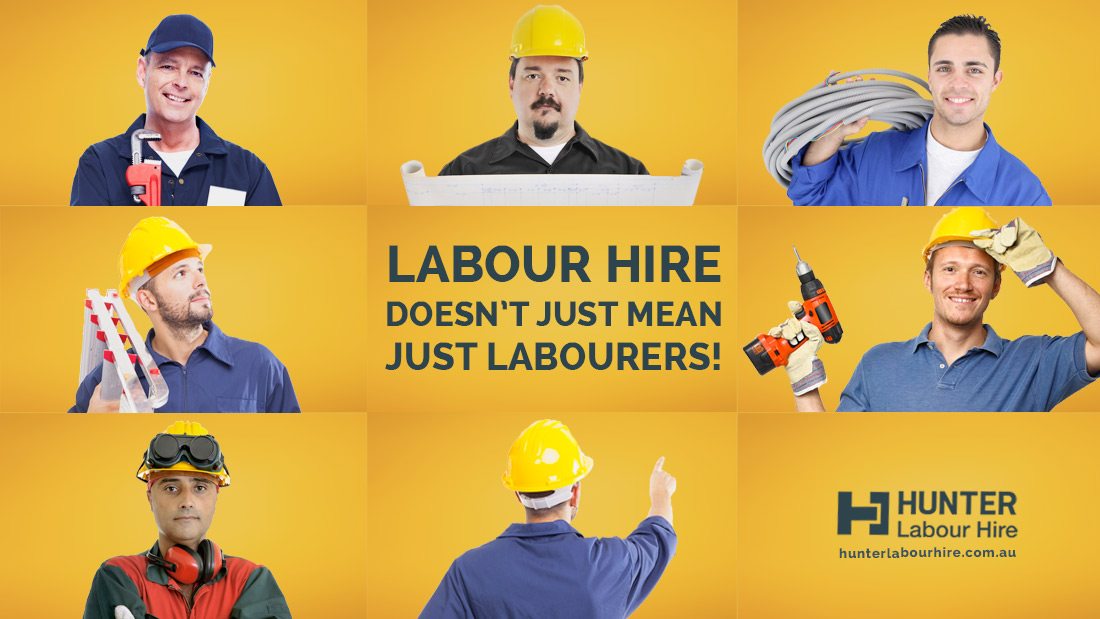 13 Jan

Labour Hire Doesn't Just Mean Just Labourers!
More Than Just Labour Hire
Labour hire doesn't just mean just labourers.
Here at Hunter Labour Hire we are a multi-talented bunch, so we will without a doubt have what you're looking for. If you need a plumber to finish running those pipes, or a carpenter to finally finish off those roof trusses give us a call and we can arrange them for you.
Carpenter Hire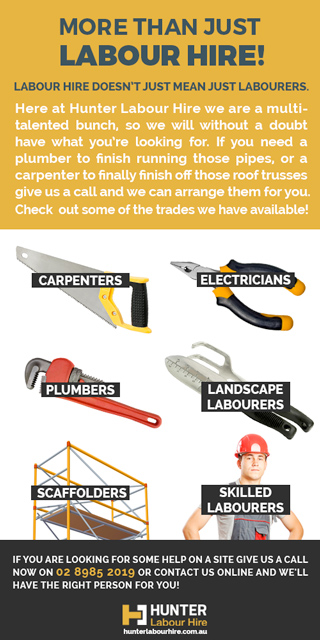 These guys are a rare find now that's not to say it's impossible. We have several carpenters out on jobs around Sydney. Now if you're looking for a fully qualified carpenter with tools and transport this may take a few days. However, if you are on a tight schedule and have tools on site then we have several overseas qualified carpenters who can assist you to finish that project on time. They are fully qualified in their respective countries they just didn't bring their tools.
Electrician Hire
Rewiring a house, putting in some switchboards? If you are needing an electrician, then get in touch. We have several licenced electricians, we can also provide trade assistants. Trade assistants tend to be overseas qualified electricians with or without tools, they come with all the same knowledge and skills just don't have their NSW licence (if you need one find out how to get a NSW licence now) . These trade assistants have years of work under their belt, they have just decided they want to be based on sunny shores for the time being.
Plumber Hire
Finishing off that bathroom? Running some commercial pipes? Plumbers keeps us clean and hydrated. All our plumbers will come to site with basic hand tools and heaps of experience. They all know how to install plastic plumbing and old school copper pipes, you will need to supply them the blow lamp for that one though. Our plumbers have worked on numerous projects around Sydney so come with both overseas and Australian experience.
Scaffolders Hire
Basic, Intermediate and Advanced ticketed scaffolders we have them all. Our scaffolders are focused on safety, reliability, hard work, and knowledge of multiple scaffolding systems. Safety is a big part of our scaffolders knowledge and we ensure all site inductions are completed before they start working.
Landscape Labourer Hire
These guys can refresh your garden with a comfortable deck for entertaining or a retaining wall that is sure to turn heads. These guys like to get down and dirty they also happen to have the best tans out of all the trades. These guys are hard workers so make the most of them before summer ends. That top soil won't move itself.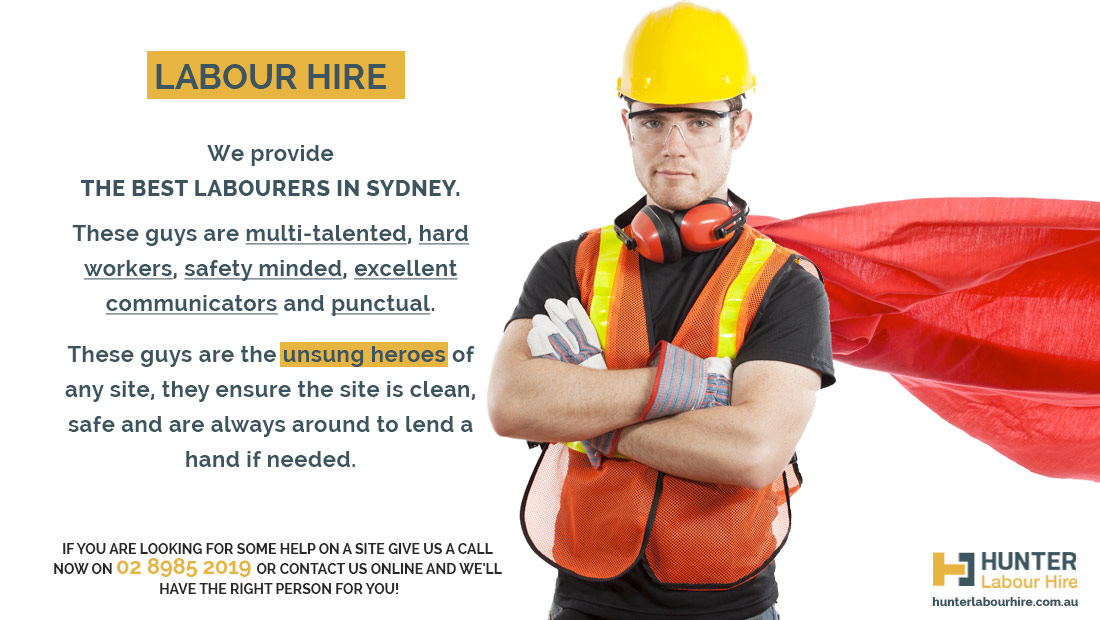 Labourer Hire
And last but by no means least skilled labourers.
We still provide the best labourers in Sydney. These guys are multi-talented, hard workers, safety minded, excellent communicators and punctual. These guys are the unsung heroes of any site, they ensure the site is clean, safe and are always around to lend a hand if needed. They know a Philips from a flat head. They know how to operate power tools and understand the importance of their job around site. They all come with a minimum 1 year experience and they understand the needs of the job and client before they get there.
Labour Hire Sydney
So, if you are looking for a carpenter to help you on your next project or a couple of skilled labourers then please get in touch. You can call the office on 02 8985 2019 or email us on info@hunterlabourhire.com.au or contact us online!
If you are a hardworking labourer or have a trade qualification, please get in touch to arrange an interview on 02 8985 2019 or email us at jobs@hunterlabourhire.com.au