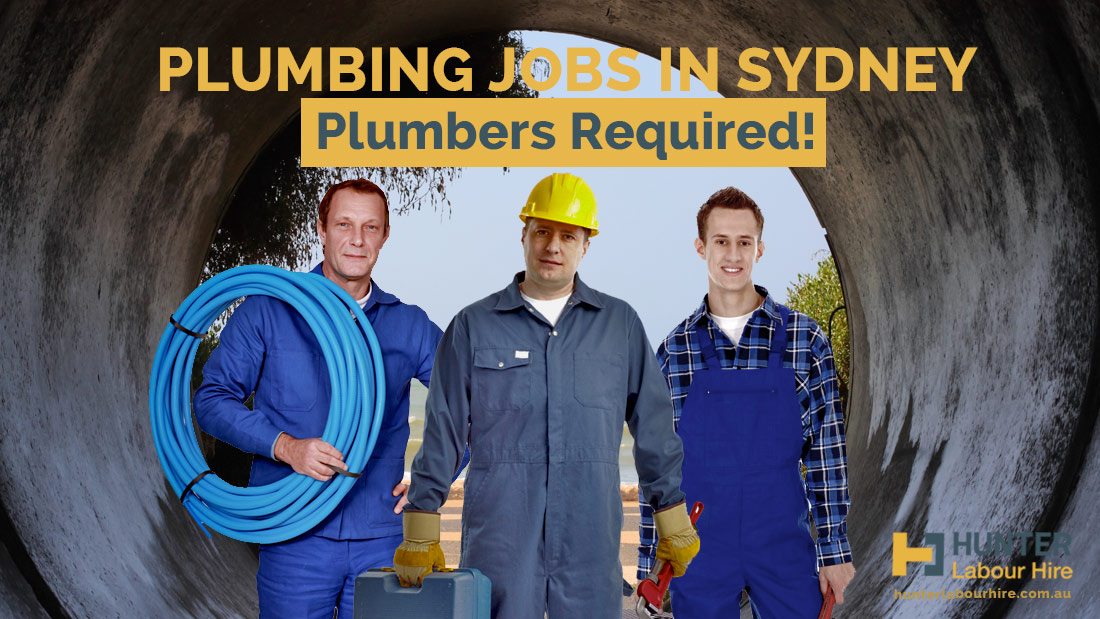 25 Nov

Plumbing Jobs in Sydney – Plumbers Required!
Demand For Experienced & Master Plumbers
Currently the demand for experienced plumbers in Sydney is huge. In 2015 the NSW Department for Employment released statistics showing that over 40% of employers could not fill vacancies for plumbers. The main reasons for this shortage include: lack of relevant experience from applicants, no formal trade qualifications, and not having trade recognized qualifications in Australia. We here at Hunter Labour Hire receive new enquiries from clients looking for plumbers at least a couple of times a week.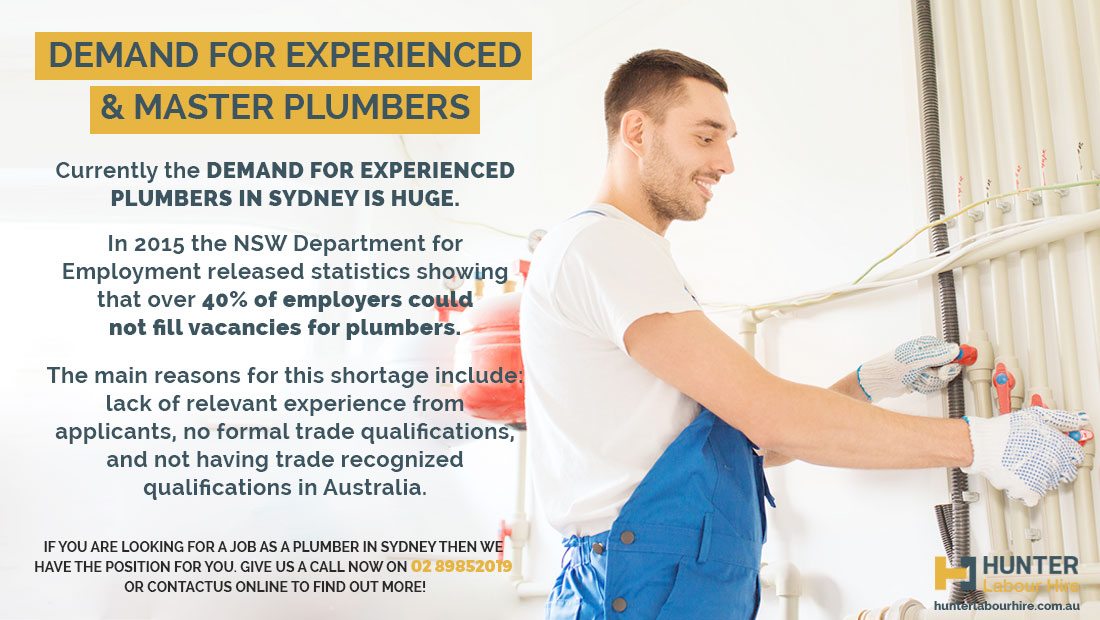 Plumbing Jobs in Sydney
There are great job opportunities available for plumbers in Sydney whether you are an apprentice starting on the long road to plumbing stardom, or you're a fully qualified overseas plumber but need to get your trade recognised.
Why Work As A Plumber in Sydney?
Here are 4 reasons why you should work as a plumber in Sydney!
Great Money – Due to the high demand for plumbers in Sydney as a plumber you can expect to earn a substantial wage as companies attempt to attract the top talent to work for their company.
Fantastic Work Life Balance – Whether you work as an emergency plumber or you are a construction plumber the chances are you will have a better work life balance in Sydney. The standard construction working hours in Sydney are 7.00 am – 3.30 pm Monday to Friday, which means you can hit the beach for the warm evenings.
Great Experience – Due to the sheer level of construction and civil works in Sydney, there are a huge variety of projects to get working on. If you have a desire to expand your experience in an area of the trade i.e. drainage and pipelaying, the chances are there is a project that will excite you.
Sunshine – A big attraction for many people in Sydney is the beautiful weather which means when you do have time off you can get out and enjoy the weather. Or if you are working on external plumbing you can soak up the rays too.
What Jobs are Available For Plumbers?
In Sydney plumbing and construction companies alike are looking for plumbers from all backgrounds, so what jobs should you expect?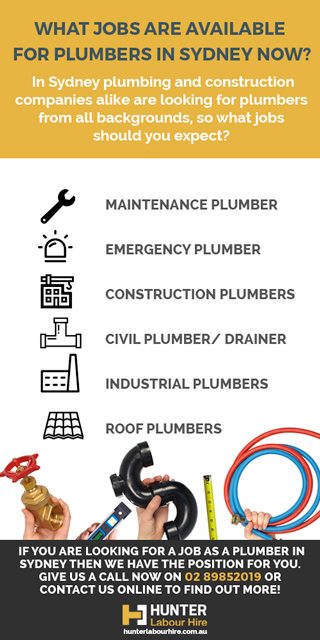 Maintenance Plumber: You will be required to assess various plumbing requirements, troubleshoot plumbing issues and implementing quality repairs.
Emergency Plumber: You will be on call for a variety of plumbing issues / disasters that may occur at sites around the city.
Construction Plumbers: You must have comprehensive experience plumbing both gas and water facilities. The majority of this work is Rough ins and Stack ins.
Civil Plumber/ Drainer: These guys are responsible for the in-ground plumbing i.e. Watermains, storm water drainage, and sewerage.
Industrial Plumbers: This includes installation, removal and repair of heating, cooling and ventilation systems within buildings and more.
Roof Plumbers: Installing, renewal, repair and maintenance of roof tiles, cover and roof water systems including gutters, downpipes and other rainwater piping.
Plumbers at Hunter Labour Hire
If working as a plumber in Sydney sounds like something for you then we have the job for you, fill in our online find work form or give us a call today on 02 8985 2019 to discuss our vacancies with Sydney's top plumbing companies.
If you need plumbers on your project then don't hesitate to get in touch with our friendly staff who will be able to help you with your requests. Fill in our contact form or call us on 02 89852019.
Save