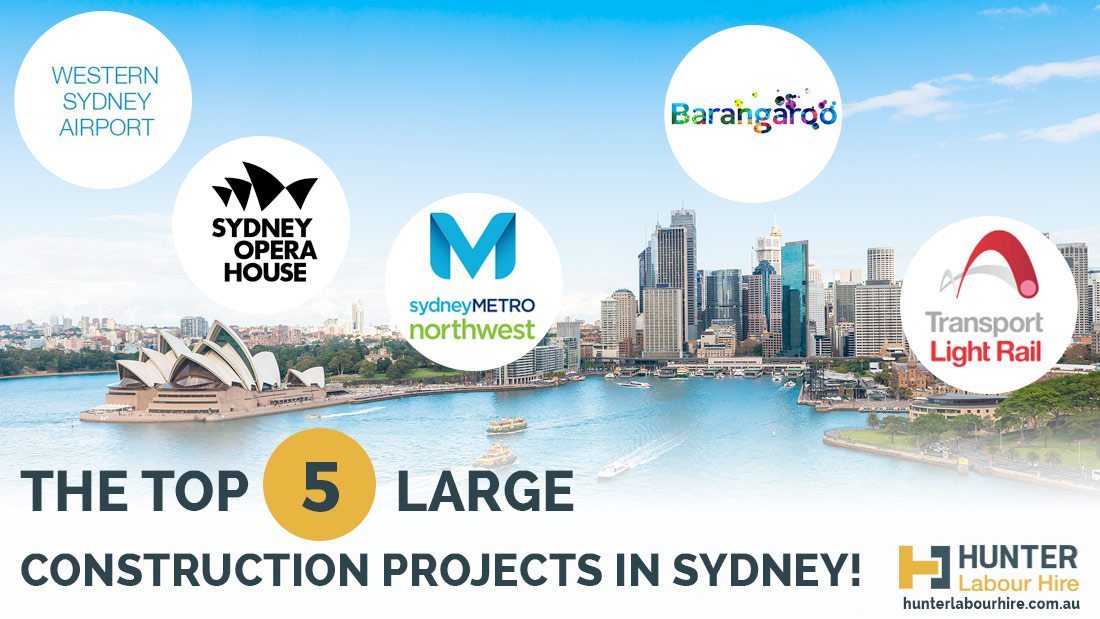 26 Aug

The Top 5 Large Construction Projects in Sydney
Construction Projects in Sydney – Top 5
The Sydney Construction Industry continues to go from strength to strength with both a booming residential construction sector, multiple large scale commercial developments and vital infrastructure projects all playing a key role in supporting the industry. At Hunter Labour Hire we have taken a look at 5 construction projects currently in development or that will be very soon taking shape in the Sydney region.
Sydney Construction Projects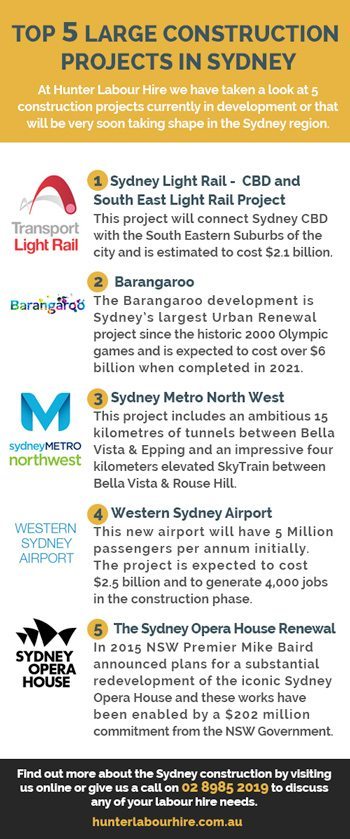 Sydney Light Rail – CBD and South East Light Rail Project
The CBD and South East Light Rail Project will connect Sydney CBD with the South Eastern Suburbs of the city. The route itself when completed in 2018 will feature 19 stops, from Circular Quay to Randwick, and potentially to La Perouse in the future. The total cost for this project is estimated to be $2.1 billion.
Barangaroo
The Barangaroo development is Sydney's largest Urban Renewal project since the historic 2000 Olympic games.
Lendlease were selected as the primary developer of Barangaroo and also to oversee the remediation works of the Barangaroo Reserve Park project. Sections of the South precinct will progressively be opened until fully complete by 2021. The total cost of Barangaroo is expected to be over $6 billion.
Sydney Metro North West
The Sydney Metro North West project is formerly known as the North West Rail Link and aims to connect 8 new railway stations and 4000 commuter car parking spaces to the growing suburbs of Sydney's North West such as Castle Hill and Kellyville. This project includes an ambitious 15 kilometres of tunnels between Bella Vista and Epping as well as an impressive four kilometers elevated SkyTrain between Bella Vista and Rouse Hill.
Western Sydney Airport
The Western Sydney region is the third most economically important region for the Australian Government and it is because of this that it is no surprise that Badgerys Creek has been chosen as the site for a second international airport in Sydney. The airport would be expected to operate from one runaway with approximately 5 million passengers initially passing through it per annum. The project is expected to cost $2.5 billion and to generate 4,000 jobs in the construction phase.
The Sydney Opera House Renewal
In 2015 NSW Premier Mike Baird announced plans for a substantial redevelopment of the iconic Sydney Opera House. This includes a complete revamp of the Concert Hall which will be brought up to modern standards improving the acoustics inside while also increasing stage dimensions and upgrading rehearsal spaces.  These works have been enabled by a $202 million commitment from the NSW Government. Samsung Electronics will be a Principal Partner for this renewal. The Walsh Bay Arts Precinct will also receive an injection of $139 million to fund developments for their arts and numerous other arts organisations in the area.
This renewal highlights the commitment of NSW government to invest in constructing a better future for the arts and culture sector in Sydney.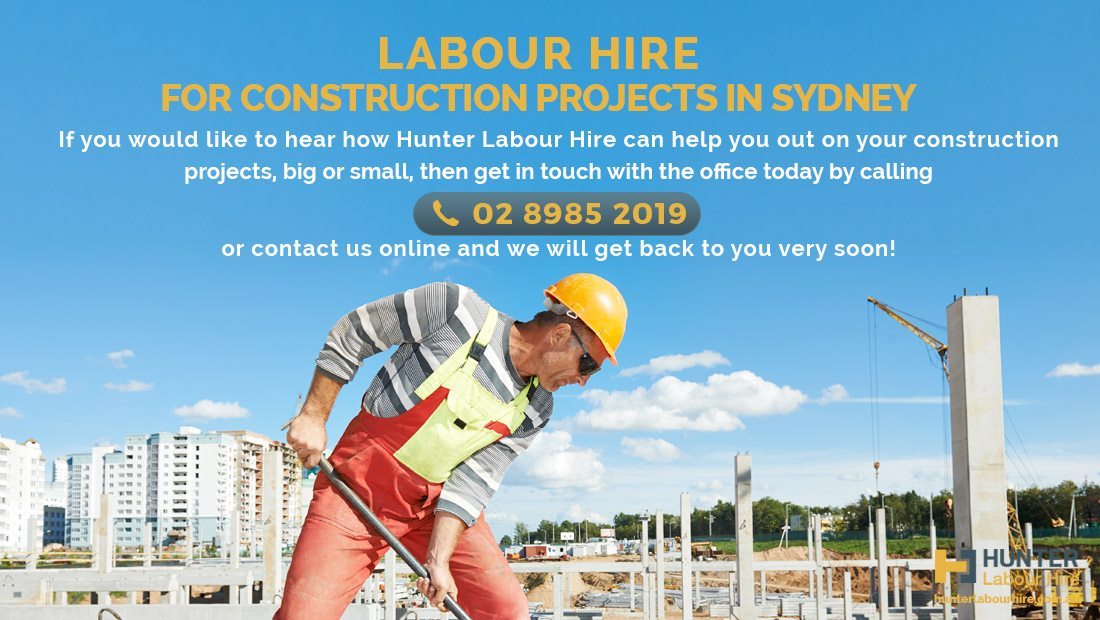 Labour Hire For Construction Projects in Sydney
Even though we have only just touched on 5 projects in Sydney you can see there is a massive amount of construction work in Sydney, and there will be for many years to come. If you would like to hear how Hunter Labour Hire can help you out on your projects big or small, then get in touch with the office today by calling 02 8985 2019 or filling in are online contact form and we will get back to you very soon!