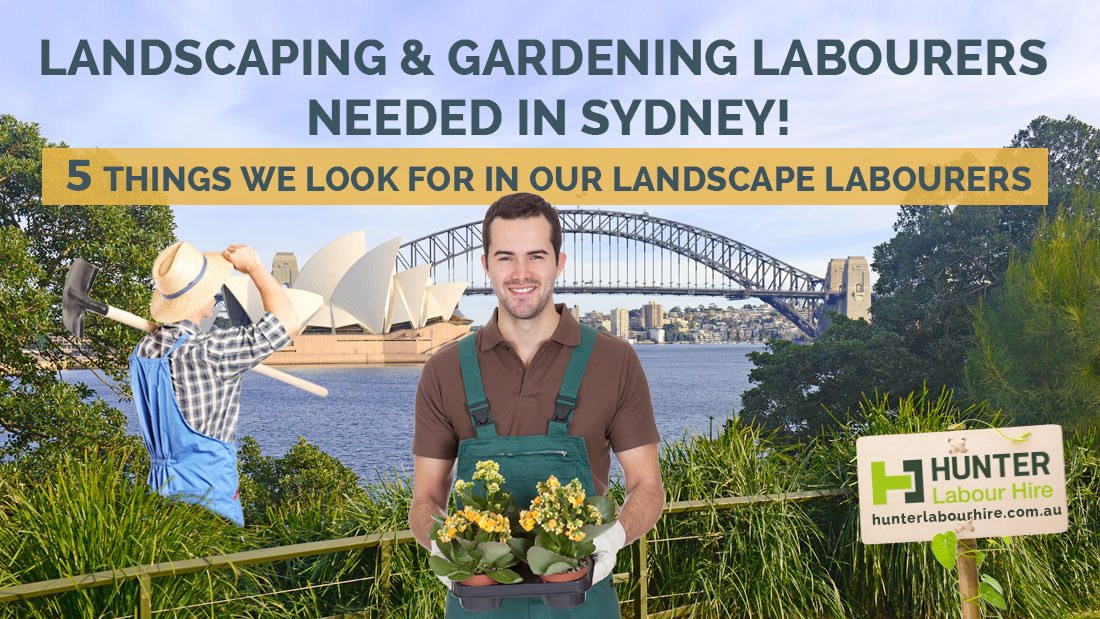 16 Nov

Landscape & Gardening Labourers Needed in Sydney
Landscaping & Gardening Labourers With Experience Required!
The weather is warming here in Sydney and the sun is shining bright. As summer looks to set in for the next few months the landscapers are getting busier and busier, as are the team here at Hunter Labour Hire providing the hardest working landscape labourers Sydney has ever seen. So, if you're looking to transform your outside space then go ahead and put in that new deck area for entertaining or build that sandstone retaining wall. Now is the time to make the most of the warm summer evenings! We've seen a sharp increase in requests for labourers with landscape experience. Do get in touch now and get that quality labourer for your upcoming summer projects now.
Need Landscaping & Gardening Labourers?
A lot of our landscape labourers come with experience on a wide variety of tools, so if you need a maintenance assistant or landscape that can tell a whipper snipper from his hedge trimmer then we have the right guys for you. They can assist your company in any aspects of landscaping or maintenance work. Our labourers are working on everything from a timber sleeper retaining wall up in West Pennant Hills, to a block paving project in Rozelle and everything in between.
If you want a labourer to move that 10 cubic meters of top soil or someone to trim that lilly pilly then we here at Hunter Labour Hire have the best labourers for the job. If you need a labourer for a day a week or longer, we can help.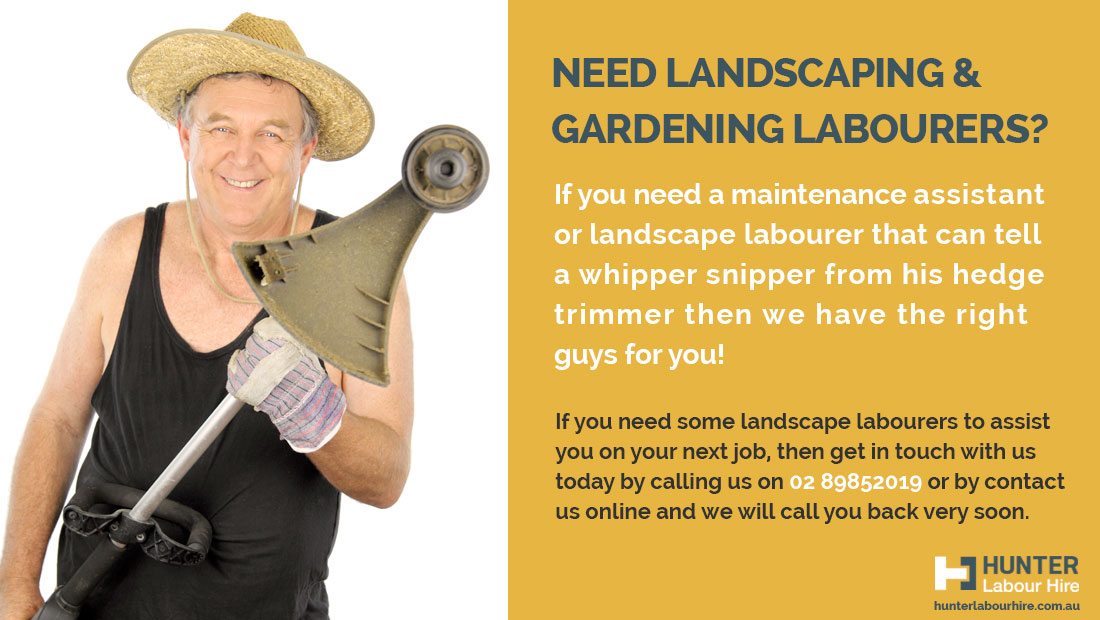 Looking For A Job in Landscape Labouring?
Moving on if you are looking for employment here in Sydney, you've probably decided that you want to make the most of the upcoming summer months by working outside in the sun. If you can tell a shovel from a spade and can edge a lawn with a whipper snipper, please get in touch. We are looking to add some extra landscape labourers for the busy summer months.
If you've got experience in hard or soft landscaping and don't mind enjoying your summer months outside in 30 degrees plus days getting dirt under your fingernails, then call us now 02-89852019 or register online.
5 Things We Look For in Our Landscape Labourers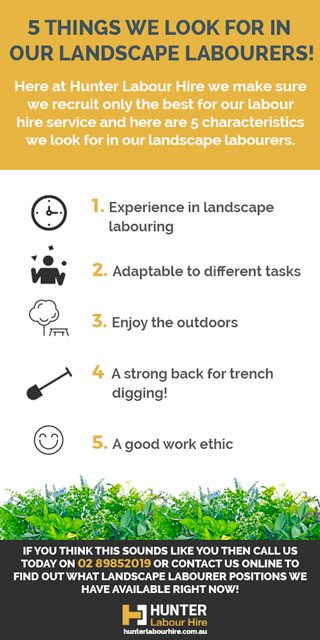 Here at Hunter Labour Hire we make sure we recruit only the best for our labour hire service and here are 5 characteristics we look for in our landscape labourers.
A solid background in labouring; the work is long and hot so you need to be durable and hard working.
Adaptable, one day you could be digging trenches the next cutting timber for decking so a willingness to learn and experience with power tools is essential.
Enjoy the outdoors as this is where you will be spending most of your time now.
A strong back you'll need it for digging those trenches.
Good work ethics, with the summer being the busiest months for landscaping you will need to work hard to ensure the client's garden is finished so they can enjoy the longer summer evenings sooner rather than later.
If you think this sounds like you then call us today on 02 89852019, email your resume to jobs@hunterlabourhire.com.au or register online.
Landscape Labourer Hire Sydney!
Also, if you need some landscape labourers to assist you on your next job, then get in touch with us today by calling one of our account managers on 02 89852019 or by filling in our contact form and we will call you back very soon.