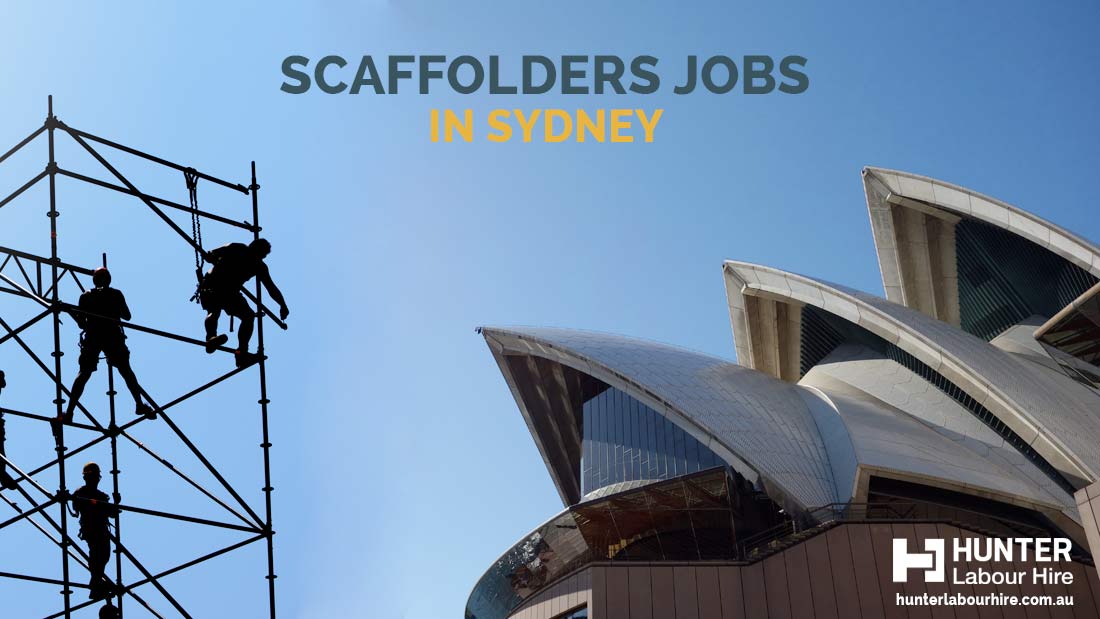 10 May

Scaffolders Jobs Sydney
Scaffolders Jobs Sydney – Scaffolder Hire
Scaffolders jobs in Sydney are plentiful as there is currently a huge demand in the construction sector on a wide array of projects from infrastructural to residential builds for scaffolder hire. This is because on many of these projects there is a need for safe working platforms as result the demand for scaffolding has gone through the roof. There is now a huge demand for scaffolders in Sydney and at Hunter Labour Hire we have many clients who need qualified and experienced scaffolders for their projects. As a result we require scaffolders for projects throughout the Sydney region from Bondi to Brookvale. Even if you only have experience as a scaffolder's labourer or you have been in the scaffolding game ten years we would like to hear from you today!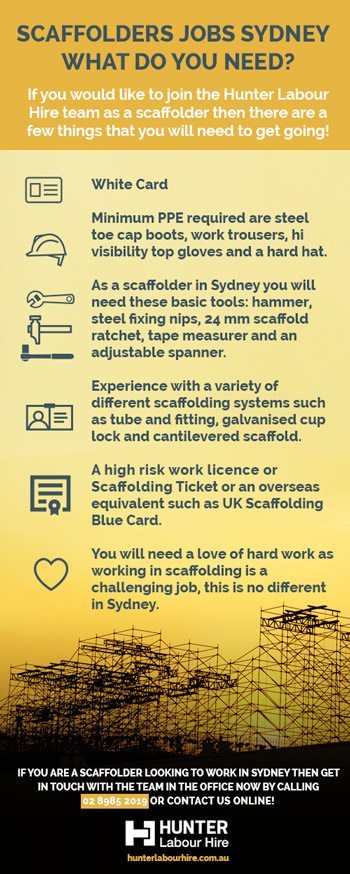 Scaffolders Jobs Sydney – What Do You Need?
So let's get right down to it as we have so many scaffolders jobs there is no time to beat around the bush! If you would like to be join the Hunter Labour Hire team as a scaffolder then there are a few things that you will need:
White Card
Minimum PPE required is a steel toe cap boots, work trousers, hi visibility top gloves and a hard hat.
Scaffolder tools and tool belt in Sydney. As a scaffolder you will need these basic tools: A Hammer, steel fixing nips, 24 mm scaffold ratchet, tape measurer and an adjustable spanner. Check out our guide to getting tools in Sydney here.
Experience with a variety of different scaffolding systems such as Tube and Fitting, Galvanised Cup Lock and Cantilevered Scaffold.
A high risk work licence or Scaffolding Ticket (Basic, Intermediate or Advanced) or an overseas equivalent such as UK Scaffolding Blue Card.
You will need a love of hard work as working in scaffolding is a challenging job, this is no different in Sydney.
If you have all of the above want to be a scaffolder then all you need to do is get in touch with us… Read on!
Where Do I Apply? – Scaffolders Jobs Sydney
If you are a scaffolder and have over 3 years' experience then get in touch with the team in the office now by calling 02 8985 2019 or by emailing jobs@hunterlabourhire.com.au. Alternatively you can fill apply for scaffolders jobs in Sydney online!