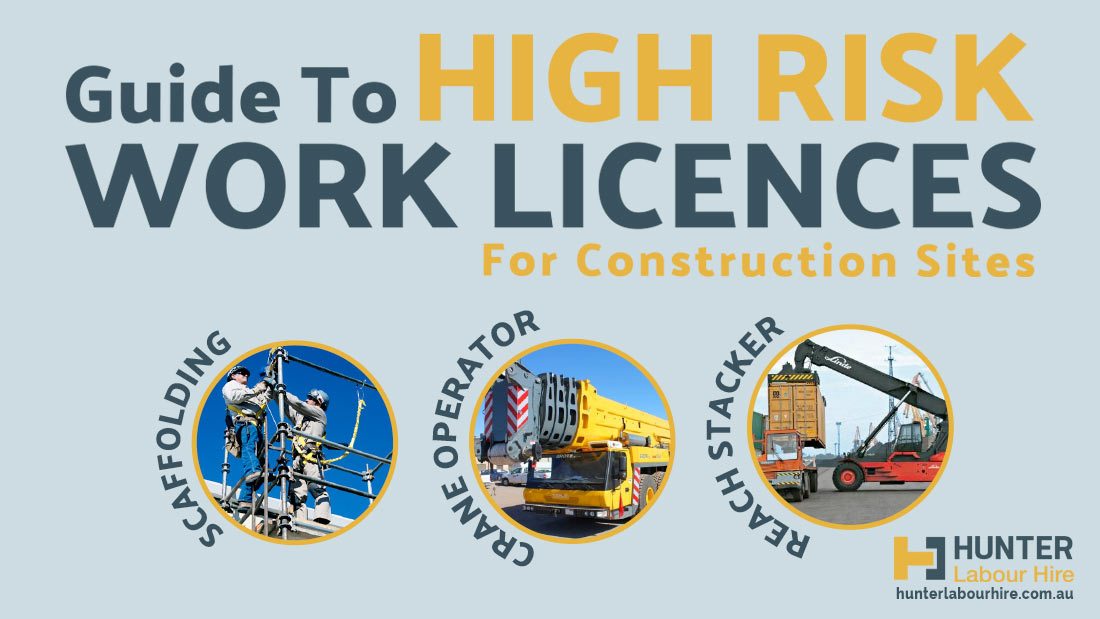 11 Apr

Guide To High Risk Work Licences For Construction Sites
High Risk Work Licences
If you are a labourer or tradesperson working on a construction site or you are performing work that is considered high risk then you will be required to hold a High Risk Work Licence. There are a few categories and sub categories of high risk work licences and in this post we'll give a guide to them all.
Categories of High Risk Work Licences
There are different categories of high risk work that allow;
Scaffolding work;
Dogging and rigging work;
Crane and hoist operation;
Reach stackers (from 1 July 2015);
Forklift operation; and
Pressure equipment operation.
In each of these categories there are sub classes; for example the scaffolding work license is divided into three classes Basic, Intermediate and Advanced. We'll know go through all the sub categories of high risk licences.
Scaffolding Work


Basic scaffolding (SB)
This licence allows for scaffolders to perform any scaffolding work including the following: building modular or pre-fabricated scaffolds, to operate cantilevered materials hoists with a maximum working load of 500 kilograms, use ropes, gin wheels, safety nets and static lines, and bracket scaffolds (tank and formwork).
Intermediate scaffolding (SI)
This class allow more complex scaffolding work to be carried out such as cantilevered scaffolds, spur scaffolds, tube and coupler scaffolds and more.
Advanced scaffolding (SA)
The is the highest class scaffolding ticket available and it allows for the operation of cantilevers, construction of hung scaffolds, including scaffolds hung from tubes, wire ropes or chains, and suspended scaffolds.
Forklift Licence
In order to operate a forklift in Australia you will need a high risk work licence to operate it. There are two classes of forklift licence; Class LF and Class LO. The main difference between each licence is the type of vehicle that it permits the person to drive. With the LF licence you are allowed to operate any type of forklift with the exception of Load-shifting Order Pickers (LO). While you will need the LO Order Picker licence to control a load shifting order picker and 'turret truck'.
Dogging (DG) Licence
If you want to be a Dogman then you will need to have completed the dogging course. These courses will instruct on proper slinging techniques to move a load (including the selection and inspection of lifting gear). Furthermore it will teach correct methods of directing a crane/hoist operator in the movement of a load when the crane/hoist operator load is out of their view. Once you have completed your course you will receive a National High Risk Work Licence class DG.
Rigging Work Licnece
Rigging work is the use of mechanical load shifting equipment (and associated gear) to move, place or secure a load using plant, equipment. It consists of dogging of and rigging involving; movement of plant and equipment, steel erection, hoists, placement of pre-cast concrete, safety nets and static lines, perimeter safety screens and shutters and cantilevered crane-loading platforms.
The rigging work is divided into three classes Basic Rigging (RB), Intermediate Rigging (RI) and Advanced Rigging (RA).
Crane Operation Licence
To operate a crane in Australia you will need to hold a licence specific to the type of crane to be operated. There are nine classes Bridge and gantry cranes (CB), Derrick Crane (CD), Non slewing mobile cranes with a capacity of more than 3 tonnes (CN), Portal boom crane (CP), Self-Erecting tower crane (CS). There are four different types of Slewing mobile cranes (C2 – up to 20 tonnes), (C6 -up to 60 tonnes) (C1 – up to 100 tonnes) and C0 – over 100 tonnes. Tower cranes (CT), Vehicle loading crane (CV) and Concrete placing booms (PB).
Hoist Licences
Within the host licences category there are three different classes. Boom-type elevating work platform (WP), materials platform hoist (HM) and personnel and material hoists (HP).
Pressure Equipment Licences
To operate some high risk equipment such as certain types of reciprocating steam engines, turbines and boilers in NSW. In order to operate a reciprocating steam engine containing a piston of 250 millimetres or more in diameter, including expanding (steam) reciprocating engines you will need to hold an ES class licence.
To operate a standard boiler with only a single fuel source you will need to hold a standard boiler (BS) licence. In order to operate an Advanced Boiler which has one or more of the following; multiple fuel sources, pre-heater, super heater and economiser you will need to hold a BA class licence.
In order to operate a turbine that has an output of 500 kilowatts or more and is multi-wheeled or is capable of a speed greater than 3,600 rpm or has attached condensers, or has a multi-stage heat extraction process you will need to hold TO classed licence.
Reach Stacker Licence
To operate a reach stacker you will need to hold a high risk work licence a valid non-slewing mobile crane licence (CN). From July 2016 onwards a reach stacker licence will be required to operate a reach stacker.
Jobs Available For High Risk Work Licence Holders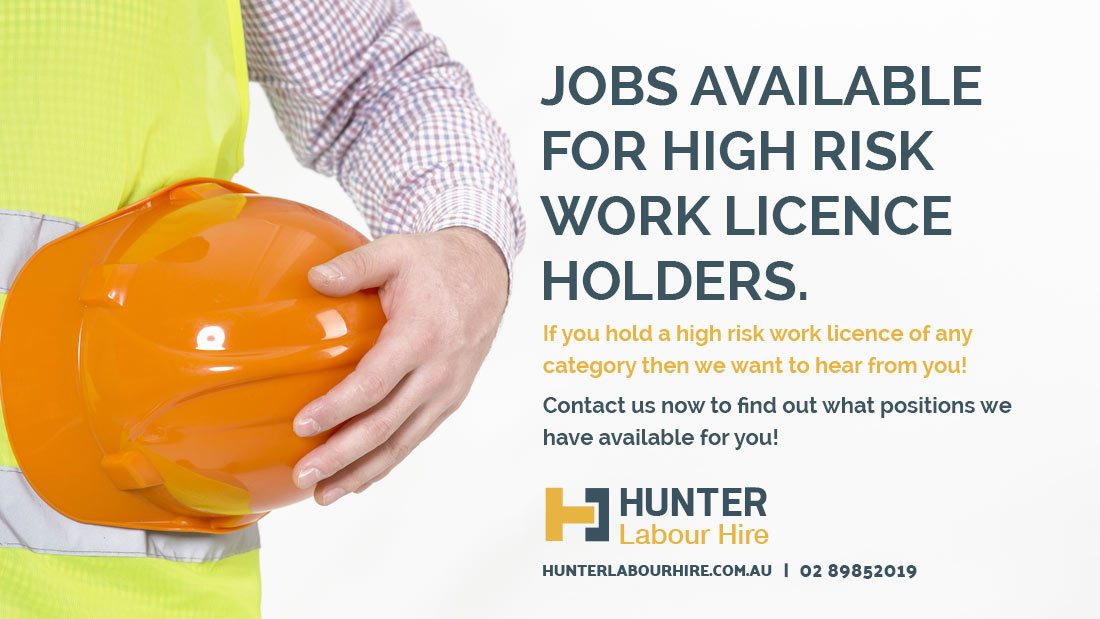 If you hold a high risk work licence in any of the above categories then we want to hear from you. Call the office now on 02 89852019, email us at jobs@hunterlabourhire.com.au or apply online and we'll get back to you asap to let you know what positions we have available for you.