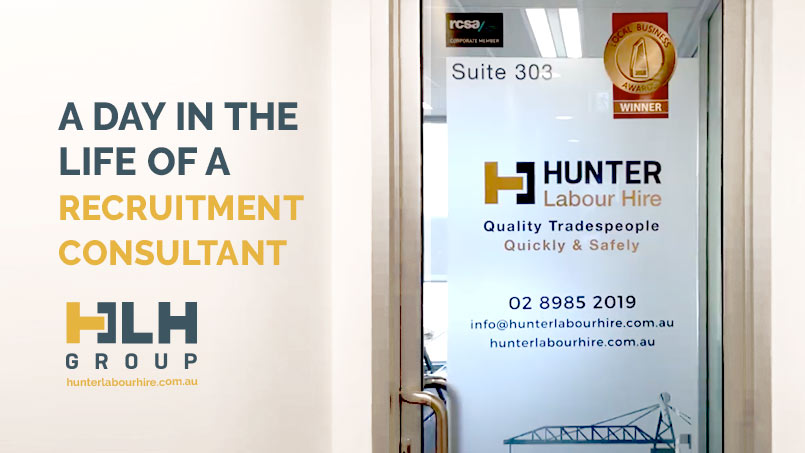 22 Jul

A Day In The Life Of A Recruitment Consultant
The Role of a Recruitment Consultant
In this week's blog, we take a look at a typical day for one of our recruitment consultants and the work they do behind the scenes that set Hunter Labour Hire apart from other labour hire firms. In the past we've had a look at a day in the life of a carpenter, skilled labourer and a general labourers and today we'll go over the role of a recruitment consultant.
360 Degree Recruitment Consultants
Although it may look like it, unfortunately for the consultants at the HLH Group, their job is not as easy as posing for pictures on site overlooking Bondi Beach – as seen on our social media platforms. Working as 360 degree recruitment consultants, our team are responsible for both client and candidate management as well as building strong relations with new and existing clients. Our consultants' day starts very early to ensure all candidates are on-site at the correct time. More often than not they are often working back late to fill any late requests from their clients to ensure HLH Group continue to provide a quality, reliable service even at short notice.
Rise and Shine
Every day starts exactly the same. At around 5:30 am, before their morning shower and especially before any breakfast the first thing recruitment consultants do every morning is check in with their workers to ensure they are up and on their way to work. If they are lucky they can hit snooze and get a few more precious minutes of sleep but more often than not recruiters will receive a late request from a client and it will mean filling that request and getting another worker on their way to the site. With all client demands sorted it is time to get the day started and head into the office for an 8:00 am start.
Morning Talk
The recruitment consultants get into the HLH office in Bondi Junction each morning just before 8:00 am and make their first coffee of the day and standard breakfast bowl. With all stomachs full it is time to start closing job placements from the previous day and opening any new ones. Just as important as opening all placements are catching up on the mornings English Premier League or Champions League football, with the ever-essential welcome sound of Optus Sport highlights in the background. This can be a trying time for our recruitment consultant Laird who unfortunately supports Arsenal.
Once all placements are up to date (approx. 8:45 am) it is time to go through the previous day's candidate applications. Promising applicants are divided up amongst the team and from there, each consultant will call suitable candidates for an initial screening as part of our recruitment process to assess their skills and abilities. If successful they will arrange for a follow-up call to complete the rest of the HLH Group induction. Usually, the induction process is completed in our office but due to COVID-19, we are completing all inductions over the phone.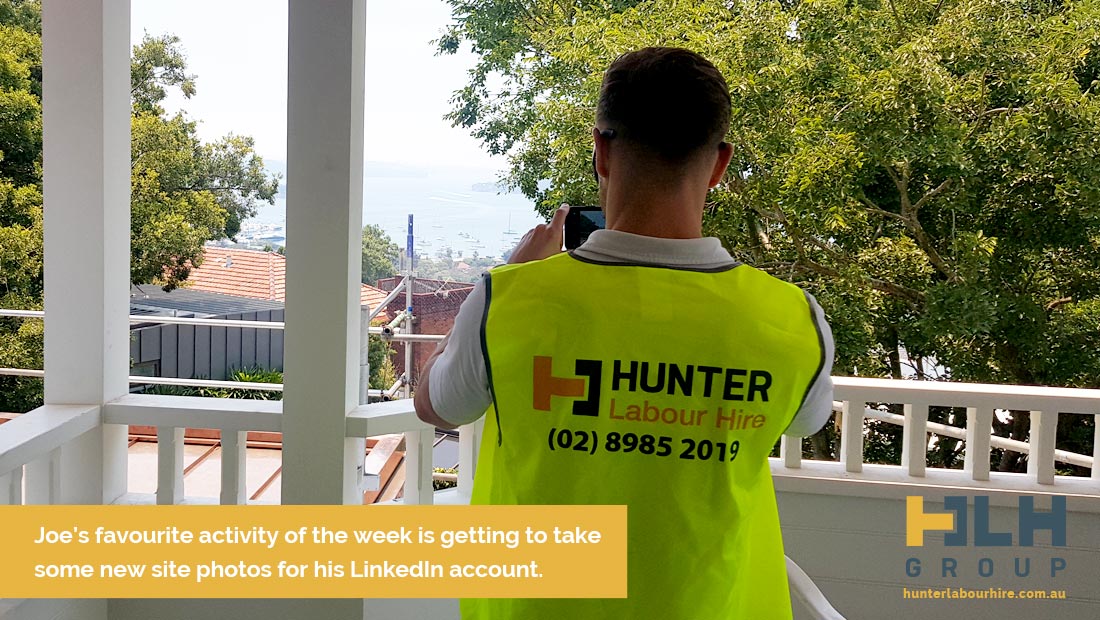 On the Road
At around 9:30 am it is time to hit the road and get out to meet some of our clients on site. This is Joe's favourite activity of the week as he gets to take some new site photos for his LinkedIn account. If we have any new clients starting that week, we will always make sure to get out and put a face to the name the first day we have a worker on site. Once all new clients are greeted, it is time to please our existing clients with a catch up over a coffee and dropping PPE off to our workers on site. Undoubtedly, this is the highlight of the week for our consultants as it gives the team a chance to see first-hand some of the exciting construction projects in Sydney, we are involved in. The only downside to site visits is being pestered by Michael our Marketing man for some more worksite content for our social media accounts – if you haven't already, be sure to follow our Facebook, Instagram and LinkedIn.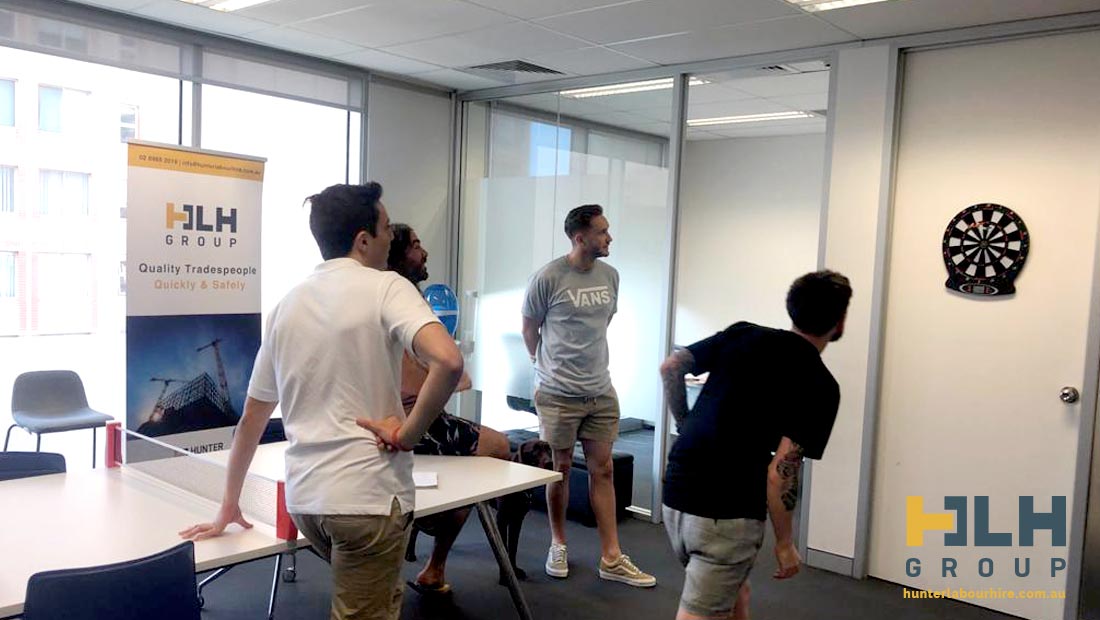 Darting for Lunch
12:00 pm already … wow! After a morning on the road, it is time to head back to Bondi Junction just in time for some lunch. After a quick snack from the Oxford Street markets, it is time for the daily game of darts wagering a couple of dollars against each other.
Interviews, Interviews and More Interviews
1:00 pm to 2:30 pm is usually when most interviews and potential client calls take place. As previously mentioned, before COVID-19 our team would have every candidate into the office for a face to face registration where we would go through a two-part HLH Group Induction. During this two-hour window, our consultants usually get a chance to follow up with any potential clients looking to use HLH Group for their labour requirements.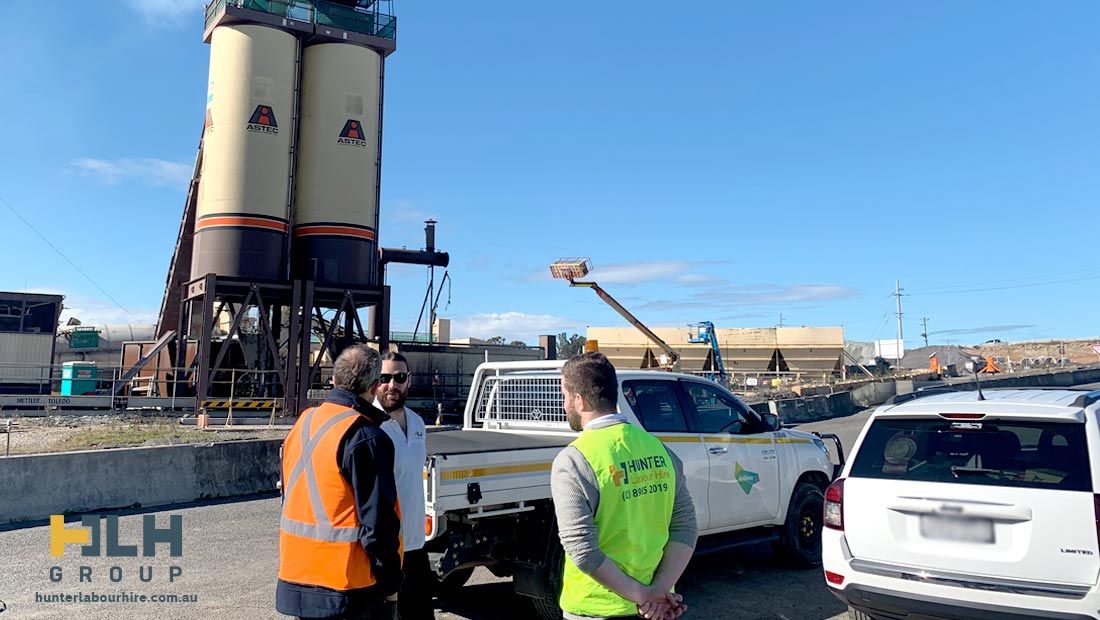 The Final Rush
By 3:00 pm our consultants are busy checking on jobs closing that day and filling requests for the following day. As we always keep existing workers busy before starting anyone new, our consultants work together to place any worker finishing on a job that day onto a new job opening the next day. With most placements locked in by 4:00 pm, it's time for our team to finish up at the office and head home after a busy day.
For most people working in an office job once you leave the office your work is complete for the day, but not for our hardworking team. Our consultants are quite often organising late requests from clients who have had a change in their scope of work or who have been let down by one of their workers and need HLH Group to help them out.
And, before you know it, after some warm cups of tea and two hours of Netflix it's 9:00 pm and time for bed to start the process all over again.
That's All Folks
And that is the typical day in the life of one of our recruitment consultants. Unofficially, they are the unsung heroes in the office who every day ensure the HLH Group continue to provide a reliable service and quality labour hire to all our clients. Although their schedules may look extremely busy, our team are always here to help you with any labour requests you might have. Be sure to call our office today on (02) 8985 2019 or contact us online to have a chat with one of our consultants about how we can help you on your next project and get your account set up today.