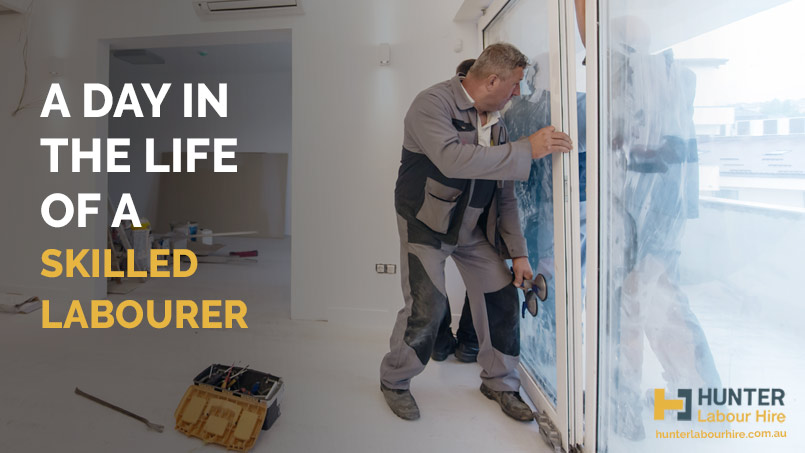 19 May

A Day in the Life of a Skilled Labourer
Working As A Skilled Labourer
In the past we've given you an insight into what it's like working as a renderer and what a day in the life or a general labourer is like with the one and only Lee Harrison but today we're going to look at what it's like to be a skilled labourer. One of our labourers, Lee, has stepped up to the plate to pulled back the curtain and let you know what the daily skilled labourer grind is like, read on!
6 Months As A Skilled Labourer
My name is Lee and I have been working for Hunter Labour Hire for the last 6 months as a skilled labourer. Working for Hunter Labour Hire has enabled me to expand my knowledge of the construction industry. Back in the UK, I worked as a plasterer but since arriving in Sydney I have had a lot of different jobs ranging from trade assistant, window installer to assisting with the installations of lifts. Before the coronavirus lockdowns impacted the Sydney construction industry, I would usually finish my shift and head to the nearest beach for a dip in the stunning Sydney waters.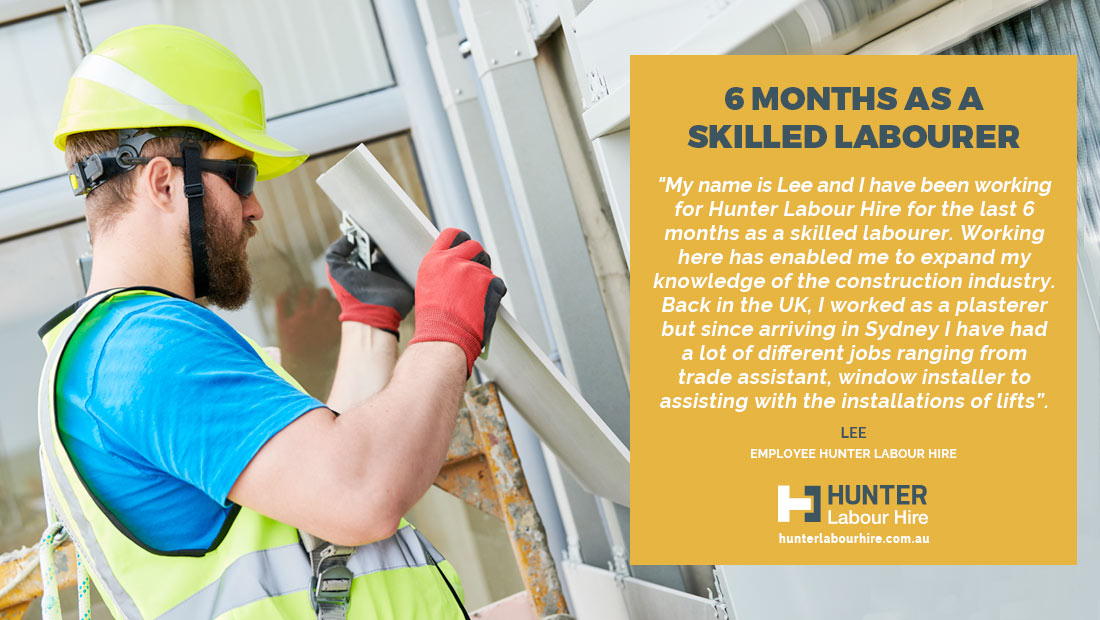 An Average Day for a Skilled Labourer
I've been working on a project in the CBD working as a handyman/skilled labourer for over 2 months now. My day always starts with a 6am pre-start to discuss what the plan is for the day. We have to listen very carefully and act cautiously as it is a live environment. How does the day usually go? My first job of today is to replace some old ceiling tiles with new one and so off to Bunnings Warehouse to get all the materials for the task. We then move up to level 21 and start by removing all the old ceiling tiles and disposing of them into the skip bin. Finally we get to put the new tiles on the walls – an easy start to the day. TIME FOR SMOKO! – not that I smoke anyway but hey 15 minutes of eating some morning tea and talking to the lads is enough for me.
Patchwork Project @ Level 12
The next job? We are turning an office into a living space to rent out for tenants. We head down to level 12 and inspect what walls need to be repaired. Well this isn't going to be easy, all the walls have minor and major holes in the walls from office chairs hitting them. How do we fix these holes? First we make sure the hole is clear of all loose material then we apply a small mesh that covers the hole and applies a patch repair kit on top of the mesh. We have to remember to let it dry to ensure it stays in place correctly. Once the repair plaster is dry, we sand the walls down and paint over the walls to restore the original colour.
Afternoon Shift for Skilled Labour
After devouring the ever so Australian 'Garlo's Meat Pie' we have been told we need to head to the basement and jackhammer out some concrete to lay pipe in. We head to the ute and grab the large jackhammer and walk down to the basement. We start by drawing lines on the floor to mark the width and length of the trench. I have the joy of being on the jackhammer first, and just like that I blink and one hour has gone past on my watch. Almost time to go to the beach but not before we clean up the entire workspace. *Beep Beep* 3pm and the site manager has told us we are free to leave and thanks us for the incredible effort put in. Time to change out the once yellow high vis and PPE for the swimmers and head to the closest beach on Google Maps. Will get back to that jackhammer again tomorrow but now it's time for some waves!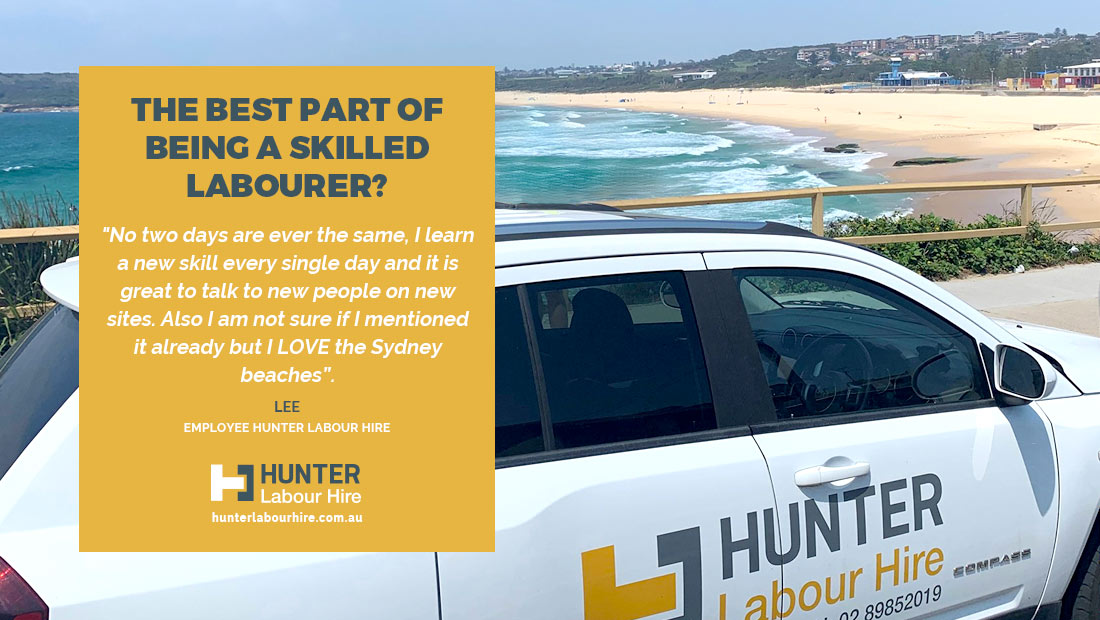 The Best Part of being a Skilled Labourer?
No two days are ever the same, I learn a new skill every single day and it is great to talk to new people on new sites. Also I am not sure if I mentioned it already but I LOVE the Sydney beaches.
The Worst Part of being a Skilled Labourer?
Without a single doubt in my mind it would have to be my iPhone waking me mid-dream in the morning at 5am, yes you read correctly 5 AM! At least it is getting easier and easier as my body clock adjusts.
All In A Day
And so, there you have it, an insight into what a day in the life of a skilled labourer entails and big thanks to Lee for taking us through it. Stay tuned for more "day in the life" posts and if you'd like to join the team, or hire some of our labourers, then get in touch!