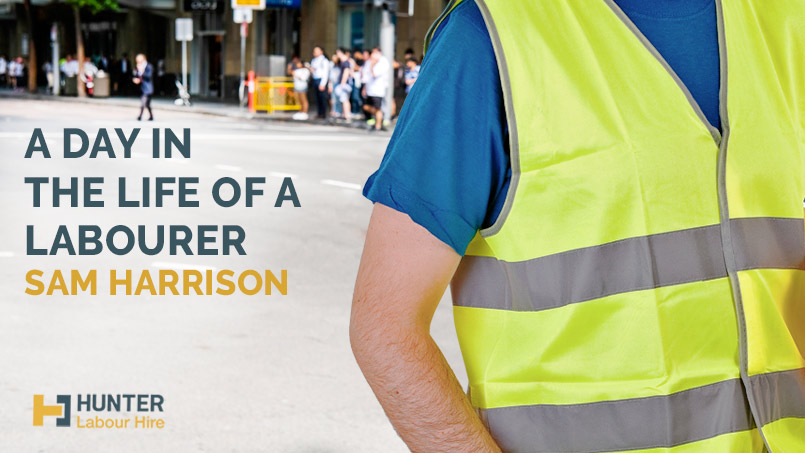 19 Aug

A Day in the Life of a Labourer – Sam Harrison
A Day In The Life Of A General Labourer
Hunter Labour Hire currently have general labourers on sites across Sydney completing various tasks ranging from general site clean-up, demolition jobs and skilled trade assistant work. As part of a new series of blog posts we're going to detail what it's like to have "A Day in the Life of…". We started off the series giving you a look at A Day in the Life of a Renderer and in this post we'll turn our focus to the bedrock of construction work, general labourers.
Sam Harrison – A Day in the Life
Every worker has a slightly different daily routine which is often determined by the location of their accommodation relative to the location of the job. However, below details a typical day in the life of one of our most reliable and longest serving labourers (and previous Employee of the Month winner), Sam Harrison, during his time spent last week on a commercial school build in Wahroonga which is very close to being completed.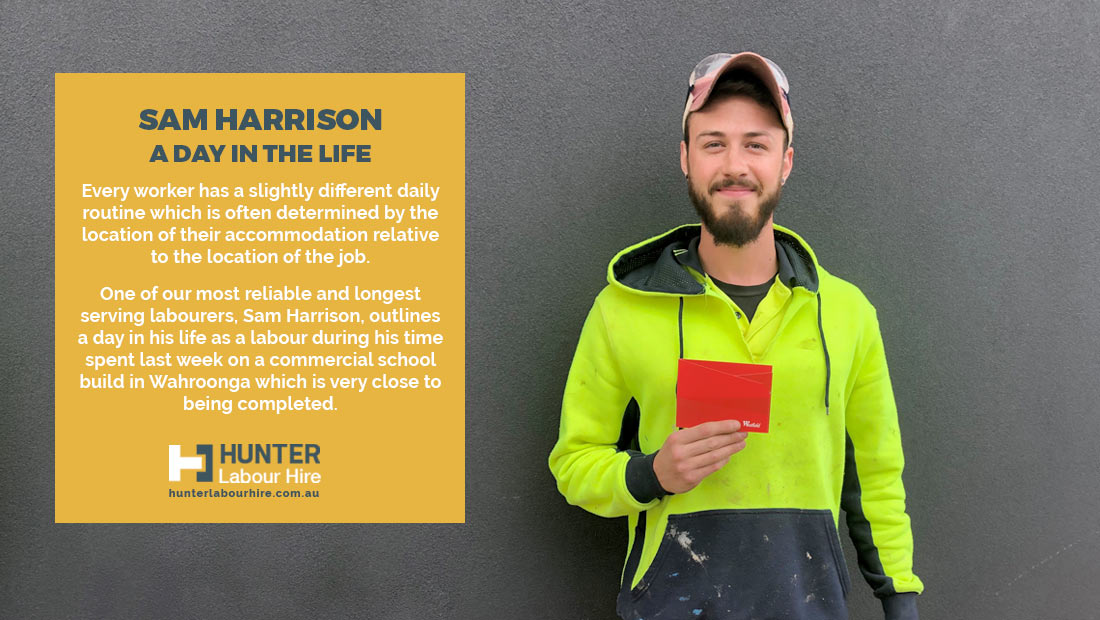 Hour By Hour
So, let's get down to the nitty gritty and have a look at what a day in the life of a general labour entails – hour by hour!
05:00am – Due to living down in Miranda, Sam is generally travelling to work between the hours of 5:00am and 6:30am. Ensuring he is always stopping and filling up on the all-important morning coffee. Arriving at work before 7:00am to give himself time to get ready before starting.
07:00am – Time spent doing a site walk around, unlocking all doors and gates and a general safety check and tidy up, filling up machines and forklifts etc with fuel ready for drivers to arrive.
08:00am – Walk around with the site manager to get a list of all jobs that need completing today/over the next few days… Then starting work on that list.
09:00am – 12:30pm – Building metallic shelving units to be used as storage, disposing of all rubbish created by the work, sweeping and mopping after to ensure no mess is left.
12:30pm – 1:00pm – Lunchtime!
1:00pm – 2:00pm – Preparing a newly built retaining wall to be waterproofed. Removing all timber formwork used in the concrete process, scraping any excess cement or concrete off and grouting any larger gaps. Setting up a small mobile scaffold to reach the higher areas.
2:00pm – 3:25pm – Started the process of painting the wall using bitumen waterproofing paint.
3:25pm – 3:30pm – Time spent getting time sheet filled in and washing hands/getting changed and leaving work.
4:00pm – 6:00pm – Time spent travelling home.
7:00pm – 10:00pm – Showering and making food for the night/preparing lunch for tomorrow and getting an early night before another workday tomorrow!
Typical Commute Times for Construction Workers in Sydney
Sam has worked on various projects for us during his time, this one being by far the furthest from his house, hence the amount of time spent traveling too and from work. Typically, his travel time would range from 45mins – 1hr 15mins which is standard for most construction workers in Sydney.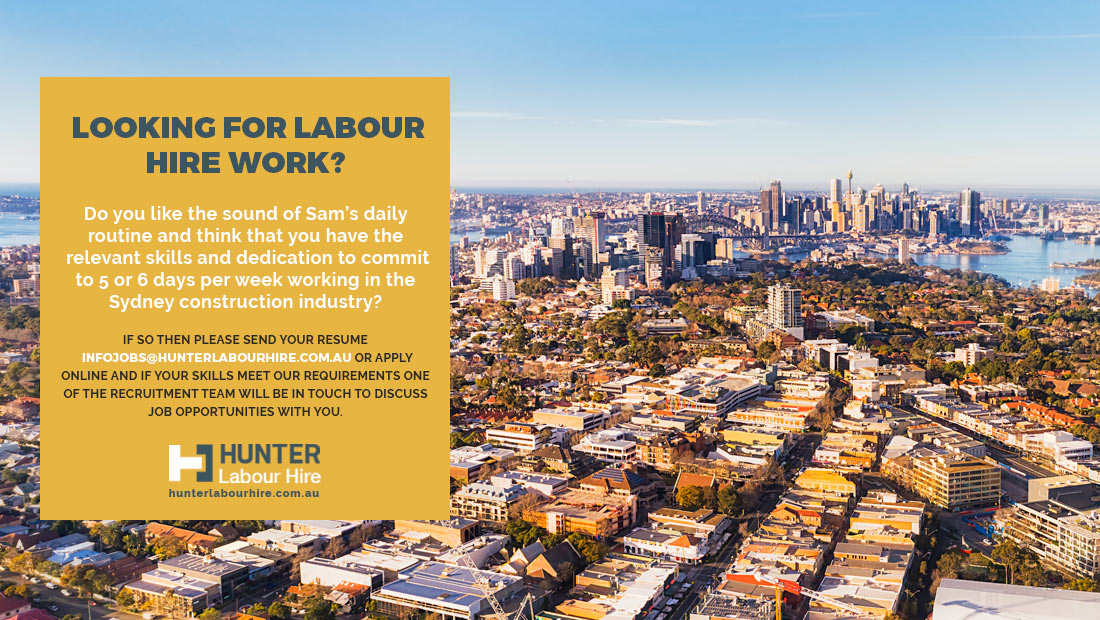 Looking For Labour Hire Work?
Do you like the sound of Sam's daily routine and think that you have the relevant skills and dedication to commit to 5 or 6 days per week working in the Sydney construction industry? If so then please send your resume into jobs@hunterlabourhire.com.au or apply online and if your skills meet our requirements one of the recruitment team will be in touch to discuss job opportunities with you.