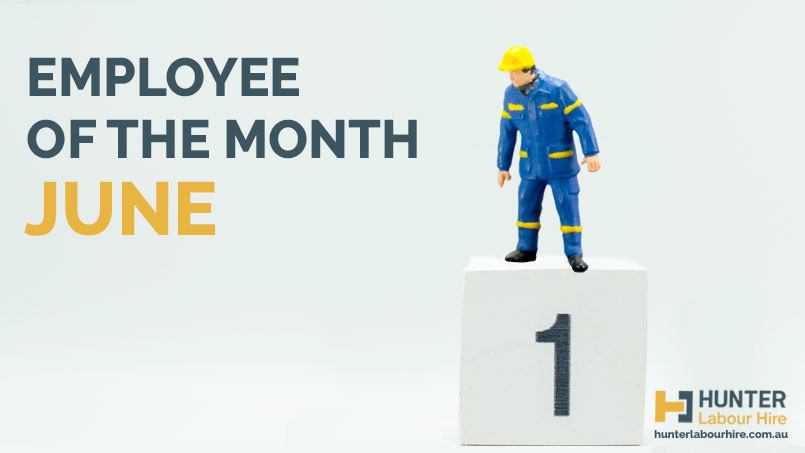 05 Jul

Employee of the Month June 2019
A Busy Finish to the EOFY
With a rush to finish off projects before the end of the financial year, June was an extremely busy month for the HLH Group in the office and across each of the divisions. With the rain also closing many sites down throughout the month, the last 2 weeks alone brought in 10 new clients with requests for carpenters, electricians, landscapers, crane operators, welders, mechanical fitters as well as general and skilled labourers. As always, the team at HLH were able to provide the right staff on time, showing once again why we are the number one rated labour hire company in Sydney. Providing clients with the skilled construction staff they require from our extensive pool of tried and tested workers.
One valued member of our onsite staff who has continued to receive outstanding feedback from every client is June's employee of the month, Sam Harrison.
About Sam
Sam joined the HLH team in January 2019 and has been a reliable and valued addition ever since. Sam has worked on many projects since joining HLH, some being high end residential projects, commercial fit outs, heritage restoration and most recently a new duplex project. He has proven himself to be a worker we can rely on to send out to any job comfortably knowing that he will get the job done whilst working safely and efficiently.
Words From The Client
We have continued to receive great feedback from every client Sam has worked for and one client had this to say:
"Sam has been a great addition on site. He is always looking for the next thing to do and is happy to get stuck into anything, whether it be cleaning up or helping the tradies on site. He gets on well with all the team and has been one of the best labourers we have had. Never misses a day and always on time."
Words From Sam
On his experience working for Hunter Labour Hire:
"After arriving in Australia Hunter Labour Hire had me at work within a week, after 6 months of work on both shorter and longer term jobs I really couldn't say a bad word about this company! The guys at Hunter have really done their best to not only ensure that I wouldn't be without work, but that the work I have been on was with minimal travel and best suited to my working ability. High communication from all the staff at the office and the relief of knowing I was constantly in work has made my experience in Australia a great one! They really are an agency that will look after you and a lovely bunch of people to work for, thanks for everything!"
We appreciate all your hard work Sam and look forward to having you on board future projects. Keep up the great work!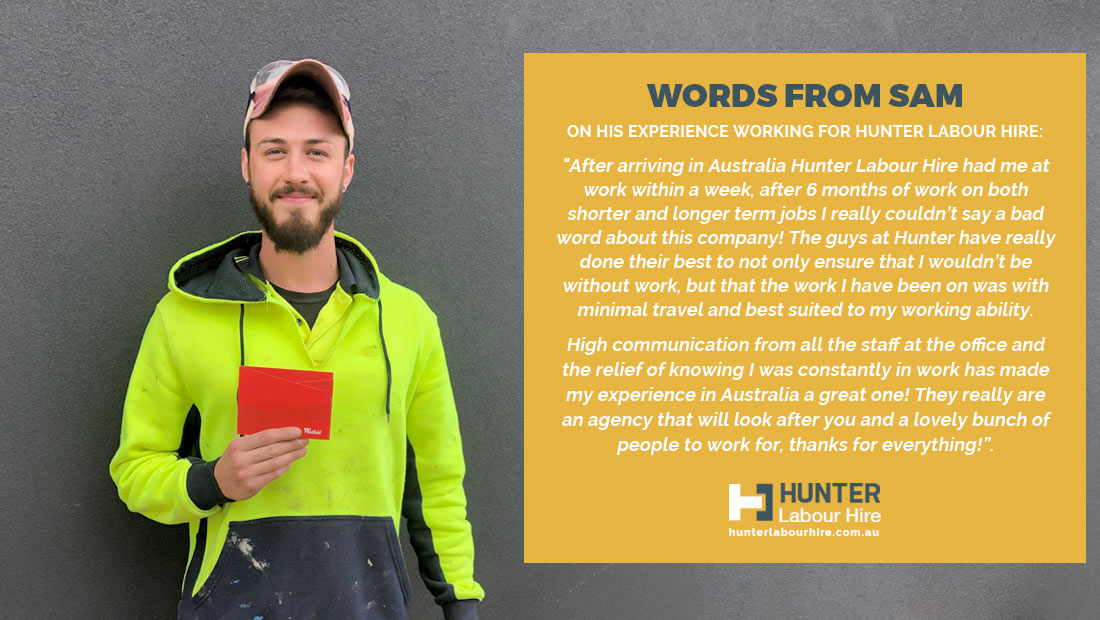 Are You Our Next Employee Of The Month?
If you think you know someone worthy of our next Employee of the Month award then please let us know by dropping us an email at info@hunterlabourhire.com.au or call the office on 02-89852019. And, if you'd like to join the labour hire team to put yourself in contention for the Employee of the Month Award then make sure you register to work with us now and we'll get back to you asap!