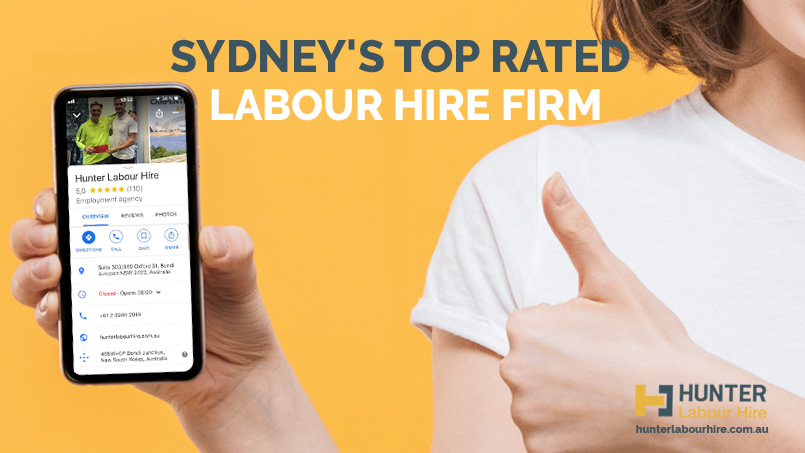 16 Apr

Sydney's Top Rated Labour Hire Firm
Top Rated Labour Hire Firm in Sydney
Hunter Labour Hire are extremely proud to be the highest rated labour hire company in Sydney with over 100 5-star reviews on Google from our happy workers and clients. There are several factors which we believe set us aside from our competition and make us the best in the business which include:
Our Recruitment Processes
Transparency/Honesty
Range and Quality of Services Supplied
And the proof is in the pudding as you can from the embed below of reviews directly from Google!
Great company to work for. Alex always has consistent work for me! Would highly recommend anyone looking for labour work in Sydney.
Daniel Byrne
01:51 29 Apr 22
I am currently working for Hunter Labour Hire, the supervisor Alex is friendly and kind to me. It has more flexible on the working schedule, so I can choose how many days to work on each week. Moreover, Hunter Labour Hire provides working places around 20km from where I live, so I can get there around 40 mins by driving. What is more, it pays weekly (every Thursday) thus I do not need to worry about my living cost.
I started working for Hunter a month ago. I got in touch with Damien. Friendly guy and always doing this best to found job around my place. I recommend !
Nabil Djiar
20:21 01 Mar 22
I highly recommend Hunter labour hire. The team has been very accomodating, finding me consistent labouring work in various locations in Sydney. The staff have been friendly to deal with and pay has always been on time. Great company to work for.
Really good agency to work for. Was given work straight away after arriving in Sydney, recruiters are really friendly and approachable. Was able to stay on site for consecutive days and was always to negotiate my salary during my consultation. Plenty of work going around Sydney with these guys, one of the best labour hire agencies I have used.
Great team. Worked with most if not all recruiters in the hlh and they have been extremely reliable and always there to help out any concerns from scheduling to workplace safety. Laird has been my go to contact and he always provided work whenever required for which I am very grateful for.I strongly recommend HLH for labouring jobs, I've never had a bad experience with this company and the amount of professionalism both on site and contact is nothing less than impressive. Thank you for reading.
Hae dam Lee
23:26 28 Feb 22
Great company to work for. They are really professional and easy to deal with. Very accommodating and flexible with days I could work. I would definitely recommend them to anyone looking for a labouring job.
Darren Fitzpatrick
23:12 28 Feb 22
HLH have been the best labour hire company I've worked, the work has always been consistent and they've helped me out with so much during my time so far in Sydney. Wether I needed more work or jobs that I enjoy they've always been accommodating. Thank you!
Ahmed Alenizy
21:52 06 Dec 21
I been working 1 month with Hunters. I definitely trust Demian who get order ever y single time properly. Fantastic job and working place. He always looks after all safeties and hazards during the working period. Pay is also reasonable and quiet enough to work there. I appreciate all the collegue with Hunters. I absolutely recommend this company to anyone who gets income and experience.
jiung jang
06:41 02 Dec 21
I found Hunter Labour Hire a professional and friendly service to deal with. Alex was always on hand to ensure I had a smooth time working in the construction industry during my time in Sydney. They found work for me quickly and they try and put me first where possible. I highly recommend HLH and Alex
Edward Spruce
03:47 30 Nov 21
I recently moved to Australia from Nepal wanted to find a work through agency so send my resume to some of the agencies and had some conversations with couples of them and Laird from Hunter Labour Hire was one. He was friendly and gave lots of information. They have lots of jobs around. Team Hunter Labour Hire was flexible enough to find jobs where it was easier for me to get to since I don't have a drive. On my 8th week had some small incident at work so they helped me to find light work. Interestingly enough they invited me to help them in their office. So got to meet the team in real life. Spent about 3 weeks at their office, everyone was very friendly. I had great time at their office with Alex, Damien, Roddy, Michael and Laird himself and everyone.Everyone at Hunter Labour Hire are highly professional, very responsive, experienced first hand. I highly recommend Hunter Labour Hire company to find work and for right guidance.
lostinthehimalaya
23:33 28 Nov 21
excellent attention! After introducing my self. I started working the next day. Thank you so much!
Western Pendu
10:04 17 Nov 21
The staff are very understandable. I was able to manage my time between school and working with Hunter. I highly recommend this company if you want to have experience in construction industry.
sardy satrio
02:33 10 Nov 21
excellent attention! I uploaded my CV and started working the next day. Thank you so much!
Francisco Ventura
02:28 01 Nov 21
Very happy working with HLH. Alex is a friendly, approachable, and professional consultant who always gets me jobs even with short notice. I strongly recommend working with HLH and Alex.
HLH was very helpful with me especially during the pandemic lockdown. They made sure that I have work roster every week. Great company to work with.
Noel Calderon
17:23 18 Oct 21
Great company to work with if your looking for construction work or workers i can recommend.
Reuben McFadyen
06:10 14 Oct 21
Stopped working in hospitality due to Covid and then started a new path in constructions/landscaping thanks to Hunter Labour Hire. The people that you are working with seems to be always professionals and respectful. Labouring for Hunter is a very flexible job too: I have two kids and I'm not always available so you work when you can and there are no dramas as along as you show up on time and do your best. Recommended !
Tommaso Luci
05:55 09 Sep 21
Worked for Hunter for around 9 Months, when I started looking for labouring work, I rang a few agencies and then came across Laird at Hunter. He was interested in me as well as finding me work and he easy to get along with. He found me work straight away and always gave me plenty of notice on where I would be working. If I ever had any problems at work I could always go to Laird and he helped me endlessly when I had an accident at work. Only reason I left Hunter was to move out of Sydney with all the lockdowns but when I return I know which agency I'll be using again.
Kai Benson
23:12 02 Sep 21
Hunter have always done right by me. They're very flexible and will always pay on time. Damien and Alex are wonderful to contact and will always look after you. Highly recommend!
Damyn Santi-Hunt
04:20 02 Sep 21
The recruiter's at hunter labour hire are great people, who got me work right away after I joined their team. I didn't have much experience but they give me work everyday which is what you want. Give them a call if you're looking for labour work
rhys burke
00:14 05 Aug 21
Hunter Labour Hire have been great for me while in Sydney. Over the past 7 months the people there have always been easy to deal with and very helpful.Damien is someone who consistently has work available and has been a pleasure to work for. I've had plenty of good opportunities to work on some interesting projects with great people while working for him.I would recommend working fo Hunter, who have made it possible for me and my friends to live a good life in Sydney.
Matthew Gibson
00:26 23 Jul 21
Great company to work for. They have plenty of work available, and they take care of you. If you have any problems with a placement they are happy to help you out with another. They're very responsive and organised. Would highly recommend over other labour hire companies in Sydney.
Ryan McGee
07:03 02 Jul 21
The team at Hunter are a very capable bunch ensuring that there is an ample amount of work throughout the week. They even work tireless after work hours to ensure that we have a secure job for the next day.Dealing with all the Team embers has ben a pleasure, and they are honesty very polite and quick to accommodate your any needs.I would highly recommend for anyone looking at getting some highly valued experience in the Construction industry or simply looking for part time or casual work to suit your specific needs.Job well done guys !
Raffael tembeleski
13:45 22 Jun 21
The recruiter's at hunter labour hire are great people, who got me work right away after I joined their team. I didn't have much experience but they give me work everyday which is what you want. Give them a call if you're looking for labour work
rhys burke
04:46 22 Jun 21
Joined Hunter shortly after leaving a previous job. Was given work the next working day after registering my name despite Covid being at its worst. Guys are all great at keeping you informed and are very reasonable if any issues arise!Thank you Laird for getting me consistent work and I definitely recommend!
Best labour hire agency I've worked with. They got me work straight away and always have work available. The lads always keep in touch with how things are going and the rates are spot on. Highly recommend
Calum Scott
05:54 18 May 21
Best LH company have ever worked over quite a few. Consistent work from the get go with excellent rates. Every agent has had plenty of work. I highly recommend.
DECLAN QUINN
09:36 06 May 21
Been at Hunter 2 months, you get regular work and they sort out any issues you might have. Fair amount of travel but they take your location and transport arrangements into account. Overall great for casual labour and recommend them to anyone seeking quick employment in Sydney.
David Corder
03:14 28 Apr 21
Just started with HLH. Popped in an application and started working a day later. Damien is a legend and is very reliable to contact. First site I got sent to was very professional and safe. Can't wait to grow further!
Joined Hunter labour In December 2020. Plenty of jobs available if you dont mind the travel. But included working for the agency you get $17 a day travel allowance which I think was really good! Got to work straight away! Laird was especially helpful and was always available at the end of the phone if you had a questions. Definitely recommend this agency for people looking for experience in all kinds of the construction industry. I will definitely be using them again when I return to Sydney!
Luke Warlow
01:58 23 Mar 21
I worked for them for a couple of weeks. It was a very nice experience. They offered me a good amount of jobs, provided ppe and good wages. I also received audits from them while being on-site, checking that the site complied with the safety conditions for the jobs. When we had issues, we talked about them and solved them in a good way. I felt they look after the labourers and take care about providing safe work environments. I would be happy to work with them again if I came back to Sydney!
Luciano Lopez Santesteban
06:52 11 Mar 21
I've been working with hunter coming on 3 months now and have found them very helpful in finding work. Other companies could only offer me one and two days a week but with hunter I was getting five days from the start. They are extremely well organized letting you know about job details in full before you go to the site. They will try to accommodate you as best they can, after only 3 weeks with them they offered me the company car to get to jobs that were a little bit further than the city. I reccomend hunter labour hire highly and if I was starting out I would definitely choose this company.
Mel Yorke
07:22 17 Feb 21
I would definitely recommend this agency due to my work experience with them.In terms of work load they will always keep you as busy as you wish to be, with plenty of different sites, companies and work opportunities to grow.Good communication between managers and workers. No problem dealing with payroll, always payed on time.
Emiliano Cuneo Paterlino
19:52 02 Feb 21
Been working with HLH since October in a Junior Civil Engineering Role, been a pleasant experience so far. Communication is great, attributed to premier recruitment consult Damien! Wages + inclusions always paid on time. Would recommend!
Bluebelch
05:34 18 Jan 21
I've worked for Hunter for 3 months now and been working consistently the whole time. Sent an application on Wednesday evening and started two days later. Communication is very good and the work is decent too. Most of the time I am in contact with Roddy who has sorted me out from the start and always replies quickly when I'm not sure about something. Also referred a few mates who have got consistent work straight away as well.
Ellis Jenkins
06:13 12 Jan 21
I have been working with Hunter for the past 4 months and it is by far my best experience as a labourer. You get to see many places and meet many people. All the lads I have been working with from hunter were amazing.So are the account managers who make sure you always get work and who are very easy to get in touch with. Highly recommend
Samuel leclercq
04:30 12 Jan 21
As far as labour hire companies go, HLH is the best. Everything is as advertised. As long as you show up, on time and work hard, HLH will provide you with consistent work. I've worked here for 5 months or so and my time here has been fantastic. Communication with the lads is excellent. Never had an issues with payroll. It's a 5 for me.
Tenniel Zhang
03:42 12 Jan 21
Best labour hire company in Australia. Good consistent work all over Sydney and have never been let down for work. Communication with the team is brilliant, the lads will go out of their way to get you work, which is greatly appreciated. Never did I think I would be in the opera house never mind working in it, all thanks to hunter! Shoutout to Damien and Roddy, who's been a great help! Would highly recommend hunter labour hire
Ben McGarrigle
08:55 07 Dec 20
Great agency, have been with them for almost two years with consistent work. One of the things I like the most is that you get to speak directly with one of the few account managers on a daily basis, you can call and message them if you need them unlike most of the other agencies I've been with. Hunter has great clients too and getting to work for them has been a great experience, have been given the opportunity to stay long term and learn in-depth about the job.
Claudio Bravo de la Vega
08:35 24 Nov 20
Best agency I've worked with. Always trying their best to find you work, encouraging you and they treat you really nice.
Hunter labourer hire is the best company for work! They have so many different job, and the pay it's good! The office is really good and every time ready to answer all your questions.Thank you Damien for help me a lot, and Nigel it's so good for organised the job. Thank you Hunter 🤓
Alberto Sirigu
20:59 11 Nov 20
First, hat down for all the hire recruitment team, especially Damien (my manager). The team always respond to your messages whether 6 in the morning or 8 at night. I am really impressed by the workload that the company provide and have. Very professional, honest, and understandable. Again, HAT DOWN!
Pierre Ramia
08:47 09 Nov 20
Awesome experience working with Roddy and the team. They got me consistent work in a difficult time!Can just recommend working with them. I would definitely do it again!!!
Silas Bluemel
02:48 24 Sep 20
Best recruitment agency in Sydney by a country mile, Laird is the man along with nigel,
Brian O'Biernes
09:28 18 Sep 20
I have great working experience with labour Hunter Hire. I approached them through LinkedIn and got work within two working days. My agent name was Nigel, he really is a legend. My payments were never delayed and the environment where I worked as a labourer was extremely professional. Great work guys, keep it up.
Sufyan Naseer
09:32 10 Sep 20
Best Agency of Sidney! ! Very friendly, always helpful and professional. I hope to work with you again when I return, Thanks for all! 🤙🏽
Fede Medina
04:43 25 Aug 20
Great group of people, always kind and warm. Professional, supportive and trustworthy. It's a pleasure for me to work for Hunter, I've had consistent work from the very first day, that's why I keep recommending it.
Emiliano Scherrer
00:56 15 Aug 20
Had to change job after the hospitality industry crashed due to Covid. Rang Joe at Hunter Labour Hire who took all my details, couple of days later Roddy got me my first job and since then, between Roddy, Joe, Laird and Nigel, I've had constant work every day. Good rates and the pay is always done correctly, in the account on time with no issues. Great bunch to work for and definitely worth a shout if looking for labouring work around Sydney!
James Rennison
08:37 11 Aug 20
I have worked for Hunter in post corona times, they literally saved my stay in Australia. Always ready to find work, very reliable and loyal. If you work good you will get rewarded.
Federico Haase
01:16 16 Jul 20
Top class company for any labourers looking for work in sydney. Give 100% continuous effort to provide consistent work. All you have to do is work hard yourself, the rest is up to the hard working team in the office who will not dissappoint. Can't thank them enough for the work they have given me throughout the covid 19 pandemic
Graham Farrell
01:56 01 Jul 20
I've worked for Hunter for a few months now and they're amazing for finding work and keeping you going. If I've ever needed to ask any question or sort out something all the staff are amazing at helping get it done. Roddy especially was always on hand ready to help me with and questions I had. It's been an absolute pleasure working for this company and I would highly recommend it to anyone, jobseekers or employers looking for labour hire!
Martin Marshall
22:10 23 Jun 20
Best Agency out here! And Nigel is the best agent ever! Very friendly, always helpful and professional. Thanks for all 🙏🏻
Very professional labour hire agency to work for in Sydney! Recruiter joe was offering me work on a regularly basis, which suits my personal preference. When ever I enquired him about work he got back to me right away. Dynamic communication culture and great team! Loved working for them!
Daniel Düsentrieb
01:38 19 Jun 20
Hunter Labour hire is a great agency, all staff is very friendly and professional. I can highly recommend this agency and I am happy that I am part of a good working team. Besides that the payment is fairly good and is sent every week in time. It is aswell a good opportunity to gain experience in different working sectors.
Yannick Engel
01:12 01 May 20
Professional and experienced staff that will put your needs first. Wonderful and a pleasure to deal with. The team have a great knack and passion for recruitment and it shows through the time and effort they put into finding you the right job.I fully recommend HLH, as they stand out for looking after their workers.
Lucas Saied
02:14 26 Apr 20
Best labour hire in Sydney, really friendly staff willing to go the extra mile for you. Also one of the better paying agencies in Sydney. Cannot recommend enough.
Robert Chatel
07:28 22 Apr 20
Laird and Joe were very helpful, great customer service. the agency is organised, reliable and responsive. Totally recommend them!
mohamed elshawadfy
04:44 22 Apr 20
Hunter labour is a fantastic labour hire agency. Since starting at Hunter labour hire i have always felt comfortable working with and along side them. They have always been looking out for my best interests to match me up with suitable work for me. I don't have a bad word to say about the company absolutely fantastic. There's a guy who works there called joe, he will go above and beyond to help you out as all do the rest of the team. Sign up to Hunter labour hire you won't regret it.
Brett Mikalauskas
03:06 15 Apr 20
Hunter have been really solid in my experience in terms of getting me work. Joe was my main guy and had me working a day after my first interview and have only had a handful of days where I wished to work but couldn't in around half a year with Hunter, those were mostly due to poor weather conditions. Have always felt the team, particularly Joe, were very approachable and could easily discuss whether a particular job was working out or not and have felt that loyalty to the company is rewarded by being looked after. All round great company.
Joshua Dancey
04:19 22 Mar 20
So far Joe is the best employee! Always very nice and ready to help with anything that happens during the work routine! Unfortunately I can't give to him 10 stars! The best company ever! 👍🏼✨
Lucas Pereira
02:59 09 Feb 20
Very fast and reliable agency in my experience. Got an interview for the next day I applied if I remember correctly and a day or two after that got a job. Been working 6 days a week ever since(this was in september 2019). Thanks guys!
Teemu Lahtinen
07:10 29 Jan 20
By far the best recruitment agency I have used. Consistent work/hours and a friendly team who look after all of their workers! Never had any issues and always received payslips and wages on time. I have mainly dealt with Joe who has been excellent for me in finding me consistent work, but anytime I have dealt with the other members of the team they have been just as good. Highly recommend.
Ashley Johnson
05:02 29 Jan 20
The best labour agency of Sydney! Highly recommended! All the staff is friendly and very professional. They will assist you in any need you have and are very conscious about health and safety. Joe and Nigel provided me with consistent hours of work since day one and were always keen to help me. If you are looking for a job in construction, this is the place you should go.
Federico Boero
21:08 21 Jan 20
I highly recommend Hunter labour hire! This is the place to go in Sydney for construction jobs. I have the pleasure of Laird being my contact and he is a legend! Laird is highly professional and has kept me constantly working for more than a year now. If you are in Sydney and looking to work in construction you must contact HLH, the best construction job agency in Australia!
Gonzalo Iturriaga
08:02 19 Dec 19
Been working at Hunter Labour Hire with Laird for a few months now. Never had a problem and always been professional and easy to communicate with. Had a job in no time with solid hours while getting paid on time without fail and are all round a great team of people. Reccomend to anyone looking for construction work!
Kyle Jackson
00:35 19 Dec 19
Best agency in Australia ive worked for! I am now working almost 3 months for Hunter Labour. Everyone at Hunter is professional, courteous and really keen to help you in giving you consistent hours which usually leads to at least 35h a week! So if you are looking for a job in the construction look no further and send these guys an email or just give them a call!
Dennis Van Der Zant
05:03 18 Dec 19
I recommend this company! Thanks to Joe I can work and increase my construction skills. He try to find long term contracts and it's the best for his clients and workers.
Luka Oheix
03:14 11 Dec 19
By far the best agency I've worked with in Australia. It is now 2 months and a half that I have worked 5 days a week almost every week. I've been given the opportunity to experience different sectors of construction such as formwork, scaffolding, carpentry and much more. The hunter staff is always available for any questions, either to find you a job or for payment. Communication from everyone in the office has always been great, pay is received on time every week without fail, any safety concerns or problems I've experienced have been handled superbly. Again, amazing work from this amazing team !
Maxime Barrea
04:50 04 Dec 19
During the past year I have been in daily contact with an account manager named Laird and his team.They are a tight knit group of solution oriented professionals. Everything has always been as promised, no dramas here.I would highly recommend HLH to anyone looking for labour hire services in the Sydney Metropolitan Area.
I worked for many labour and trade agencies in Sydney and HLH is the best by a country mile. Roddy and Joe always kept me busy and got my back, with competitive pay rates, nice clients, daily travel allowance, and weekend work with killer overpay. They are a standout, specially with so many unprofessional agencies jumping into the market, I highly recommend them for solid work.
Tom Tubert
04:02 09 Nov 19
Highly recommend Hunter. In 4 months I have never had a bad job and most have been longer term on the same site. The guys always reply to any query which is a rarity for labour hire in Sydney!
FT Account
05:58 03 Nov 19
Great agency! Everyone at Hunter is very professional, courteous and helpful when it comes to finding you work, especially Nigel who has provided me with employment since day one and hasn't failed since. He and the rest of the team at Hunter take a hands on approach seeking employment for their clients. If you are looking for job opportunities in construction look no further, these guys are the best.
Shane Finnerty
06:47 01 Nov 19
Worked with hunter for about 4 months now,. Great agency! Always fair and don't mess you about. Consistent work and the pay is good. Thanks Joe, Laird and the rest of the team. Top people to work for.
Luke Smithy
10:05 28 Oct 19
Great Agency and People. Providing consistent work. Good pay and attitude. Thank you Laird, Nigel and to others as you work together. Recommend!
Albert Gariev
00:51 26 Oct 19
Worked for a hunter for about a year. They got me onto the embassy job which they promised and I made good money there. Gave me the funds to really enjoy Sydney.
Harry Trickey
02:48 22 Oct 19
Best labour hire company I have used. Nigel has always had no trouble finding me work when I want it. Easy to communicate with and good pay rates to.
Ross Wilcox
09:46 01 Oct 19
With HLH you are just one call and an interview away to start your new job in Sydney!I can highly recommend Hunter Labour Hire if you are looking for some construction work in Sydney. I've worked for different agencies in Sydney but never had such a pleasant experience. Communication is flawless, and they really are an agency who take care of you! My account manager Joe has been keeping me busy from day one!
I would definitely recommend this agency. They are always behind you if you have any question, to be honest this agency is probably the best employer I ever had.
YANIS BOUAKKA
10:48 23 Sep 19
Great staff, great work opportunities, great pay. Was very impressed overall!
Paul Michel
11:45 11 Sep 19
Excellent company in Sydney definitely the best recruiter for construction, constant work and the staff are unreal. Roddy is an absolute legend he's been my main contact at Hunter and he's always up for finding out how his are going and how I'm getting on just in general. Nigel and Joe have also helped me with placements and the feedback I have for them is exactly the same as Roddy. The guys at Hunter have been amazing and have kept me in work from day one. They make you feel valued and they always try their hardest to get you placed. They tailor their service to fit your needs and will always help when they can. Keep up the good work guys. 👍
Richard Whyte
07:55 26 Aug 19
Hunter Labour Hire is the best Employment Agency in Sydney, they are doing an awesome job! I've been working with Hunter for 6 months in total and I've to admit that it's been the best work experience I've had in Australia so far. After a short but professional Interwiew they got ma a job within a few days of my first time sign up with them. Laird, my personal consultant kept me working every single day. He was providing me with jobs all over Sydney Metro Area, allowences for travel and food are included! He always informed me a few days before about upcoming projects and job opportunities. Thanks to him I've been given the possibilities to experience different sectors of construction such as Bricklaying, scaffolding, carpentry and much more. The salary for a basic labourer is great, however if you are working as a qualified Tradesman you'll be payed above average. You'll get your wages always overseeable and on time. Joe, Roddy, Laird, Nigel and all the other guys working in the office are great guys and care a lot about you. The guys always got time for your inquirys, doubts, whatever it is, they're great to deal with and always well organised, fair & honest with you! I'm so glad working with Hunter, can't complain about anything, you guys made an awesome job, Thanks again! However Hunter helped me enjoy my stay in Sydney, I can definitely recommend them however its been a pleasure, see you soon guys!
Hunter is the place to go in Sydney for construction work. I had the pleasure of Joe being my point of contact. Joe is highly professional and has kept me in work since Nov 2018. What stands out most for me about Joe and the team at Hunter is that they genuinely care about their workers and take the time to get to know you on a personal level.
MCHL HRRR
21:08 16 Aug 19
Hunter is the place to go in Sydney for construction work. I had the pleasure of Joe being my point of contact. Joe is highly professional and has kept me in work since Nov 2018. What stands out most for me about Joe and the team at Hunter is that they genuinely care about their workers and take the time to get to know you on a personal level.
MCHL HRRR
21:08 16 Aug 19
Great labour hire company, always paid on time and kept me busy. Had a great experience with Roddy, Laird and Joe. Thanks again guys 👍
Joe Logan
01:29 28 Jul 19
Great labour hire company, always paid on time and kept me busy. Had a great experience with Roddy, Laird and Joe. Thanks again guys 👍
Joe Logan
01:29 28 Jul 19
Strongly recommend HLH as a serious company to work with. I had the interview and was straight working the day after. They always take care of you, follow your work and performance and also are there to listen any enquire.Was also very well received when getting the interview with a strict commitment to the time It was set.I'm very happy of working with them and hope you may read this comments and just feel like working, they will do the other things. Thanks HLH.. !!! Thank you Joe Newman and all staff.
javier Casa
07:14 26 Jul 19
Great Labour hire company to work for, one of the best in my opinion. Very professional and great to deal with. They've kept me in constant work since I started with them in march. Joe is great to deal with and is always very helpful. Would definitely recommend
Daniel Gibso
10:30 04 Jul 19
I've been with HLH for almost 6 months now and honestly couldn't recommend this great company enough, from day one I have had consistent work thanks to the brilliant hard work from the guys in the office. Communication from everyone in the office has always been great, pay is received on time every week without fail, any safety concerns or problems I've experienced have been handled superbly. A great company and lovely bunch of people to work for they really cannot be faulted! 100% recommended to anyone in need of work these guys won't let you down. Looking forward to spending my remaining time in Sydney working for them 👍🏼 thanks for everything guys.
sam harrison
01:38 11 Jun 19
Highly recommend Hunters, very quick and professional , would always have work within the hour if you were finished at one site.I arrived in Sydney Thursday night, met with Nigel in the office on a Friday morning, and he had work for me to start on the Monday. Great service and pay. Totally professional and consistent. If you are looking for work quick in Sydney then hunters is the place to Contact.
Robert Kerr
06:06 04 Jun 19
I e-mailed Joe when I had safety concerns and each time he took appropriate action. Sent e-mails and bought gear when necessary. Communication is consistent, we were never messed around.
Phillip Fandel
05:05 18 May 19
Hunter Labour Hire provided me consistent work during my time in Sydney. Totally professional and approachable I really enjoyed working for them! Good benefits and penalty rates also an added bonus, thank you to Nigel and all the crew in the office for excellent communication and keeping me ticking over.
alexander crawford
01:52 12 May 19
Great agency, loads of work in all aspects of construction all across Sydney with overtime rates and travel allowance. These guys take care of their workers and are professional, honest and very friendly. Massive thank you to mark and joe best agents in the business. If you need constant work hunter are the solution.
Lonnie Coles
20:04 30 Apr 19
Excellent agency with various forms of construction work all over Sydney. Joe is the ultimate professional who keeps you busy whilst achieving a happy working relationship. Most importantly they pay well and on time without fail every week.
Ryan Haider
05:46 30 Apr 19
The agency appointed me two very good jobs with nice work environment, 100% recommended. NIGEL is a very good employment agent!! I just stopped working because I left Australia.
Ivo Stiepovich
11:23 23 Apr 19
I have been working with Hunter Labour Hire since early December. Before finding these guys solid work in Sydney was a massive struggle, I have had work 5 to 6 days a week my whole time here allowing me to have great income as a traveller. If you need work and are struggling elsewhere I highly recommend giving them a call. A huge thanks to Laird, Roddy and the rest of the team for keeping me busy!
Will Young
05:20 07 Apr 19
Great agency to work , they find a job for you and keep record about your experience. I've been in touch with Joe and he is the best. I totally give 5 stars to this agency 👍🏻
Novellino Senpai
04:46 06 Apr 19
Great agency to work for and always keep in contact with you. Feels like they look out for their workers. The agency were able to get myself a job within a few days of first signing up with them.
Very good agency! They gave me work almost every day in different places. They also gave me a car to go to the far places, and most of the people I have worked with where very kind. Thanks Laird, Nigel and Joe. See you soon!
Ari Litma
23:48 16 Mar 19
Great labour hire company, can strongly recommend. The agency is friendly,honest and fair. Out of all the labour hire companies I've worked for in Sydney this one is hands down the best I've encountered.
Ronnie Bandstra
01:44 24 Feb 19
Great place and people to work for, helped me massively when I first arrived in Sydney to get started up. All the staff are friendly and very helpful, which makes them a pleasure to work for. Look forward to working with them again in the future.
Rhys Phillips
04:00 11 Feb 19
The way how I should treat people is how they treat you! I have send online mine cv details and the next day I have had an interview. This is in general not normal but for HLH (my contact person is Joe) it is! When I have had my white card I can work the next day and 5-6 days in a week! I have been working for 2.5 months and still have a amazing time!
Judith en Sonny Lukkezen / de Haas
01:44 07 Feb 19
If you're looking for a job in Sydney these guys are the answer. My experience has been excellent with them. 100% recommended
Álvaro Felipe Pérez
06:22 30 Jan 19
Hunter labor hire was the first labour hire in Sydney i spoke to and in the same time the last! After a quick call with Joe (one of the mediators) it was already clear that I can start working in the same Week. Joe is a really good contact person always friendly and helpful and also organised me at least 35h of work per week. I worked with Hunter Labour Hire for at least 3 month. Most of the time as a normal labour but there was also work in my trade as an assistant. The money is good and every Thursday in your bank account. I'm really happy with the work and I enjoyed my stay in Sydney.
Leonick Brantner
02:31 04 Jan 19
I strongly recommend Hunter Labour Hire. The agency has a big commitment with its employers. Since the first time i start working with them i always got work to do, even during rainy days or saturdays. If you work hard and reliable they will always take care of you and give you a lot of hours of work. Laird and Joe, my two bosses in the agency, are serious workers that think about you all the time and want the best for you. If you are in Sydney and you are looking for a good work for sure go to Hunter, best labour agency in the City.
Jeremias Garritano Domizi
01:54 21 Dec 18
Great agency, as soon as they have an opening they give you a job. Great service especially from Roddy that works there. Good rates and they make sure that your working conditions are always well met and safe.
Jorge Britos
18:48 28 Nov 18
Best labour hire agency in Sydney, I've been working with these guys for months and always find me good works and provide good tools and stuff ! Special thanks for Joe ✌️💪 and Laird nice one mate ! 👌
Pépin Théo
06:22 23 Nov 18
Hunter labour hire are one of the best agencies I have worked for. Roddy and the team do a great job! They do their very best to find you work, always paid on time. Very, very professional! Highly recommended.
Jamie Owens
07:23 22 Oct 18
I've been working for these guys for about a month now. They consistently have found me work, even on the rainy days and Saturdays, and are keeping their end on deals they told me they would make upon hiring. They don't make empty promises, string people along, or say they're anything that they're not. Be good to them, they'll be good to you. Other agencies in Sydney can't hold a blowtorch to these guys. Thanks for the consistent work guys.
James Jarvis
20:30 15 Oct 18
The whole team, especially Roddy, are the best Labour Hire company I´ve ever worked for. I got a invitation for a job induction already after the first day. The treat you with big respect and give you a lot of trust, if you do a good job. I am working already since one month and I don´t have any, not at least one negative point to say about them. Also all clients are really nice, with a lot of different kind of jobs. I am more than glad, that I am working for this amazing company.
Easiest the best recruitment agency in Sydney, Great for traveller looking for work. always had a job for me every day and always paid me on time even when I forget to send my time sheet in. Joe and the team are amazing and always a pleasure to talk to.
Matthew Saxton
04:12 08 Oct 18
Joe and the whole team at hunter labour hire have been amazing with me from the start! They have provided me with constant work throughout and I couldn't ask for more from the team. Id highly recommend hunter labour hire if your looking for any type of construction work in Sydney.
bradley vanstone
03:57 08 Oct 18
Great company to work for. A hard working team always enuring you have consistent work. Couldn't have picked a better agency.
Adam Kellock
06:12 04 Oct 18
This agency is the best one I had ! Laird and his team guided and supported me from the beginning. You get what you give! Honest and truthful thank u so much guys for the journey so far.
johnathan vansteenkiste
08:21 26 Sep 18
Really good experience with them. Great hourly wage, heaps of jobs, agents are always available and professional.Thanks Joe & Roddy !
JAUME Benjamin
23:53 16 Sep 18
Joe and the rest of the Hunter Labour team have been fantastic! They have provided me with consistent work since the day I have arrived in sydney. I've never had a single problem and would definitely recommend anyone to sign up to this agency!
Joseph Kellock
01:51 06 Sep 18
Surely the best agency in Sydney ! Joe and the crew of Hunter Labour hire always gave my plenty of work.They are super professional and always present to answer you if you have a question.I highly recommend !
Thomas Jouault
07:30 02 Sep 18
Joe and the team have been FANTASTIC from day one, I could not praise them any higher!! They always conduct themselves very professionally and provided me with consistent work throughout my time in Sydney. Would recommend anyone to sign up to the agency!
George Sallitt
20:52 31 Aug 18
I've worked for the Hunter labour hire team for a period of 6 months during my time living in Sydney and I would highly recommend their services, they're very accommodating for people of all backgrounds and experiences. The team were excellent at providing work to me and made sure I had all the nesseary details of the job that was on offer, such as time to arrive, address and contacts of the on site foremen as well as nessesary work and safety equipment required for the job.
Ashley Clinkscales
01:05 29 Aug 18
Great company, Laird helped me to find a good job in a very short time. he always answer the messages very quickly giving the best solution. I would highly recommend it!Thanks Laird and HLH
Juan Hucke
12:21 27 Aug 18
Fantastic company to work for helpful and friendly Joe at hunter helped me find work quickly and got me a great job couldn't recommend more
michael brockbank
00:46 17 Aug 18
I can absolutely recommend working with Hunter Labour Hire. They are easy going with getting work started. Less than a week between my application and the first job with them. You have to be flexible and aware to work hard and they will keep you busy everyday. Wages are always paid on time. For any enquires they are always available and help you out.
Matthias Ziegert
03:14 28 Jul 18
Awesome company. Found me work straight away, no messing around. Decent pay and always on time! Joe and the team will sort you out if you are keen for work.
Bradley Shay
00:56 20 Jul 18
Great company to work for. Laird Has kept me in work as an electrician since I arrived in Sydney. Wages always in my bank account on time. Would highly recommend hunter labour hire!
eoghan byrne
21:27 13 Jul 18
I went to the head office and did some paperworks, on the way home I've got a call from them that they have a job for me. Since then, I've been working 6 days a week. I often ask for second shift for the evening and they always try to find it for me. I would definitely recommend this agency.
Bastien Lauilhe
11:38 11 Jul 18
Joe and Nigel have been brilliant finding me work as soon as I joined Hunter. Great company to work for, would highly recommended to anyone looking for work as a labourer either full or part-time.
Gary Hunter
08:55 10 Jul 18
Nothing but positives to say about Hunter Labour hire. Joe and the team always conduct themselves very professionally and found me work whenever I needed, nothing was too much to ask them. Would recommend anyone to sign up to the agency!
Graeme Beveridge
05:24 10 Jul 18
Laird & the Hunter Labour Crew were awesome. Got a call, the next day my friend and I went in and had a consultation and within a few days we were both working. It was great because at that time we were both going for broke due to the typical east coast journey. The whole operation is seamless, everything from finding jobs too time sheets and payments. Would highly Recommend ! Thanks Laird and Hunter Labour
Shayne Mortenson
13:22 09 Jul 18
The best agency ever. Lots of good work and friendly management. I got always very fast a answer.
Engjull Hoti
05:28 15 Jun 18
Great lads to work for found me a job as soon as I got to Sydney,good rates and always paid on time.found full time work off the back of them,defiantly give them a call
Richie Duthie
10:26 12 Jun 18
I've been working for this agency for 3 months and I can't be more happy to spent my time with them.The guys are always available and helpful for everything. There's a really good follow up of the workers. They are invested in their work and always available if you have any questions. The timesheets system is really simple and the paids are always on time.If anyone looking for a construction job, I fully recommend you to contact them.Thanks to the staff and especially to Laird !!
Joffrey Bonnaire
07:35 07 Jun 18
Really a great company to work for, the people in the company are really helpfull and also looking always after you. Got some really great jobs over the company, never had problems in the agency with anything. I can really recommend to work for HLH
Luca Christ
04:15 01 Jun 18
I've been working for this agency for almost 4 months now, and I couldn't have chosen a better labour hire agency. The only thing I will always regret about my gap year in Sydney is the fact I didnt know about them earlier. Guys from the agency are all very friendly, always in a positive mood and keen to find you job. Thanks Joe, Laird and Nigel for being always reliable and for providing me with the best ones. Moreover, the payment is always on time and the system with timesheets is pretty simple and effective. Fully recommended!
Michal Kocaj
02:02 22 May 18
Great company and people to work for. Consistent work available across my time working there. Nigel is a force of nature when it comes to getting his labourers out on site - watch this space
Andrew Harding
23:34 13 May 18
I had a good time working 4 months for Hunter labour hire. A bit under 1 week after I singed up Laird my contact got me my first job and I had work ever since. They also gave me a pay raise after 2 months and I could use the company car for 3 weeks which was pretty nice. I'd definitely recommend them if you look for general laboring in Sydney.
felix daas
01:16 28 Mar 18
Before my time with Hunter labour hire i had heard that finding work was pretty difficult to get being a Skilled tradie & a backpacker in Sydney. I walked into their office out of a "hell why not" moment - & 6 months later.... i can honestly say the guys (specifically Joe in my experience) go above and beyond to get you work if you have the "can do" attitude and throw yourself into learning new stuff. Yes some of the work was shockingly bad & hard at times but mostly it was a real good experience working in Sydney. I highly recommend working with these guys!
Neil Webb
23:53 12 Mar 18
Our Recruitment Processes
Our recruitment process is comprehensive with every candidate. Every worker undergoes phone screening, an internal interview, manual handling training and reference checks. We firmly believe that this strict recruitment process is essential no matter the duration of the job. These processes enable us to guarantee the quality of our workers. If there ever was a situation where we haven't had the opportunity to meet a worker face-to-face before the job starts, we would be completely transparent with our clients and give them the option rather than chance sending that worker to site and hoping they are who they say they are.
I arrived to Sydney the 6th of October (Saturday) this year. I spent the weekend visiting the city and on Monday I contacted with Laird by phone. That same day we have a meeting to know each and the day after I was already working. Beautiful!!! Plenty of work during my whole stay in Sydney in which I learnt lots of skills as well as meeting new friends. The Hunter Labour crew has been always taking care of me, specially when I got injured. Seriously, I do not think that any other recruitment would have done the same. Furthermore, they organised an amazing Christmas Party which we all enjoyed and was a perfect opportunity for meeting with old mates and new ones!. So, I strongly recommend to anyone this agency!! Legends!!
Jon, Labour Hire – March 2019
Transparency and Honesty
We believe the foundations of a good team of workers and client base is transparency and honesty. A lot of our clients and workers have had poor experiences in the past with other agencies and previous jobs respectively.
Often, we hear from clients that in the past they have been over-promised and under-delivered when dealing with other agencies. Each of our clients receive complete honesty and our recruitment consultants are well trained in managing the expectations of a client's request. We always ensure we aren't promising them a result that we can't realistically deliver whilst providing the client with regular updates and alternatives on the rare occasion when the original request cannot be met.
Applicants and prospective workers often tell us in the past that they have been promised ongoing work, high labour hire rates and job security by other agencies and this hasn't materialised. We respect the fact that with all agency and casual work there is no guarantees. At HLH we will always be fully transparent with our workers and relay our exact conversations with our client and let them make the decision. We would never falsely promise a worker something we cannot deliver just so they take the job on.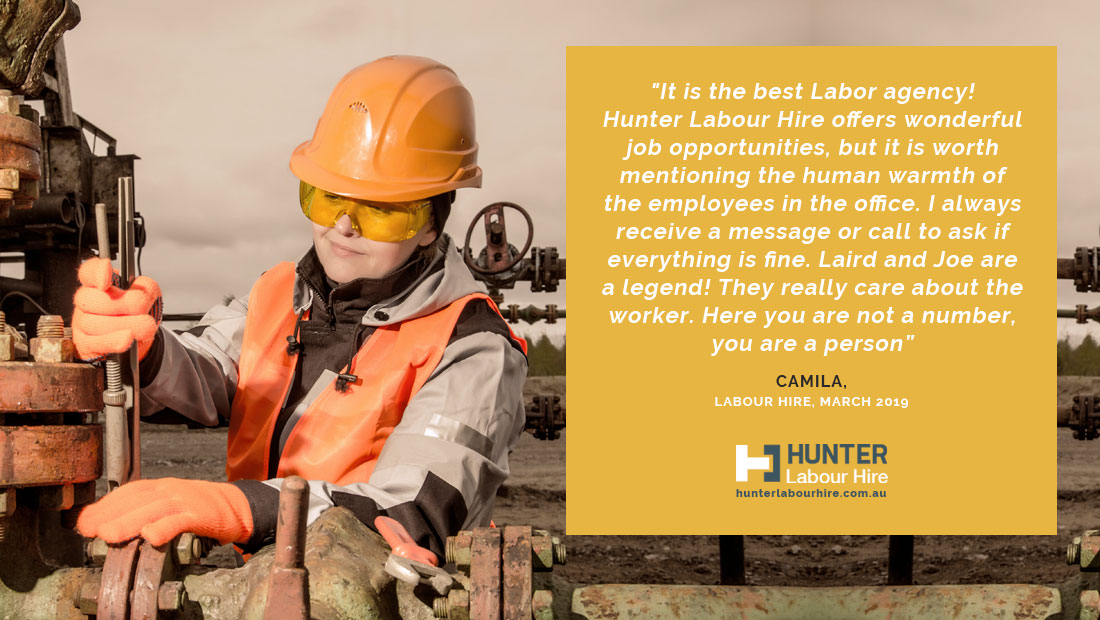 The agency is friendly,honest and fair. Out of all the labour hire companies I've worked for in Sydney this one is hands down the best I've encountered.
Ronnie, Labour Hire, – Feb 2019
It is the best Labor agency! Hunter Labour Hire offers wonderful job opportunities, but it is worth mentioning the human warmth of the employees in the office. I always receive a message or call to ask if everything is fine. Laird and Joe are a legend! They really care about the worker. Here you are not a number, you are a person.
Camila, Labour Hire – March 2019
Range and Quality of Services Supplied
Hunter Labour Hire originally started as a purely construction-based labour hire agency. Over the past 4 years we have naturally and successfully diversified into other industries and now have 5 divisions which fall under the HLH Group like our landscaping labour hire and manufacturing labour hire divisions.
We have never shied away form obscure requests and our team of consultants offer an extremely flexible and catered service to each client. We often find that a client who may use us for construction workers at some stage will in turn use our office support services further down the line. Also, our service is 24hrs per day 7 days per week and we offer a guaranteed same day replacement service for general and skilled labourers which is also extremely popular with our clients who have late requests or internal let downs or sick calls. There is no doubt that this flexibility and reactive response to often difficult requests has helped us gain and retain good clients over the years.
Hunter Labour Hire has supplied us with scaffolders and labourers for almost a year and they are now our preferred supplier of labour. Their guys are reliable, hardworking and punctual and they have helped us meet tight project deadlines. I recommend you try them out you will not be disappointed!
Stronghold Scaffolding Hire Sydney, 2017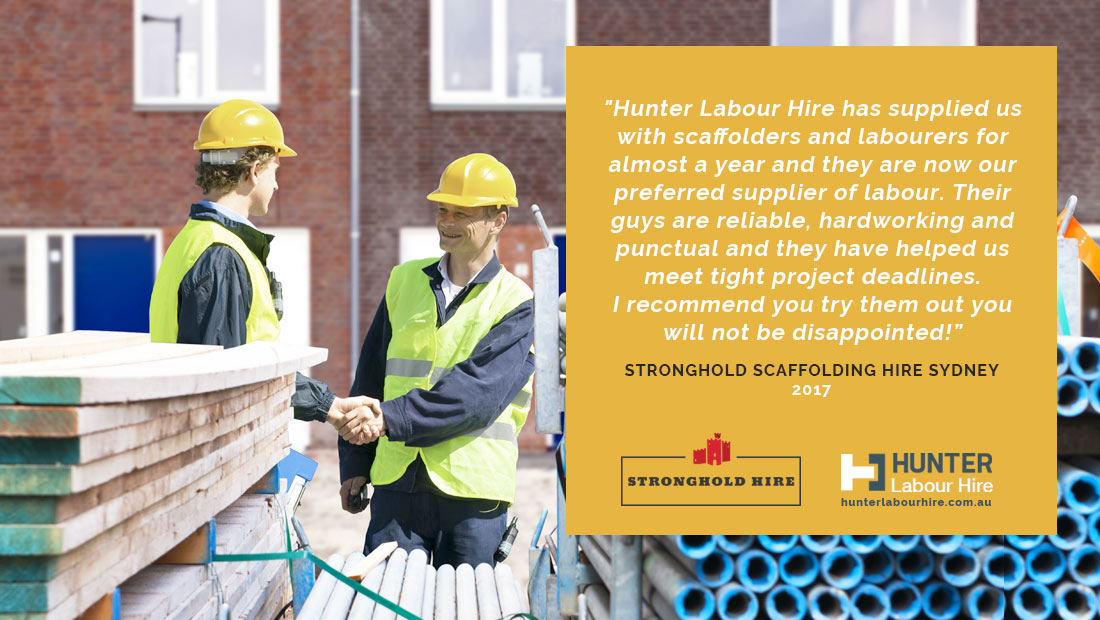 Labour Hire Jobs Available for General & Skilled Labourers
At Hunter Labour Hire we are always looking for the best in labour hire talent and so if you think you have relevant experience and are eager to work in the Sydney labour hire industry then we want to hear from you! Give our team a call now on +61 2 8985 2019 or register online to work with us and we'll get back to you asap!