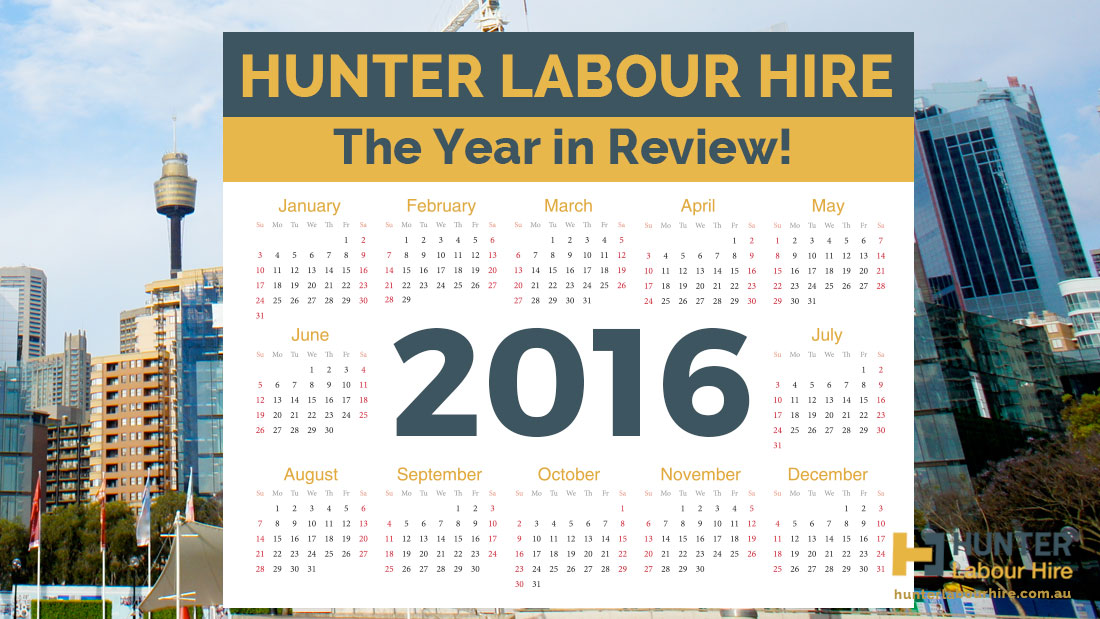 16 Dec

Hunter Labour Hire 2016: The Year in Review!
Hunter Labour Hire 2016 – What A Year!
2016… What a year! It feels like only yesterday that the year began as we've been so busy at HLH the year has sped past in record time. So, lets give you a breakdown of what happened for us throughout 2016.
The Year in Numbers!
Nothing like some numbers to help highlight how the year went for us!
632 – The number of interviews conducted in our new Chippendale Office.
74 – Site visits in the Sydney area.
340 – The number of Hunter Labour Hire Hi Vis tops issued to our fantastic teams of labourers and tradesmen.
35 – The number of sets of tools that we have provided for our workers.
711 – Candidates Placed throughout the year.
36 – The number of awesome blogs produced by our social media whizz's.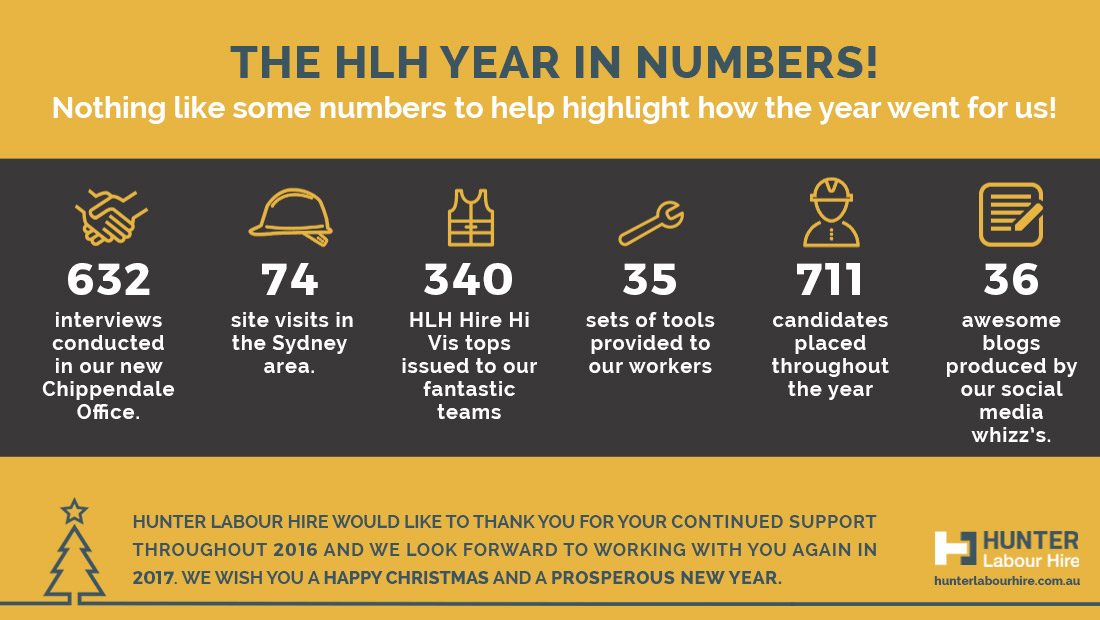 The Hunter Labour Hire 2016 Timeline

January 2016
We overhauled our CRM system to be able to keep up with our clients demands and to able to keep track of all our prospective candidates and employees.
We also celebrated Hunter Labour Hires 1st Birthday!
April 2016
The accounts and payroll department expanded as we welcomed our new accounts superstar Sarah to the team!
July 2016
Hunter Labour Hire opened its new office in Chippendale right in the heart of Sydney city. The perfect location beside central station to interview construction workers and meet clients to discuss their specific requirements.
August 2016
The HLH team grew again as we welcomed Joe to the team. Another recruitment consultant to ensure that we provide all our clients new and old with the quality service they have come to expect.
On Facebook our total number of likes reached over 1,000! Onwards and upwards!
September 2016
Due to continued growth throughout the year the Hunter Labour Hire recruitment team expanded again! We welcomed Crionna and Laird to the team, both now highly valued members of the team
November 2016
The office crew enjoyed the Melbourne Cup at the Argyle in the Rocks… a well-earned treat!
December 2016
We had the first Hunter Labour Hire Xmas Party at Grant Reserve, in Coogee. It was a very successful day and all involved enjoyed themselves. We are already looking forward to the next one.
The year finishes on a high for the HLH team as we continue to break new ground both on site and in the office with our business partners.
Looking Forward to 2017
What's in store for Hunter Labour Hire in 2017? We are hoping the sky's the limit; not just for Sydney's high rise sector but for all areas of construction. Here is what we have planned!
Despite already boasting many successful permanent placements with our current clients; we will officially be launching our permanent recruitment side of HLH for both white collar and blue collar roles in the construction industry.
Labour hire in Brisbane? Yes you heard right we will be opening our new Queensland office in early 2017. So now Queenslanders can get quality labour hire and recruitment services from Hunter Labour Hire too.
We already have tonnes of employment opportunities lined up for 2017 so if you are looking for a fresh and exciting career in the new year then look no further than HLH and we will find you work.
Looking for that perfect construction worker to join your team in 2017? Whether you need someone for a short-term project or as a new permanent employee. We have the quality candidates to help your business succeed.
Happy Christmas!
Thanks for your continued support throughout 2016, we look forward to working with you again in 2017. We wish you a Happy Christmas and a Prosperous New Year.
The Hunter Labour Hire team.