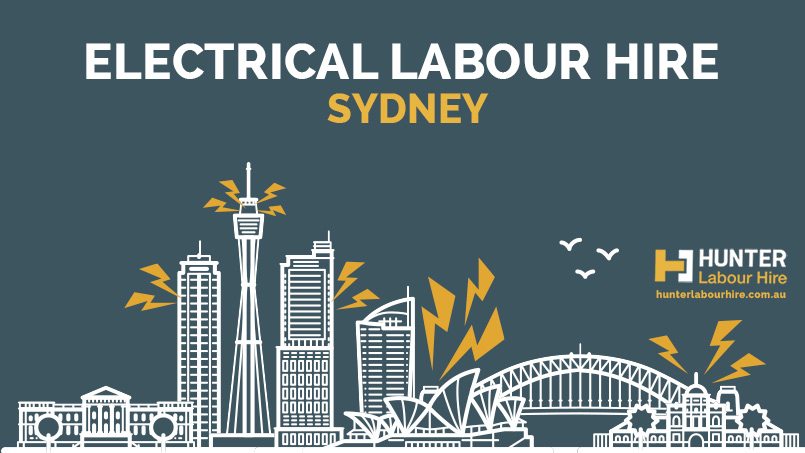 18 May

Electrical Labour Hire Sydney
Demand For Electrical Labour Hire Sydney
Here at Hunter Labour hire we are seeing an increased demand for electricians and electricians trade assistants. We have supplied all types of electrical labour hire from domestic to industrial to sites all over Sydney. We have electricians working on everything from industrial motors and valves to domestic new builds and rewires.
Types of Electrical Staff Hire Available
Here at Hunter Labour Hire we have the capacity to provide you with specialist electrician hire and trade assistants to suit all of your needs be they domestic, commercial or general.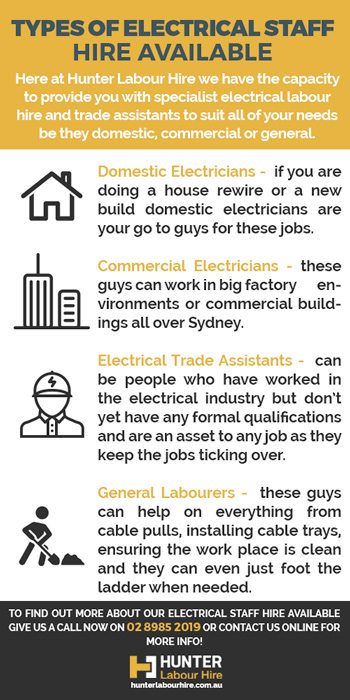 Domestic Electricians
If you are doing a house rewire or a new build domestic electricians are your go to guys for these jobs, they can work on a house to improve it in many ways. They can put in extra power points, upgrade switchboards or add additional TV outlets. These guys are the right people for the job.
Commercial Electricians
Commercial electricians are the guys who help are responsible for wiring up instruments, maintaining machinery, installing the conduits, installing circuit breakers and relays. These guys can work in big factory environments or commercial buildings all over Sydney.
Electrical Trade Assistants
Electrical Trade Assistants can be people who have worked in the electrical industry but don't yet have any formal qualifications or can be overseas qualified electricians who have come over to Australia and are in the process of getting their qualifications recognized here. These guys come prepared and will have basic hand tools as a minimum. Trade assistants are an asset to any job they always know what is needed next so can get everything set up and keep the jobs ticking over.
General Labourers
General labourers can be an asset to any job; these guys can help on everything from cable pulls, installing cable trays, loading and unloading materials, ensuring the work place is clean and tidy and they can even just foot the ladder when needed.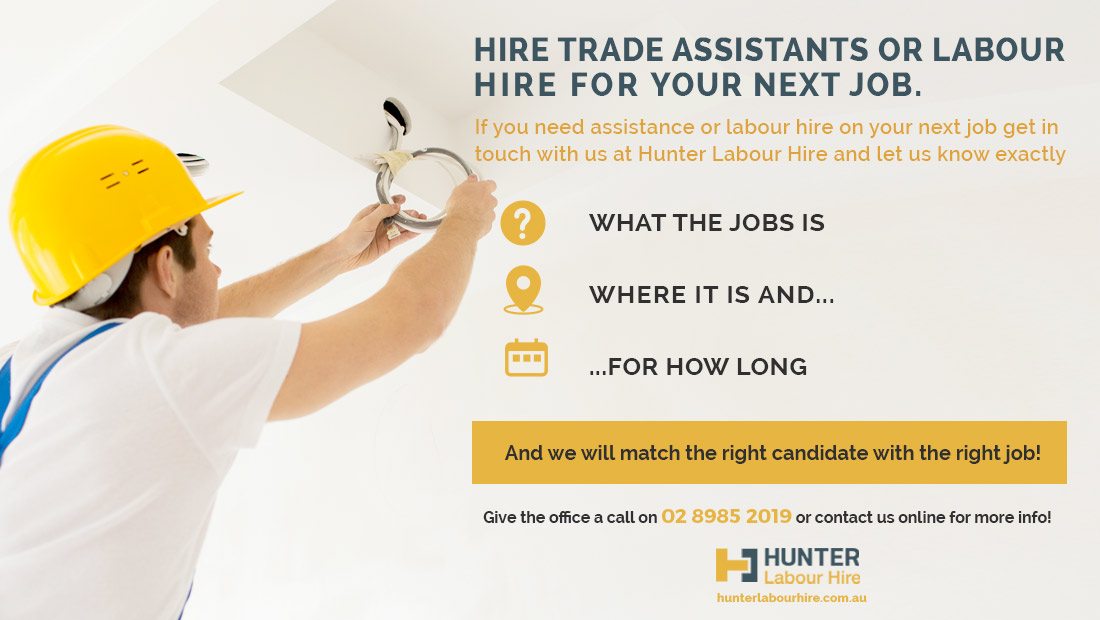 Hire Trade Assistants or Labour Hire For Your Next Job
If you need assistance on your next job get in touch with us at Hunter Labour Hire and let us know exactly what the jobs is, where it is and for how long and we will match the right candidate with the right job. Should you need a trade assistant to help install power points or a general labourer to pull cables on your next job then give the office a call on 02 8985 2019, email info@hunterlabourhire.com.au or contact us online!