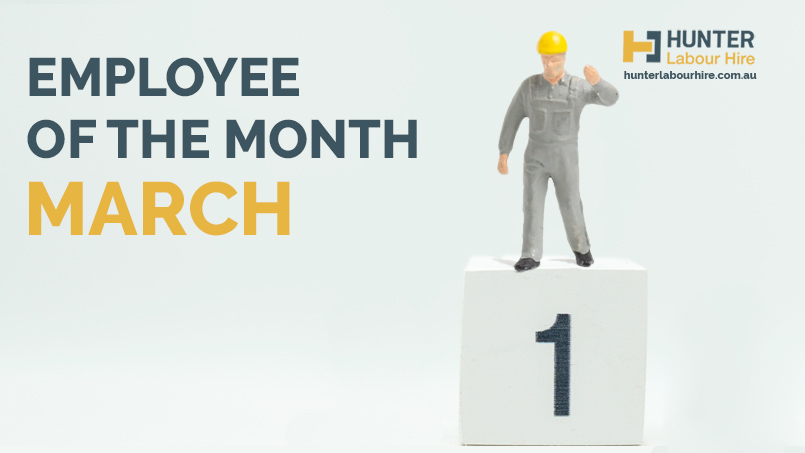 09 Apr

Employee of the Month – March 2019
New Labour Hire Clients & New Employee of the Month
The busy start to 2019 continued into March with another hectic month for the HLH team in the office and all the staff out on site. As well as providing Sydney's best labour hire and office support to our existing clients we also welcomed onboard 6 new clients in March who have already experienced the personalised service that sets Hunter Labour Hire apart from the competition. At Hunter Labour Hire we recognise that without our dedicated staff on site we would not have the reputation we have and every month we like to acknowledge individuals who have continued to be reliable, hardworking and indispensable members of our team. One individual who has displayed all the qualities we look for in a candidate from day one is Ryan Mingo and that is why he is our employee of the month for March.
Ryan Mingo – March Employee of the Month
Ryan has been with HLH since December 2017 and has consistently received great feedback from clients and colleagues alike and has been somebody we can rely on to turn up every day, on time, with the right attitude and ready to work. From residential renovations to shop fit outs, warehouse work or demolition work, Ryan has shown he can turn his hand to anything he is asked with the ability to pick up new skills very quickly and work well alongside various trades or on his own when required.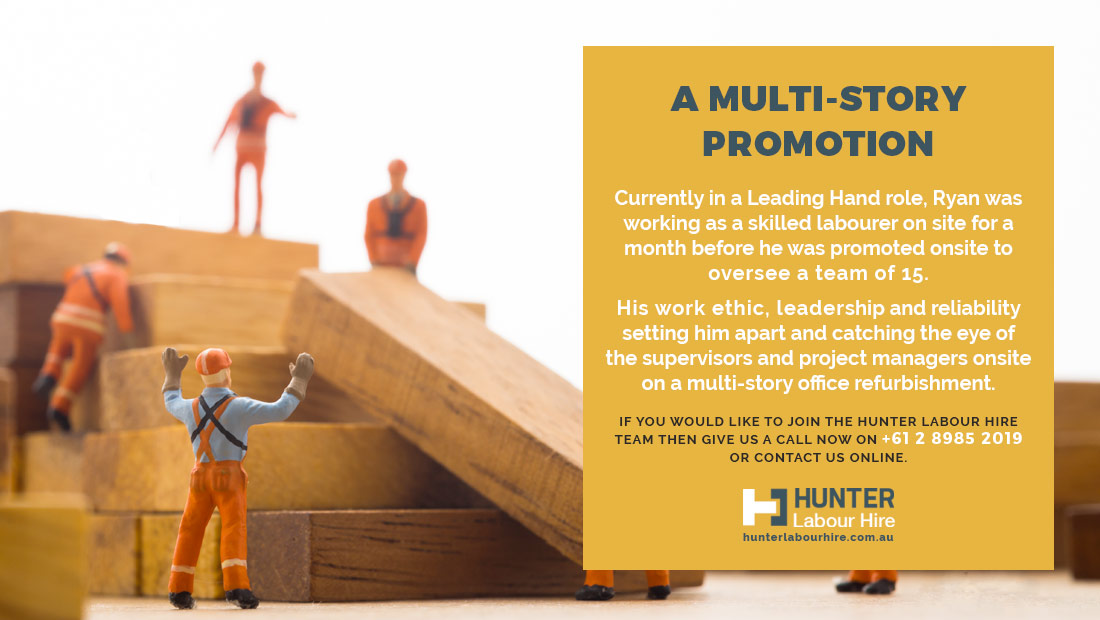 A Multi-Story Promotion
Currently in a Leading hand role, Ryan was working as a skilled labourer on site for a month before he was promoted onsite to oversee a team of 15. His work ethic, leadership and reliability setting him apart and catching the eye of the supervisors and project managers onsite on a multi-story office refurbishment.
What Ryan Had To Say..
This is what Ryan had to say about his time working with Hunter Labour Hire:
"I have worked with HLH on and off for the last 2 years, in between farm work and travelling. They have always been extremely professional and helpful. In that time I have been on 3 long term sites and even managing a promotion in house on my current site. Hunter is a fantastic company to be involved with for tradies of all abilities, they look at your strengths and weaknesses and really try to help your development. I would like to say a big thanks to the whole team for all the work they've put in for me during my time in Sydney"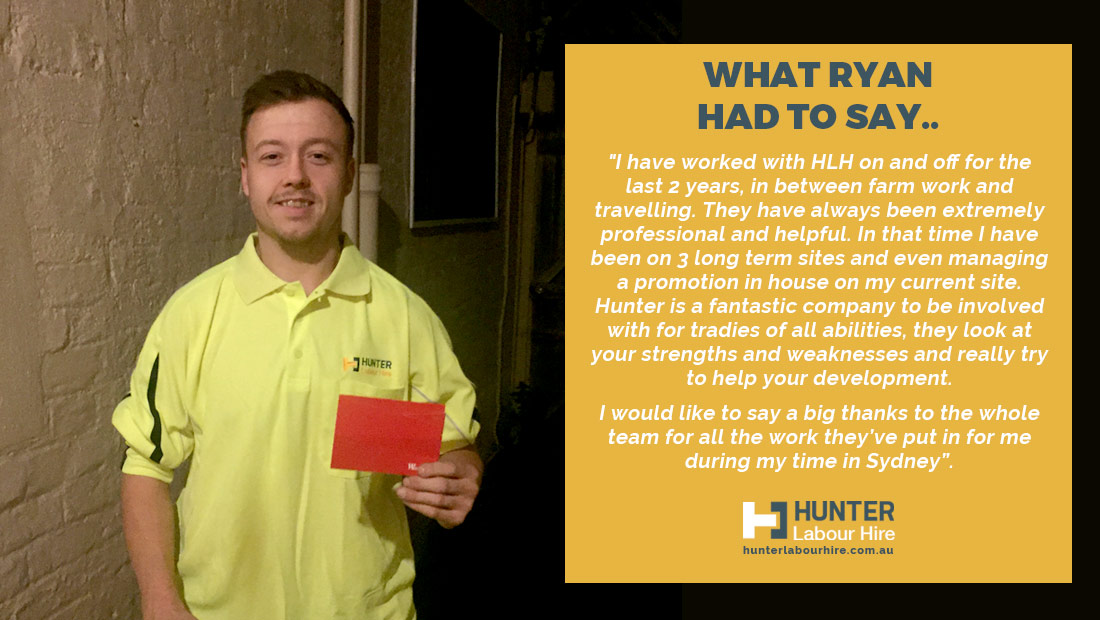 Supervisor Feedback
Feedback from supervisors onsite has always been positive and this is just one example of the feedback we have become used to receiving from clients:
"Ryan has been great to have onsite and really stuck in. He has been working alongside our tradesmen onsite and understands the stage of the works we are at and has been really flexible with what we require him to do. We really appreciate the effort he has been putting in and feel really lucky to have him on site."
Thanks Ryan for all your hard work, enjoy your voucher!!!
Are You The Next Ryan?
We are always on the lookout for hard working labourers who enjoy getting stuck (and rewarded for doing so!). If you'd like to join the Hunter Labour Hire team then give us a call now on +61 2 8985 2019 or apply online and we'll get back to you asap!