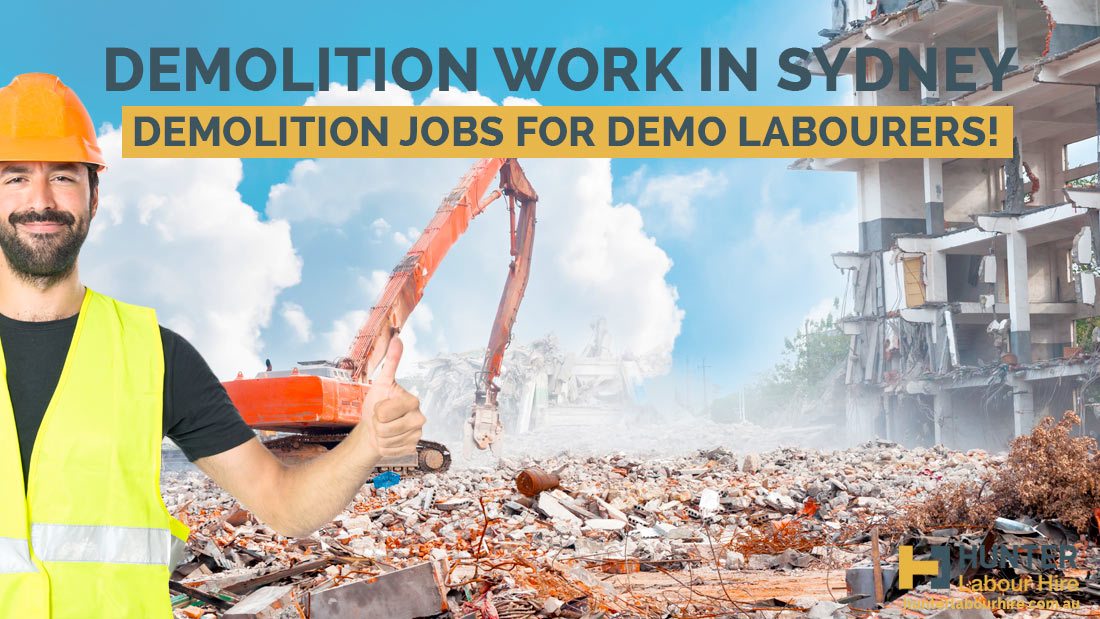 30 Sep

Demolition Work in Sydney – Demolition Jobs For Demo Labourers!
What Is Demolition Work?
Demolition work means to demolish or dismantle a building or part of a structure that is load-bearing or otherwise related to the physical integrity of the structure or building.
Types of Work Our Demolition Labourers Do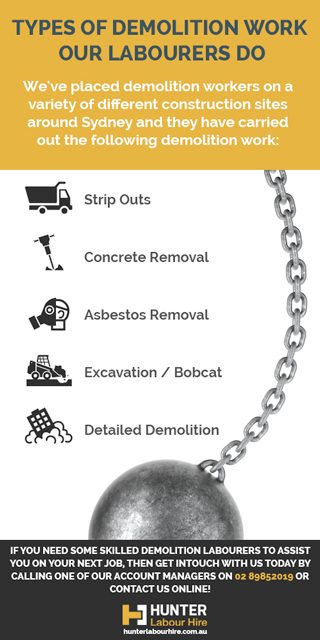 We've placed demolition workers on a variety of different construction sites around Sydney and they have carried out the following demolition work:
Strip Outs
Concrete Removal
Asbestos Removal
Excavation / Bobcat
Detailed Demolition
And More…
What Do I Need To Be A Demolition Labourer?
If you are looking to find employment in construction as a demolition labourer then there are a few things that you will need:
PPE: The first and most important is your PPE. Due to the nature of demolition work it is absolutely vital that you have: steel toe cap boots, hi visibility clothing, work trousers, hard hat, gloves, protective glasses, ear plugs, dust masks.
If you do not have all of these then you will not be allowed to go through a site induction and will definitely not make it on to the site.
White Card and Relevant Tickets: You will also need to hold a White Card before you enter any construction site. Regardless of whether or not the position involves demolition. Depending on the job at hand you may need additional construction tickets and high risk work licences such as a demolition ticket, Restricted demolition ticket EWP Boom Lift, Working in Confined Spaces or a Non-friable asbestos removal ticket.
Demolition Experience: It is essential that you have experience doing demolition work and using basic demolition hand tools such as claw bars, sledge hammers and nail pullers. Some power tools that you will be expected to be able to operate are jack hammers, grinders and hammer drills.
A Safety First Approach: There are inherent dangers on a construction site, this is particularly true for workers who work in demolition. It is essential to be fully aware of the dangers and risks on site especially when operating power tools in a demolition environment. You should take all the right steps in ensuring the safety of yourself and those around you on site.
A Love for Hard Work: If you enjoy physically challenging work that rewards you for your efforts then demolition laboring may be for you. As the work requires a higher level of skill and experience the demolition labourer hourly pay rate is higher than the hourly pay rate for general labourers.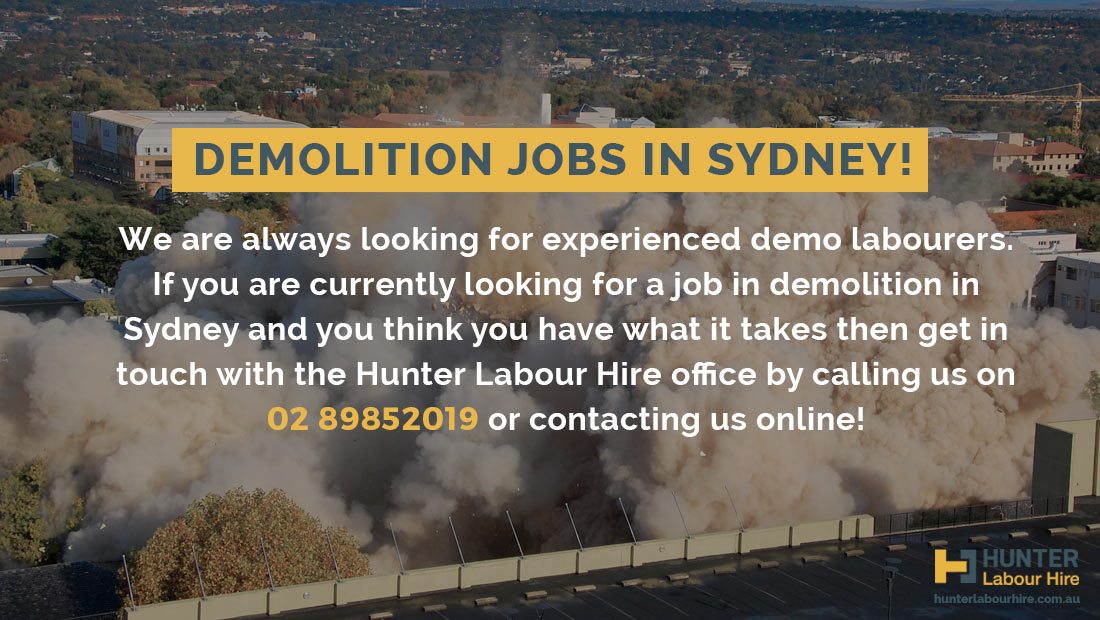 Applying For Demolition Jobs?
We are always looking for experienced demo labourers. If you are currently looking for a job in demolition and you think you have what it takes then get in touch with the Hunter Labour Hire office by calling us on 02 89852019 or by filling in our registration form.
Looking for Demolition Labourers?
If you need some skilled demolition labourers to assist you on your next job, then get in touch with us today by calling one of our account managers on 02 89852019 or by filling in our contact form and we will call you back very soon.