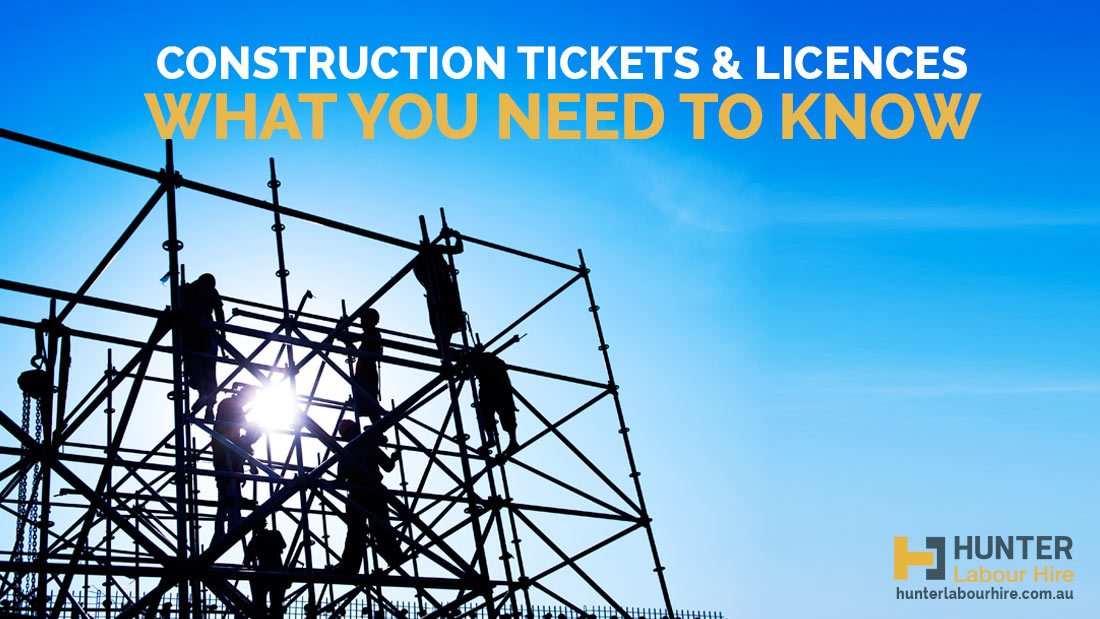 02 Apr

Construction Tickets & Licences: What You Need to Know
Types of Construction Tickets and Licences in Sydney
In addition to the general construction induction training (white card) which is needed to work on any construction site in NSW we have compiled a list of some additional construction tickets and licences that may be required by a labourer or other tradies working in the construction industry.
Confined Space Entry Ticket

A confined space entry ticket is required for those that work in confined spaces that are either enclosed or partially enclosed. It is defined as a space that is not intended to be entered by a person and is likely to be a risk to health and safety. Examples of work where this ticket may be required include sewers, tunnels, trenches, tanks and vats.
Working at Heights Ticket
The Working at Heights ticket is for general labourers or tradies who are required to work at heights throughout the course of their work. When working at heights there are a variety of different risks and situations that need to be taken into account. These risks include dropping tools and equipment, and even falls from heights. Jobs where these tickets may be required include working on elevated work platforms and scaffolding.
Elevated Work Platforms Ticket
The Elevated Work Platforms ticket (EWP) is divided into two classes of under 11 metres and over 11 metres. Once you have completed the EWP under 11 metres course you will be able to operate a scissors lift, a vertical lift and a boom lift under 11 metres. If you are required to operate a Boom lift over 11 metres you will be required to have completed additional training that allows you to do so.
Asbestos Removal Ticket
The asbestos removal tickets are divided into three different classes, asbestos awareness, remove non-friable asbestos and supervise removal of asbestos. If you are working with or near asbestos then you will need to have completed at least one of these courses. The asbestos awareness course will teach how to recognize if asbestos is present in materials that you are working on. You will also be able to remove less than 10m2 of non-friable asbestos. If you need to remove more than 10m2 of non-friable asbestos then you will need to have completed the removal of non-friable asbestos. You will need someone who has a ticket that allows the supervision of asbestos removal if you are either working with a team or working alone. Many demolition jobs will require candidates to hold an asbestos removal ticket.
Traffic Control Blue and Yellow Cards
The traffic controlling tickets are divided into two categories; the first allows you to control traffic (Blue card) and the second allows you to plan and implement a traffic control plan. If you would like to pursue a career as a traffic controller you will require as a minimum a blue ticket this will then allow you to direct traffic flows around sites. A Yellow card allows you to plan for traffic movement around a site and to ensure that it is up to safety standards. Both tickets are often required to work as a traffic controller. It is also common that a driver's licence is also required, as many traffic controllers will have to drive from site to site in various locations.
RISI Ticket
This a Rail Industry Safety Induction ticket and it introduces its participants to the basic hazards in the real operations of the rail environment. It raises awareness to issues such as track safety and electrical safety. It will also ensure that the workers working on the rails are aware of safety needs and hazards as well as legal obligations that you need to fulfil. The RISI ticket is essential for any workers who work on rail infrastructure throughout Sydney.
High Risk Work Licences
These are a group of licences that allow the worker to perform high risk work. The following are high risk work licences: crane licences, dogging, rigging and scaffolding licences, forklift licences, hoist licences, pressure equipment licences & reach stacker licences.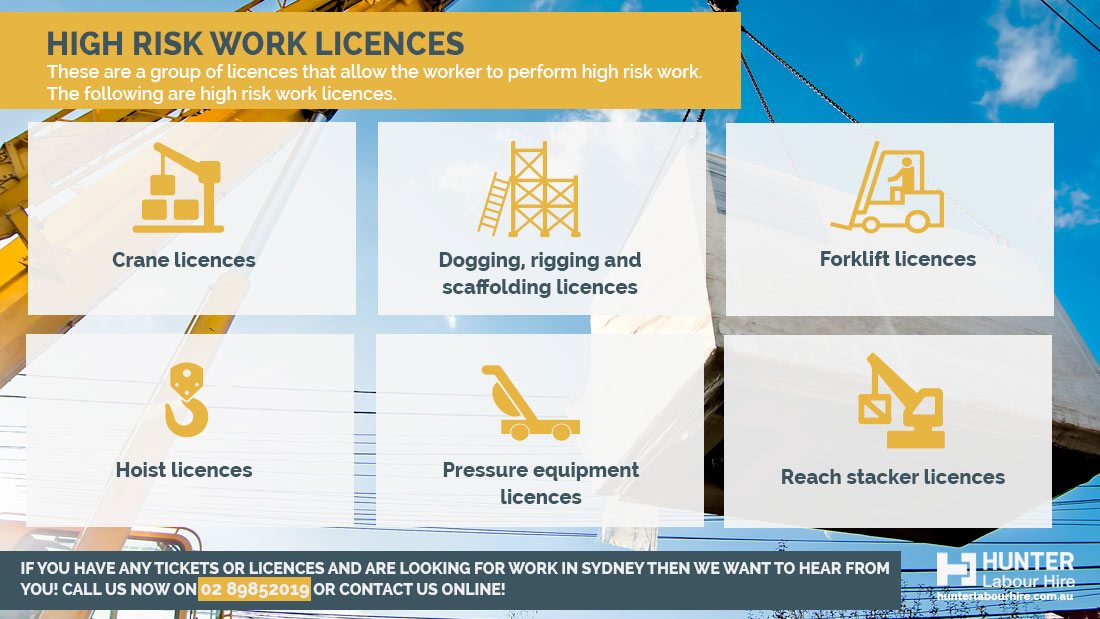 Find out more about high risk work licences here.
How To Get Construction Tickets & Licences?
There are a variety of different trainers who provide courses on the above tickets and licences and contact us today for more information about approved and recommend trainers. Many of the courses can be done on weekends so that you do not miss out on work while you become more qualified and certified to perform work on a construction site.
Positions Available For Labourers With Tickets & Licences!
If you are a skilled labourer or tradesperson and have a variety of different tickets and licences then Hunter Labour Hire would like to hear from you. Call the office on 02 89852019 or email jobs@hunterlabourhire.com.au for more information. Alternatively you can apply online and fill in our find work contact form.