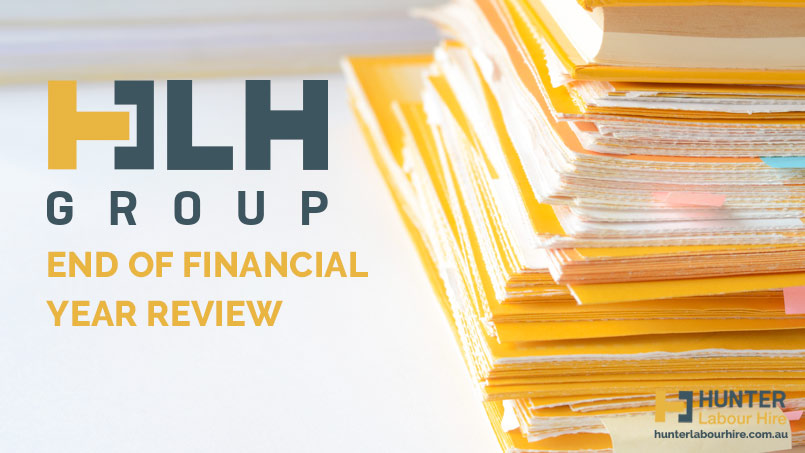 20 Jun

HLH Group End of Financial Year Review
A Record Breaking 12 Months!
Well what another busy financial year HLH Group have had reaching a number of milestones and breaking our record numbers again. Have a read through this week's blog that highlights some of the team and company achievements over the past twelve months.
Month by Month Breakdown

July 2018 – The year began with an exciting enquiry from a global company looking for a large quantity of labour over a two-year project. Since July this enquiry has developed into one of our largest clients and kept the team busy meeting their labour requests.
August 2018 – While we were consistently busy filling job orders and resourcing candidates throughout the winter we were also busy training for City 2 Surf! 8 of the HLH team collectively raised $4,434.58 for Running for Premature Babies by taking part in the big race. Training has already commenced for this years City 2 Surf and hopefully we'll break our fundraising record in 2019.
September 2018 – This was when one became 5 and the HLH Group was born with our new divisions; HLH Manufacturing, HLH Landscaping, HLH Electrical and HLH Office Support Services.
October 2018 – Award season was in full swing in October and we got through as finalists in two categories for the Irish Australian Business awards. Even better than that we then went on to win two awards at the Waverley Council Brightest and Best awards one of which was the biggest on the night – Business of the Year!
November 2018 – This month started off with the HLH team letting down their hair for a couple of days with us all attending the Melbourne Cup in Flemington. Even though there was a lot of rain in the morning this didn't dampen our spirits and a great day was had with plenty of winners for most of the team.
December 2018 – This was our busiest month on record with the highest numbers of workers we've had out on one day! With long days in the office and on site the HLH team celebrated with two Xmas parties one in Manly for the office crew and one in Darling Harbour for our onsite workers.
January 2019 – While January is traditionally a quiet month Hunter Labour Hire were kept going with a number of projects working right through the holiday season.
February 2019 – We were busy preparing for a very exciting event where we exhibited at our first expo – the Sydney Build Expo at the Hordern Pavilion. This was a great way to meet both existing and potential clients as well as getting the HLH name out to over 15,000 attendees.
March 2019 – HLH Group were delighted with the outcome of the State Election and with it the announcement of over $90billion to be invested in infrastructure projects in NSW over the next four years.  While some of our clients with residential projects started to slow down this month, we're glad to hear things will be picking up even more in this sector soon.
April 2019 – Well it's a wonder any work was done during April with all the public holidays that we had. Despite this we kept trucking through, and we broke another one of our own records by becoming the highest rated labour hire company in Sydney by pushing through the 100 5-star reviews on Google.
We also sponsored and took part in the Darkness into Light walk which raises awareness and funds for mental health.
May 2019 – With a lot of clients telling us they were waiting for the outcome of the Federal election before their clients were giving them the go ahead on projects it was a very welcome relief to see the coalition were voted in. We have already seen the positive impact of this result lead to an increase in requests.
June 2019 – With the end of the financial year drawing to a close HLH Group have received an increase in requests from clients needing additional labour hire all over Sydney. In accordance with the Fair Work Annual Wages Review we will be increasing our employees wages accordingly. However we have decided to put a rate freeze on all existing client labour hire charge rates until at least January 2020 except for the general labourer rate which will have a marginal increase.
The Year in Numbers
As they say in the industry it's a numbers games so let's take a look at some of HLH Groups outstanding numbers for the year:
Applications Received: 2662
Labour Hire Enquiries: 374
Google Reviews: 126
Divisions: 5
Total Employees: 936
Director's Statement
Commenting on the financial year in review Sorcha Hunter, the director of the HLH Group, had this to say:
I would like to take this opportunity to thank all our workers for their hard work and loyalty over the past twelve months. Without this the HLH Group would not have been able to grow to the extent that we have and to have as large a client base as we do. To all our clients I look forward to another successful year working together and continuing to supply you top quality labour to assist you complete your projects on time and to budget. I would like to wish you both clients and candidates a happy EOFY and every success for the year ahead.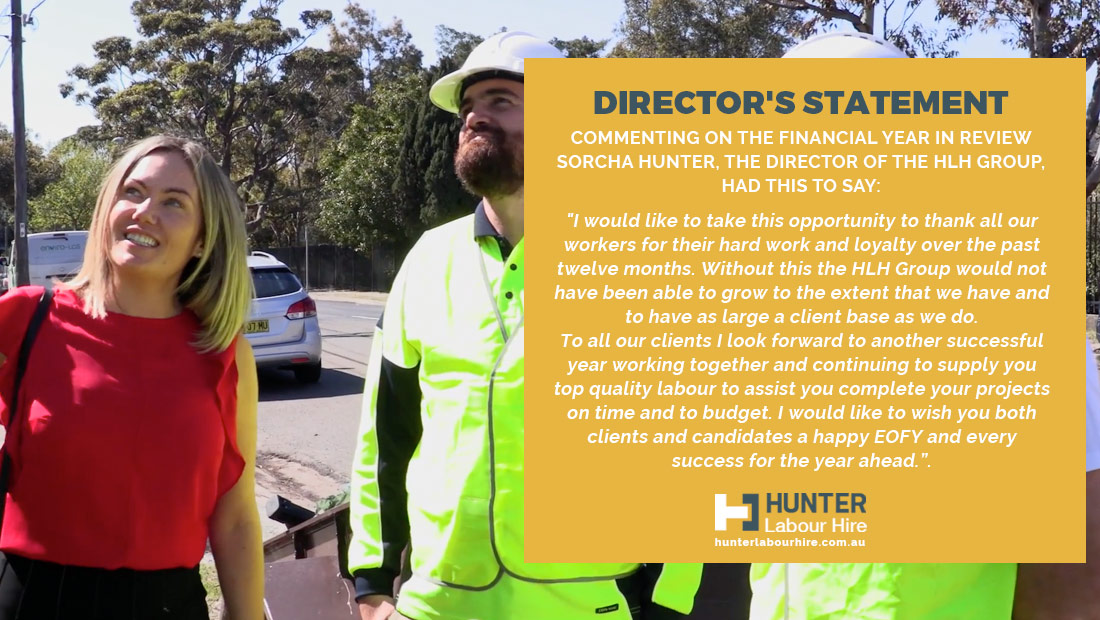 Labour Hire Sydney – Get Our Rates Now
Should you require an up to date schedule of our rates for labour hire or any of our other divisions simply email info@hunterlabourhire.com.au, give us a call on 02 8985 2019 or contact us online today!