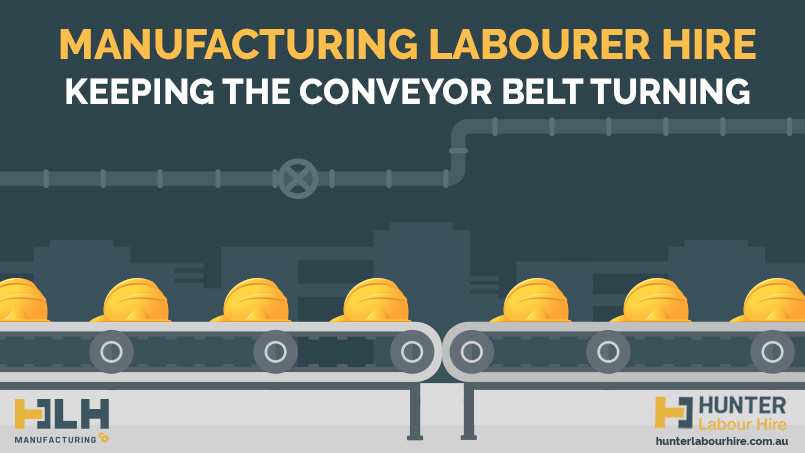 01 May

Manufacturing Labourer Hire: Keeping The Conveyor Belt Turning
Manufacturing Labourer Hire Sydney
Here at Hunter Labour Hire, we have always been driven to offer the best quality labourers and tradesmen to the Sydney construction industry. However, this is also the case in all other branches of the HLH Group. In this week's blog, we are going to focus on HLH Manufacturing and the great service which we are providing all of our clients with.
The Birth of HLH Manufacturing Labourer Hire
Though Hunter Labour Hire started life as a supplier of quality labour hire to the construction industry, it quickly became apparent that we could also supply the same quality workers to many more industries than just construction. Thus, HLH Manufacturing was born and ever since, we have been growing our client base. This is down to several factors, however the main one being that at HLH Manufacturing, we provide an amazing service to a wide number of clients and never fail to impress our clients with the ability of our staff.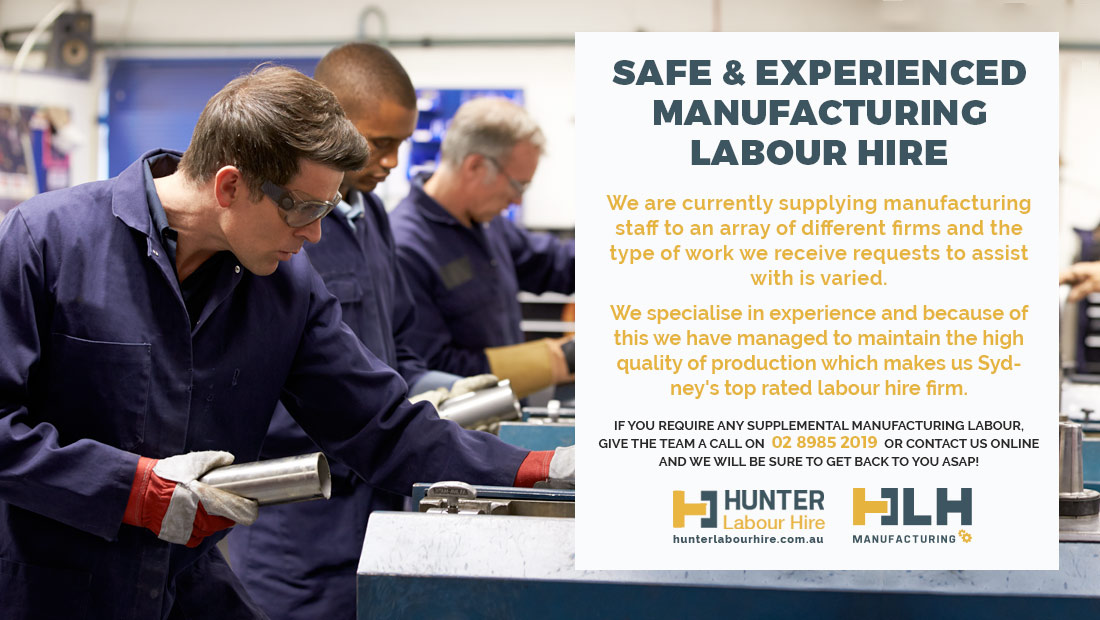 Safe & Experienced Manufacturing Labour Hire
We are currently supplying manufacturing staff to an array of different firms and the type of work we receive requests to assist with is varied. We specialise in experience and because of this we have managed to maintain the high quality of production which makes us Sydney's top rated labour hire firm. Like construction, the need for quality workers is imperative to the smooth operation and day to day running of any manufacturing business. In order to ensure standards are kept high, we interview and meet every candidate. We also employ a minimum experience requirement policy to ensure that we are sending out the best candidate to complete any task. All of our workers will always have the required ability and more importantly, should they be required, tickets in order to operate safely and in the correct manner.
The Correct Candidate for the Role
We are currently supplying manufacturing labourers and machine operators to many clients located all around the Sydney area. This ranges from industry to industry and we pride ourselves in the fact that we will always find the correct candidate for the role, but also that no request is too obscure. We are supplying workers to manufacturers in which all staff must adhere to strict standards and operate to a high level of accuracy. This is ensured through rigorous training, which is provided onsite, or in some cases prior experience is essential. We are also supplying workers to 3PL firms, online retailers, suppliers and storage facilities.
Our Manufacturing Labour Candidates
The abilities and skills of our candidates range widely. Mechanics, machinists, welders as well as experienced floor staff to name a few. We have experienced forklift operators and pick packers which often are common among industries. We also supply production assistants to a number of manufacturers which assist in the operation of machinery and general floor duties. We have also seen a crossover from our construction branch, eg, supplying carpenter hire to a furniture manufacturer. There is no request that is too big or small as we have helped a number businesses locate skilled and qualified staff members, such as CNC operators etc…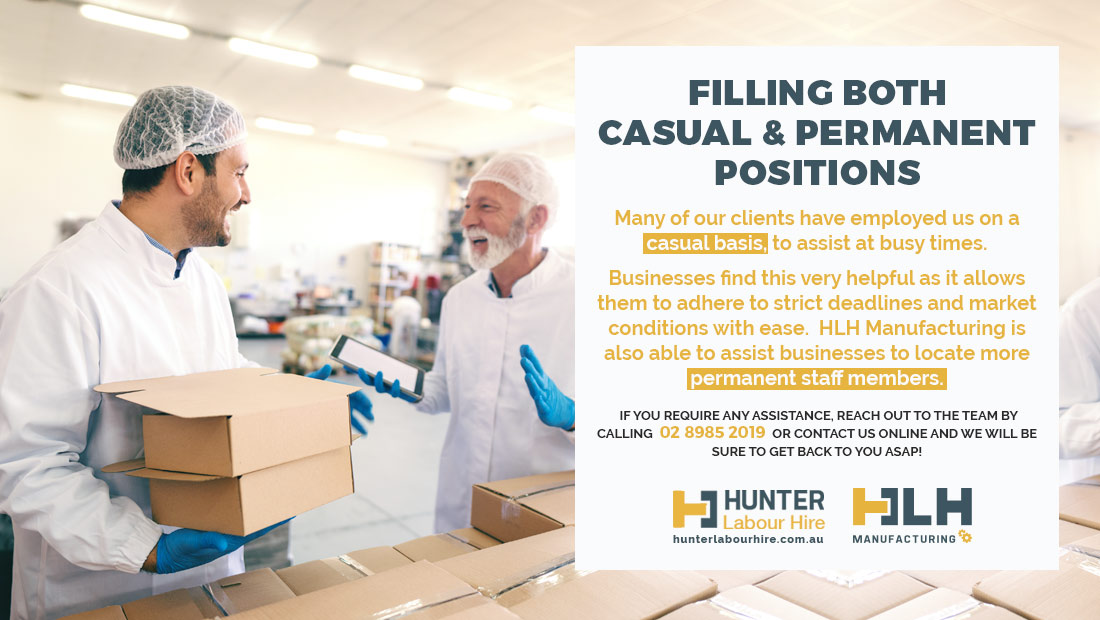 Filling Both Casual & Permanent Positions
Many of our clients have employed us on a casual basis, to assist at busy times. Businesses find this very helpful as it allows them to adhere to strict deadlines and market conditions with ease. HLH Manufacturing is also able to assist businesses to locate more permanent staff members so if you require any assistance, reach out to the team and you will not be disappointed with your response. The same goes if you are seeking a role in the manufacturing field, we would love to hear from you. As always, the standard of work produced is second to none, and our rates are competitive. Our worker satisfaction is important to us and because of this we are Sydneys top rated labour hire firm with over 100 five star reviews on Google.
Manufacturing Labour Hire Available Now
If you require any supplemental manufacturing labour, give the team a call on 02 8985 2019 or send an email to info@hunterlabourhire.com.au or contact us online and we will be sure to get back to you asap!