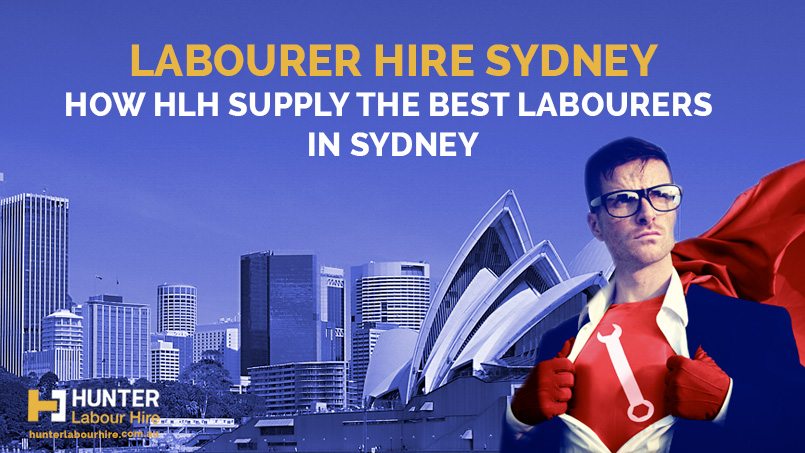 17 Feb

Labourer Hire Sydney: How HLH Supply The Best Labourers in Sydney
Labourer Hire Sydney – Supplying the Best!
At Hunter Labour Hire we believe that quality is everything and we offer all our clients quality labourers and tradespeople at excellent rates – every time. It's a testament to this fact that the majority of our business comes from repeat customers, and many of our customers are more than happy to refer the HLH brand to other businesses that are seeking top providers of labour hire and recruitment services in the Sydney metropolitan area. So what is it that makes Hunter Labour Hire's labourers the best in Sydney?
Our Labourer Hire Recruitment Process
Many agencies claim to interview candidates and meet them face to face but in reality they never do. A quick call to the candidate is the full extent of their recruitment process before they send them out to site. At Hunter Labour Hire all our labourers go through our comprehensive recruitment process to ensure that the quality of the workers we supply is to the high standard that our clients expect, which includes the following stages
Online registration
Face to face interviews
Reference and visa checks
Consistent performance reviews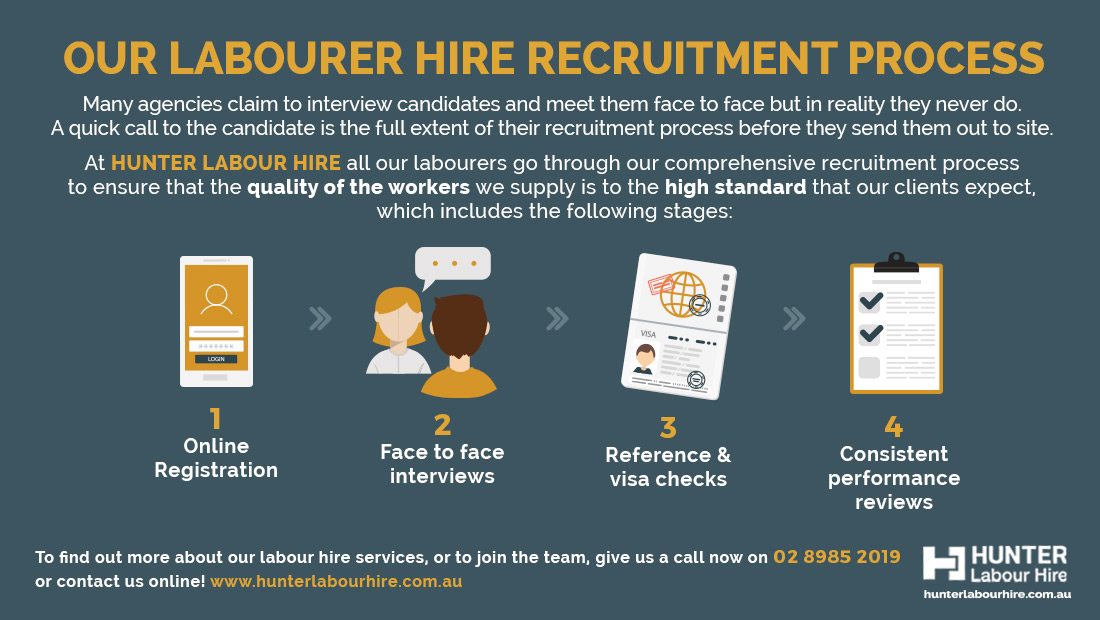 Our Employer Branding
We have positioned ourselves as a labour hire company that people actually want to work for! For years agencies and recruitment companies have gained a poor reputation by providing a substandard service to those who work for them.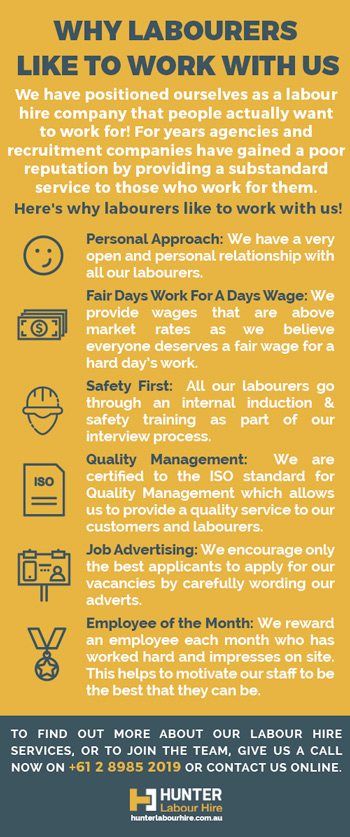 Personal Approach:We have a very open and personal relationship with all our labourers. Our 360 recruiters are in constant communication with our staff to ensure that they are happy in their placements. We have social events with our staff ranging from our annual Christmas party to the upcoming rugby 7s which will be a strong combination of office staff and candidates alike!
Fair Days Work For A Days Wage: We provide wages that are above market rates as we believe everyone deserves a fair wage for a hard day's work. Labouring is not an easy job and is physically very demanding so not only is paying a good wage expected, its one of the best ways to keep your staff motivated.
Safety First: All our labourers go through an internal induction as part of our interview process. This includes Manual Handling and a briefing on various safety procedures that we have in place. We ensure that our labourers are working in safe conditions by conducting site inspections. We are also certified to the ISO standard for Work Health and Safety Management – AS/NZS 4801:2001
Quality Management: We are also certified to the ISO standard for Quality Management – AS/NZS ISO 9001:2016. As to be quality we have to have quality management processes in place that allow us to provide a quality service to our customers and also to ensure we provide quality labourers to our clients. We are also certified in Environmental Management – AS/NZS ISO 14001:2016.
Job Advertising: We encourage only the best applicants to apply for our vacancies by carefully wording our adverts. This can also help us to reduce the number of applicants from less suitable labourers. We also have a refer a friend scheme in place which helps us source some good labourers.
Employee of the Month: We reward an employee each month who has worked hard and impresses on site. This helps to motivate our staff to be the best that they can be.
If you need further proof that our staff are proud to be part of the best team of labourers in Sydney then check out our reviews on Google and Facebook.
Are you trying to find the best labourer for hire in Sydney?
Well the good news is you have come to the right place. Through our employer branding and our stringent recruitment process we supply the best labourers in Sydney. If you are keen to use a recruitment that do exactly what they say do, then give Hunter Labour Hire a call on 02 89852019 or fill in our online contact form for a speedy call back.