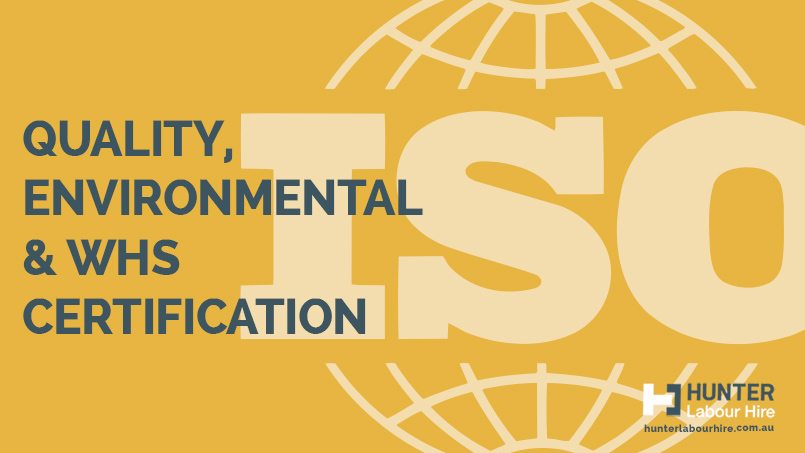 15 Dec

Quality, Environmental & WHS Certification
ISO Certification for Quality Management, Environmental & WHS
Hunter Labour Hire are proud to announce we now meet the following ISO standards:
Quality Management – AS/NZS ISO 9001:2016
Work Health and Safety Management – AS/NZS 4801:2001
Environmental Management – AS/NZS ISO 14001:2016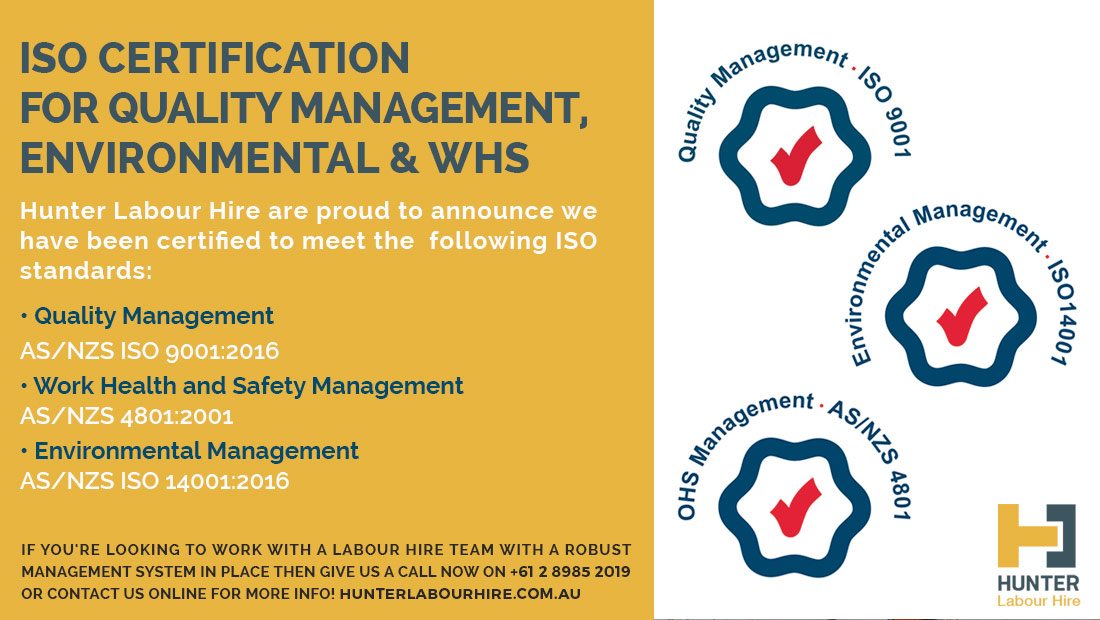 How Did We Get ISO Certification?
Hunter Labour Hire achieved this certification through the development of a management system suited to our specific business structure and has been verified by Global-Mark Pty Ltd, one of Australia's leading Conformity Assessment Bodies (CABs).
What is a Management System?
A management system is the framework of policies, processes and procedures used by a company to ensure that it can fulfill all the tasks required to achieve its objectives.
The HLH management system is documented at a number levels:
IMS Manual – this provides a general overview of the management system
Procedures – these have been documented where required by the standards or where Hunter Labour Hire has identified specific risks.
Policies – Quality Policy, WHS Policy, Return to Work Policy and Environmental Policy
Forms – Forms, registers and templates are referenced throughout the documentation
Objectives and Targets – Environmental, Quality and WHS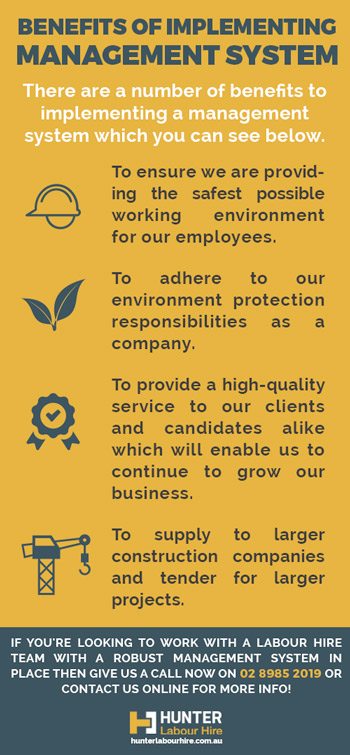 Benefits of Implementing a Management System
"Management System certification recognises an organisation's commitment to quality, leadership, systems and the sound and stable processes which can deliver consistently safe products and services that meet their customer's expectations."
–  Global-Mark Pty Ltd
We chose to implement a management system to get these benefits for ourselves and our clients:
To ensure we are providing the safest possible working environment for our employees
To adhere to our environment protection responsibilities as a company
To provide a high-quality service to our clients and candidates alike which will enable us to continue to grow our business
To supply to larger construction companies and tender for larger projects
Constantly Seeking Feedback and Constantly Improving
Hunter Labour Hire are constantly seeking feedback on the service we provide our clients and candidates. If you have any suggestions or ideas on how we can improve the quality of our service then please email sorcha@hunterlabourhire.com.au or call 0415415374 for a confidential discussion.