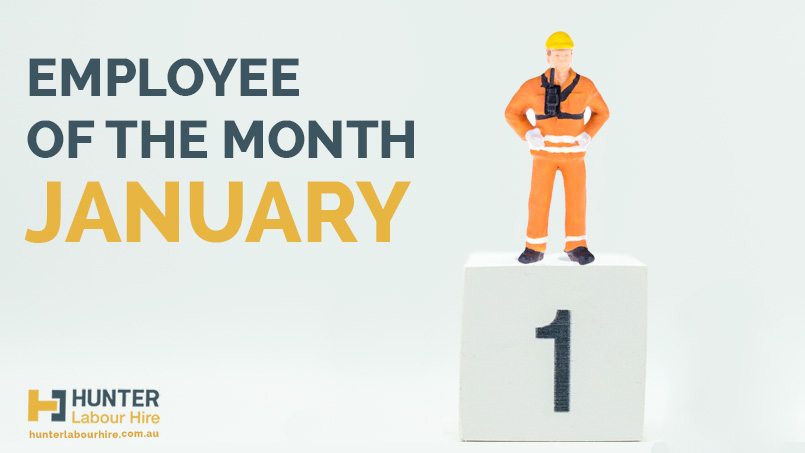 02 Feb

Employee of the Month – January
The HLH Employee of the Month Competition
After a record breaking 2017 and plans for continued success in 2018, here at Hunter Labour Hire we realise that it wouldn't be possible without the outstanding work from all our employees both in office and on site.
This year we are launching our employee of the month competition. Unfortunately for our office-based staff this will only be available for our on-site staff. Every month each of our account managers will nominate their top employee and give reason for their nomination. Management will then vote and following the vote we will be awarding it to the employee that has gone the extra mile and really stands out above the rest.
Introducing the Employee of the Month Competition
So, if you're part of the HLH team and wondering "How can I become employee of the month? – what are the HLH account managers are looking for?" well, time to wonder now more.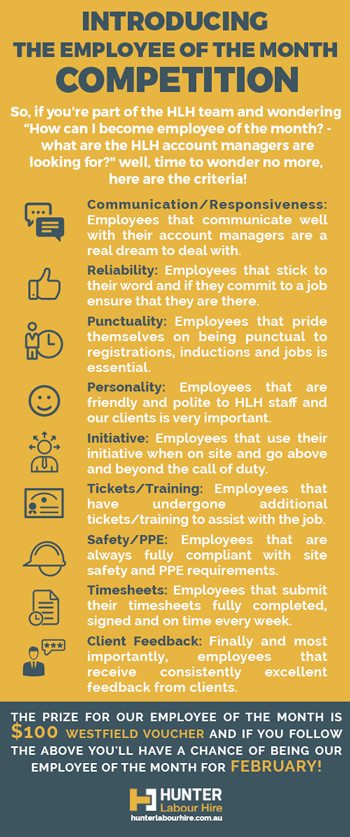 Communication/Responsiveness – Employees that communicate well with their account managers are a real dream to deal with. Responding quickly to job details as well as any other queries makes a consultant's job a lot easier when trying to manage many jobs and employees at once.  Also, candidates who communicate with their site foreman well is essential.
Reliability – Employees that stick to their word and if they commit to a job ensure that they are there. Not employees that are full of excuses and sick every Monday after a big weekend.
Punctuality – Employees that pride themselves on being punctual to registrations, inductions and jobs is essential. Receiving a call from a site foreman between 07:00-07:30 asking the whereabouts of our labourer or tradie is never a good start to the day.
Personality – Employees that are friendly and polite to HLH staff and our clients is very important. Candidates that don't complain and continue to work with a smile on their face really goes a long way.
Initiative/Above and beyond – Employees that use their initiative when on site and go above and beyond the call of duty without having to be set a new task every few minutes. Foreman are often very busy and don't always have time to micromanage every employee on site.
Tickets/Training – Employees that have undergone additional tickets/training to assist with the job they are doing is a real benefit to everyone.
Safety/PPE – Employees that are always fully compliant with site safety and PPE requirements.
Timesheets – Employees that submit their timesheets fully completed, signed and on time every week.
Client feedback – Finally and most importantly, employees that receive consistently excellent feedback from clients is one of the main things our account managers will be looking for when making their nominations. Client feedback may be a result or combination of any of the above points or something more specific. Regardless of monthly nominations account managers always ensure any positive or negative/constructive feedback is relayed to all employees.
What is the monthly prize?
– $100 Westfield voucher
Employee of the month for January
So after factoring in all of the above criteria and reviewing all of the tradies we had out over the month of January we've found our winner of the Employee of the Month and happy to congratulate Colm Fitzpatrick on picking up the prize!
Company Statement
"Colm has been an exceptional employee throughout the Christmas period and the whole month of January. He's been placed with and helped impress several new clients during this period, whilst also traveling daily from Coogee to sites in Mona Vale, Kellyville and North Richmond without any complaints. He's a real team player assisting other employees by offering them lifts to and from work. Finally, he's received nothing but positive feedback from every client regarding his solid work ethic regardless of the task in hand. Helping build our reputation as a labour provider, Colm has ensured complete client satisfaction wherever he's been. Well done Colm and keep up the great work."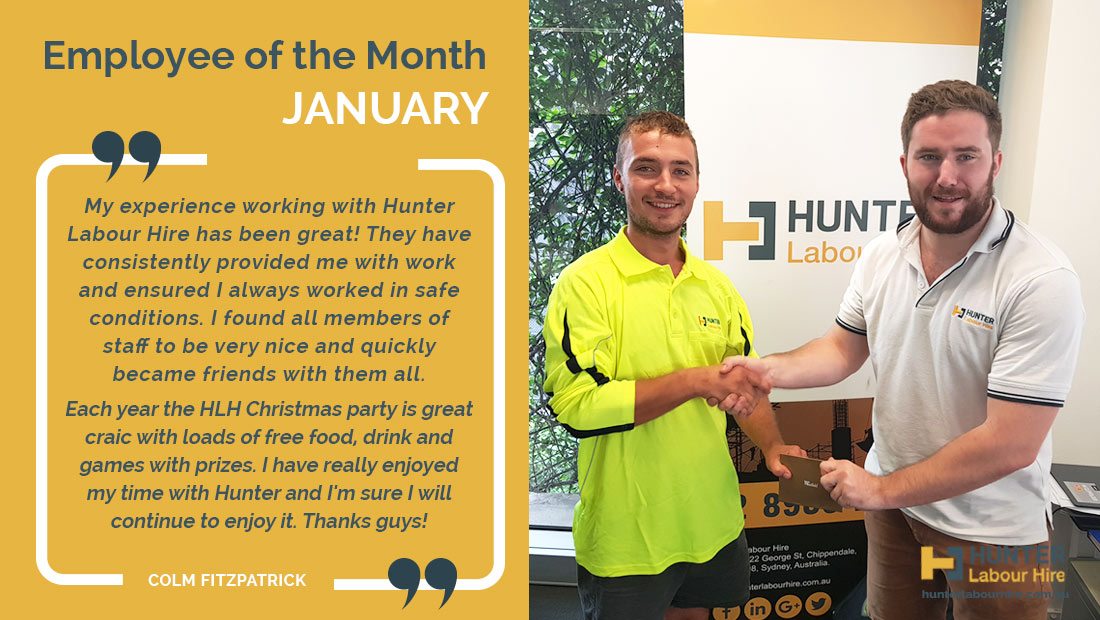 Employee Statement
"My experience working with Hunter Labour Hire has been great! They have consistently provided me with work and ensured I always worked in safe conditions. I found all members of staff to be very nice and quickly became friends with them all. Each year the Christmas party is great craic with loads of free food, drink and games with prizes. I have really enjoyed my time with Hunter and I'm sure I will continue to enjoy it. Thanks guys!"
Labour Hire Jobs Available In 2018
At Hunter Labour Hire we are always looking for the best in labour hire talent and so if you like the sound of the above and are eager to work in the Sydney labour hire industry then we want to hear from you! Give our team a call now on +61 2 8985 2019 or register online to work with us and we'll get back to you asap!