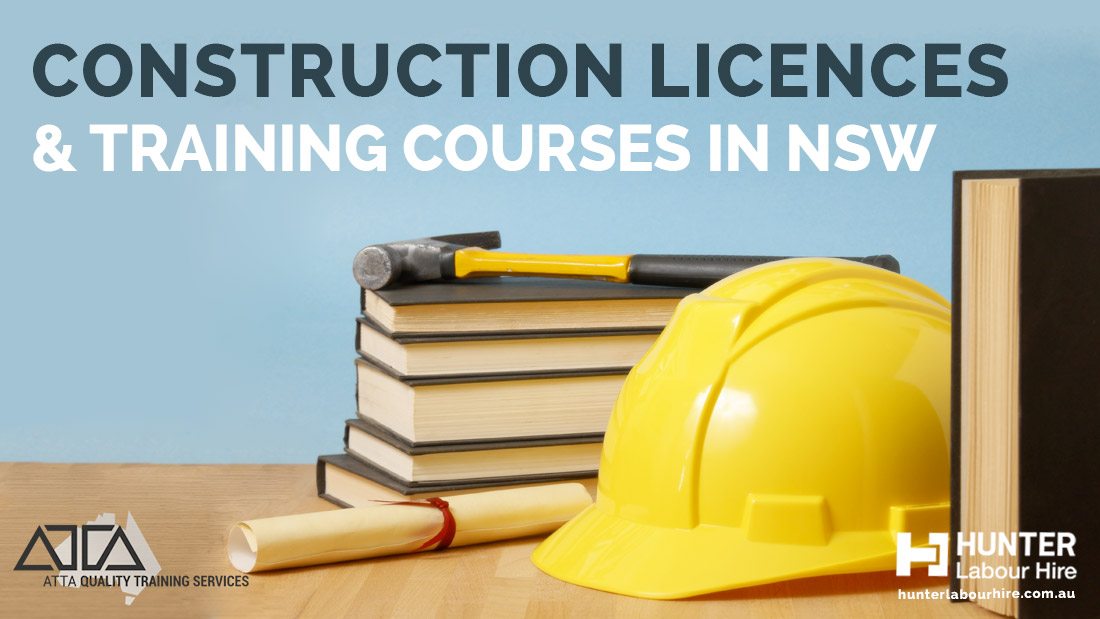 25 Feb

Construction Licences & Training Courses NSW
Construction Licences & Training Courses
Hunter Labour Hire is happy to welcome our preferred training provider Australia Trade Training and Assessment (ATTA) to Sydney, NSW. ATTA are a highly regarded RTO that have been operating from Victoria for 5 years. They are now offering Sydney trade workers their quality training courses, at a competitive price, to improve access to the essential skills needed to advance a career in the construction industry.
Who is the ATTA?
"ATTA is an RTO that has been developed to provide employees and employers with training solutions that not only offer value for money, but are suited to current site conditions and satisfy workplace safety training demands. Whilst delivering skills training, our experienced trainers share their industry knowledge and experiences to prepare students for current working conditions, site culture and safety expectations."
What Construction Licence Courses Can I Do With ATTA?
There are a variety of Nationally Recognised Training courses that are now available in NSW from basic scaffolding ticket to a forklift licence (find out more the different types of construction tickets and licences in Sydney here.). These courses are run from Banksmeadow which is conveniently accessible by public transport.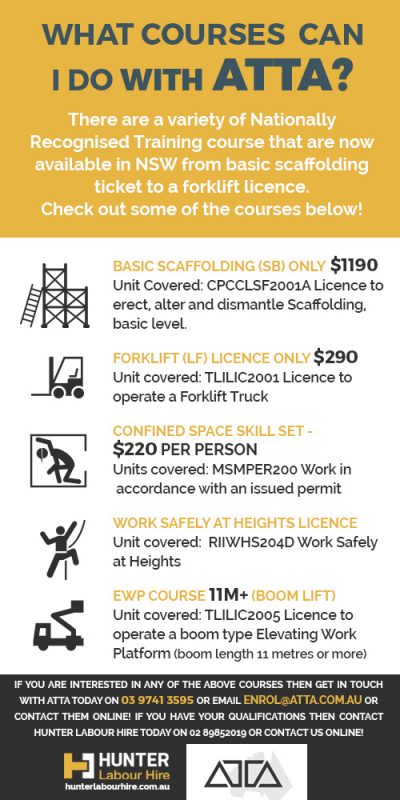 Basic Scaffolding (SB) ONLY $1190
Unit Covered: CPCCLSF2001A Licence to erect, alter and dismantle Scaffolding, basic level.
This course will give its participants the necessary skills required to erect, alter and dismantle modular or prefabricated scaffolding, safely. The course is conducted over 3 days plus a self paced homework task, will also teach its students how to safely and correctly use gin wheels, safety nets, static lines and mobile scaffolds. This course is best suited to those with or without scaffolding experience and interested pursuing a scaffolding career further.
Forklift (LF) Licence ONLY $290
Unit covered: TLILIC2001 Licence to operate a Forklift Truck
ATTA offer a Forklift Truck licence course which will give those who complete the course successfully the skills and knowledge to operate a forklift safely. It is suitable for everyone from beginners to experienced operators. Having this ticket will give you the opportunity for a variety of jobs from warehouse work to organizing materials on large construction sites.
Confined Space Skill Set – $220 Per Person
Units covered: MSMPER200 Work in accordance with an issued permit
MSMPER205 Enter confined space
MSMWHS217 Gas test atmospheres
They offer a Confined Space course that give students the necessary skills to carry out risk assessments, develop safe entry procedures, complete entry permits and use confined space entry equipment such as gas detectors and safety harness. The course is suitable for students of all levels experience. Many jobs are available to those who are competent to enter Confined Spaces safely. These include pipe laying and drainage, and telecommunications installations.
Work Safely at Heights Licence
Unit covered:  RIIWHS204D Work Safely at Heights
This is a working at heights course that focuses on fall prevention rather fall arrest. This course will give the students the necessary knowledge and skills to safely work at heights. This course is suitable for all students irrespective of experience. Holding a heights safety ticket is necessary for a variety of construction roles such as working on high rise buildings, working on scaffold and even necessary within the mining industry too.
EWP Course 11m+ (Boom Lift)
Unit covered: TLILIC2005 Licence to operate a boom type Elevating Work Platform 
(boom length 11 metres or more)
This is the licensed Elevated Work Platforms (EWP) course will give workers the ability to operate all EWP's with no height restrictions (11m+). Upon completion of this licensed course each student will have the information and self-confidence to attain a National High Risk Work Licence. Holding a EWP (11 Metres +) licence will allow you to work in variety of positions from electrical trade assistants working to installing sound barriers along motorways on a civil project. Furthermore, you can also operate Scissor Lifts once you hold your EWP 11 Metre + High Risk Work License.
Want More Information About Construction Training Courses?
If you are interested in any of the above courses then get in touch with ATTA today on 03 9741 3595 email enrol@atta.com.au or book online here.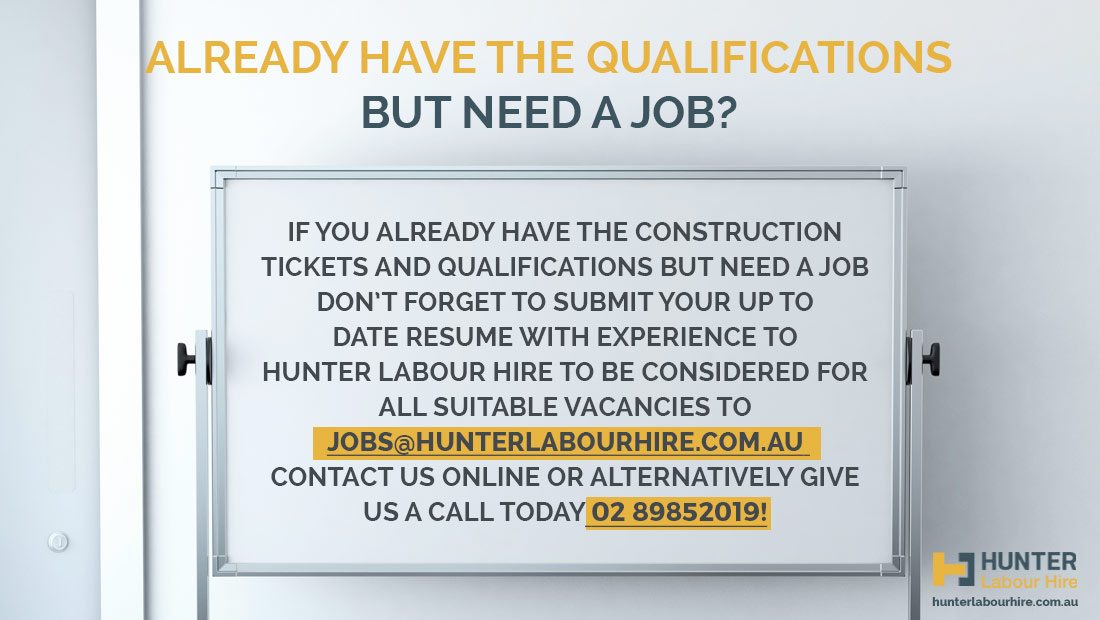 Already Have The Qualifications But Need A Job?
Don't forget to submit your up to date resume with experience to Hunter Labour Hire to be considered for all suitable vacancies to jobs@hunterlabourhire.com.au, fill in our application form here or alternatively give us a call today 02 89852019!