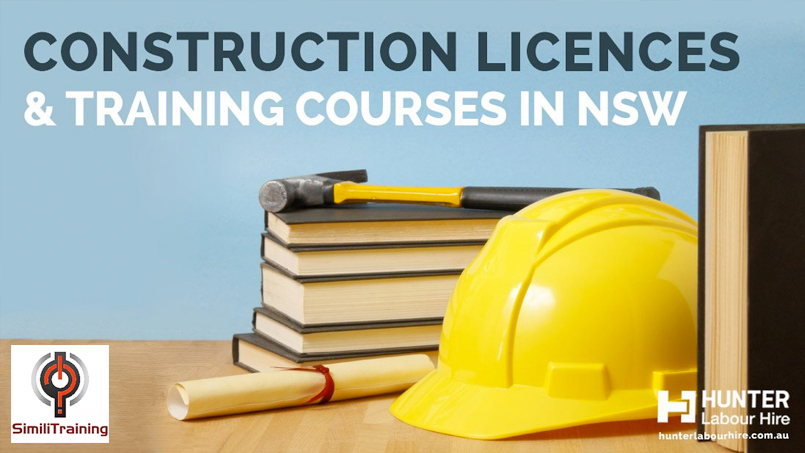 25 Feb

Construction Licences & Training Courses NSW
Construction Licences & Training Courses
Hunter Labour Hire is happy to introduce our preferred training provider Simili Training who are based out of Kingsgrove, Sydney. They are offering Sydney trade workers their quality training courses, at a competitive price, to improve access to the essential skilled needed to advance a career in the Sydney construction industry. Kevin and the team at Simili are extremely efficient and flexible, even at very short notice they been able to assist HLH with any courses/licenses our workers have required.
Who are Simili Training?
"Simili Training Aust Pty Ltd is a Registered Training Organization (RTO No 40942) based in Sydney. Kevin Simili has worked in the mining sector for more than 15 years as Site Supervisor and Site Manager. At Simili Training Aust you can find a solution to your company training needs & obligations. Our staff can work with your management to secure the best possible result. So as a company, contractor, self-employed or an individual that requires training or compliance, browse Simili Training Aust to locate your personal or company training & compliance needs or contact one of our friendly staff to book in a course."
What Construction Licence Courses Can I Do With Simili Training?
There are a variety of Nationally Recognised Training courses that are now available in NSW from advanced rigging to confined space licences (find out more the different types of construction tickets and licences in Sydney here.). Here is a Simili Construction Licences & Training Course Price List on offer and their latest price list. These courses are run out of Kingsgrove which is conveniently accessible by car and by public transport.
Which Construction Ticket or Licence Should You Get?
Here is a list of the most commonly sought-after tickets and licenses based on the past 5yrs of requests HLH have received from their clients: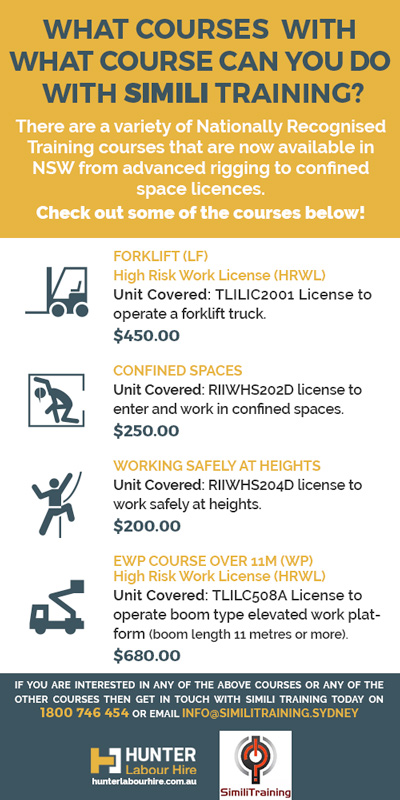 Forklift (LF) – High Risk Work License (HRWL) – ONLY $450.00
Unit Covered: TLILIC2001 License to operate a forklift truck.
Simili Training offer a forklift truck course which will give those who complete the course successfully the skills and knowledge to operate a forklift safely. It is usually suitable for everyone from beginners to experienced operators. Having this ticket will give you the opportunity for a variety of jobs from warehouse positions to material handling positions on large construction projects.
Confined Spaces – ONLY $250.00
Unit Covered: RIIWHS202D license to enter and work in confined spaces.
They offer a confined space course that gives workers the necessary skills to carry out risk assessments, develop safe entry procedures, complete entry permits and used confined entry equipment such as gas detectors and safety harnesses. The course is suitable for workers of all levels. Many jobs are available to those who are competent to enter confined spaces safely. These include pipe laying, drainage and telecommunication installations.
Working Safely at Heights – ONLY $200.00
Unit Covered: RIIWHS204D license to work safely at heights.
This is a working at heights course that focuses on fall prevention rather than fall arrest. This course will give the students the necessary knowledge and skills to safely work at heights. This course is suitable for all workers irrespective of experience. Holding a working at heights ticket is necessary for a variety of construction roles such as working on high rise buildings, working on scaffold and even necessary within the mining industry.
EWP Course Over 11m (WP) – High Risk Work License (HRWL) – $680.00
Unit Covered: TLILC508A License to operate boom type elevated work platform (boom length 11 metres or more).
This license gives workers the ability to operate all EWP's with no height restrictions. Upon completion of this licensed course each worker will have the information and self-confidence to attain a National High-Risk Work License. Holding this license will allow you to work in a variety of positions from electrical trade assistant roles, installing sound barriers along motorways on civil projects, installing fabric sails and all types of roofing.
Construction Licences & Training Courses from Simili
If you are interested in any of the above courses or any of the other courses on price list then get in touch with Simili Training today on 1800 746 454 or email info@similitraining.sydney.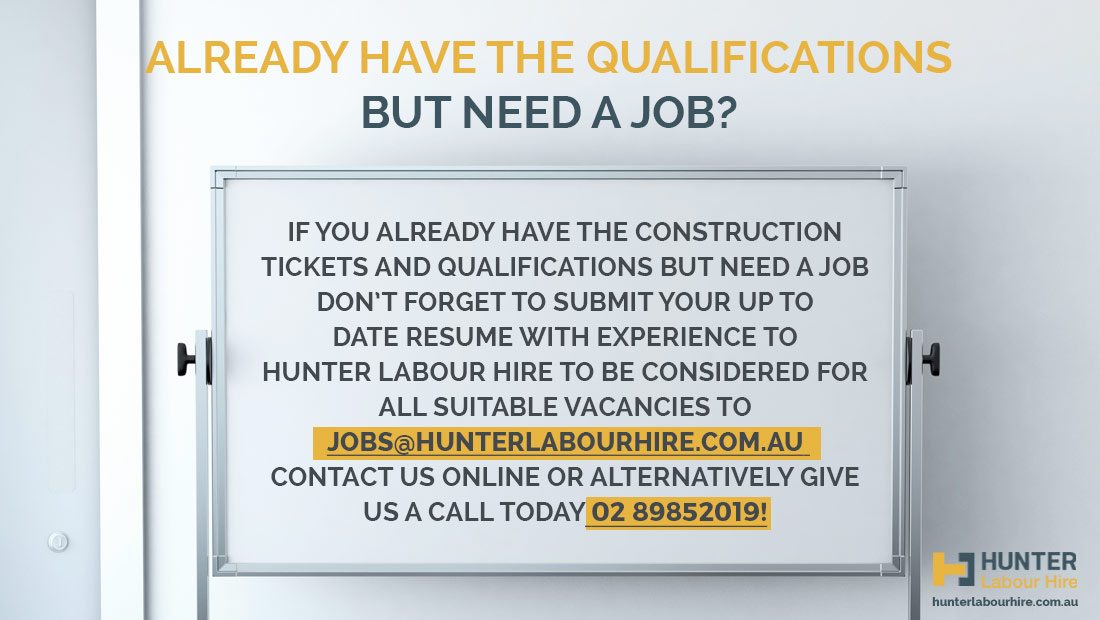 Labour Hire Jobs Available for General & Skilled Labourers
At Hunter Labour Hire we are always looking for the best in labour hire talent and so if you think you have relevant experience and are eager to work in the Sydney labour hire industry then we want to hear from you! Give our team a call now on +61 2 8985 2019 or register online to work with us and we'll get back to you asap!