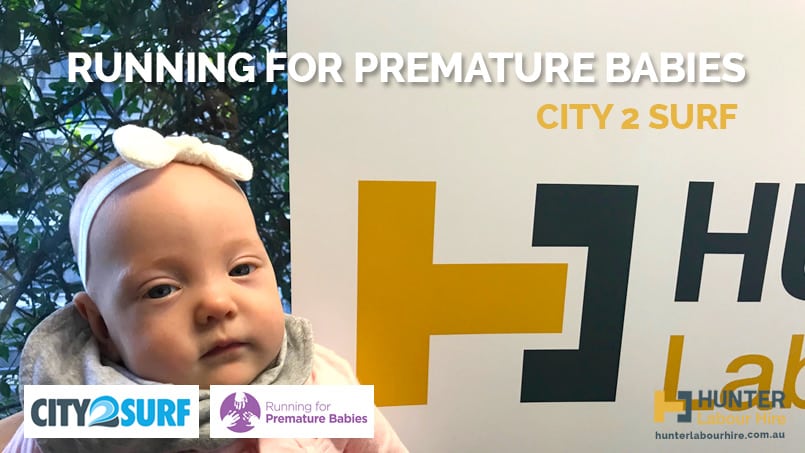 26 Jul

Running for Premature Babies – City 2 Surf
Hunter Labour Hire & City 2 Surf
While the team at Hunter Labour Hire all understand the importance of working hard providing top labour hire talent we know that it is just as important to maintain a healthy work life balance. In line with this we have all been training hard to run in this year's 14km City 2 Surf which will take place on Sunday the 12th August. City 2 Surf is the world's largest fun run with over 80,000 entrants and it starts at Hyde Park in the city and finishes up at the famous Bondi Beach in the Eastern suburbs.
Running for Premature Babies
As well as the health benefits that come with training for the race this year the HLH team have chosen to run the City 2 Surf to fund-raise for a very worthy charity called Running for Premature Babies. Sophie Smith founded this charity in 2007 after her triplets Henry, Jasper and Evan Smith tragically passed away after being born prematurely in 2006. Since then Running for Premature Babies have raised over $3 million for the Royal Hospital for Women's Neonatal Intensive Care Unit and in 2017 they became a registered charity foundation. If you are interested in taking part in one of their fundraising events you can find all the details here.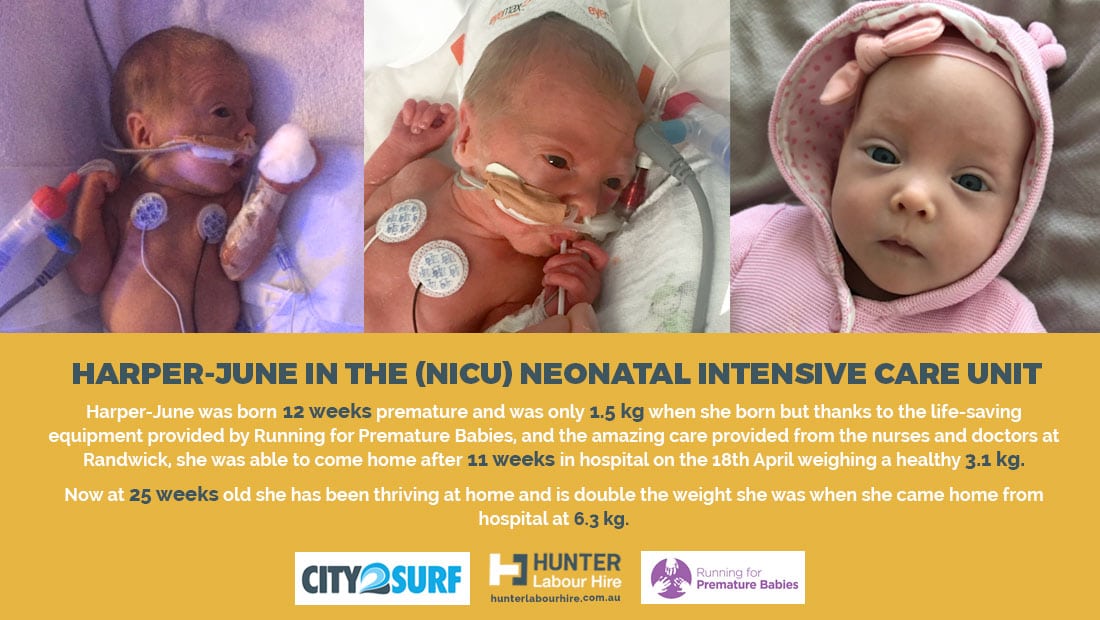 Harper-June in the (NICU) Neonatal Intensive Care Unit
In January 2018 one of Hunter Labour Hire's close friends gave birth to Harper-June who was born 12 weeks premature and was cared for in the NICU at the Royal Hospital for Women in Randwick. This unit of the hospital cares for sick newborn infants both premature and full-term; it has 44 beds and cares for up to 1000 babies a year. Harper-June was only 1.5 kg when she born but thanks to the life-saving equipment provided by Running for Premature Babies, and the amazing care provided from the nurses and doctors at Randwick, she was able to come home after 11 weeks in hospital on the 18th April weighing a healthy 3.1 kg. Now at 25 weeks old she has been thriving at home and is double the weight she was when she came home from hospital at 6.3 kg. Harper-June loves sucking her thumb, looking at lamps and is very excited about her naming ceremony next month.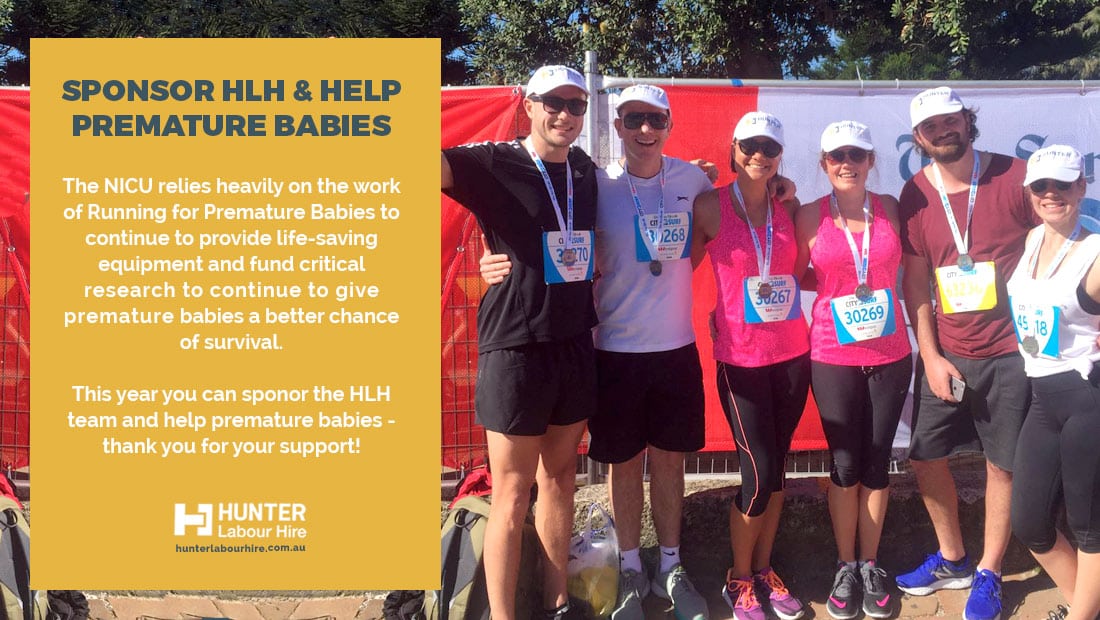 Sponsor HLH & Help Premature Babies
The NICU relies heavily on the work of Running for Premature Babies to continue to provide life-saving equipment and fund critical research to continue to give premature babies a better chance of survival. So if you would like to sponsor the Hunter Labour Hire team as we run the City2Surf for Running for Premature Babies please simply click on this link. Alternatively if you would like to join our team and enter the run then drop us an email at info@hunterlabourhire.com.au and we will send you the relevant details.
Harper-June and all the babies of the Royal's NICU thank you for your support.