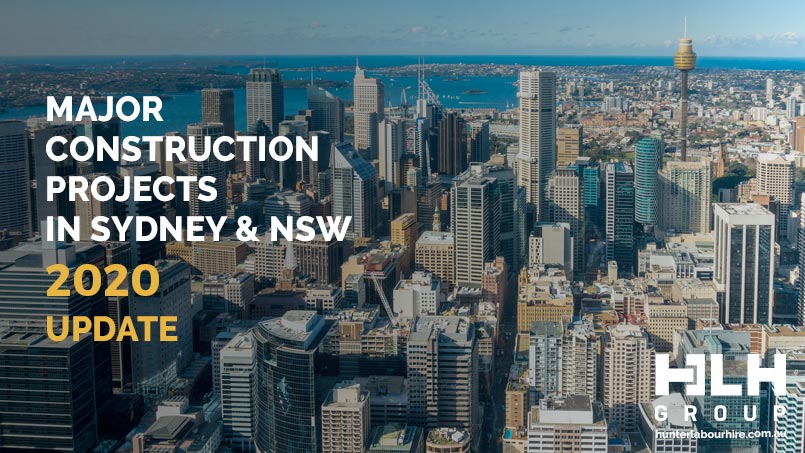 10 Jul

Major Construction Projects in Sydney & NSW – 2020 Update
Construction Projects in Sydney & NSW 2020
2020 has been a very eventful year for everybody so far with COVID19 having a major impact on the global and national Australian economy. This has had an impact on the construction industry too. Luckily, for the most part, the construction industry wasn't as badly affected as other parts of the economy but, with that said, it would be crazy to say there has been no effect. The Australian Federal and NSW state Government reacted strongly with some important economic measures to assist Australian people despite this the Australian economy has found itself in a recession. Many economists believe that the construction industry can lead the way to recovery. And so, similar to when we looked at major infrastructure projects in Sydney last year, in this post we are looking at some large projects which will be commencing in the 2nd half of 2020 or are already underway.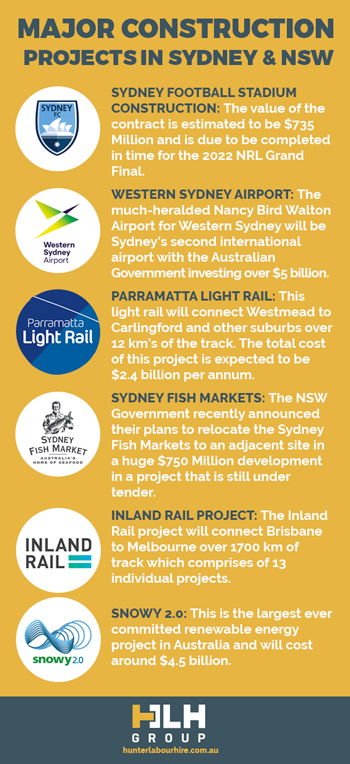 Sydney Football Stadium Construction
The demolition of the Sydney Football Stadium was completed in 2019. The second stage which will be completed by John Holland is currently underway, the value of the contract is estimated to be $735 Million. The project is due to be completed in time for the 2022 NRL Grand Final. The construction of the stadium will provide 1000s of construction workers with employment and upon completion, there will be 1000s of jobs created within the stadium directly and indirectly.
Western Sydney Airport
The much-heralded Nancy Bird Walton Airport for Western Sydney will be Sydney's second international airport. The construction of it is no small undertaking with the Australian Government investing over $5 billion in the project. The construction phase will provide much-needed employment to 10000s of workers over the next 6 year period. Upon its completion, the airport will have a massive boost on the local economy. It is expected to support almost 28,000 direct and indirect jobs by 2031, five years after the airport opens.
The NSW governments plans to create Aerotropolis will further emphasize this.
Parramatta Light Rail
Following the completion of the South East Light Rail connecting Sydney's East to Circular Quay the NSW government is further investing in Light Rail transport with its Western Sydney cousin in Parramatta well and truly underway on the construction phase of the project. This light rail will connect Westmead to Carlingford and other suburbs over 12 km's of the track. The total cost of this project is expected to be $2.4 billion per annum. This will create even more much-needed construction jobs, the government is hoping the completion of the line will also lead to a rejuvenation of some of the Western Suburbs along with the tram line stations. It is expected to be completed in 2023.
Sydney Fish Markets
The NSW Government recently announced their plans to relocate the Sydney Fish Markets to an adjacent site in a huge $750 Million development. It is important to note that the major project is still under tender. This project will undoubtedly create many jobs through the construction and of course upon its completion which is expected to be in 2024. Early works are expected to commence shortly.
Inland Rail Project
The Inland Rail project will connect Brisbane to Melbourne over 1700 km of track which comprises of 13 individual projects. It will form a backbone of the National Freight Network. This massive project is estimated to cost over $10.9 billion and give a much-needed boost to the regional areas which the infrastructure will be built.
Snowy 2.0
This is the largest ever committed renewable energy project in Australia. The project will cost around $4.5 Billion according to initial feasibility studies from 2017. This project further underlines the government's determination to provide jobs in the short term through the delivery of infrastructure and long term jobs upon completions.
Construction Projects in the Pipeline
As well as the construction projects mentioned above there are many other projects in the pipeline as well like:
Tech Central – Sydney's 'Silicon Valley'
Sydney Metro – Various Stations including Waterloo Station and Precinct
Various Renewable Projects including regional Solar Farms to up with Australia's clean energy goals.
505 George Street – Promises to be Sydney's tallest skyscraper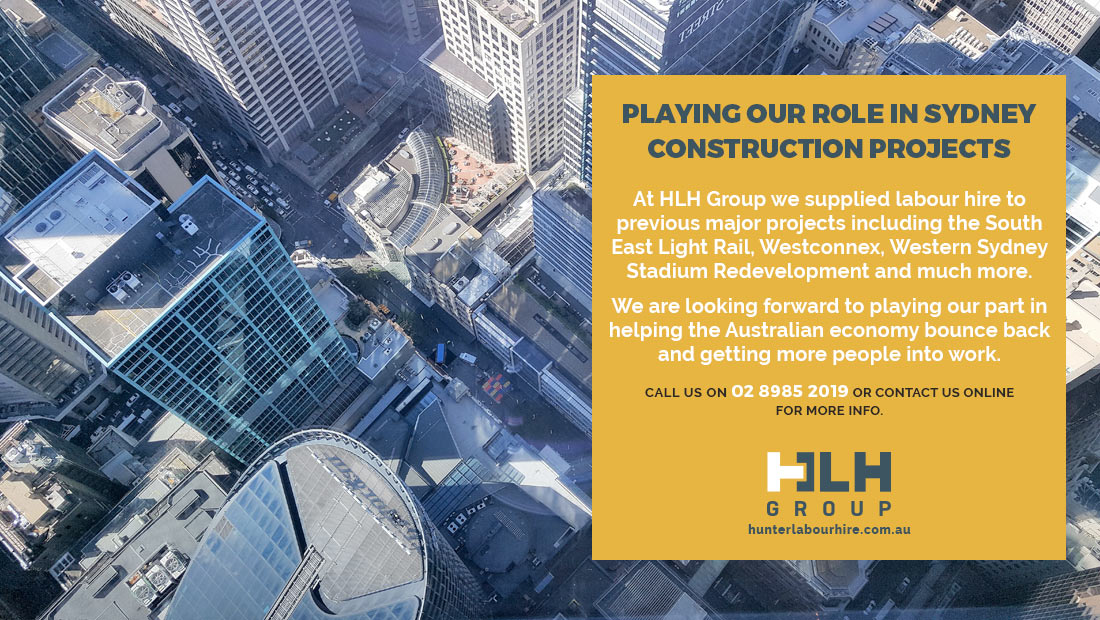 Playing Our Role in Sydney Construction Projects
At HLH Group we supplied labour hire to previous major projects including the South East Light Rail, Westconnex, Western Sydney Stadium Redevelopment and much more. We are looking forward to playing our part in helping the Australian economy bounce back and getting more people into work. We have a massive database of experienced and motivated job seekers looking for roles in all areas of construction and civil sectors. Get in touch if you would like us to find the best workers to put your business in the best place to help Australia's economy! Call us on 02 8985 2019 today or contact us online and a member of our team will get in touch.