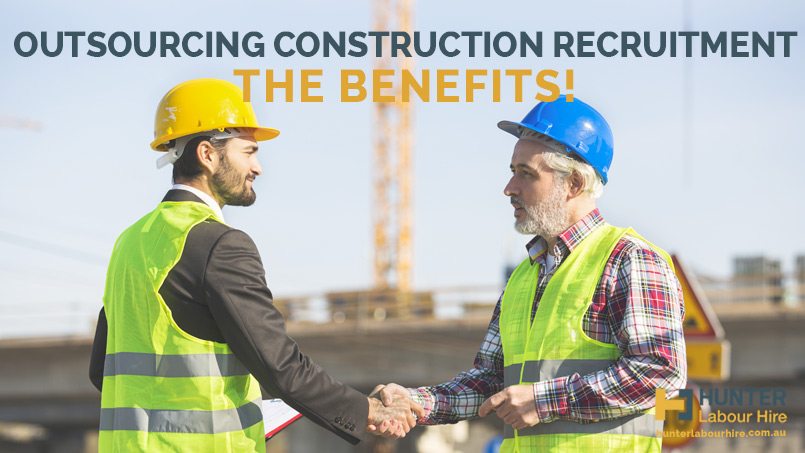 06 Jul

Outsourcing Construction Recruitment – The Benefits!
Benefits of Outsourcing Construction Recruitment
In many industries companies have been outsourcing their recruitment department for years, this is commonly called Recruitment Process Outsourcing. The construction industry is no different. Our clients use our services for a variety of reasons each with their own unique set of circumstances and we can tailor our recruitment services to suit all requirements. Whether you are struggling to fill a permanent vacancy or you need a casual workforce to assist you on your next project our experts in construction recruitment services can assist you.
What Are The Benefits of Outsourcing Construction Recruitment?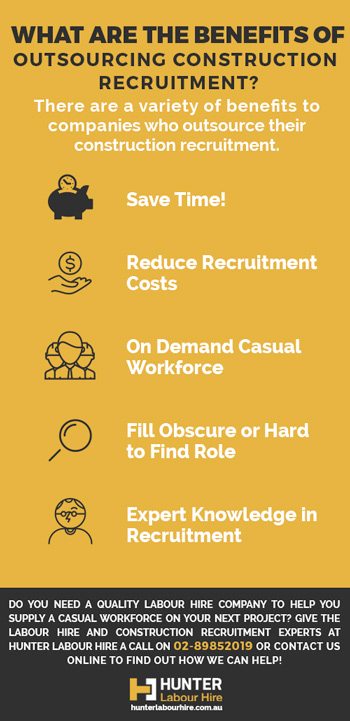 There are a variety of benefits to companies who outsource their construction recruitment.
Save Time!
At Hunter Labour Hire we not only have large number of labour hire workers out with their clients daily we also have a large pool of active candidates which we call upon. The active pool of candidates is constantly being updated and kept fresh. We know many trades in construction are needed as soon as yesterday and requirements are constantly changing. By keeping candidate's fresh, we can do our best to provide our clients the workers they need as soon as they need someone.
Reduce Recruitment Costs
By engaging a recruitment company who specialize in recruitment for construction you will only have to pay a transparent once off fee for permanent recruitment or else an hourly rate for casual staff. You will save recruitment costs by letting us take care of the entire recruitment process; From posting adverts on job boards, to spending hours interviewing and screening candidates using construction recruitment is an excellent way to reduce recruitment costs.
On Demand Casual Workforce
Sometimes particular projects require additional staff on a casual basis due to labour intensive demands. The logical step taken by many construction companies is to engage a labour hire company to source and supply this casual workforce as increasing the company workforce for a short period of time could be a waste of resources better used focusing on the project at hand.
Fill Obscure or Hard to Find Roles
Have a role that you are struggling to fill such as a Dogman ticketed labourer with a Confined Space Ticket or other high risk work licences for construction? We have a vast candidate management system which includes workers with all sorts of experience and qualifications, so the chances are we have the perfect candidate for you!
Expert Knowledge in Recruitment
Our recruiters are experts in their fields. This means they know exactly how to recruit the workers you need. By outsourcing to a recruitment company such as Hunter Labour Hire you will be engaging a team of recruitment experts to find the right people for your organization. We know how and where to find the right people for your construction company.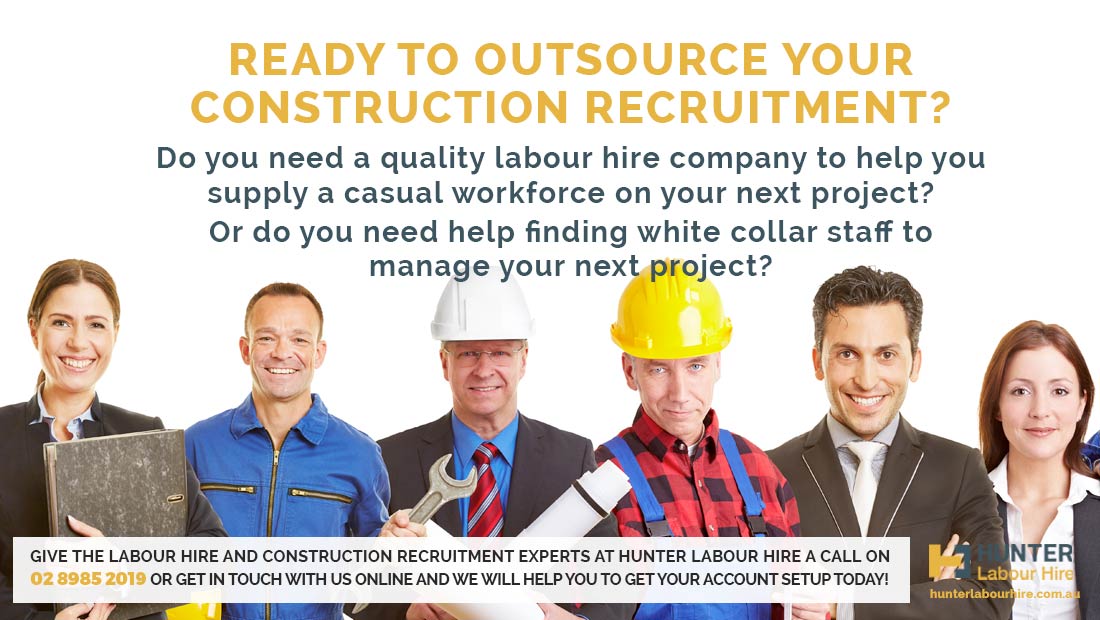 Ready to Outsource Your Construction Recruitment?
Do you need a quality labour hire company to help you supply a casual workforce on your next project? Or do you need help finding white collar staff to manage your next project? Give the labour hire and construction recruitment experts at Hunter Labour Hire a call on 02 8985 2019 or get in touch with us online and we will help you to get your account setup today.