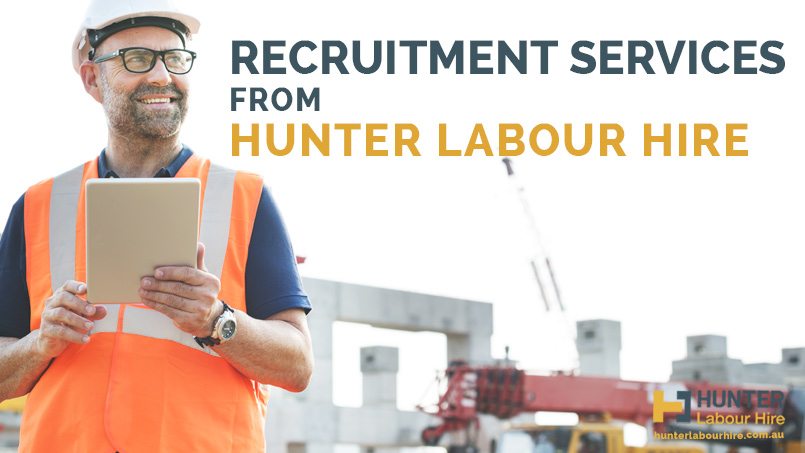 26 May

Construction Recruitment Services From Hunter Labour Hire
Hunter Labour Hire Construction Recruitment Services
Since becoming established in early 2015 Hunter Labour Hire's main business focus has been supplying labourers and tradesman to the construction industry on a temporary labour hire basis. While labour hire will continue to be our core business function due to an increase in requests from clients we are now developing the business to offer permanent construction recruitment services also.
What New Recruitment Services Will Hunter Labour Hire Offer?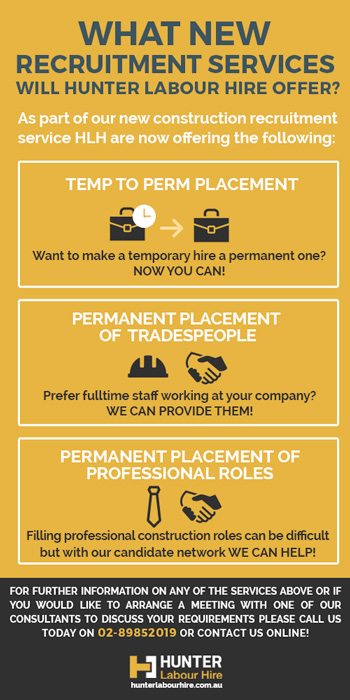 As part of our new construction recruitment service HLH are now offering the following:
Temp to Perm Placement
You may prefer the flexibility of hiring on a temporary basis initially this will give you the opportunity to test out the candidate and make sure they're the right fit for both your company and the specific project. If you then decide you would like to take on a candidate directly Hunter Labour Hire offer a Temp to Perm Placement. As we can offer a reduced fee this can also be a more cost-effective option that taking the candidate on permanent placement from day one.
Permanent Placement of Tradespeople
Do you prefer to have all your staff working directly with your company? We have a number of clients that use us to assist them in filling vacancies for tradespeople they want to take on direct on a full-time basis. With our replacement guarantee you can rest assured that if for any reason things don't work out we will replace the candidate with someone of the same or higher standard. Recent vacancies filled include licenced plumbers, electricians, carpenters and cabinet makers.
Permanent Placement of Professional Roles
A number of our clients have expressed to us the difficulty they have had in filling professional construction roles. This is another service Hunter Labour Hire can now provide. Once we get the job specification we will then shortlist, interview and reference check any suitable candidates we may have to fill your vacancies.
For further information on any of the services above or if you would like to arrange a meeting with one of our consultants to discuss your requirements please call us today on 02-89852019 or email info@hunterlabourhire.com.au.
Professional Roles Hunter Labour Hire Fill
If you need to get some new staff in there are a few professional roles that Hunter Labour Hire can help you fill like:
Site Supervisors
Contracts Administrators
Construction Managers
Estimators
Project Managers
HSE Advisors
Site Engineers
If the construction vacancy you have is not listed above please give us a call and we will endeavour to do our best to assist you with your requirements.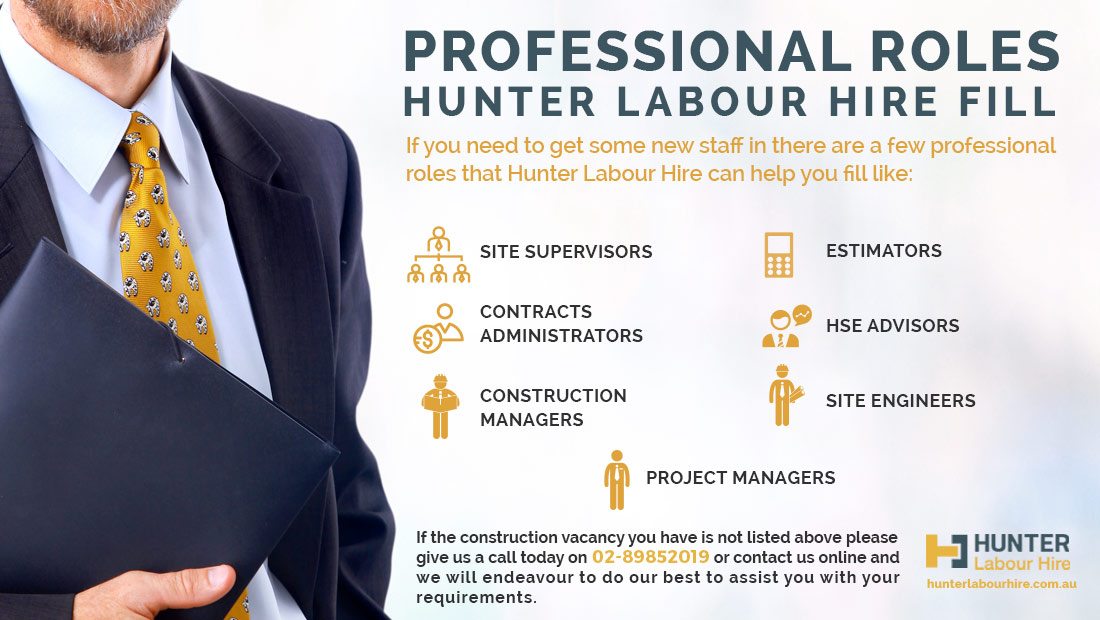 Construction Recruitment Agency Sydney
Alongside traditional candidate sources we intend on utilising the network of candidates that we have built up over the last couple of years by developing an extensive and broad ranging database. Hunter Labour Hire's refer a friend scheme and well maintained candidate management system allow us access to candidates with both overseas and Australian construction experience, ideal for construction recruitment.
In such a candidate poor market this will assist us in filling those roles you have been struggling to fill. If you have any construction vacancies that you would like Hunter Labour Hire to assist you with please give us call today on 02-89852019, email info@hunterlabourhire.com.au or contact us online for more info!