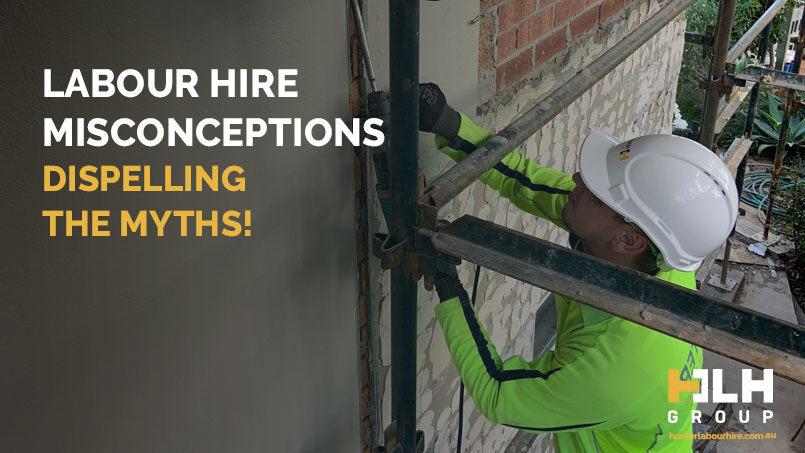 02 Oct

Labour Hire Misconceptions – Dispelling the Myths!
Labour Hire Misconceptions: Fact or Fiction?
At HLH Group we know a thing or two about the recruitment and labour hire industry. We have a lot of knowledge and experience dealing with candidates and clients in the construction, civil, landscaping and warehousing industries. We also know exactly what our clients need from our candidates and ourselves as a business in terms of service level, communication and understanding their business's unique requirements. Over time we have developed a list of misconceptions a lot of people have on the labour hire industry and we have decided now is the time to dispel these myths.
Labour Hire Workers are Unskilled!
While some companies do use labour hire for unskilled workers it is simply not true to say that all labour hire employees lack skills relating to the job they are performing. We have supplied quality carpenters, electricians, trade assistants and much more for work all around Sydney. Check out this cladding recently installed on a site for one of our clients by a skilled labourer of ours working alongside their carpenters.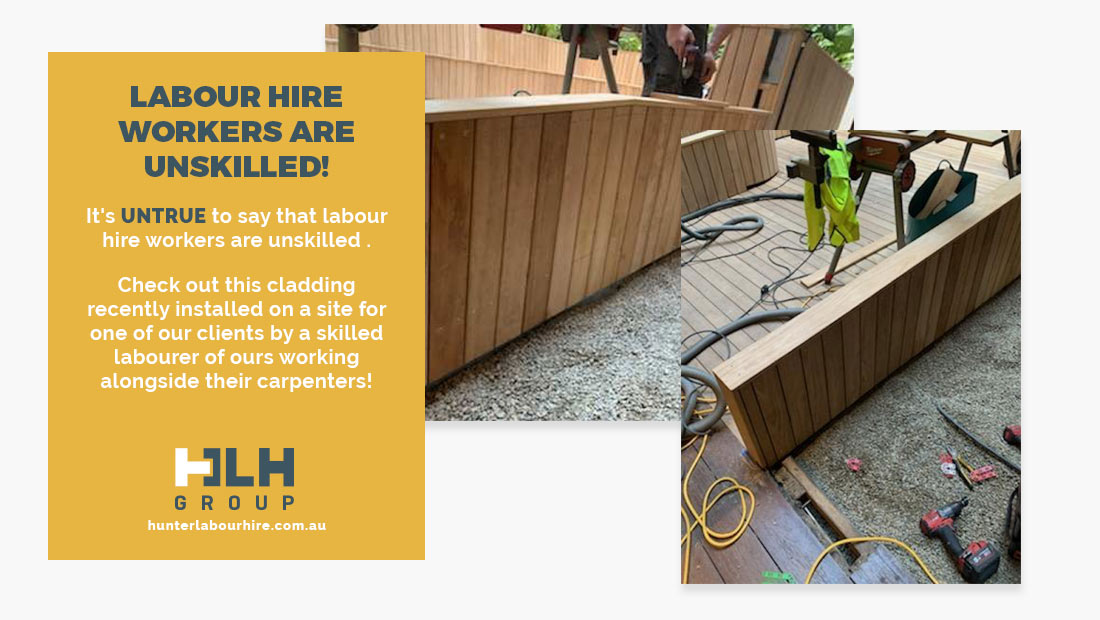 Labour Hire Workers Don't Care About Their Work!
We often speak to potential clients and they often say to us that the problem with labour hire employee's is that they just don't care and that they simply turn up only to pick up a wage. At the HLH Group a big part of what we do is looking after the workers who turn up to work for us. This, in turn, helps them to stay motivated to their best for us and our clients. If we have employees who are passionate about the HLH Group brand, then this means they care about the work they do. The only truth to this myth is that unmotivated employees don't care about their work… employee motivation or lack thereof is an issue that ANY business can face! If your labour hire workers are turning up with a bad attitude, then this could be a reflection of how the labour hire company that supplies them is treating them! A great company culture = great workers and happy tradies means happy clients. Check out what Akshaf, our employee of the month for June, had to say about his experience with HLH Group.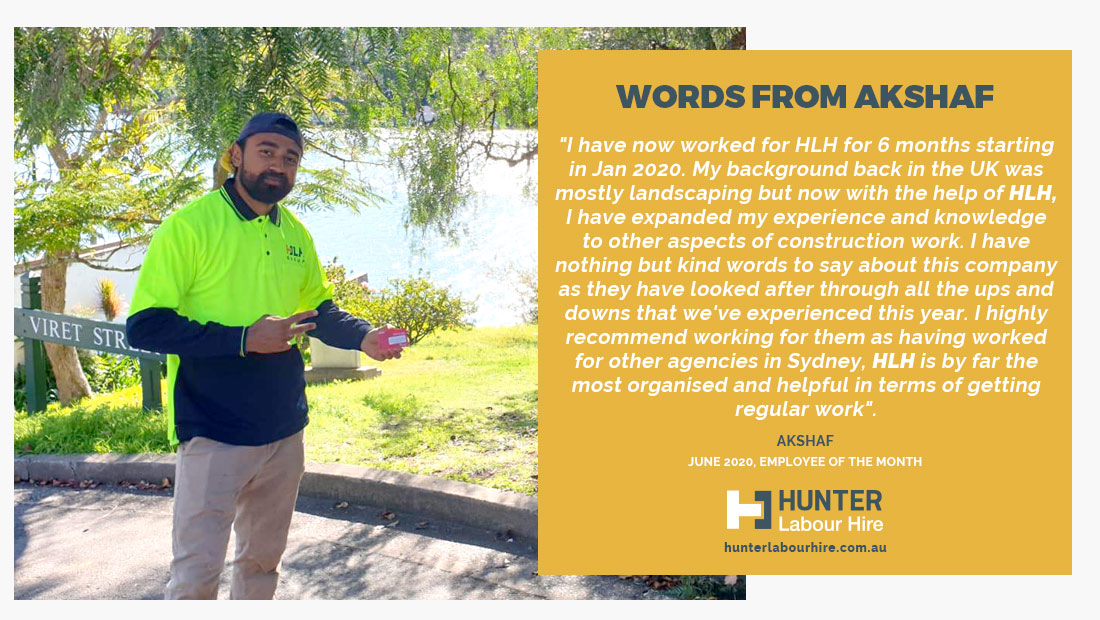 Labour Hire Companies are Unreliable! 
A big issue that many companies face is finding reliable workers who turn to work when required and on time. Some people believe that labour hire companies supply unreliable staff and while this may be true for some companies it is definitely not a reflection on the industry and certainly not a reflection on the HLH Group. One of the big things we look for in our staff is a proven track record of reliability and we expect this to continue this once they become a member of our workforce. We understand that people book labour hire in for a reason and if someone does not show up this means a job is not getting done. We only keep reliable and hardworking people in work with us, but if for any reason a worker is required at short notice, every week – Monday to Friday, we have several workers available from 6 am ensuring they can make on-site for 7 am to get to that all-important site induction!
Labour Hire is Expensive
Labour Hire is only expensive if you're not getting any value from your provider. While labour hire costs more than paying a worker directly there are several benefits to using a labour hire company provided that they are doing the right things to add value to their offering. These things include paying workers the award rates or above, complying with all OH&S legislation, have substantial insurances (Workers Compensation, Professional Indemnity & Public Liability), offering excellent account management and communication to clients, provide PPE to workers, constantly reviewing the performance of our workers including site inspections to ensure the quality stays high and we even provide cars to our workers to help them reach sites all around Sydney.
Labour Hire Companies Don't Care
Unfortunately, some labour hire companies give the industry a bad name. Thankfully, these companies are an exception rather than the rule. As in any industry, there are businesses set up to make a quick buck without any intention of building lasting and meaningful business relationships. You can usually spot these companies as they may be considerably cheaper than their competitors. A company that cares is a company that will not compromise on its standards which means they won't compromise on their price. If you looking to see if a labour hire company cares, then a good place to start is checking out their Google reviews from staff and clients. See how HLH Group stacks up Google Reviews for example. As with any company looking at what associations the business is a member can also be a good place to start. HLH Group is proud of a member of the following professional organizations: RCSA and Master Builders NSW.
Labour Hire Companies Keep People Out of Permanent Work!
There is a common myth that labour hire is a way for companies to avoid providing full-time permanent employment to staff. In most cases, this is not true and in fact, labour hire can be used alternatively in 'a try before you buy approach' or temp to perm as it's known in the recruitment world. HLH Group has successfully placed temp to perm workers in electrical, welding, warehouse, scaffolding and carpentry positions. For many businesses using a recruitment company makes a lot of sense for casual roles that would have been temporary anyway – it means that business can allocate their resources to other areas of the business.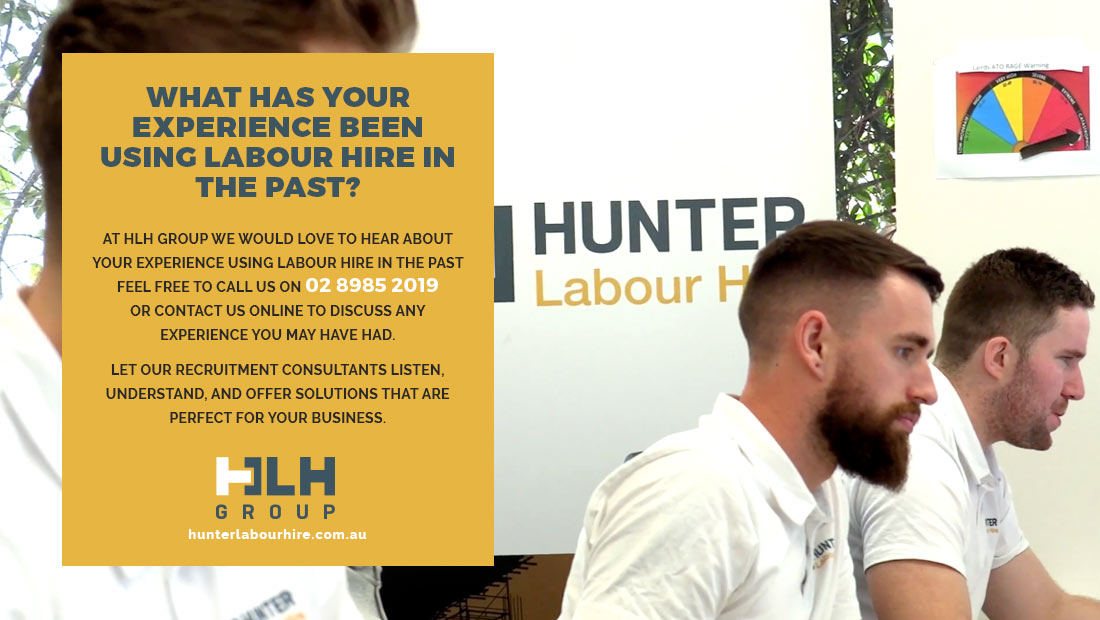 What Has Your Experience Been Using Labour Hire in The Past? 
At HLH Group we would love to hear about your experience using labour hire in the past feel free to call us on 02 8985 2019 to discuss any experience you may have had. Let our recruitment consultants listen, understand, and offer solutions that are perfect for your business. Alternatively, fill in our online contact form here to arrange a callback.