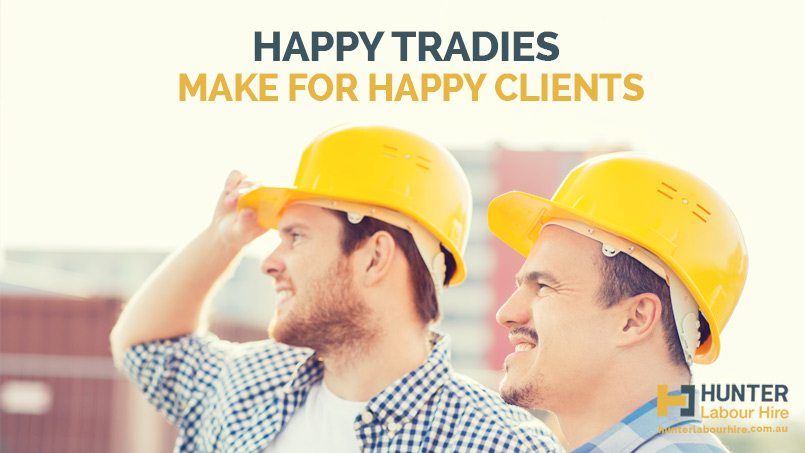 21 Apr

Happy Tradies Make for Happy Clients
Not Just Another Labour Hire Company
At Hunter Labour Hire we truly believe in the quality of our staff whether temporary or permanent – we place workers who can make a real difference for your construction business. We are 'not just another labour hire company' and our clients, tradies and labourers will agree. As our casual construction hire staff are an integral part of our business it is important for them to be happy in their daily work at HLH. Whether a worker works for us for one day or for 6 months they are always treated with respect and dignity.
How Do We Keep our Tradies Happy?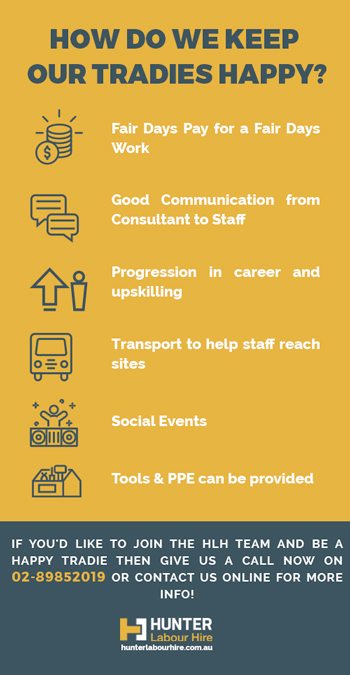 Fair Days Pay for a Fair Days Work – We pay all our workers fair wages for their efforts. Working in construction is a tough and physical job as such it is only right that workers are remunerated accordingly. Our staff are paid all relevant allowances and penalty rates. Decent labour hire rates and paying a fair day's pay is essential to keep quality staff motivated and ready to work hard for our host employers.
Communication – Our consultants are always communicating with staff to ensure that they are happy with their placements. We ensure that our workers are being treated with respect on site and if any issues arise they are dealt with swiftly and speedily.
Progression – We offer all workers the opportunity to progress with us. We offer pay rises for top performers, we upskill workers with training courses from learning how to drive a forklift to learning how to safely work at heights.
Transport – On certain hard to reach projects our workers are offered HLH transport to help them get to and from sites.
Social Events – At Hunter Labour Hire we have a work hard play hard mentality. We reward our workers with social events such as our annual Christmas party and EOFY drinks.
Tools & PPE – If our workers need certain tools or PPE for a specific job, we are on hand to supply them with the right tools and PPE to get the job done safely and properly.
The Hunter Labour Hire Referral Scheme
Another way that we try keep our workers happy is by having a referral scheme in place. A lot of our tradies know other tradies and so when our workers refer friends to us we reward them with $50 voucher to spend on whatever they wish! They're happy, the new tradie is happy and we're happy!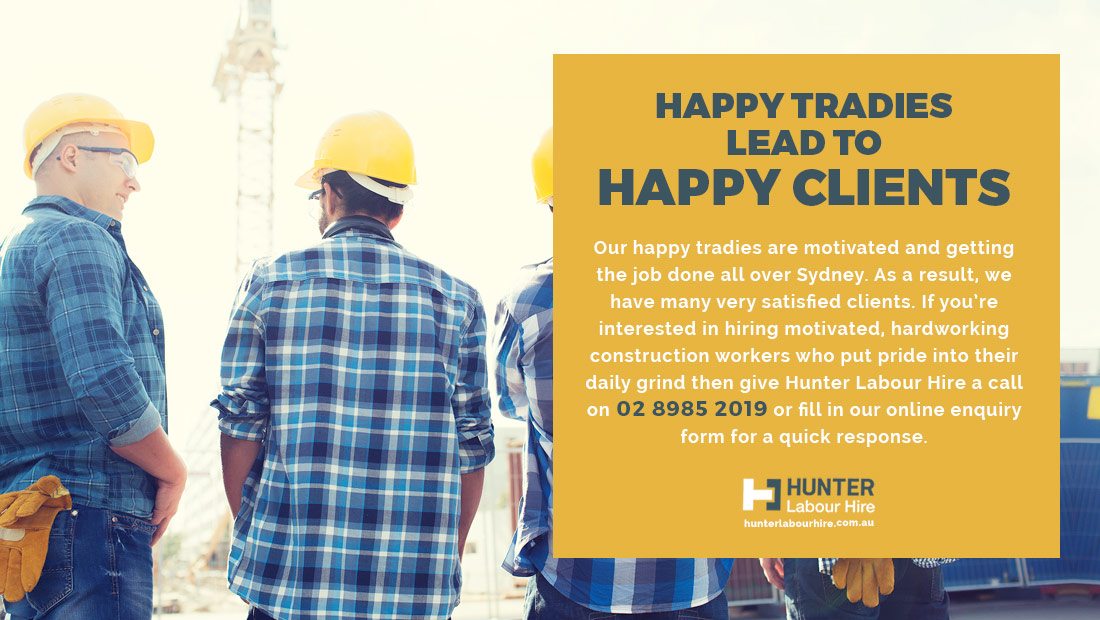 Happy Tradies leads to Happy Clients
Our happy tradies are motivated and getting the job done all over Sydney. As a result, we have many very satisfied clients. If you're interested in hiring motivated, hardworking construction workers who put pride into their daily grind then give Hunter Labour Hire a call on 02 8985 2019 or fill in online enquiry form for a quick response.