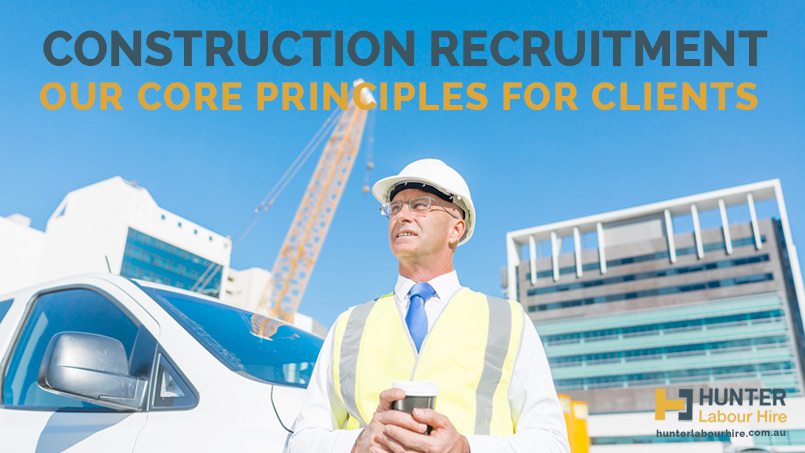 18 Jul

Construction Recruitment: Our Core Principles for Clients
Construction Recruitment Sydney
Hunter Labour Hire have over 150 active clients throughout the Sydney Metropolitan area. From tier one national companies, to sole traders, each client is valued as much as the other and all receive the same very personal and professional service. We understand that each of our clients use labour hire for different reasons. Some clients want additional staff for a few days, some for a few months and some clients are looking for full time members of staff. At Hunter Labour Hire we excel in managing our client's expectations and delivering the catered service they require.
Construction Recruitment: Our Principles in a Nutshell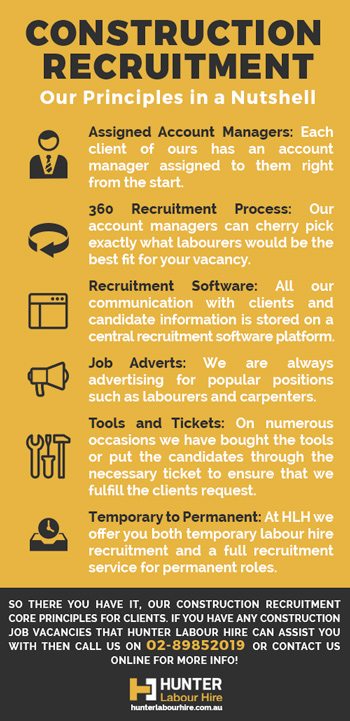 Assigned Account Managers
Each client of ours has an account manager assigned to them right from the start. The Sydney Construction Industry is fast paced and we realise that our client's time is of the essence. Having one point of contact for all job requests and enquiries allows complete transparency and ensures that the process is as efficient and stress free as possible.
360 Recruitment Process
Each of our account managers undergo a full 360 recruitment process for every job request. This enables us to take the request from the client and recruit specifically for the position. Interviewing all the candidates themselves allows our account managers to cherry pick exactly what guys would be the best fit for the vacancy.
Recruitment Software
All our communication with clients and candidate information is stored on a central recruitment software platform. From job requests from clients to candidate key skills and construction tickets held, all information and history with clients and candidates is at our account managers fingertips. This enables us to be efficient when liaising with clients about jobs and filling vacancies.
Job Adverts
We are always advertising for popular positions such as labourers and carpenters because we know that as Sydney's Construction Industry continues to boom, the demand for these will remain constant. However, sometimes our client's requests are quite specific and the job brief will require a set of skills. We are often advertising on behalf of our clients to assist them with filling these positions. Always happy to go the extra mile when the request isn't a simple one goes a long way further down the line. "Take the rough with the smooth" as they say.
Tools and Tickets
Some job requests we get from our clients will require specific tools and consctruction licences to get the job done. We are very good at sourcing the ideal candidates for roles but sometimes they may not have the tools or tickets for the job. On numerous occasions we have bought the tools or put the candidates through the necessary ticket to ensure that we fulfill the clients request. This week alone we have kitted out 3 carpenters out with a full set of tools, without these tools the requests wouldn't have been filled.
Temporary to Permanent
At Hunter Labour Hire we offer both temporary labour hire recruitment and a full recruitment service for permanent roles. However, our clients don't have to select from either of the options at the get go. We offer a tailored and flexible service to meet their requirements. Most commonly our clients take the candidates on initially on labour hire with the option to take them on permanently further down the line. We understand that there is always an element of risk when starting a new employee so this service helps eliminate any of the risks associated with taking someone on directly from the get go and allows our clients complete peace of mind.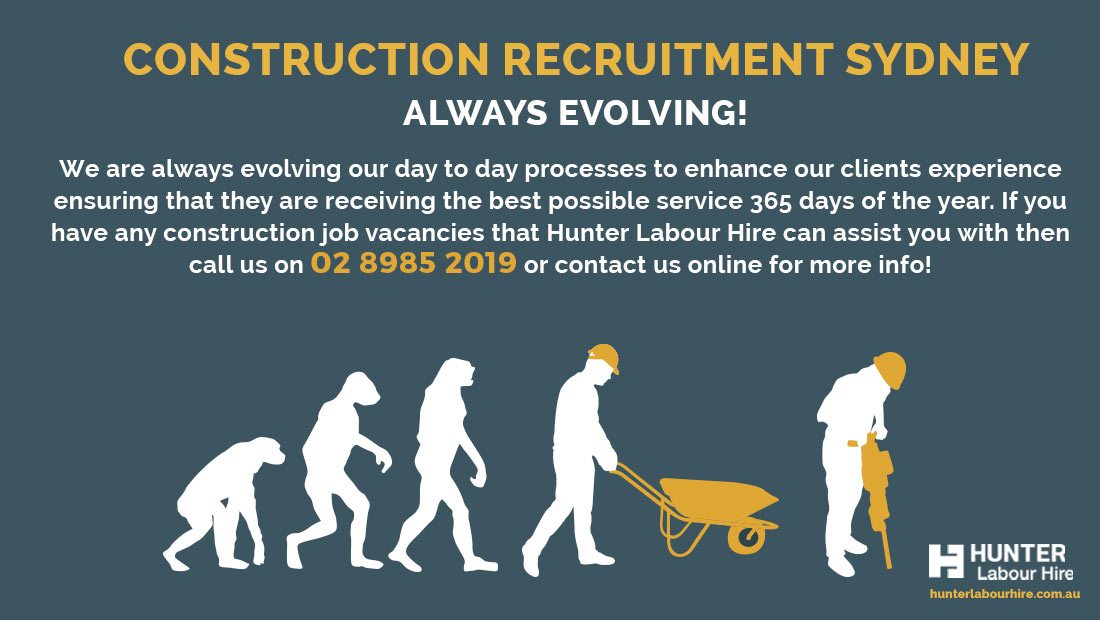 Construction Recruitment Sydney – Always Evolving!
So there you have it, our construction recruitment core principles for clients. We are always evolving our day to day processes to enhance our clients experience ensuring that they are receiving the best possible service 365 days of the year. If you have any construction job vacancies that Hunter Labour Hire can assist you with then call us on 02 8985 2019 or email us at info@hunterlabourhire.com.au.
Labour Hire Jobs Available
At Hunter Labour Hire we are always looking for the best in labour hire talent and so if you like the sound of the above and are eager to work in the Sydney labour hire industry then we want to hear from you. Give our team a call now on +61 2 8985 2019 or register online to work with us and we'll get back to you asap!