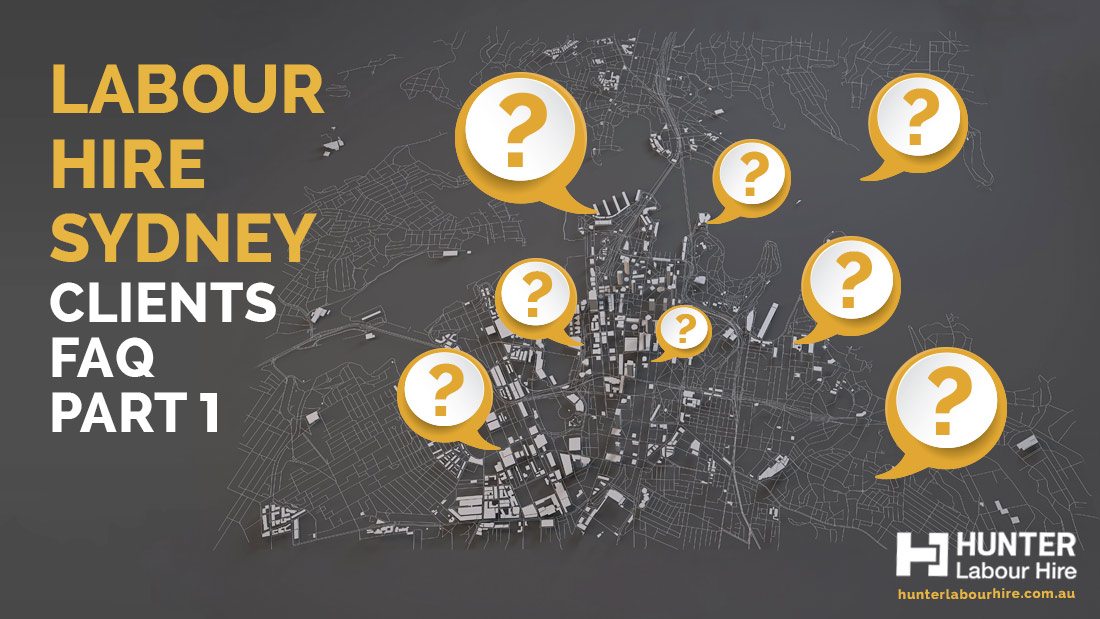 29 Mar

Labour Hire Sydney – Clients FAQ Part 1

Over the past two years Hunter Labour Hire have grown to having over 100 clients that use our services. During this time these clients have asked us a number of questions around our supply of labour to the Sydney area. This is part one of the most common FAQ we have received. If you don't see your question answered below check out our Client FAQ Part 2 which is coming soon!
1. What Sort Of Labourers Do You Provide?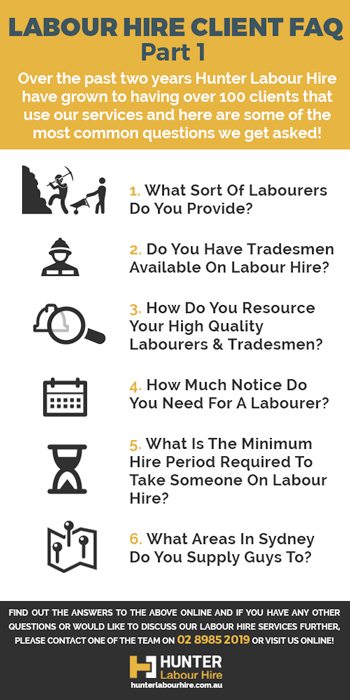 The best sort! We supply a range of different types of labourers including; general labourers, skilled labourers and demolition labourers, civil labourers, scaffold labourers and bricklayers' labourers. Speak to our team about the work you need completed and they will be able to advise you on the perfect labourer for the job in hand.
2. Do You Have Tradesmen Available On Labour Hire?
Yes, as mentioned before we have a lot of overseas qualified tradies who are actively looking to ply their trade over here. We also provide them with basic hand tools should they need them. We have everything from plumbers to carpenters and everything in-between these guys aren't around for long so get your requests in early so we can assign them to your job. No request is too obscure so give us a call and we can see what we can do. Whilst we do labour hire we don't just specialise in just labourers, we also have tradesmen too!
3. How Do You Resource Your High Quality Labourers & Tradesmen?
We have a huge number of workers apply through our website and via other adverts we have around the internet and also word of mouth. We then interview the good ones to get to know them better and discuss their construction experience and see where they would best fit in. A lot of our workers are overseas trade qualified and have made the journey to sunnier shores to enjoy the Aussie way of life.
Once all this is done we then go into detail on what we expect from our workers and what the client expects, we explain everything from timesheets to PPE to inductions we make sure they go to site with an understanding of how Hunter Labour Hire operates. Then before we send them on their way we take copies of white cards, passports, trade qualifications and complete our visa checks.
Once they have left the building we follow up with reference checks.
4. How Much Notice Do You Need For A Labourer?
Ideally 24 hours but here at hunter labour have been known to get labouers with as little as 1 hours' notice. Should you for any reason find yourself let down last-minute or decide you need an extra pair of hands, all it takes is one call to the office and one of our account managers will take down all the details of the job and will make sure that we have someone on site for you asap.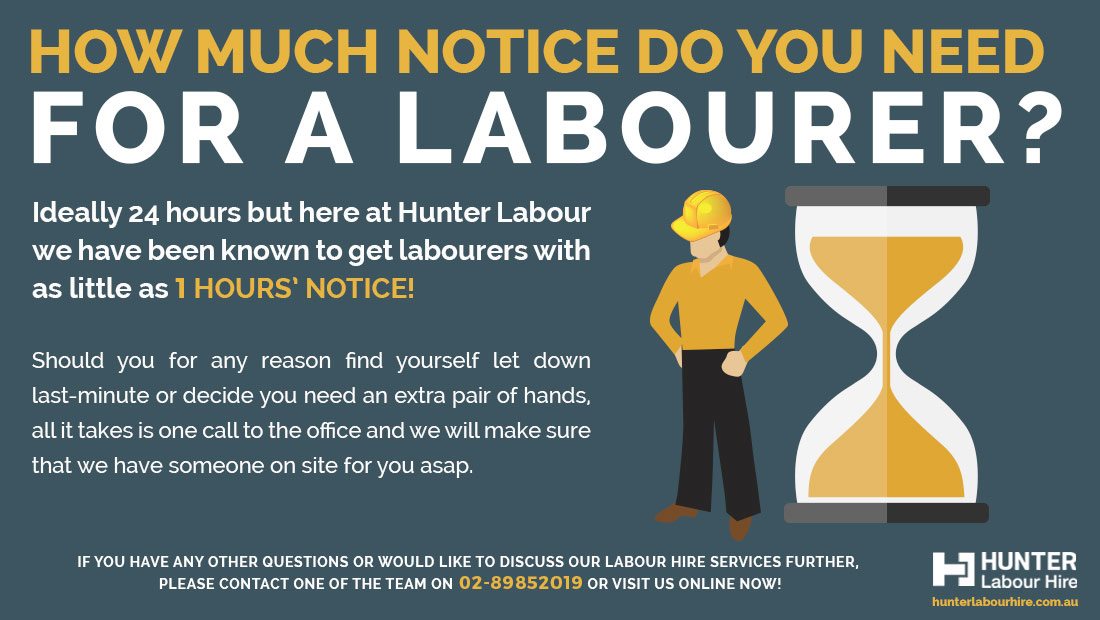 5. What Is The Minimum Hire Period Required To Take Someone On Labour Hire?
We have a minimum four hour hire period for all labourers and tradesmen.
6. What Areas In Sydney Do You Supply Guys To?
We can supply guys throughout the Sydney Metropolitan Area. When supplying guys to areas more than 50km from the CBD an additional distance travel charge may apply. Once given adequate time we can also supply labour to regional NSW.
Labour Hire Sydney Questions?
If you have any other questions or would like to discuss our labour hire services further, please contact one of the team on 02-89852019, email us at info@hunterlabourhire.com.au or contact us online now!