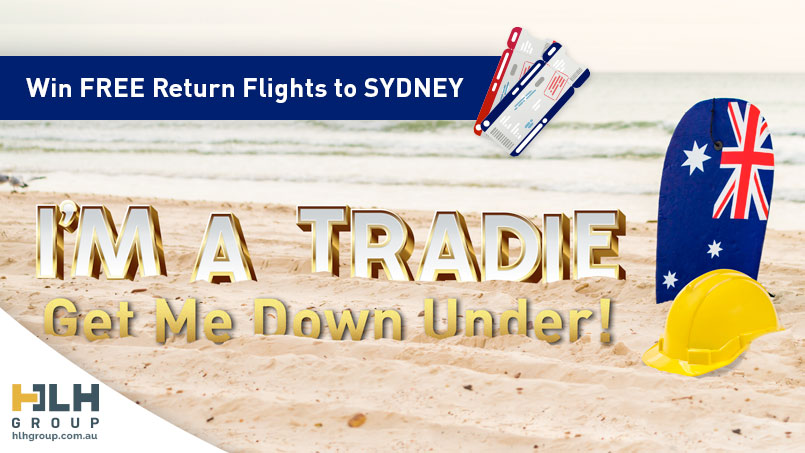 26 Nov

I'm A Tradie – Get Me Down Under!
Win Free Flights To Sydney!
Did you know that the sun is shining in Sydney now? Whilst it may be a cold, damp and wet winter in London, Dublin, Aberdeen, Cardiff and elsewhere in the Northern Hemisphere here in Sydney we're basking in the sunshine in the middle of a construction boom! We don't say this to make you jealous but more to let you know that "it could be you!" If you have a trade and want to experience life Down Under then this is your chance to win free return flights and a job waiting for you when you arrive!
ENTRY PERIOD HAS CLOSED: Thanks all for taking part!
Work With The Leading Labour Hire Agency in Sydney
Here at HLH Group we are one of the leading labour hire agencies located in Sydney, NSW. We recruit and place workers from all around the globe on construction projects throughout the sunny suburbs of Sydney. We are the highest rated labour hire agency on Google with over 200+ 5-star reviews. Now, with the Australian borders opening up to foreigners, we want to give people with trades like you the chance of working and living in Sydney. We've got countless positions to fill and need to get all hands on deck – so much so that we're willing to pay for the flights for one lucky labourer!
Register Now For Your Chance To Win!
Fill in the below to register your interest in being the lucky winner of the free flights to Sydney. Our recruitment team will review your application and if you eligible you'll be put in the draw for free return flights from Ireland/UK to Sydney. If entered into the draw (and even if you don't win!) you'll be able to work in Sydney as soon as you land. When it comes to relocating to Sydney we wrote the guide about it (literally, check out our guide for construction works relocating to Sydney!) so will be able to help you with any questions you may have.
Land of Labour Opportunity
Due to the pandemic and the borders being closed for so long there has been a labour shortage in Sydney which also means it is now the land of labour opportunity. We expect there will be a flood of new arrivals into Sydney when the borders open and currently all trades working in the labour hire industry are commanding great labour hire rates and packages. If you've had enough of the wet winters or would like to try something else this could be it. Pack the towel, pack the trowel and get yourself in the draw now!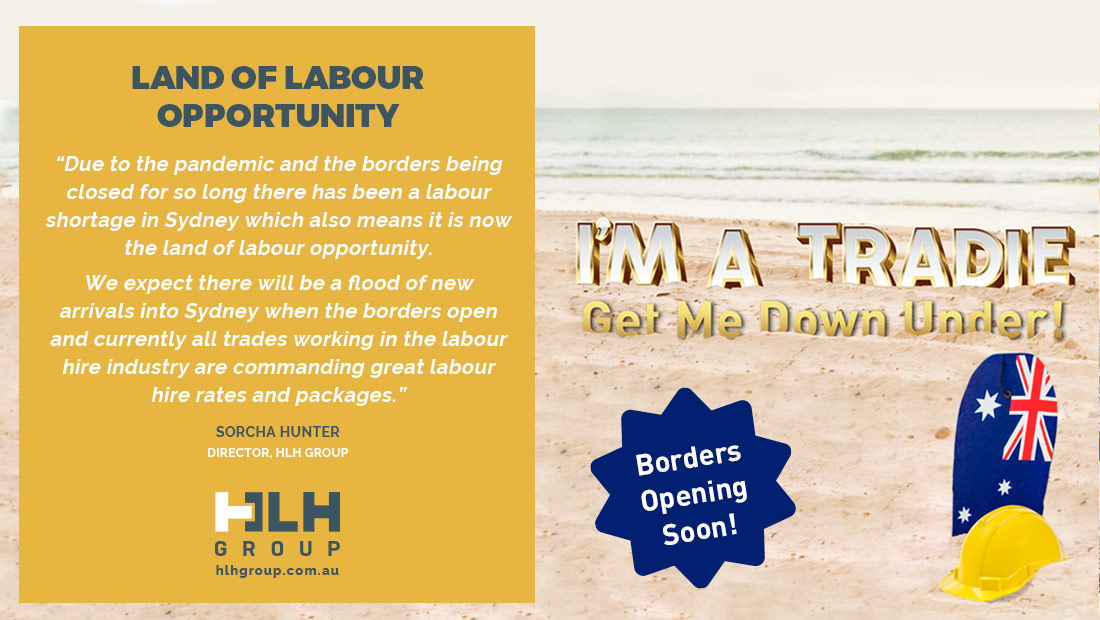 Reasons Why It's Great To Work in Sydney Construction
As if free flights to Sydney and a job waiting for you on arrival wasn't enough there are many reasons why you should consider working in the construction industry in Australia, especially in the eastern suburbs of Sydney. These reasons include:
#1 – Location
By landing a construction job in Sydney you will be blessed with scenic project locations. Most of our client projects are located near beaches which means you can enjoy a swim in the Australian sunshine after a hard day's work. Additionally, we have close client relationships with high-end residential and commercial builders which means that we have construction work available on multi-million dollar projects that will take your breath away.
#2 – Wage / Pay
By working with a construction labour hire agency in Australia you will be very well paid. The minimum hourly wage for construction in NSW is currently $28.49 AUD. However, at HLH Group we pay above award minimum wages and even pay for your travel costs to and from the site, and in some rare cases, you will also be provided with a meal allowance.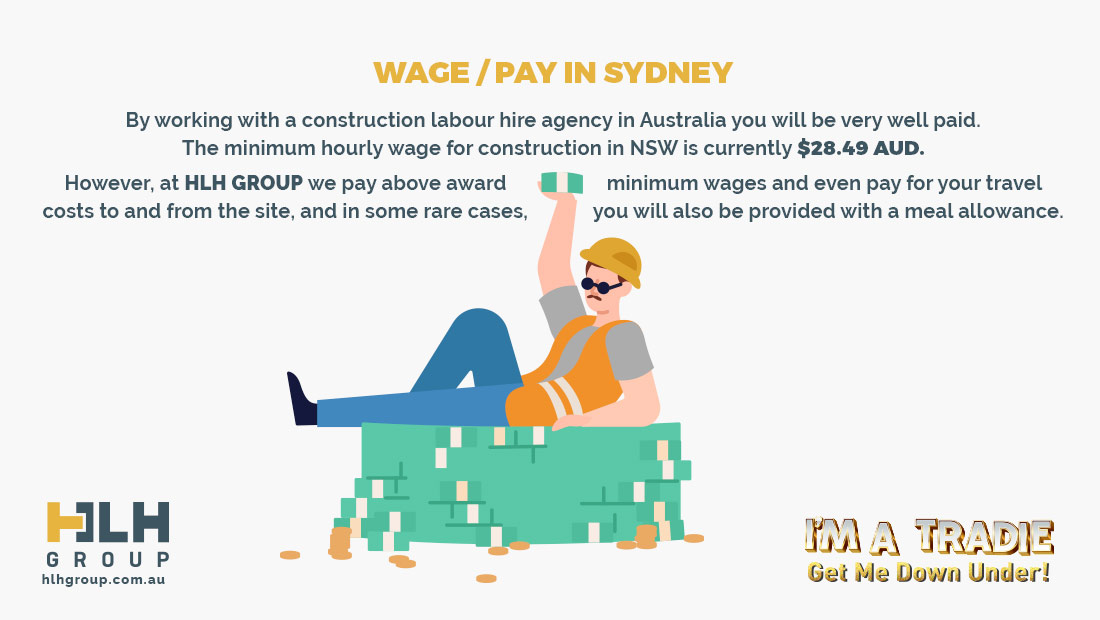 #3 – Every Day is Something New
Forget the boring 9 to 5 cubicle jobs — every Sydney construction site brings new, interesting challenges. Every day you will be doing a different activity on the worksite, this avoids stagnation and repetition that will prevent you from suffering from severe boredom. In the rare case, where you don't like the project you are working on we can place you on another project with a different client.
#4 – Flexibility
Although some labourers can work up to 40 hours per week, we do not expect every single worker to complete those hours. We are understanding that some labourers do not want to work 5-6 days a week every week and want to explore all that Sydney has to offer. That's why we are very flexible at HLH Group, if you need time off work, just be honest and provide us with some respectful notice and we can assist. Even if you leave Sydney and plan on returning later we can provide you with construction work upon your return.
Are You A Tradie Who Wants To Work Down Under?
Here at The HLH Group we're excited about flying over a tradie from the other side of the world and as the saying goes, if you're not in you can't win so make sure to register now. We wish you happy travels and look forward to seeing you when you arrive in Sydney – we'll have a job waiting for you! If you want to work for a labour hire agency that cares about their workers, then register your interest now by completing the form and a member of our team will be in touch with you soon. Good luck!