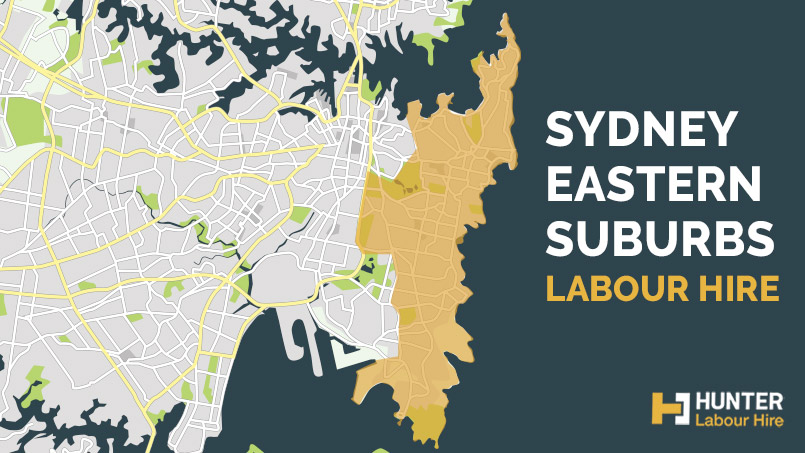 09 Aug

Sydney Eastern Suburbs Labour Hire
Far Reaching Labour Hire
The HLH Group specialise in providing reliable labour hire and trades across Sydney and beyond from Palm Beach to Cronulla, the Inner West to the Blue Mountains and everywhere in between. We also currently provide our services in the Hunter Valley, Southern Highlands and the Illawarra showing just how far our reach is when it comes to providing quality staff to help on any project, big or small.
Sydney Eastern Suburb Labour Hire
Home for Hunter Labour Hire is Bondi Junction in Sydney's Eastern Suburbs. It comes as no surprise then that many of our workers find themselves kept busy on sites overlooking some of Sydney's most picturesque beaches or famous landmarks. With many clients completing renovations or knock down/rebuilds, remedial works or landscaping labour projects Hunter Labour Hire can offer our carpenters and labourers consistent work with the beach only a stone's throw away when you need to cool down after work on a hot summer's day.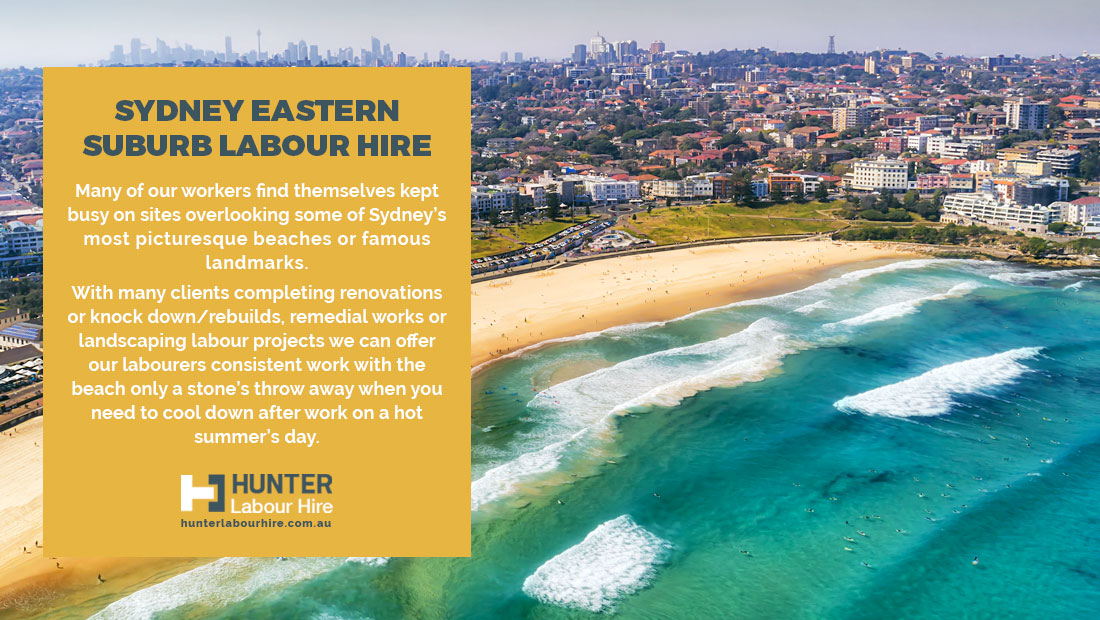 Current Construction Projects in The Eastern Suburbs
Over the last few months we've seen an uptick in business and clients with construction projects in the Eastern Suburbs and have been busy providing labour hire to them. This uptick is inline with what was anticipated in our end of year financial review and after a record setting July we hope to see it continue. You can see some of the various projects we're involved in the Eastern Suburbs below.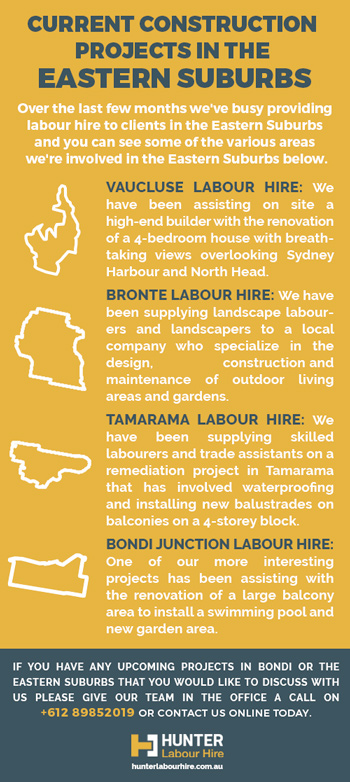 Vaucluse Labour Hire
We have been assisting on site a high-end builder with the renovation of a 4-bedroom house with breathtaking views overlooking Sydney Harbour and North Head. Originally onsite we had one of our skilled labourers helping out with the demolition and removal of waste materials. Next onsite was 1 of our carpenters to assist with the framing and he was closely followed by another carpenter who has been working on everything from roofing, windows and doors, decking, stairs, architraves and skirting. We have continued to provide labourers to the project at various stages to assist tradesmen, remove materials and general site clean-up.
Bronte Labour Hire
We have been supplying landscape labourers and landscapers to a local company who specialise in the design, construction and maintenance of outdoor living areas and gardens. The most recent project has involved the construction of a BBQ area, entertaining seating area around a fire pit and stairway through the garden. Our labourers onsite have assisted in the removal of old materials and bringing in new sand, soil, plants and building materials. They have also assisted trades on site creating a feature wall, decking, seating area and planting of trees, bamboo and plants.
Tamarama Labour Hire
We have been supplying skilled labourers and trade assistants on a remediation project in Tamarama that has involved waterproofing and installing new balustrades on balconies on a 4-storey block. This has involved removing old materials and safely disposing of them in skip bins, receiving new balustrades and storing them safely in designated areas. Our guys onsite have been responsible for measuring and cutting materials and having work areas prepared before new install can begin.
Bondi Junction Labour Hire
One of our more interesting projects has been assisting with the renovation of a large balcony area to install a swimming pool and new garden area. Due to limited access this has involved removing all the existing paving bricks by hand, filling buckets and taking them down to skip bins. The only access to the balcony has been through the apartment block and up the lift so our workers have had to be particularly careful to protect carpets through the building and limiting interference with other residents. They have been assisting water proofers, carpenters with decking, bricklayers and renderers at various stages of the project.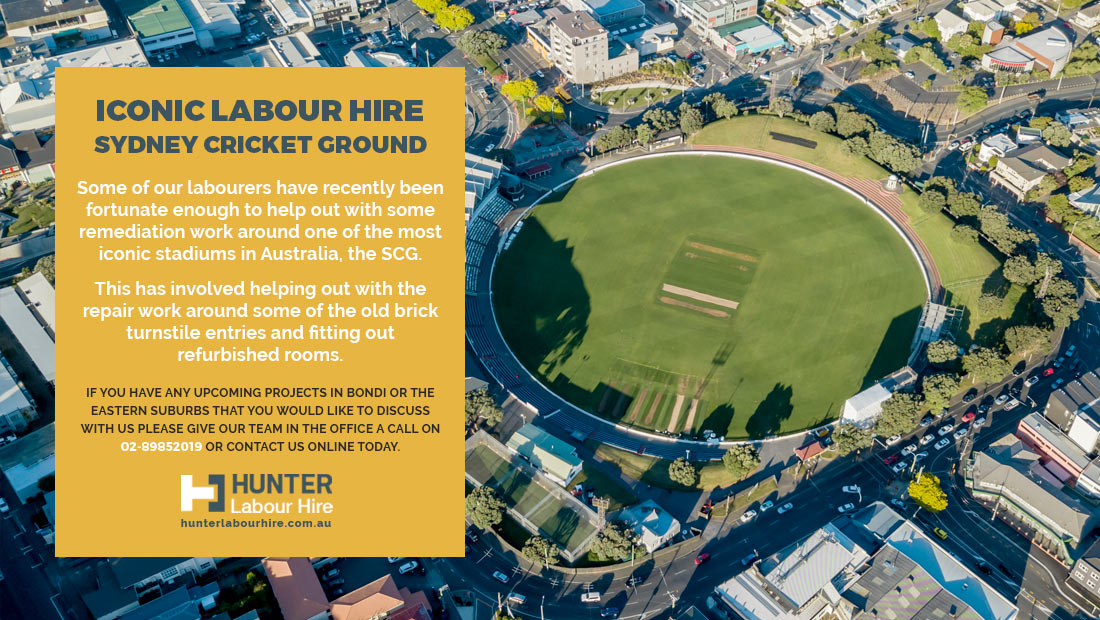 Iconic Labour Hire – Sydney Cricket Ground
Some of our labourers have recently been fortunate enough to help out with some remediation work around one of the most iconic stadiums in Australia, the SCG. This has involved helping out with the repair work around some of the old brick turnstile entries and fitting out refurbished rooms. With the stadium open to the public for tours and the Sydney Swans also training inside, workers have had ensure the work they are carrying out is done in an efficient manner so as to cause as little disruption as possible to others around.
Eastern Suburbs Labour Hire
If you have any upcoming projects in Bondi or the Eastern Suburbs that you would like to discuss with us please give our team in the office a call on 02-89852019 or contact us online today. We have been supplying quality labour throughout Sydney since 2015 and have rapidly continued to expand our client base through recommendations from our existing clients and contacts they have in the industry.
P.S. We provide labour hire throughout Sydney, including labour hire for the Northern Beaches!