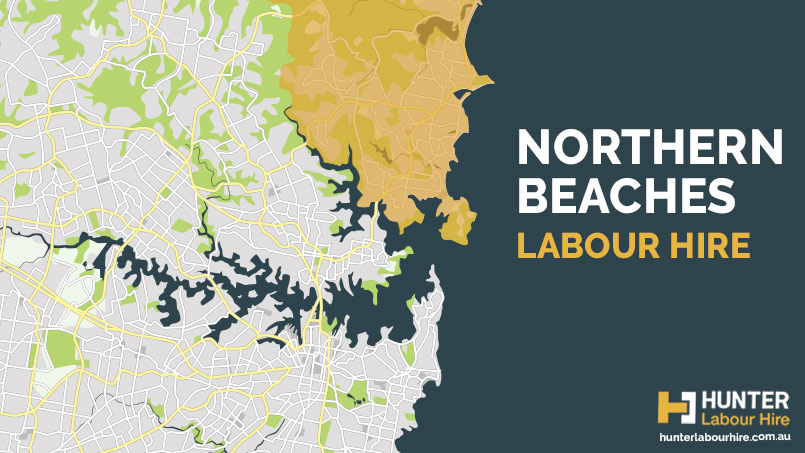 19 Oct

Northern Beaches Labour Hire
Labour Hire for Northern Beaches, Sydney
HLH Group pride ourselves on supplying quality, reliable, tradesmen and labourers throughout Sydney. One area we identified as having a shortage of skilled workers and where other labour hire companies have struggled to provide a dependable service to is the Northern Beaches. Having previously discussed our labour hire for the Eastern Suburbs of Sydney in this post we'll detail some of the labour hire we provide to the Northern Beaches.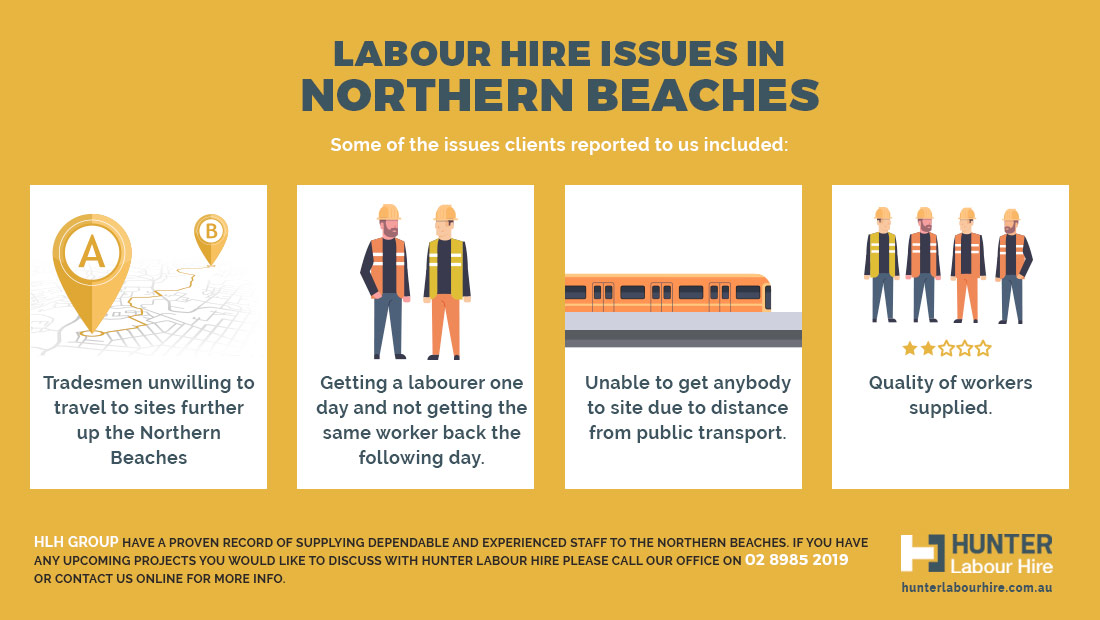 Labour Hire Issues in Northern Beaches
Some of the issues clients reported to us included:
Tradesmen unwilling to travel to sites further up the Northern Beaches such as Mona Vale, Avalon, Church Point and Palm Beach.
Getting a labourer one day and not getting the same worker back the following day.
Unable to get anybody to site due to distance from public transport.
Quality of workers supplied.
Thankfully, we've found a way to negate the above issues and provide construction sites in the Northern Beaches with the labour hire they need.
Refined Recruitment Process for Better Labour Hire
Through our face to face registration process we have built up a database of tradesmen and labourers that are tried and tested and know some sites will involve travelling further than others and understand this is part of working through labour hire. We will also never replace somebody on a job unless it has been requested by the client, so you have the peace of mind knowing that if you ask for somebody for a week you will have the same person returning each day. We receive feedback on a daily basis from clients on how our staff have performed, this ensures we continue to supply only the best labour available. We also have a number of company vehicles we provide to our workers to get to sites that would be harder to reach using public transport.
Hunter Labour Hire have built our reputation by providing the same personalised service to all companies big and small.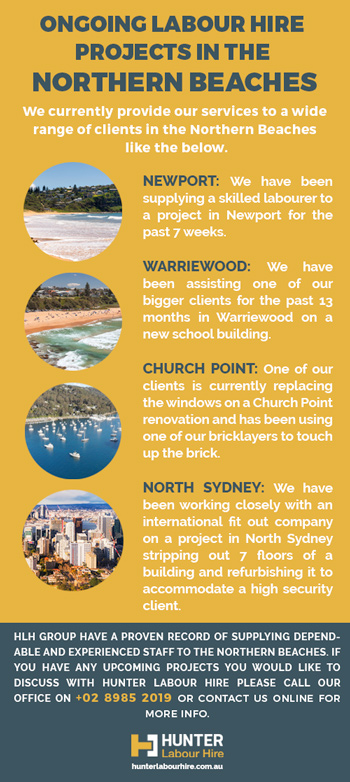 Ongoing Labour Hire Projects in the Northern Beaches
We currently provide our services to a wide range of clients in the Northern Beaches including residential builders, commercial builders, remedial contractors, landscapers and a global fit-out contractor.
Newport:
We have been supplying a skilled labourer to a project in Newport for the past 7 weeks assisting with a split-level renovation. The project is in the early stages and to date he has been involved in removing the existing roof including tiles and timber frames, demolition of internal and external walls, bathrooms and the kitchen. He has also been responsible for taking deliveries and storing them safely on site, protecting materials from damage onsite or from the weather. He has been trusted to open up and shut the site at the end of the day and been responsible for ensuring the site is kept clean and tidy and dust levels are kept to a minimum.
Warriewood:
We have been assisting one of our bigger clients for the past 13 months in Warriewood on a new school building. Throughout this project we have supplied general labourers for site clean ups, waste removals and landscaping. We have had skilled labourers and TA's working closely alongside various trades including carpenters, plumbers, renderers, tilers, bricklayers and cabinet makers. We have also supplied an excavator operator for a small 5T machine. Some of the labourers have been kept on site for up to 4 months and others have been a few days at a time depending on the stage of the project. Although the majority of the work has been on the new building there has been times when we have been required to supply somebody with a valid working with children police check.
Church Point:
One of our clients is currently replacing the windows on a Church Point renovation and has been using one of our bricklayers to touch up the bricks as they go. Some of the windows installed have been bigger than the existing ones so they have required the bricklayer to remove bricks and finish the window frame to the size they require. He will be going back to site at a later date when the garden wall is ready to be built.
North Sydney:
Hunter Labour Hire have been working closely with an international fit out company on a project in North Sydney stripping out 7 floors of a building and refurbishing it to accommodate a high security client. We have been supplying labourers, carpenters, plumbers, electricians, welders, storemen and engineers for the past 12 months on the project that is expected to run through to the middle of 2020. As it is a high security site each individual worker has to go through a rigorous security procedure including background police checks and interview with the client onsite before they start.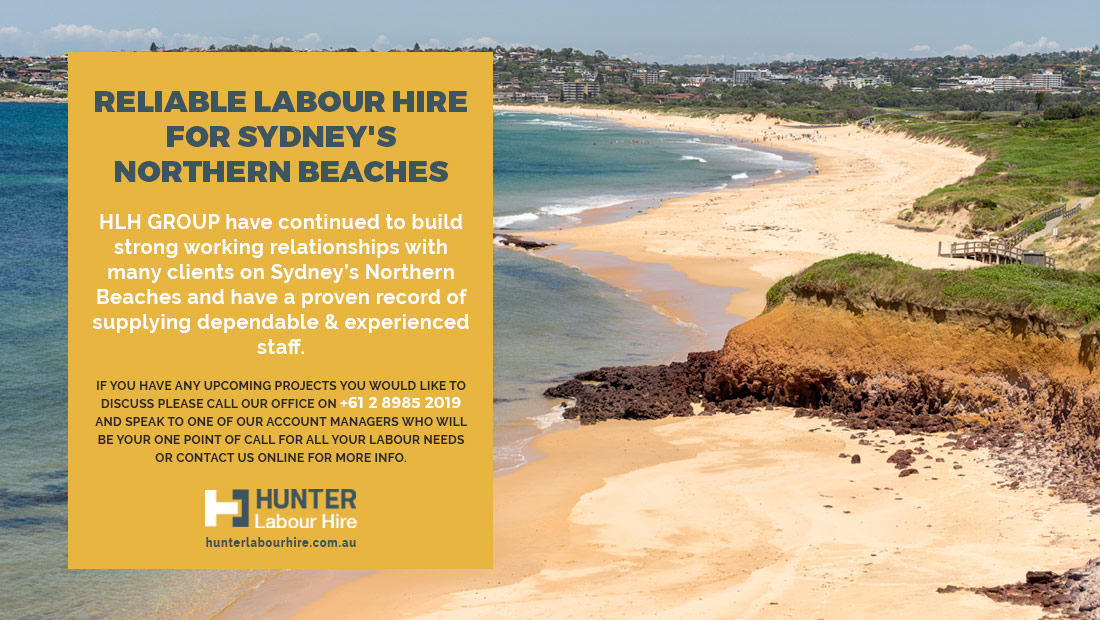 Reliable Labour Hire for Sydney's Northern Beaches
HLH Group have continued to build strong working relationships with many clients on Sydney's Northern Beaches and have a proven record of supplying dependable and experienced staff. If you have any upcoming projects you would like to discuss with Hunter Labour Hire please call our office on 02 8985 2019 and speak to one of our account managers who will be your one point of call for all your labour needs or
contact us online
for more info.