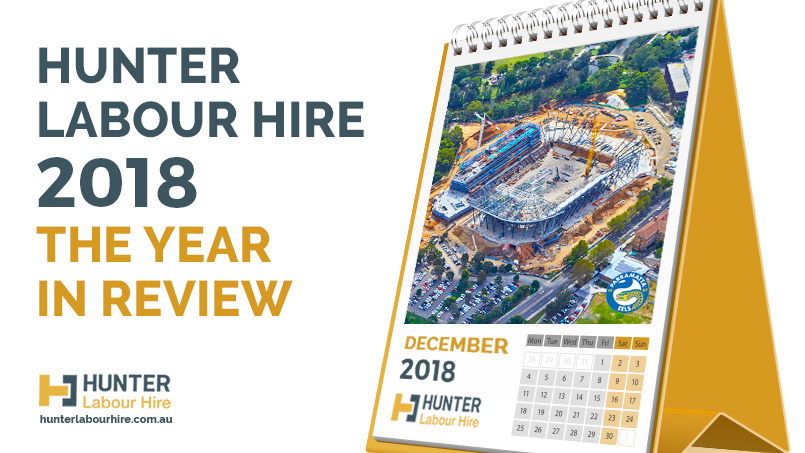 11 Dec

Hunter Labour Hire 2018 – The Year In Review
2018 – Review Of The Year
Well that year went fast didn't it? It feels as if only yesterday the New Year of 2018 was beginning. At Hunter Labour Hire we have had a very eventful and exciting year with loads happening from start to finish. We have enjoyed working with some quality candidates and some extraordinary companies throughout the year. And so, like in previous years we've done a brief recap of 2018, check it out below!
Notable Projects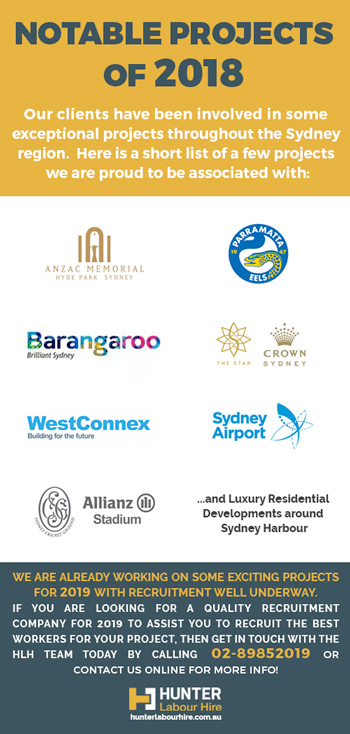 Our clients have been involved on some exceptional projects throughout the Sydney region here is a short list of a few projects we are proud to be associated with:
Anzac Memorial
Parramatta Stadium
Barangaroo Development
Both Star Casino & Crown Casino Developments
M4 and M5 – West Connex
Sydney International Airport
Sydney Cricket Ground and Allianz Stadium.
Various Luxury Residential Developments around Sydney Harbour
It's a great achievement to be associated with these projects and we believe we have the pedigree and proven track record to assist on
any large project throughout the Sydney Metro region
. So, if you have projects you are proud of coming up in 2019 then get in touch with our quality recruitment team today – we care about your projects and will do our utmost to deliver exceptional results!
New Friends
We have had a great year for the business with loads of happy clients and candidates. Due to the growth we added an extra recruitment consultant to our labour hire team. Roddy joined the team in February bringing with him 13 years of on-site experience which has brought a strong dimension of practical knowledge to the team that has been invaluable throughout the year. We have also recently had Nicola join our team as our office receptionist; no doubt you will see her soon welcoming candidates and clients to our Bondi Junction office.
New Divisions
We have opened three new divisions to cater to different industries other than the construction industry: in 2018 we launched HLH Landscaping, HLH Electrical and HLH Manufacturing. Each division will cater specifically for their industries while offering the same quality service to candidates and clients alike keeping true the HLH promise of 'Quality labour hire – Quickly and Safely."
Awards and Awards
We had a successful year and our efforts were recognized by our peers. We were represented in two categories at the Irish Australian Chamber of Commerce Awards: our Director Sorcha Hunter was nominated for Young Entrepreneur of the Year and the company was also nominated in the SME of the Year Category. Unfortunately, we were unsuccessful on both counts however we had a great night and the respective winners were well deserving and we would like to congratulate them again.
We were also lucky enough to be nominated and win in two categories at the Waverley Council Awards: in the Outstanding Professional Services Category and in the Overall Business of the Year Award. It was a huge honour for the team to win both awards on the night in question, we are exceptionally proud of this given the overall quality of businesses in the Waverley Council area.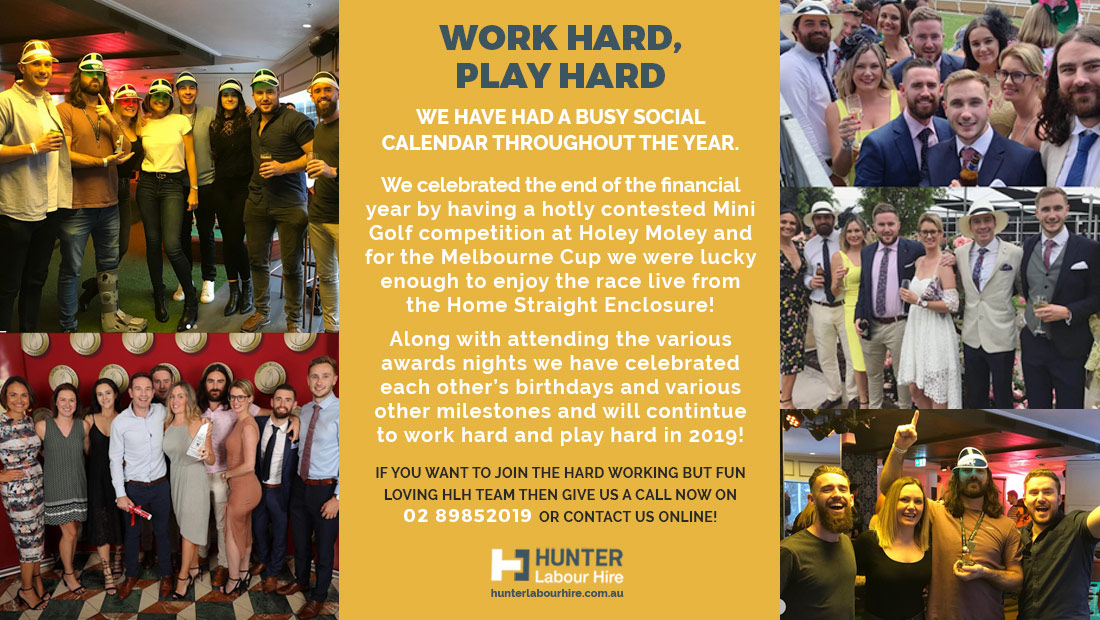 Work Hard Play Hard
We live by the work hard play rule here at Hunter Labour hire. But what is the point in working hard if we don't get to enjoy the fruits of our labour? We have had a busy social calendar throughout the year. We celebrated the end of the financial year by having a hotly contested Mini Golf competition at Holey Moley in Darlinghurst. Laird not one to be out done was the outright winner bagging himself a hole in one in the process. For the Melbourne Cup we were lucky enough to enjoy the race live from the Home Straight Enclosure at Flemington and spent two great nights as a team in Melbourne. Not all team members were as lucky as each other but a great day out was had by all!
Along with attending the various awards nights we have celebrated each other's birthdays and various other milestones. The team is looking forward to wrapping up the year in style this month with our office Christmas party and our onsite Christmas party.
Going Forward – 2019 And Beyond!
We had a big year in 2018 and 2019 will be no different and we have huge plans afoot. We are looking at taking on another superstar consultant to join our highly rated team to help us grow further. We are already working on some exciting projects for 2019 with recruitment well underway. If you are looking for a quality recruitment company for 2019 to assist you to recruit the best workers for your project, then get in touch with the HLH team today by calling 02-89852019 or contact us online for more info!