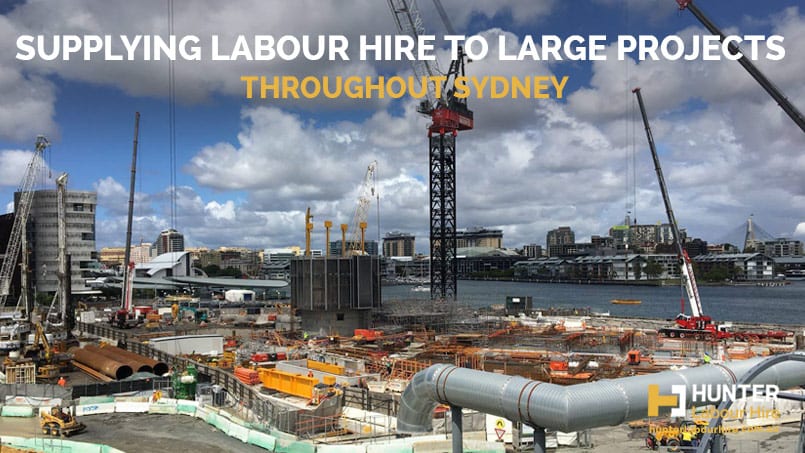 12 Oct

Supplying Labour Hire to Large Projects Throughout Sydney
Labour Hire For Large Construction Projects Sydney
At Hunter Labour Hire we are proud of our clients and the projects they complete with our assistance. We have experience in supplying quality labourers and tradesmen to large government funded projects and we are more than capable of meeting the various requirements and challenges that these entail. In this post we'll give you an update on the large infrastructure projects in Sydney and recap some of the projects that we have supplied (or are supplying) labourers to.
West Connex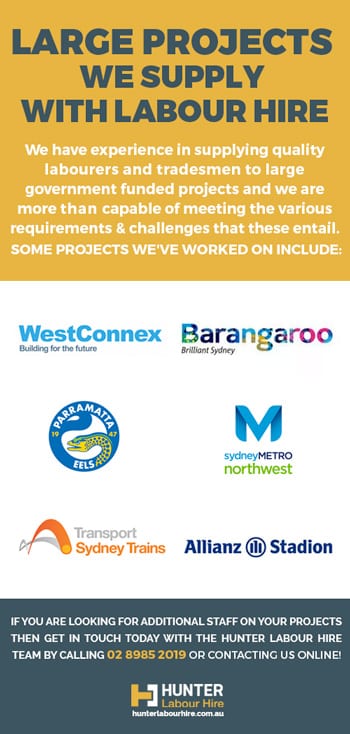 The West Connex is currently Australia's largest infrastructure project. It is to be completed by 2024 and will have created an estimated 10,000 jobs directly. We have supplied many civil labourers and machine operators to various stages of the West Connex project.
Barangaroo Precinct
If you walked through the Barangaroo precinct today you would be forgiven for not knowing that it used to be a disused container terminal. The estimated cost of the Barangaroo re-development is expected to be $6 billion dollars upon completion and should deliver an expected injection of $1.5 billion cash to the local economy per year. We have supplied scaffolders, labourers, carpenters, riggers and operators to this project.
Parramatta Stadium
The new Parramatta Western Sydney Stadium is currently under construction and due to be open in 2019. During the construction phase of the project it is expected that it will create approximately 1,200 jobs and 600 to 900 once fully operational throughout the stadium. We have supplied labourers, riggers, operators and carpenters at various stages throughout the project.
Sydney Metro North West
The Metro North West is the first stage of Sydney Metro and will be the first fully automated metro rail system in Australia. Major construction is being undertaken at 16 construction sites along the designated rail route. We have supplied various ticketed labour hire with high risk work licenses such as EWP SL / BL and Working at heights labourer.
Sydney Trains Various Upgrades
Sydney trains are responsible for operating the rail services across the Sydney Metropolitan Region. We have supplied RISI/ RIW labourers to various station upgrades and maintenance throughout the Sydney Region.
Allianz Stadium
Allianz Stadium or Sydney Football Stadium was originally built in 1988 and due to its age, it has required constant maintenance and remedial work. We have supplied workers to assist with this but also to aid the removal and replacement of sponsorship signage throughout the stadium. The government is commencing a complete upgrade of the stadium later this year with work expected to continue through to 2022.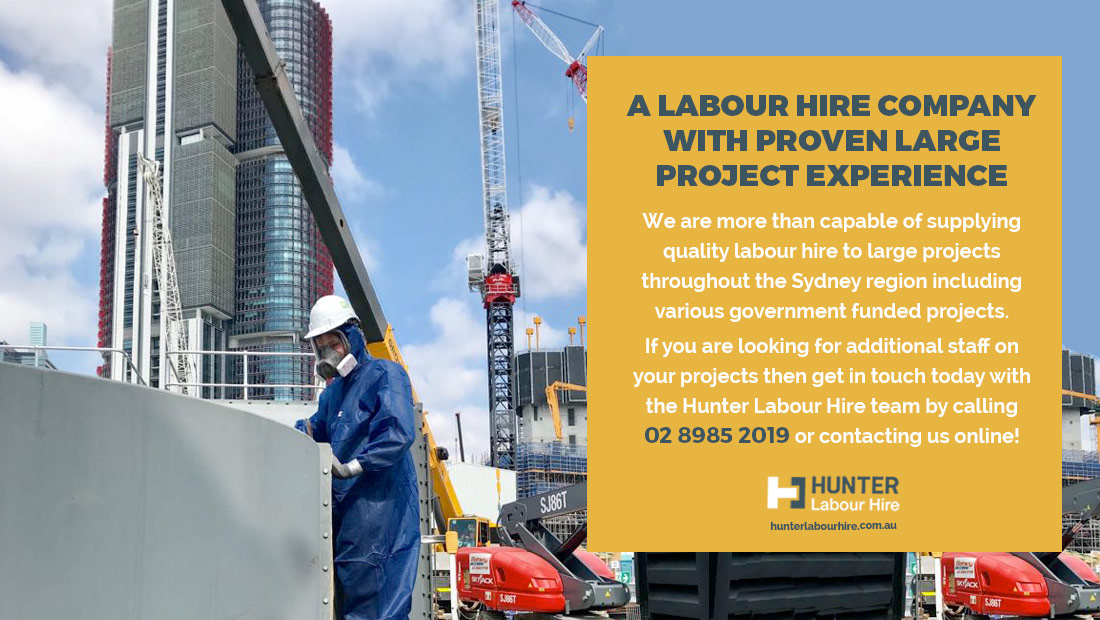 Looking for a Labour Hire Company with Proven Large Project Experience?
We are more than capable of supplying quality labour hire to large projects throughout the Sydney region including various government funded projects. If you are looking for additional staff on your projects then get in touch today with the Hunter Labour Hire team by calling 02 8985 2019 or filling in our online contact form.