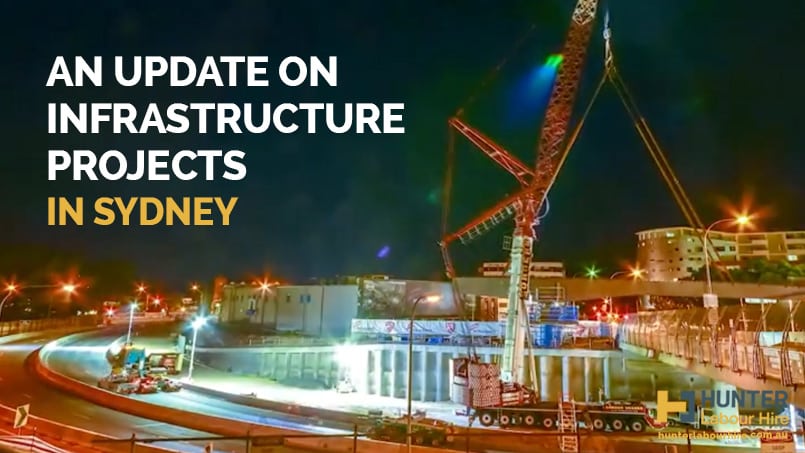 07 Jul

An Update on Infrastructure Projects in Sydney
Large Infrastructure Projects in Sydney
Hunter Labour Hire have previously reviewed some of the major infrastructure projects in Sydney. This week's blog revisits some of those major projects with an update on progress, spend and how Hunter Labour Hire have helped to assist subcontractors on these projects.
WestConnex – Sydney's Largest Infrastructure Project
The WestConnex remains as Sydney's largest and most expensive infrastructure project. With an estimated budget of $10 billion when originally planned, it has been suggested that the final costs could in fact be $20 billion or even as high as $45 billion. The extensions and widenings to the M4 and M5 are making good progress. Although still in the planning, stage 3 of the project was approved in April 2018. This stage will consist of a tunnel between Haberfield and the St Peters interchange. It will connect the M4 and M5 with connections to the Anzac Bridge and provisional plans for a future Western Harbour Tunnel.
Hunter Labour Hire currently provide skilled labourers to both the M4 in Homebush and the M5 in St Peters. Site duties for our labourers include assisting with concreting, assisting steel fixers, core drilling, jack hammering and a variety of other general site duties.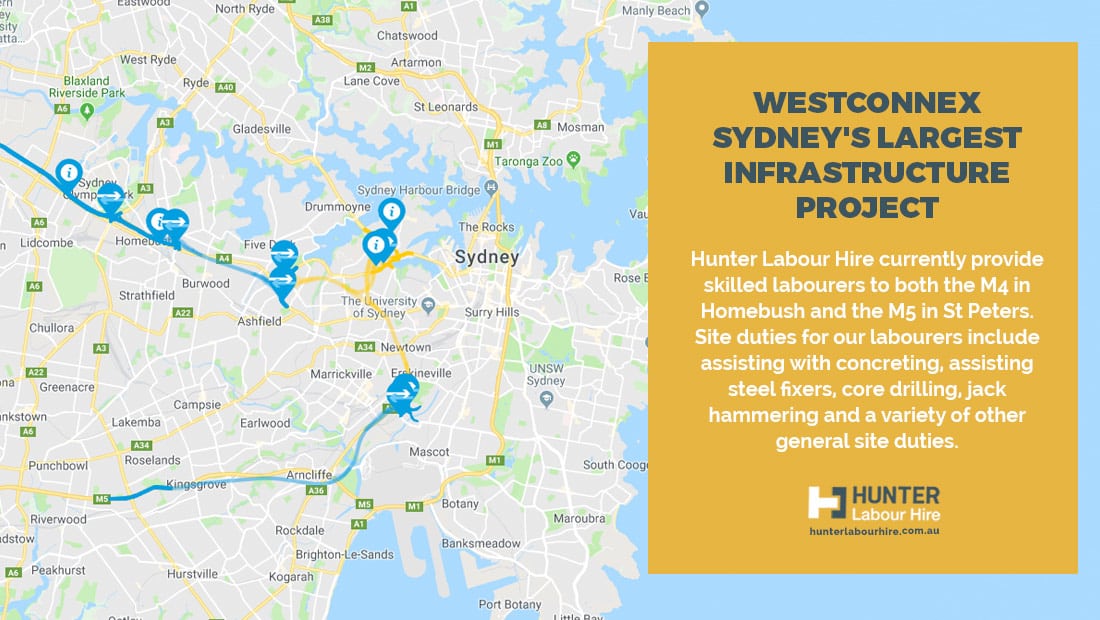 Parramatta Light Rail Project
Parramatta Light Rail remains one of Sydney's latest infrastructure projects and Stage 1 of the project is still expected to start this year. The latest state budget report has also outlined the previously forecast budget of $20 million for stage 2 of the project. At this stage there are two short listed companies who are set to win the contract for this project, but they are yet to be revealed.
Western Sydney Stadium (Parramatta)
This new Western Sydney Stadium in Parramatta is set to cost the Australian Government $1.6 billion with an additional $183.7 million recently approved in the state budget to aid the completion of the project. The 30,000 seater stadium construction will generate 1,200 jobs and 600-900 jobs once operational. It is set to be a fantastic addition to Western Sydney. The stadium is 65% completed now and is still on track to open in 2019.
Hunter Labour Hire are proud to be providing skilled labourers and boom lift operators the project predominantly assisting with the installation of the new stadium roof.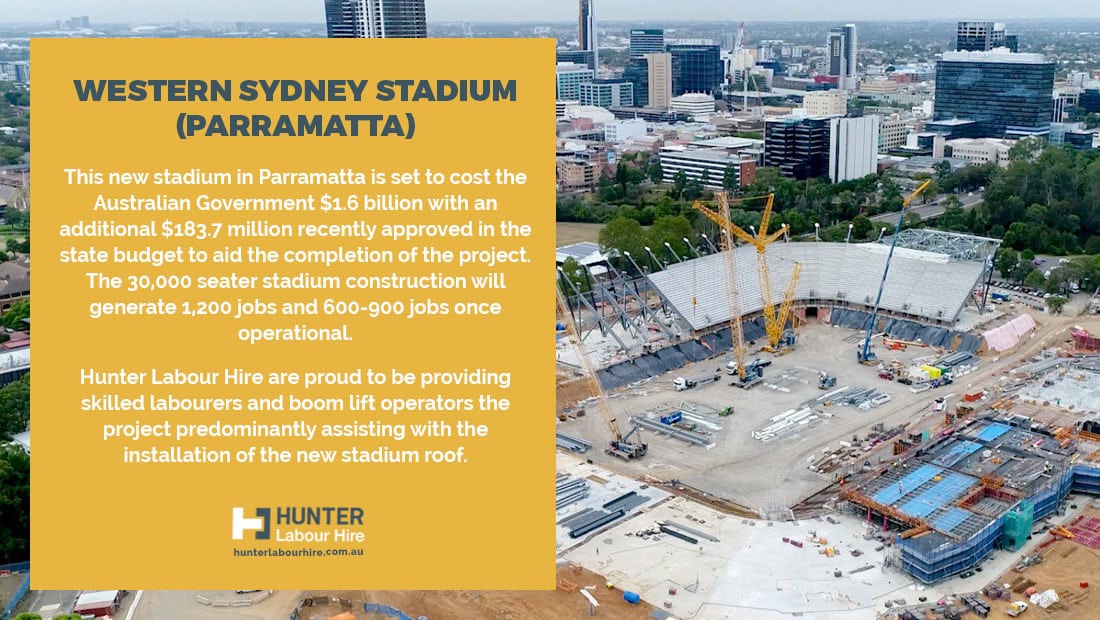 Helping Build Sydney
Hunter Labour Hire are excited to see these projects and other infrastructure projects evolve over the next year and beyond. We have no doubt that HLH will play a part in a number of these projects in the years to come. More information regarding the largest infrastructure projects in Sydney and where the tax payer's money is being spent can be found in the NSW State Government Budget 2018.
Looking for Labour Hire Work?
Our comprehensive recruitment process and problem-solving mentality enables us to locate, secure and retain some of Sydney's top labour hire talent. We are always looking for the best of the best in labour hire talent, so if you like the sound of the above and are eager to work in the Sydney labour hire industry then we want to hear from you! Give our team a call now on +61 2 8985 2019 or register online to work with us and we'll get back to you asap.
Alternatively, if you require additional labour on any of the above or similar projects HLH are confident we will be able to supply you high quality workers. For an up to date schedule of our rates you can email us at info@hunterlabourhire.com.au, call us on 02-89852019 or contact us online.
Images sourced from, and thanks to, WestConnex & Parramatta Eels.