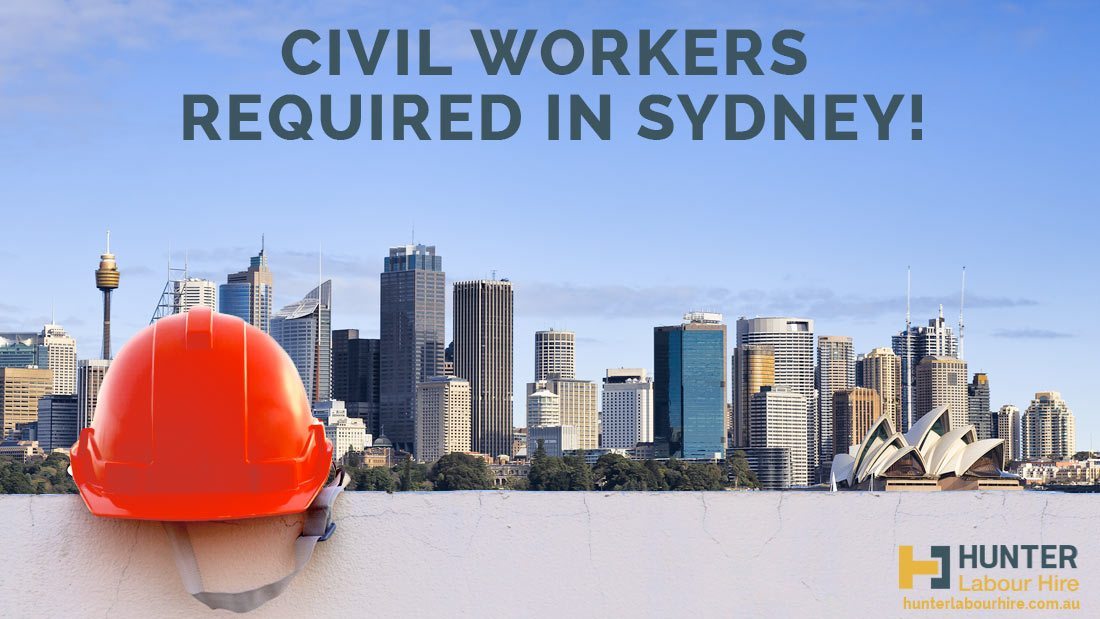 23 Jul

Civil Workers Required in Sydney
Jobs for Civil Workers in Sydney!
Due to numerous large scale civil and infrastructure projects that have recently commenced in Sydney there is a huge and growing demand for experienced civil workers.  At Hunter Labour Hire we have a lot of civil jobs available; vacancies include formworkers, steel fixers, concreters, pipelayers, and civil labourers.
Where is the Demand for Civil Workers Coming From?
WestConnex
Projects such as the WestConnex which is the largest infrastructure project in Sydney and it is estimated to bring at least 10,000 jobs both directly and indirectly. There will also be opportunities for hundreds of apprentices to learn various skilled trades.
NorthConnex
The NorthConnex is an ambitious project, it will be the longest road tunnel project in Australia. The length of the two main NorthConnex tunnels is estimated to be 9 km each. The tunnel itself will be up to 60 meters in some locations – to give you a better idea this is the height of the Sydney Opera House.
Sydney Light Rail Project
The Sydney Light Rail network is currently expanding its service from the CBD to the South East of the city. The construction phase is expected to be completed by 2018 with the first services running in 2019.
Various Other Infrastructure and Civil Projects
Transport NSW has other massive projects such as the Metro North West and the proposed Western Sydney airport in Badgerys's Creek.
Construction Related Civil infrastructure
The explosion of new home builds has increased pressure on waste water mains, storm water drains and water mains already in place. This has led to Sydney Water investing hundreds of millions of dollars in new and upgrading previous water delivery infrastructure.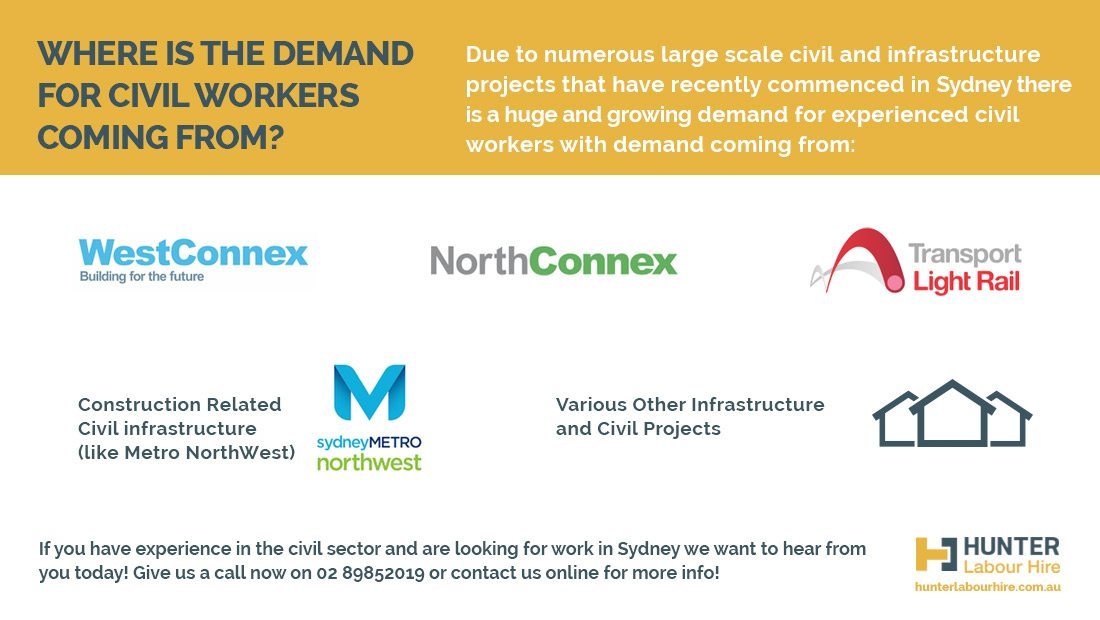 As you can see it's clear from the above projects that the demand for civil workers is huge and that this demand will only increase over the next few years.
What Civil Jobs are Available In Sydney?
We have a lot of civil jobs available at the moment and you can find out more about them below.
Formworkers Required
There is a lot of work that requires formwork carpenters throughout Sydney. Experienced Formworkers with extensive experience forming wet concrete in the construction of foundations and other concrete structures are in demand across Sydney.
All formworkers are required to have their own tool belts and nail bag as minimum. We have formwork vacancies with an immediate start for the right candidates.
Steel Fixer Required
A steel fixer is a tradesman that secures steel underpinning bars, also known as rebar, and steel mesh used to reinforce concrete on construction projects. Steel Fixers are required to have their own tools, these include; nips and reel and tool belt with basic hand tools (find out where to get tools in Sydney here). Jobs located throughout Sydney Metropolitan area.
At Hunter Labour Hire we have a plenty of long term work opportunities for experienced Steel Fixers in Sydney.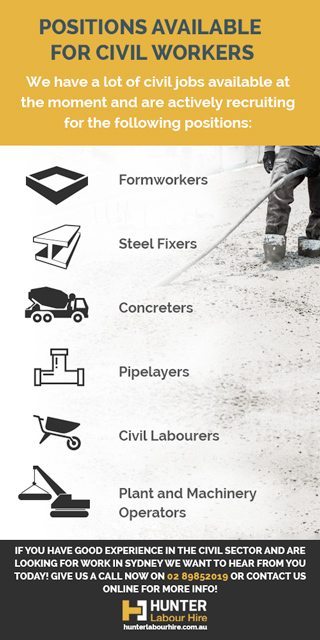 Concreters Required
Concreters are in massive demand in both construction and civil sectors. Concreters are required for small jobs such as driveways and footpaths to more complex work such as suspended slabs. Jobs located in the Eastern Suburbs, Sydney CBD and Western Sydney.
If you have over 4 years' experience as a concreter, and have your own tools then get in touch with Hunter Labour Hire today.
Pipelayers Required
Due to the large amount of construction works in Sydney there is a large number of pipes that need to be laid for purposes such as storm water and waste water, water mains. If you are an experienced pipe layer seeking employment, then get in touch with Hunter Labour Hire. Some of our clients are registered with Sydney Water and have long term contracts that need to be filled. Jobs located in North Sydney, Inner West and the CBD.
Pipe layers must have a minimum of 4 years laying pipes setting up lasers, and fitting pipes. While the ability to operate heavy machinery along with holding the relevant tickets is a definite advantage.
Civil Labourers Required
A civil labourer has previous experience working in the civil industry. While civil labourers are expected to do the general site tasks such as cleaning they will also be expected to assist with concrete pours, finishing and screeding.
Hunter Labour Hire are currently hiring civil labourers for long term work throughout the city and metro region.
Plant and Machinery Operators Required
Hunter Labour Hire is hiring a lot of different plant operators for upcoming projects throughout Sydney. From small residential swimming pool excavations in a Dingo, to moving tonnes of earth in a large excavator. We also have a number of vacancies for truck drivers with MR and HR licences. We are also continually looking for holders of high risk work licences.
If you are looking for your next job operating heavy machinery whether it's a Front End Loader or Backhoe Hunter Labour Hire have the role for you, if you have the skills to match get in touch today.
What we offer to our Civil Workers?
For candidates who are successful in getting a placement as a civil worker we can offer you the following!
Long Term Work
Sponsorship for the right people
Highly Competitive Wages
Weekly pay, On time. No chasing up invoices or contractors!
The opportunity to work on some of Sydney's most exciting projects.
Civil Work in Sydney
Whether you are a formworker or a civil labourer, if you have good experience in the civil sector we want to hear from you today. Fill in our online contact form, email your resume to jobs@hunterlabourhire.com.au or phone the office on 02 89852019 to be considered immediately!