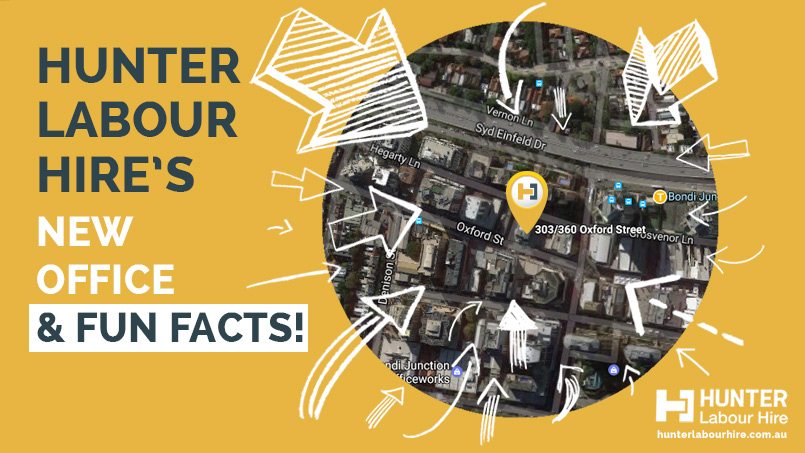 03 May

Hunter Labour Hire's New Office & Fun Facts
Hunter Labour Hire's New Office & Fun Facts

Hunter Labour Hire have now been operating for two and a half years, supplying hundreds of quality tradesmen and labourers to construction companies throughout the Sydney region during that time. Things have gone from strength to strength and because of the growth and expected continued growth we have had to upsize to a new office space in Bondi Junction. Since our move last year, we have also grown the team and would like to welcome our most recent member to the team Laird Ross, Recruitment Consultant.
Fun Labour Hire Facts
As we're taking stock of the last year and our new premises we thought we'd compile some stand out labour hire facts that highlight all that has happened!
150,600 – The number of hours of quality labour we have provided to our clients since opening in January 2015.
1164 – The number of sites we have supplied labour hire services too throughout Sydney.
1046 – The number of Hunter Labour Hire hi-vis tops which have been supplied to our workers.
92 – The number of sets of tools we have delivered to sites all over Sydney.
2017 – A record breaking year for Hunter Labour Hire, records including supplying labour hire to a staggering 23 NEW clients in April alone.
8 – The number of new desk spaces we have in our new office for our team and candidate interviews.
2,157 – The number of Facebook likes we have. Not to mention our 5 star review rating!
Come And Say Hello
Our new office is located at 303/360 Oxford Street, Bondi Junction, NSW 2022. We are only a 2 minute walk from Bondi Junction train station and Westfield shopping centre. Ideal for candidates coming in to register who still have PPE etc to pick up before they get working! The team are always very busy so if you are in the area and thinking of calling in then give us a call on 02 8985 2019 to let us know so we can make time to see you.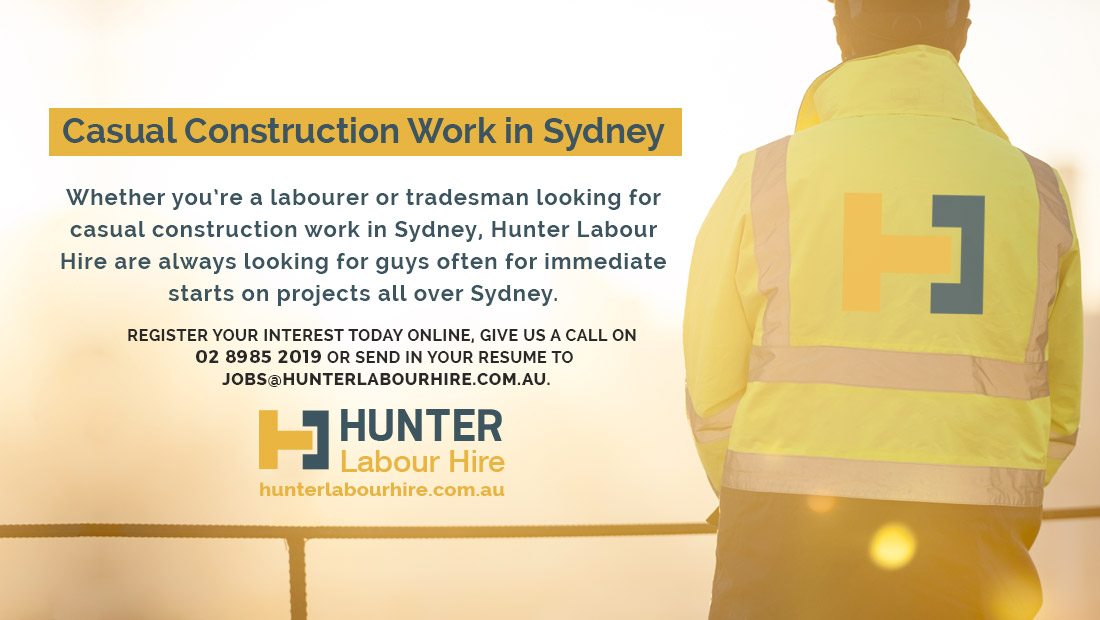 Casual Construction Work in Sydney
Whether you're a labourer or tradesman looking for casual construction work in Sydney, Hunter Labour Hire are always looking for guys often for immediate starts on projects all over Sydney for casual construction jobs. Register your interest today using our online form or give us a call on 02 8985 2019 or send in your resume to jobs@hunterlabourhire.com.au.