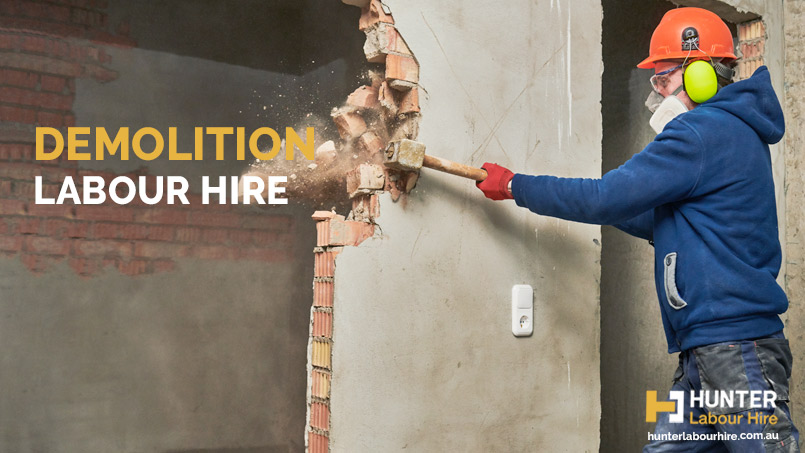 29 Aug

Demolition Labour Hire
Labour Hire for Demolition Work
At Hunter Labour Hire we supply construction workers to all types of companies throughout Sydney and NSW. One of these sectors that we supply staff to is the demolition industry. This is a particularly high-risk sector and as such it's important that you choose a reputable labour hire company that values safety and getting the job done to a high standard. We have proven experience supplying demolition labourers, machine operators, ticketed labourers to demolition projects in the residential, commercial and industrial sectors. If you need additional demolition labour hire staff for your upcoming project, then rest assured the HLH Group have got you covered.
Labour Hire Training
All our staff go through basic manual handling training and have their white cards, furthermore we supply them with additional site specific PPE when required. All in all by following our recruitment process rigidly we are able to source some of the best labour hire available in Sydney.
Types of Staff that We Can Supply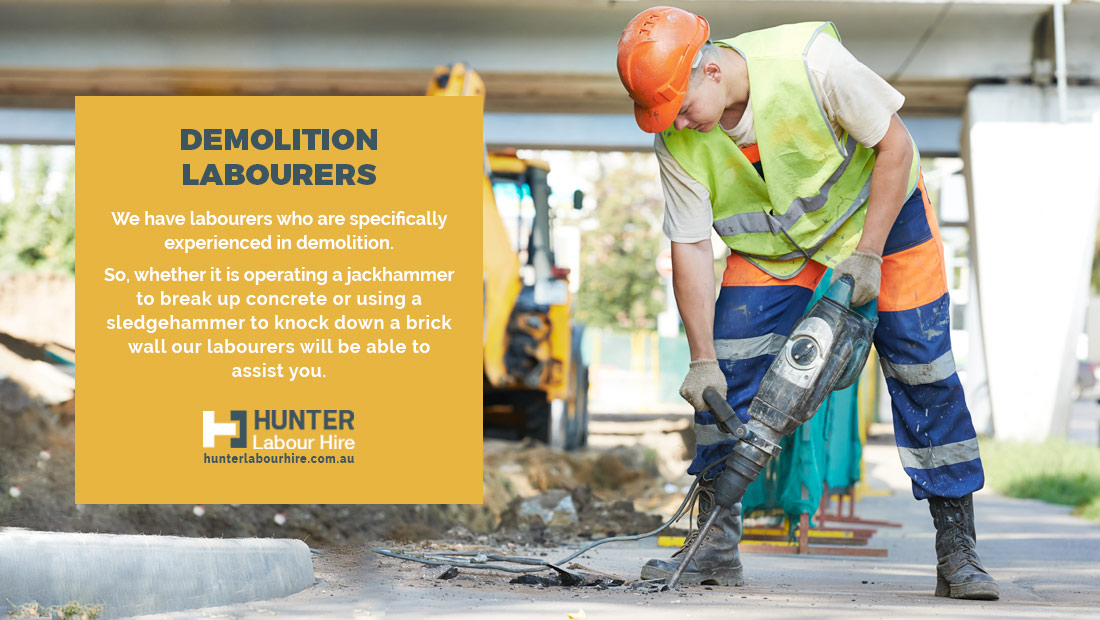 Demolition Labourers
We have labourers who are specifically experienced in demolition. So, whether it is operating a jackhammer to break up concrete or using a sledgehammer to knock down a brick wall our labourers will be able to assist you. Tools they are familiar with include crow bars, sledgehammers, jackhammers, grinders, reciprocating saws, oxy cutting torches and concrete saws.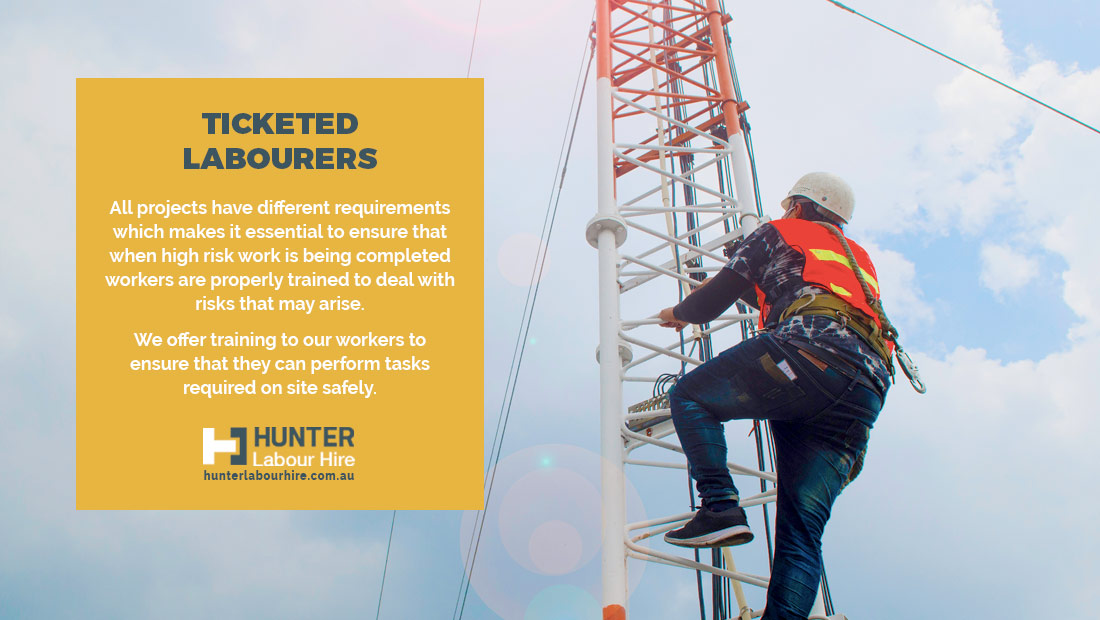 Ticketed Labourers
All projects have different requirements which makes it essential to ensure that when high risk work is being completed workers are properly trained to deal with risks that may arise. We offer training to our workers to ensure that they can perform tasks required on site safely. We have workers with the following HRW Licenses:
Working at Heights (WAH)
Confined Space (LF)
Asbestos Class B (Non-Friable)
Asbestos Class A (Friable)
EWP Operators Over and Under 11 Metres (SL, BL, VL)
Asbestos Awareness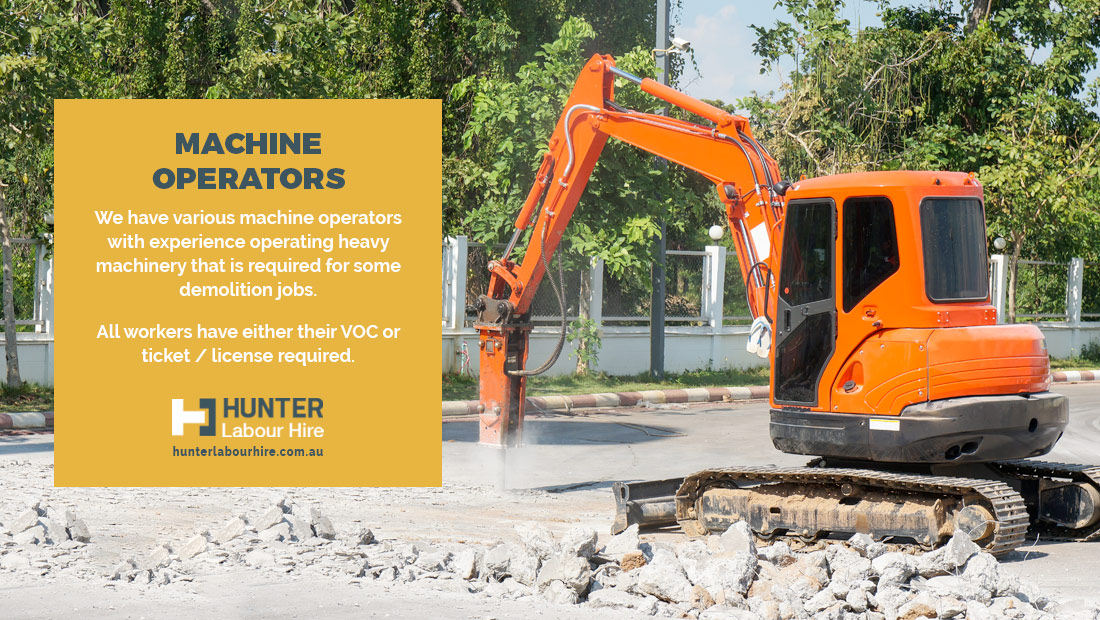 Machine Operators
We have various machine operators in Sydney with experience operating heavy machinery that is required for some demolition jobs. All workers have either their VOC or ticket / license required.
Excavator Operators (from 1 tonne to 35 tonne machines)
Skidsteer Operators
Telehandler / Manitou Operators
Forklift Operators
And more
If you need an operator with specific experience using attachments like rock saws, grabs, or rippers make sure to let us know so we can arrange the right candidate for your jobs.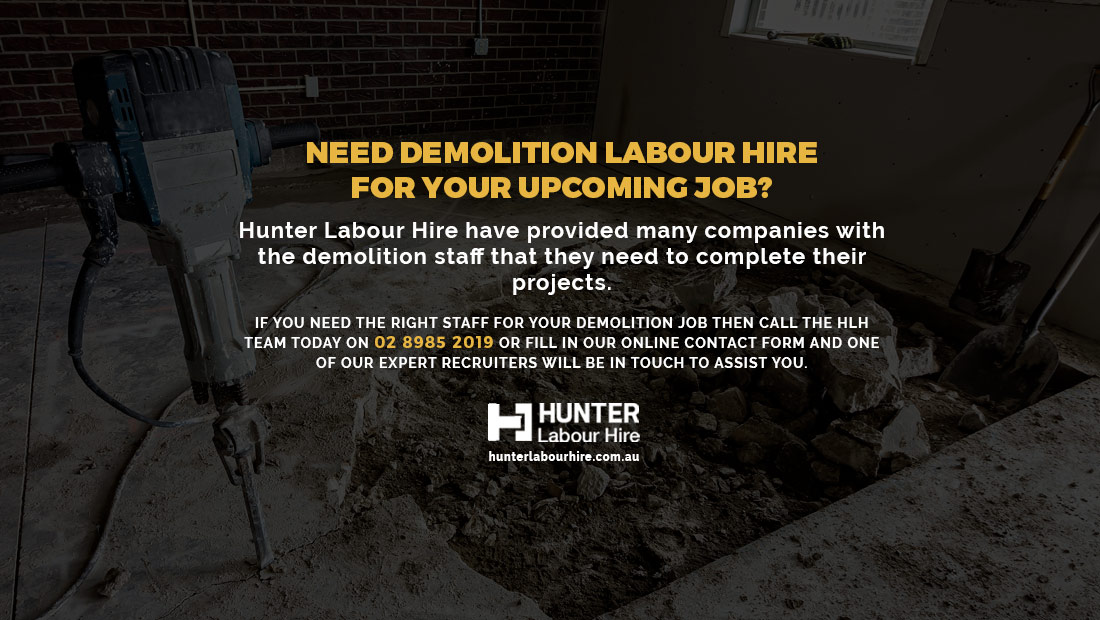 Need Demolition Labour Hire for Your Upcoming Job?
Hunter Labour Hire have provided many companies with the demolition staff that they need to complete their projects. If you need the right staff for your demolition job then call the HLH team today on 02 8985 2019 or fill in our online contact form and one of our expert recruiters will be in touch to assist you.