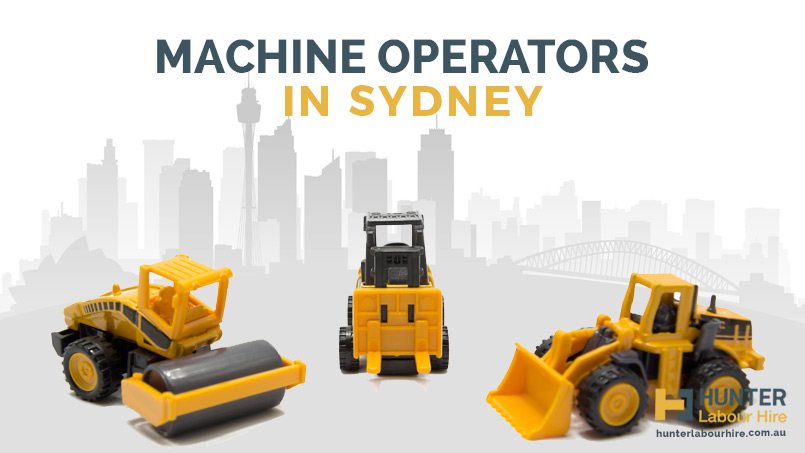 26 Jul

Machine Operators in Sydney
Machine Operators Available in Sydney
At Hunter Labour Hire we supply all sorts of workers from general labourers who can operate a forklift to fully competent and experienced excavator operators or even trade qualified operators. We have clients in a variety of industries who need different machine operators for all sorts of different tasks.
We have an extensive database of active candidates and employees who have the qualifications and experience required to operate civil and construction machinery.
Machine Operator Positions
Let Hunter Labour Hire help you by ensuring that you have right people, with the right qualifications and knowledge to operate your machinery so that you can ensure that they do any tasks at hand safely and efficiently. We have helped provide businesses with all of the following machine operator positions.
Excavator Operators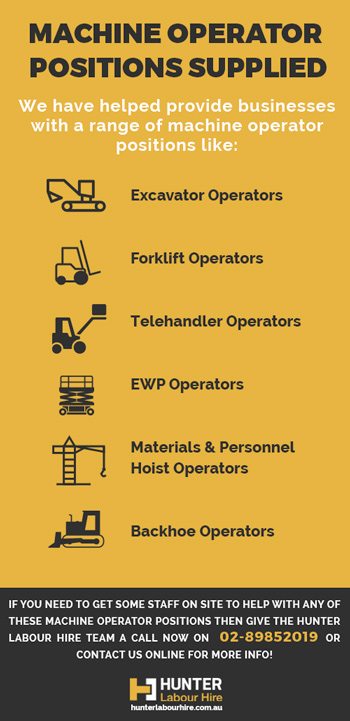 An Excavator Operator is one of the most common machine operators around Sydney. The primary use of an excavator is to excavate and move loads of earth. However, some excavators are used in the demolition of buildings also as they are very powerful machines and depending on the type of attachment used they be also be very versatile. The size of excavators used varies depending on the job at hand sizes these can range from 1.5 tonne to 30 + tonne. Different tasks completed by an operator include final trim, detailed and bulk out work. To be allowed work on some sites the operator need to be able to show that they are competent operators. This is often certified by way of a Verification of Competency.
Forklift Operators
To operate a forklift in Australia you will need to hold an Australian Forklift license (LF). Forklifts are used primarily for moving loads and goods around warehouses and construction sites.  They are useful for lifting heavy loads to places that would be hard for normal operators and more to operate.
Telehandler Operators
To operate a telehandler in Australia you will need to have a Gold Card. Telehandlers are like Forklifts except they are capable of lifting much heavier loads.  These are often found on construction sites unloading and loading deliveries to and from site.
EWP Operators
When hiring an EWP operator, the most important thing to bear in mind is there is two classes of EWP: Under 11m (SL) and over 11m (BL). In order to operate either of these Elevated Work Platforms a worker will need to hold the relevant high-risk work license to operate them. These are often used to get workers to area where it is not safe for them to access via a ladder usually to install cladding, roof tiles in high ceilings or for electrical installations.
Materials & Personnel Hoist Operators (HM and HP)
A personnel and materials hoist operator is in responsibility for the operation of a hoist in which people, goods and materials may be hoisted up structures. There are three types of hoists a cantilever, a tower hoist or a winch hoist. Workers who hold a HM license can operate hoists that contain materials and goods. Workers who hold a HP class license can operate a hoist with personnel and materials.
Backhoe Operators
Operating a backhoe is like that of operating an excavator its main purposes include providing digging, trenching, back-filling and material handling capability.
We can supply full accredited and experienced backhoe operators to your project.
Various Other Machine Operators
We offer various other types of machine operators on a labour hire and permanent construction recruitment basis all with relevant licenses and verification of competencies such as:
Skid Steer
Front End Loaders
Dozers
Tower Crane Operators
Self-Erecting Crane Operators
Dump Truck Operators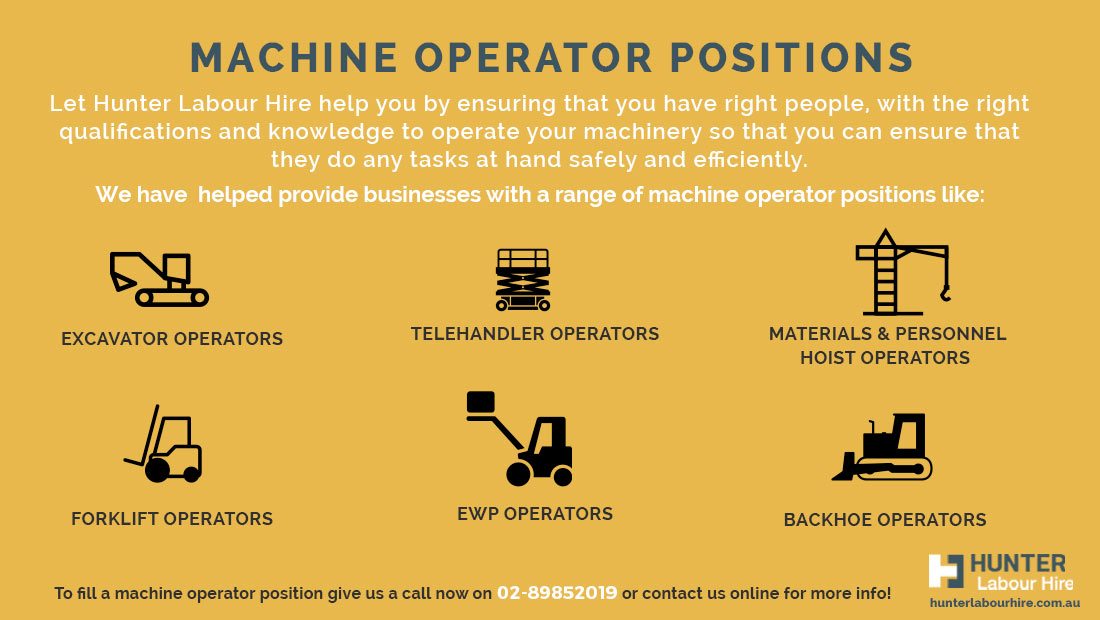 Need a Machine Operator?
At Hunter Labour Hire we have supplied operators to civil and construction sites all over Sydney and New South Wales. If your project is looking for operators or tradesmen then give our construction recruitment and labour hire experts a call on 02 89852019 alternatively fill in our online contact form and we will call you back as soon as.