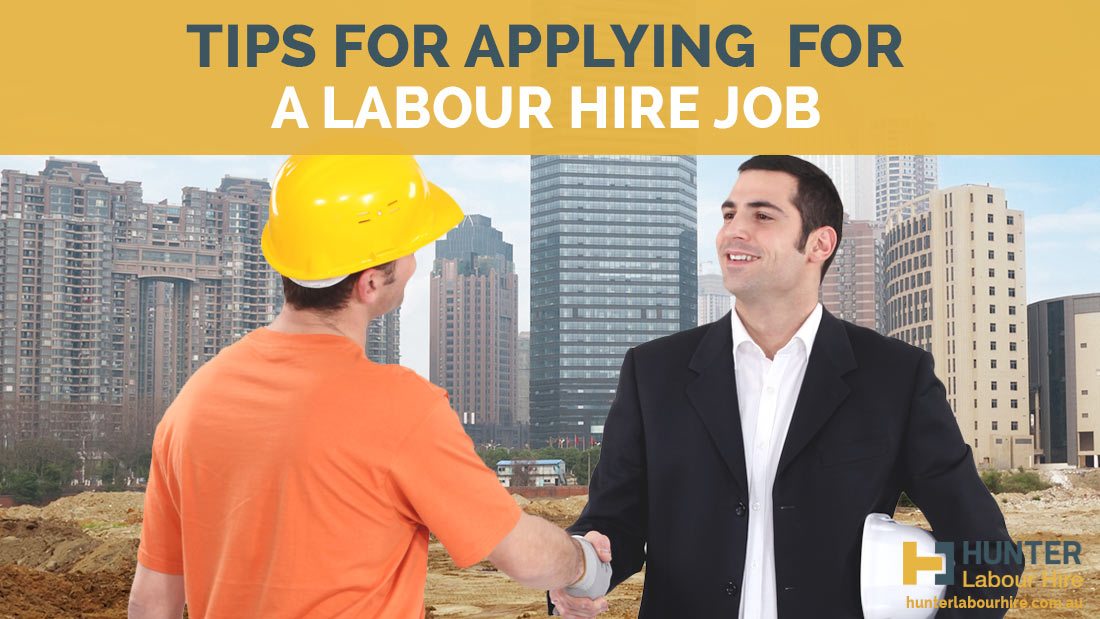 11 Jun

Tips to Secure A Job With A Labour Hire Company
Tips For Getting A Labour Hire Job
Are you looking to work for one of Sydney's top labour hire companies? Before you apply for your job it's important that your put your best foot forward. We have a put together a few tips that will help make your job application better and hopefully get you out working on site as soon as possible!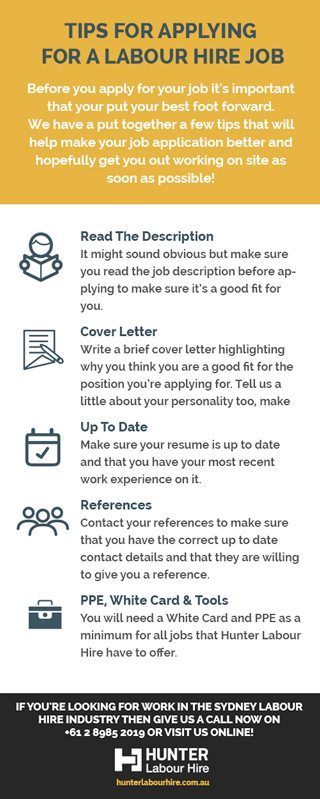 Before you even apply for a job with Hunter Labour hire (or any labour hire company) the most important step is to read the job description carefully. If you think you are a good fit then prepare your resume highlighting your experience relevant to the job that you are applying for. For example if you have worked as a labourer for two years, then don't just say you have two years' experience. Instead list a few bullet points with the various tasks completed and skills acquired, this will help us to find the right role for you.
Write a brief cover letter or email highlighting why you think you are a good fit for Hunter Labour Hire. If you have experience as an electrician, and you are applying for a related role then state clearly what skills you can bring to the job from previous jobs. Tell us a little about your personality too, make it interesting. We read hundreds of resumes and cover letters each week so make it interesting where possible.
Make sure your resume is up to date and that you have your most recent work experience on it. Outline how long you worked with the previous company, what your role was and what responsibilities you had.
Contact your references to make sure that you have the correct up to date contact details and that they are willing to give you a reference.
You will need a White Card and PPE as a minimum for all jobs that Hunter Labour Hire have to offer. Make sure you have these as things move very quickly, when we say immediate start we mean it. Likewise if you are a tradie then you will also need your tools.
Interview Stage Tips For Labour Hire Jobs
Have you been given an interview opportunity? The next step is to prepare for your interview. We will ask you the following questions so be prepared to answer them, we will ask you other questions but these are regularly asked.
What experience do you have in the construction industry?
Have you worked for a labour hire company before?
When are you available to start should your application be successful?
Do you have a white card and PPE?
What tools have you got?
What do you feel you could bring to the job that Hunter Labour Hire is advertising?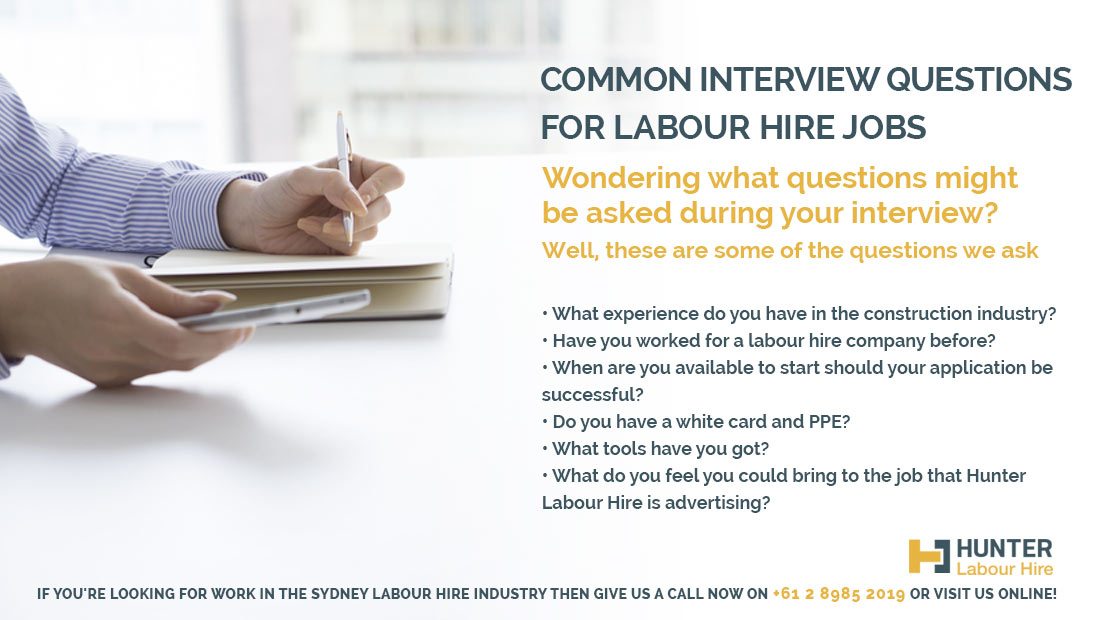 Successful Interview – Tips to Ensure You Get Continuous Work!
If you are successful and get a job with Hunter Labour Hire (or any labour hire company) then the hard work is only just beginning! You will need to impress the client as well. In order to ensure that you are in regular work it's important to leave a good impression on each and every site you visit.
Be on time! Arriving on site no later than 6.55am for a 7.00am start is an absolute must. If you miss an induction you will not be allowed on site.
If you are running late notify Hunter Labour Hire ASAP indicating what time you expect to arrive on site. We will then get in touch with the client to inform them.
Remember to bring a physical copy of your white card and photo identification as this is also required on a number of sites.
Ensure you have the correct PPE required for the site – the minimum required on all construction sites is hard hat, steel toe capped boots, and a hi-vis vest if you are unsure please contact Hunter Labour Hire.
You will also need to show that you are keen and willing to get stuck into the job at hand when you arrive.
Try to use your initiative and if you are finished the task in hand check with the supervisor and see what else you can help with.
Don't forget to get your timesheet signed off by the site supervisor on a daily basis.
Jobs In The Labour Hire Industry
Now that you know the tips for getting a job in the Sydney labour hire industry you can apply! Check out our current labour hire positions here and apply for the position(s) that suit you best! If you'd like to give us a call to discuss any role you can call us now on +61 2 8985 2019!