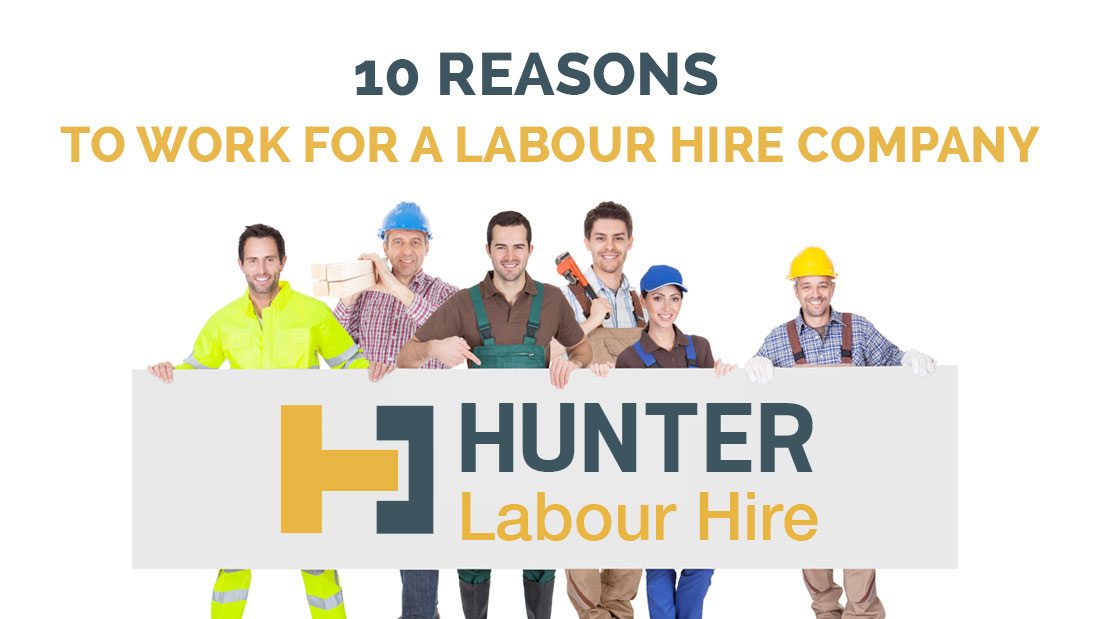 18 May

10 Reasons To Work For A Labour Hire Company
Labour Hire Company Jobs
If you are a looking for a job in construction in Sydney then the chances are that you have seen many labour hire companies advertising jobs that they have available. But, what exactly is a labour hire company and why would you want to work for one?
What Is A Labour Hire Company?
So what is a labour hire company? A labour hire company is a source of skilled labour and unskilled additional labour for companies who need temporary extra labour to help with increased workloads and help complete their projects on time or ahead of schedule. This means that if you work for a labour hire company you will then be working with other companies too on behalf of the labour hire company, in a variety of different construction related projects from civil to commercial projects. We have put together ten different reasons you should work for a labour hire company (and we hope it's Hunter Labour Hire!).
Why Work For A Labour Hire Company?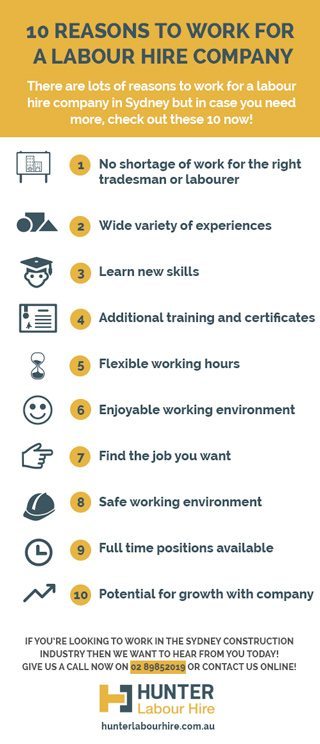 Here is ten reasons why you should work for a labour hire company.
There is plenty of work for the right tradesman or labourer with the right attitude and desire to work. If you turn up on time every day and put in a fair day's work then you will be kept busy. Furthermore the chances of you being requested back by our clients for more work will increase, thus giving you more work opportunities. If you do well you will be kept busy.
You can get a variety of experience in different roles that you may not be given the opportunity for had you just worked one company. For example you could potentially be labouring for an electrician helping to install cables for one week, and then helping a cabinet maker put together a new kitchen the next week.
From different experiences comes different skills. You will get the opportunity to learn new skills from the different jobs you are put on by Hunter Labour Hire. You may even decide on an entirely new career path such as becoming a carpenter!
If you stick around long enough and show your worth to Hunter Labour Hire then you may be given the opportunity to undertake additional training and certifications that will benefit your career in the long run. For example you could be trained in high risk work licences like Working Safely at Heights or Working in Confined spaces which would then allow you work in a variety of different work environments safely.
The work is casual which means that the working hours you receive can be flexible to your needs. You will not have signed any contract that ties you in to a 40 or 50 hour week, so if you fancy taking a trip up the East Coast for a long weekend trip, this is no problem provided you give adequate notice (ideally a week) and indicate when you will be available again.
We encourage all our workers to enjoy the work that they do and this has a positive effect on the working day, as part of our team you will ENJOY the daily grind and working for Hunter Labour Hire. We believe in enjoying that we do!
We have a dedicated team of resourcers with extensive knowledge and experience within the Australian Construction Industry who can provide you with your ideal position. Furthermore they have great relationships with civil, construction and commercial development companies throughout the New South Wales region. So let us know exactly what work you are looking for and we will do our best to match your skills and experience with an employer seeking someone exactly like you.
As a labour hire company within the construction industry, we realise how important it is to ensure a safe working environment for all our employees. We are constantly seeking feedback from our clients and employees to ensure that everything we do promotes the safety of our workers and those around them. If you don't have the required PPE let us know and we can sort it out for you.
Despite most of employees being casual, we also do permanent placements. Some of our clients occasionally look for permanent staff from us. This can then lead you to an exciting full time position within a large construction company throughout Sydney.
We are a fast growing labour hire company within the Sydney area and constantly have new and exciting roles available within the company. This means that the possibility exists for the right people to grow within our company.
So whether you are looking for short term casual construction work or looking for a long term position, you will be glad you joined the Hunter Labour Hire team.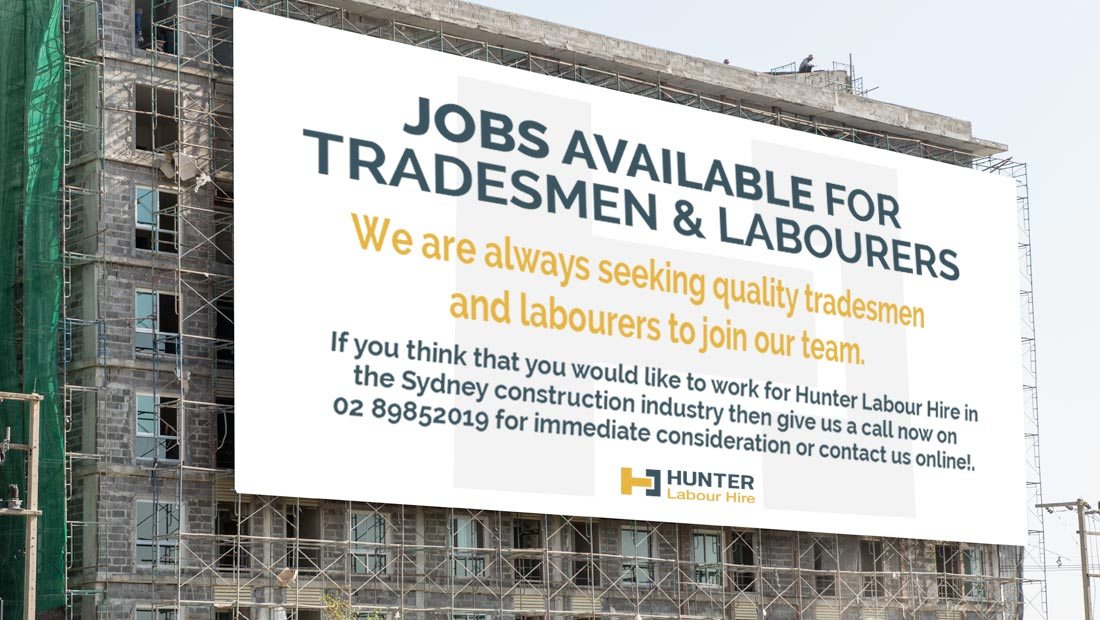 Jobs Available For Tradesmen & Labourers
We are always seeking quality tradesmen and labourers to join our team. If you think that you would like to work for Hunter Labour Hire then fill in our online find work form. Or else call the Hunter Labour Hire team on 02 89852019 for immediate consideration.