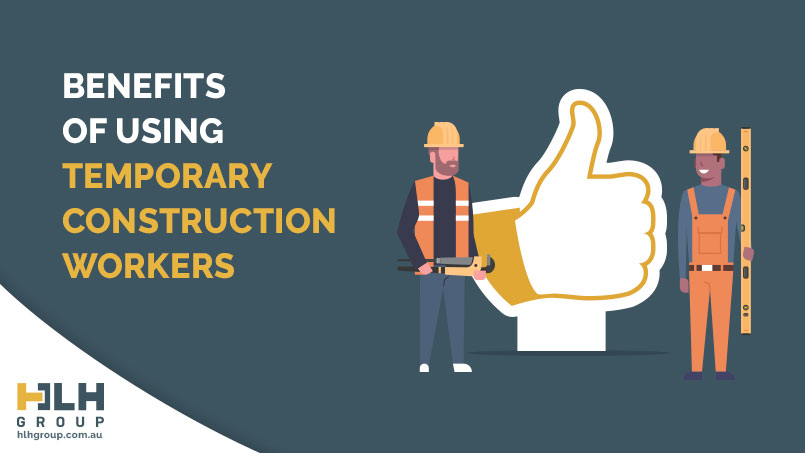 21 Oct

Benefits of Using Temporary Construction Workers
Temporary Construction Workers – Hassle-Free Service
Many construction companies throughout Sydney use labour hire to fill their staffing requirements. There are a number of benefits to using labour hire such as using it for sick cover, reaching strict deadlines, not having to deal with payroll and many more. Many of our clients throughout Sydney have used HLH Group's services for over 7 years due to the hassle-free service and round-the-clock consultant availability we provide. HLH Group's reliable and consistent vetting process ensures all our workers come equipped with full PPE, white card and a strong understanding of work health and safety. If you're considering using temporary construction workers for your project, here are some of the many benefits of using labour hire. And, if you're in a hurry to hire some labour then check out our labour hire request form.
Pushing to Get the Job Done
Several factors can slow down a construction project. Unpredictable weather, change orders from clients and human error can set the course of completion off. Many construction companies may find themselves behind as a result and rely on labour hire to clear backlogged work. Labour hire can also plug gaps where full-time workers are unavailable, or even use them to cover a sick worker for a day up to several weeks for someone on extended leave. We have a large candidate pool of workers of various trades and experiences to ensure we can fill any shortages on your worksite. If you have a specific and unique request that we can not fill immediately, we will be on the lookout for your desired worker and contact you when we find them.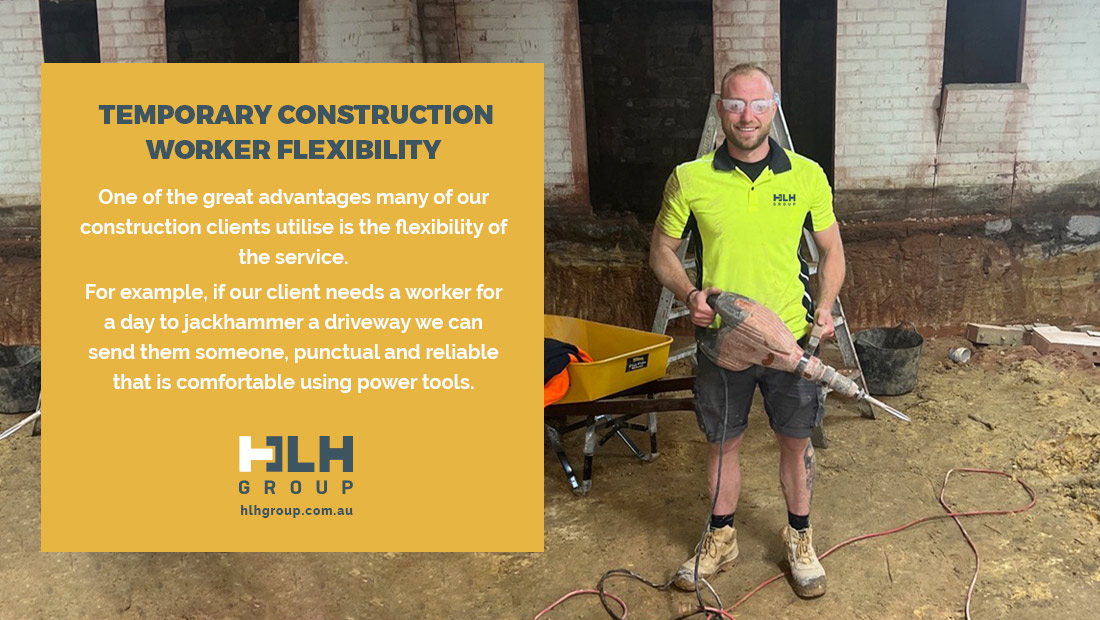 Temporary Construction Worker Flexibility
One of the great advantages many of our construction clients utilise is the flexibility of the service. For example, if our client needs a worker for a day to jackhammer a driveway we can send them someone, punctual and reliable that is comfortable using power tools. We can select workers based on previous experience, location and skill set and will always try to find work that suits our candidates to keep both parties happy. The best part about it is the flexibility of hiring. With enough notice, you can hire workers when you need them. Whether that be for several weeks or the odd day here and there. It might not be the same labour hire worker every time but you'll get someone more than capable of completing the task.
Payroll
At HLH Group, we look after all aspects of the employee payroll. Our weekly payroll system runs smoothly and we always ensure our workers are paid correctly and on time. Once we have the start time, address and site contact, HLH Group will look after the rest. Our workers are fully covered by workers' compensation and public liability insurance ensuring that all parties can rest assured knowing that all our employees are in safe hands.
Skilled and Trade Hire
HLH Group offers much more than provide general labourers as we offer a number of different trades for hire. Carpenters enjoy working for HLH Group as the flexibility and headaches of running their own jobs are taken out of the equation. We can provide skilled carpenters capable of completing high-end residential finishes and carpentry trade assistants to assist when you need an extra hand. Over the years, HLH Group has placed welders, site engineers, foremen, scaffolders, truck drivers, warehouse staff and forklift operators. Although some requests are tougher to fill than others we will meticulously search our database and put out feelers to try and service requests.
Temporary Construction Worker to Permanent Solution
Although predominantly most of our construction placements are short-term on a casual construction hire basis we do offer permanent recruitment services. We have placed several workers who have gone permanent and full-time with some of our clients and become valuable additions to their teams. Whether your requirements are the short-term or long term we can provide a solution.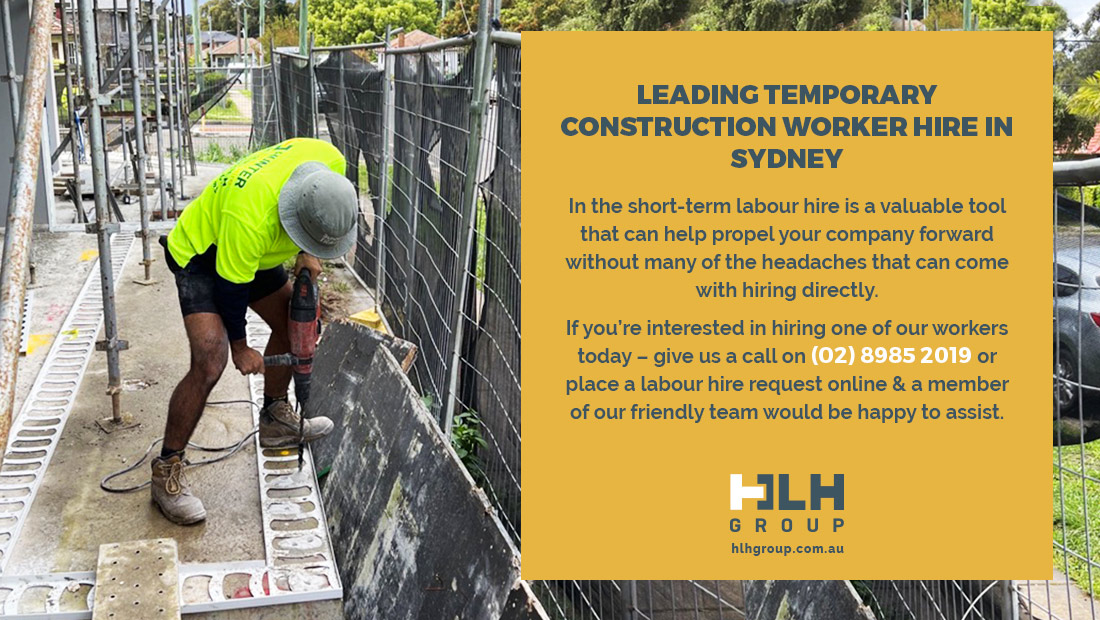 Leading Temporary Construction Worker Hire in Sydney
In the short-term labour hire is a valuable tool that can help propel your company forward without many of the headaches that can come with hiring directly. If you're interested in hiring one of our workers today – give us a call on 02  8985 2019 or place a labour hire request online and a member of our friendly team would be happy to assist.